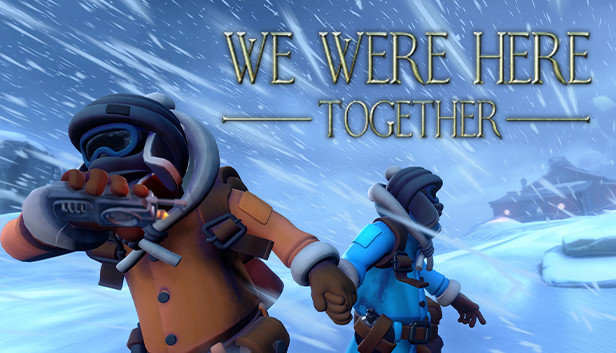 We Were Here Together is the third game in the We Were Here series and it';s gripping like no previous game has. Diesmal, the two-player team doesn';t start by splitting up to escape the abandoned castle. This time the stakes are higher. In the distance, a signal flare lights up the sky, and a staccato call for help is heard on the radio. Someone got lost and got into trouble out there in the frozen wastelands.
Like its predecessors, We Were Here Together is a collaborative puzzle adventure where sharing and communication is the key to survival and the game';s many achievements. The tone of previous games is maintained, but with even more tension and more challenging puzzles. The differences start with the game';s setting: while the castle motif is still played on, the change to a frozen wasteland, abandoned buildings and mines is a great new addition. And all achievements are hidden this time around, giving players absolutely no clues on how to earn them. As with previous iterations of the series, there are achievements that can only be obtained by playing as Player 1 or Player 2, so the game will require at least two playthroughs.
Like the original We Were Here, in We Were Here Together, both players can earn an achievement at the start of the game without lifting a finger. Achievement ";We';re In This Together!"; can be obtained by inviting a friend to the game. Although the achievement is incredibly simple and not entirely worthwhile, es lässt die Spieler glauben, dass es versteckte Errungenschaften im Spiel gibt, die in den Startlöchern warten, macht es zu einem Muss.
Um alle Erfolge in We Were Here Together zu erhalten, players will have to complete the game two full times with the third playthrough of the final chapter to unlock all endings. While some of these achievements can be earned by both players, Bei einigen muss der Spieler das Spiel von einem bestimmten Kontrollpunkt aus starten, making the distinction between player 1 and 2 even more necessary. The following are the hidden achievements that Player 1 can unlock and exactly how to do so:
Das Signal

: Begib dich auf eine Rettungsmission, indem du durch das Haupttor gehst.

Hoch runter hoch runter

: Erreichen Sie die Spitze der Ausgrabung.

Isoliert

: Löse Rätsel, um durch die verlassene Mine zu kommen.

Gekürztes Abenteuer

: Löse Rätsel, um einen Weg über einen gähnenden Abgrund zu schaffen.

Der Turm

: Teilt euch auf und schleicht euch in den Turm (Plakatraum).

Energie tanken

:

Turn off the Tesla Reactor

.

Chromatic Apparatus

:

Together with player 2

,

refill the colored tanks

.

Water You Waiting For

Rescue player 2 from the water bunker

.

Recipe for Disaster

:

Create a pesticide

.

Reflection

:

Solve the head priest'

;

s puzzles

.

Mixed Feelings

:

Help player 2 create a Soul Stone

.

Cardinal Correction

:

Solve the riddle of the keepers

.
There are two different endings here. If player 1 decides to sacrifice his partner, he will get the ";We Were Here"; Leistung. If they choose to sacrifice themselves for their partner, they will earn the ";Together"; Leistung.
We Were Here Together nahm die Erfahrung seiner beiden Vorgänger auf, nehmen, was sie so großartig gemacht hat (Rätsel im Escape-Room-Stil, die notwendige Kommunikation zwischen den Partnern, eine angespannte und geheimnisvolle Atmosphäre, etc.) and adding new elements that fans will love it. The melancholy ending pairs well with the We Were Here and We Were Here Too endings, Das gibt den Spielern noch mehr Grund, sich auf das nächste Spiel der Serie zu freuen.