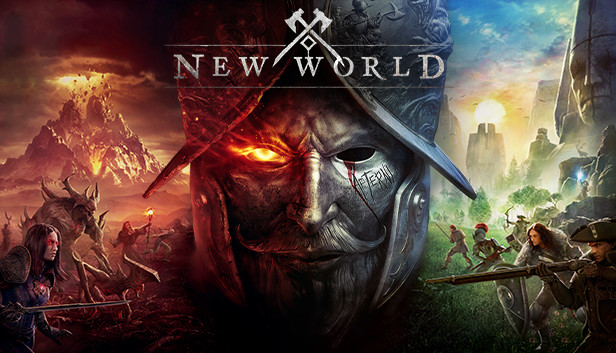 La espada ofrece muchas opciones defensivas sólidas., y es la mejor arma para tanquear; además, solo Shield puede bloquear ataques a distancia.
Introducción
El
Espada
offers many strong defensive options
, y es la mejor arma para tanquear; además, solamente
Blindaje
puede bloquear ataques a distancia.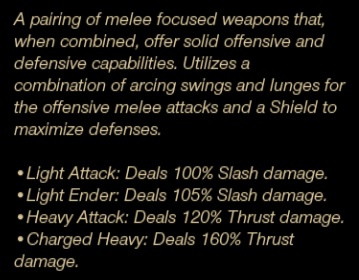 La espada y el escudo[nwnews.info] combo can be built for either DPS or tank roles, dependiendo de lo que prefieran los jugadores o de lo que requiera una fiesta. Los niveles de Sword son un poco más lentos que las armas puramente centradas en DPS.. El ataque ligero está cortando, el fuerte ataque es un empuje, y las habilidades que usan escudos son daño por golpe. Esto es genial, ya que se puede usar de manera efectiva en todas las mazmorras..
Atributos
Escala de espada y escudo con fuerza y ​​destreza. Si vas a usar esta arma para infligir daño, te concentrarías en obtener Fuerza a menos que quieras mezclarla con algún tipo de arma de Destreza.

50 Dexterity is also good for damaging to gain +5% Crit Chance with all Weapon types.


La constitución es el principal y único atributo para el tanque.. Incluso si vas a jugar como DPS, you need at least 50 to gain +20% of the effectiveness to all health consumables or 200 breakpoints for a 20% armor increase.



When you hit level 60 and close to 600 Gear Score and Voidbent Armor, you'll have some options with putting points into Strength and use +40 Constitution food (Conejo Asado con Verduras Sazonadas) para hacer carreras de mazmorras más rápidas.
Mecánica de burla
Burlarse obliga a los enemigos JcE a centrarse en ti. Pero los enemigos frecuentemente terminarán las animaciones o ataques que ya estén realizando contra otros objetivos primero antes de volver su atención hacia ti.. Si la burla funcionó, Verás que el borde alrededor de la barra de salud del enemigo se volverá rojo..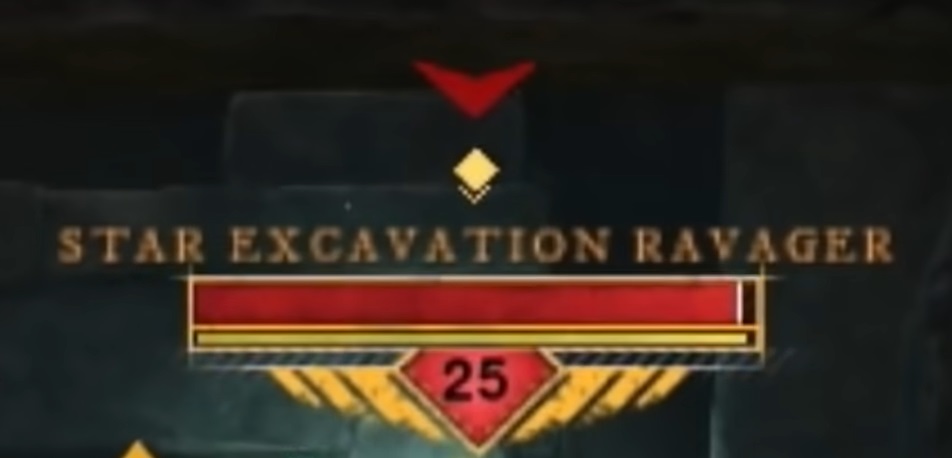 Shield Bash y Defiant Stance pueden burlarse, but only if you have a Carnelian Gem socketed in your Sword. Damage you dealing also increases your Threat. Use everything to maximize the threat since your role as a tank is to keep all mobs on you and not let them damage other players in your group.
Builds For Sword And Shield
There are two build options for players who like to use the Sword and Shield in New World
,
one that relies on offensive DPS-based gameplay and another that focuses on playing as a Tank
.
Most tank builds rely on Reverse Stab since if you hit 4 enemies with it
, actualizarás constantemente todos los tiempos de reutilización
Esta construcción de tanque está hecha para situaciones difíciles de tanque con un gran daño entrante..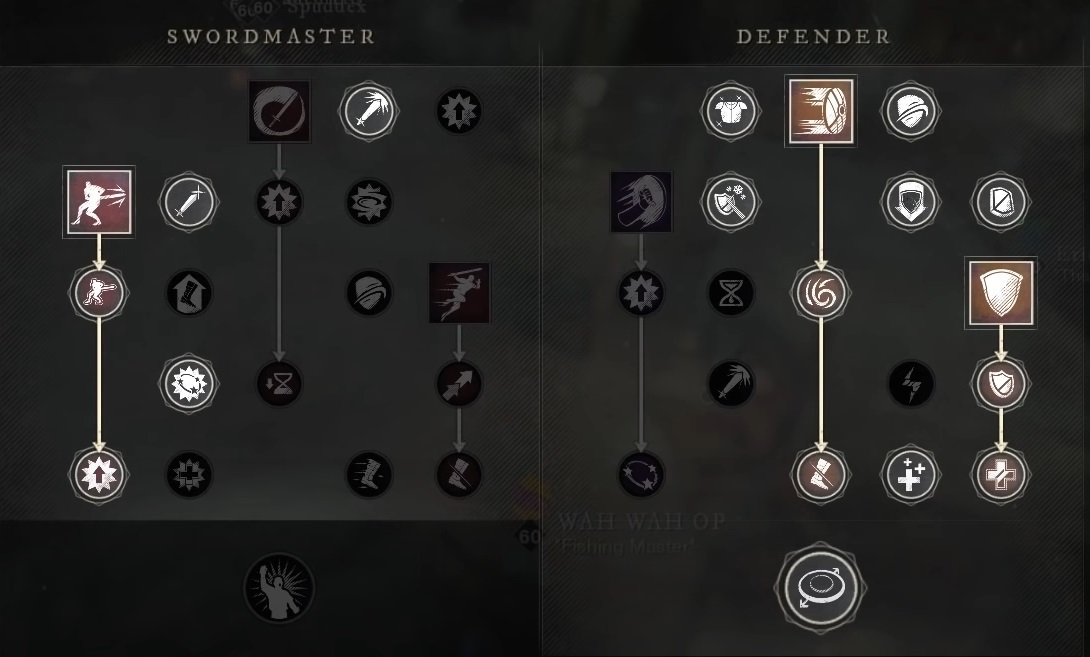 Aquí no tienes Shield Bash con burla adicional y control de multitudes, pero en lugar, has mejorado Rush, una habilidad del árbol Shield Rush, which gains 10% weakens to all enemies within 5 meters for 4 seconds. Sinergizarlo con un estratega, you can constantly reduce all incoming damage by 10%. También se sinergiza con una ventaja de equipo., Acometida de escudo fortificante, para obtener un Fortify adicional, que siempre es agradable.
Rotación
The basic attack is going to be started off with a heavy attack, two light attacks, then you could block and hit them with the Shield Rush. Próximo, use the Reverse Stab to refund your cooldowns if needed, or use Defiant Stance if it's not on a cooldown.
If you do want more crowd control and

,

more importantly

,

more taunt abilities

,

you can use this build with Shield Bash

.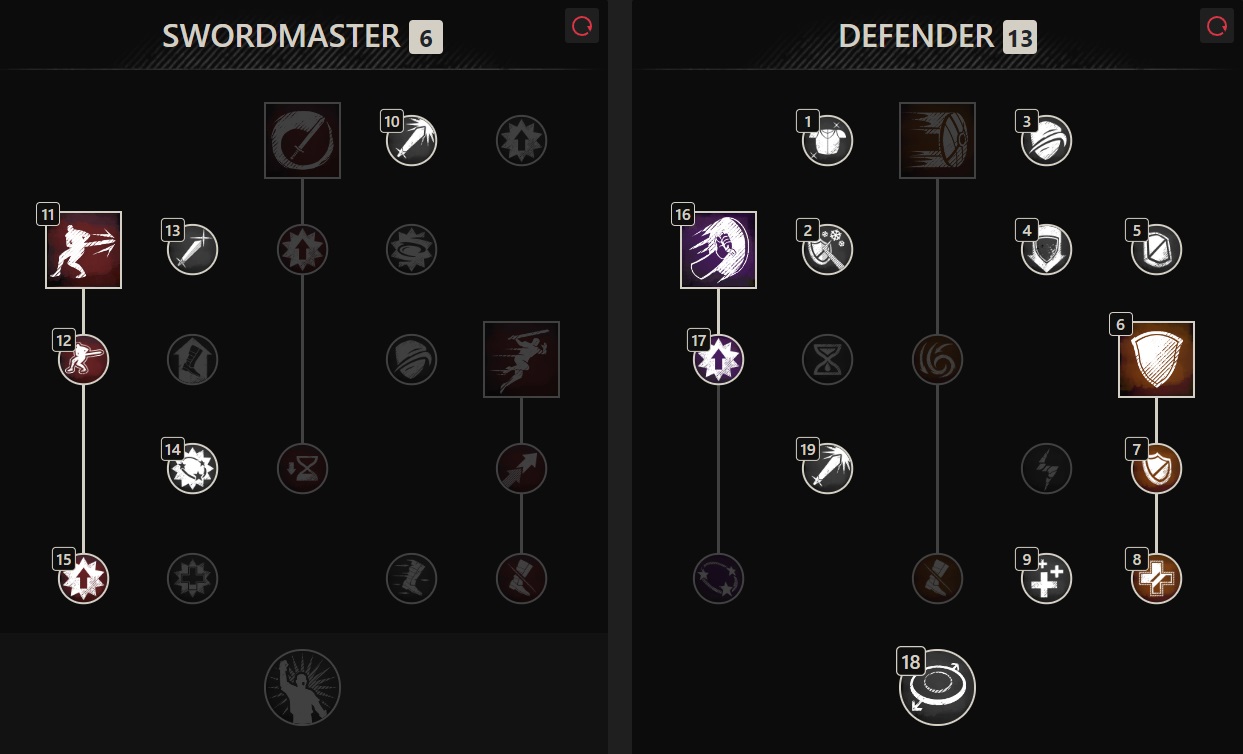 Por supuesto,

you can just grab every skill in Defender tree

, por ejemplo,

for solo bosses or PvP where you cannot fully realize the potential of Reverse Stab cooldown reduction or if you don't like to use it

.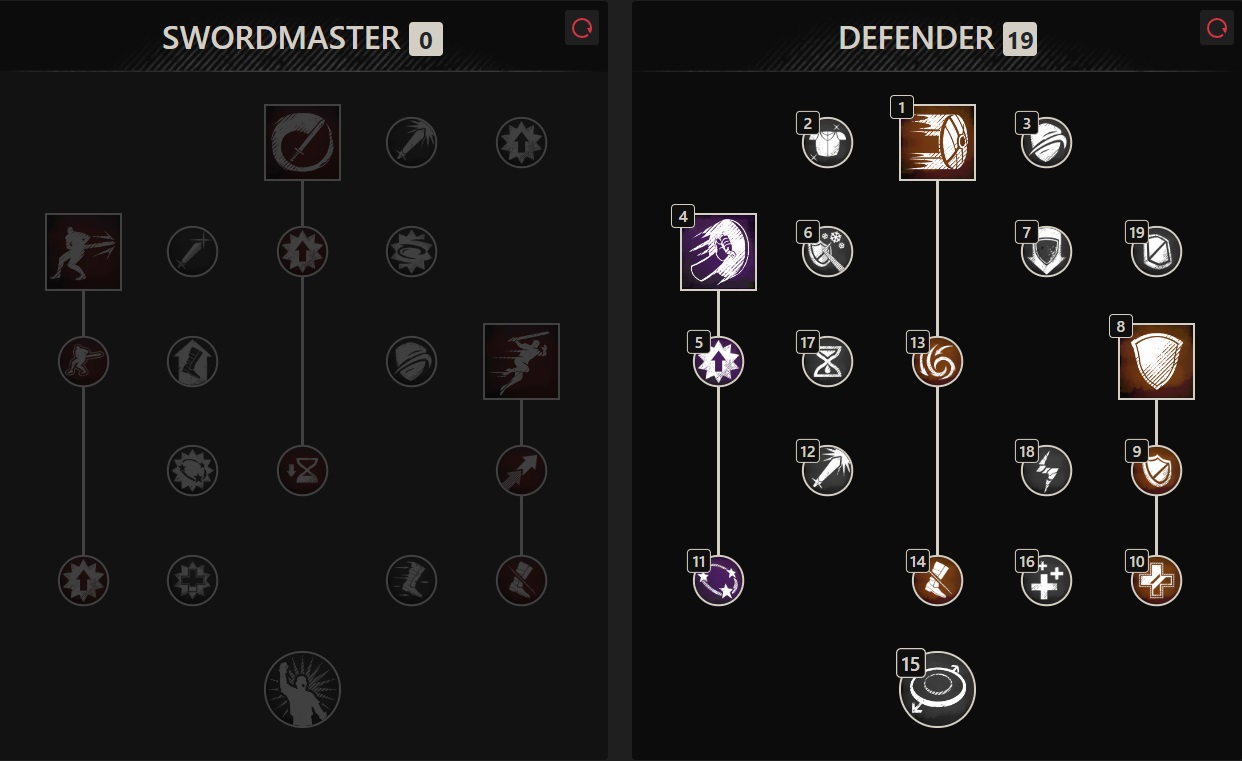 Theoretically

,

a DPS build is possible

,

as an aggressive support tank

,

having pretty much of defense and offense

,

and a panic button Defiant Stance in addition

, por ejemplo: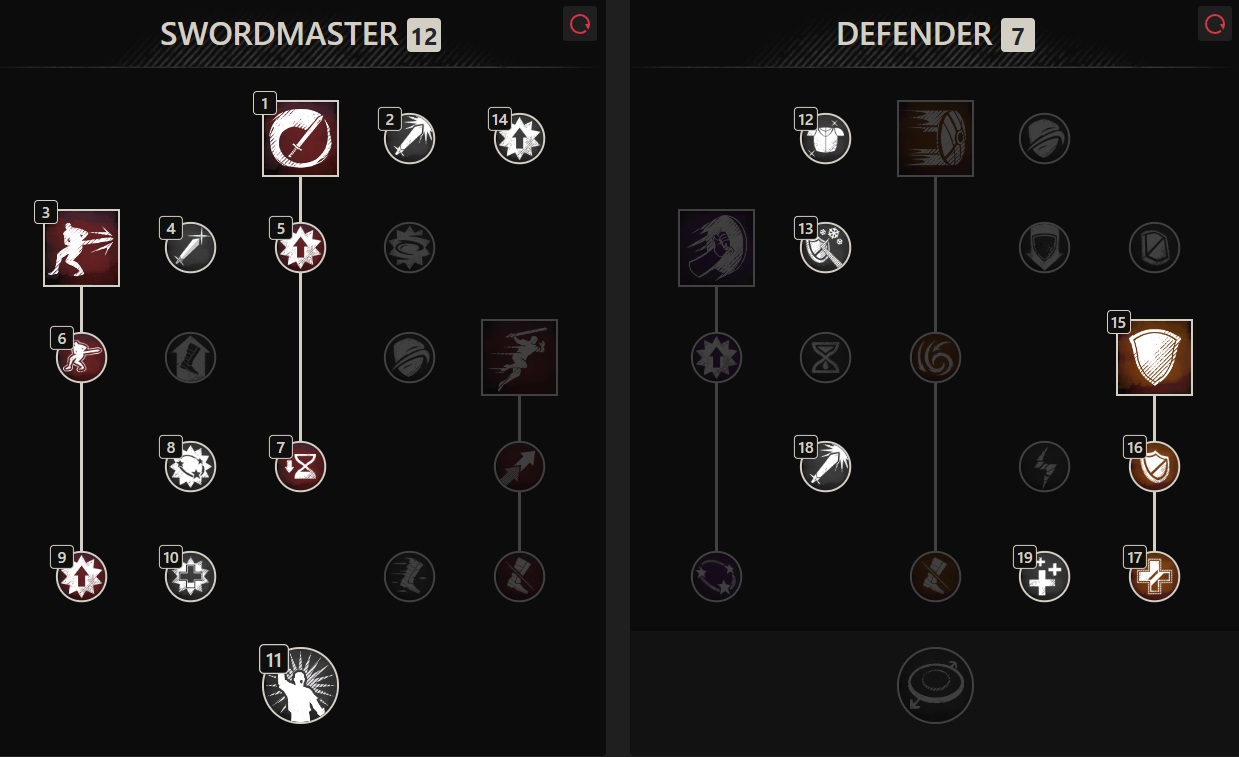 It might perform pretty well in a group due to Leadership buff, giving high AoE damage resetting the ability cooldowns with Tactician. But this build is definitely not recommended for solo playing since it has neither damage of pure DPS weapons nor the surviving of tank builds.
If you're playing as a tank in a ranged group and do want Leadership since Defensive Formation is not so useful

,

you can take it for the price of reduced Stamina damage

.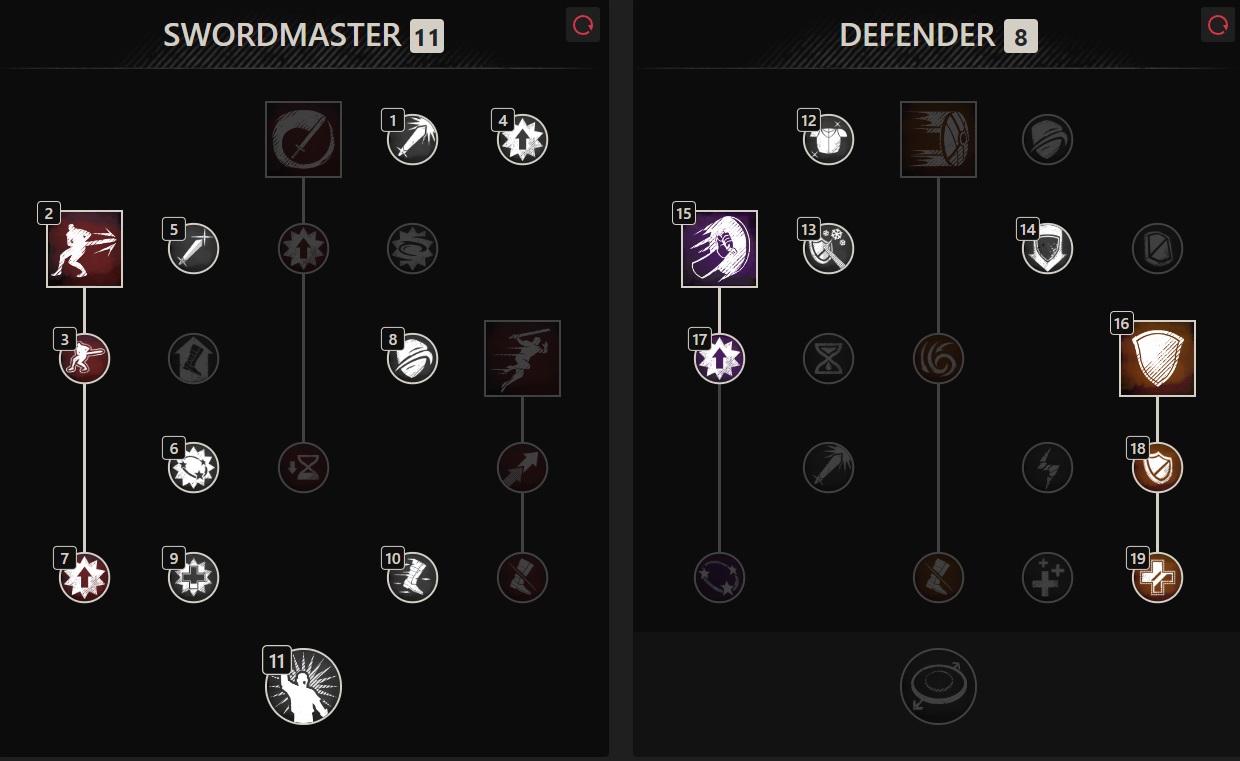 Por supuesto, you can take Sturdy Grip instead of Defensive Training or Freeing Justice instead of Counter Attack for PvP.
Sword and Shield Active Skills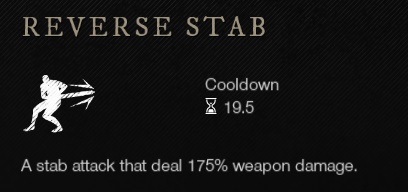 Reverse Stab is the hardest-hitting skill for the Sword and Shield. But the most useful thing in it is the passive ability, Táctico, which reset your cooldowns for 25% with a successful hit. This applies multiple times with multiple enemies, so you can basically fully reset your cooldowns by attacking 4 enemies at once. Generalmente, this can be the core skill of the whole build.
Another passive, Unstoppable Stab, adds Grit to this skill and lets you skip some boss mechanics in dungeons.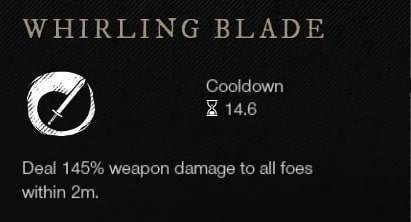 Pretty nice AoE skill with high damage, useful in PvE for DPS builds. The quick animation and Grit make it also useful in mass PvP.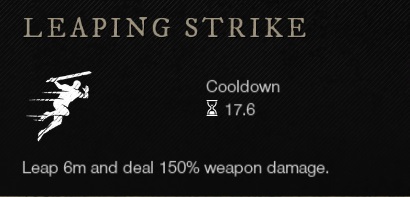 Leaping Strike by itself is pretty lackluster, even with patch 1.1. changes. It's a short-range to where you'd almost have to be on top of someone to land the hit. It deals okay damage with the upgrades, but the usefulness of the weak slow is questionable.
Golpe de escudo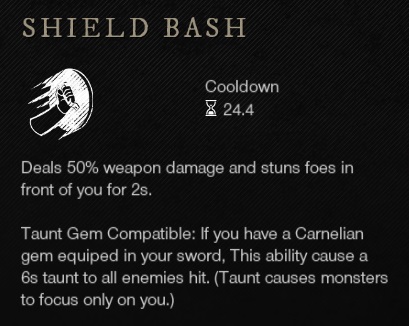 It's your main aggro tool as a tank. Taunts all foes for 6-seconds if you have a Carnelian Gem equipped in your Sword. Casi no hay ninguna circunstancia en la que no ejecutes esta habilidad. Es un aturdimiento muy rápido, que te ayuda a prepararte para un gran daño por la espalda tanto en PvE en solitario como en PvP. Solo se vuelve más fuerte cuando se actualiza.
Ataque de escudo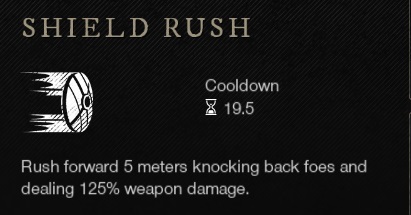 Derribar enemigos está bien, pero generalmente solo causa problemas para el resto de tu grupo. Entre esto y Leaping Strike, esta tiende a ser la brecha más consistente más cercana, ya que proporciona un potencial de configuración significativo.
Postura desafiante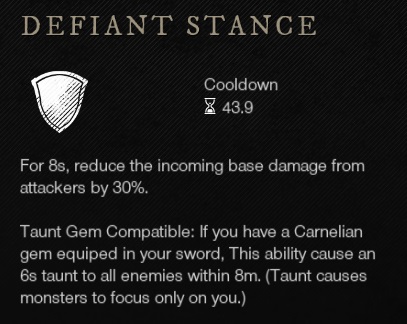 En PvE, esta habilidad te permite hacer tu trabajo como tanque sin preocuparte. You'll get to shrug off a huge portion of incoming damage, which makes this ideal to use against large groups where that extra defense is necessary. Taunts all foes within 8 meters for 6-seconds if you have a Carnelian Gem equipped in your Sword.
In PvP, sin embargo, the short duration combined with the insanely long cooldown makes this great to use when you're anticipating heavy damage, like a Hatchet rushing you with Berserk or other similar situations. De lo contrario, it falls short as your opponent can just choose not to interact with you during this skill and, luego, you have a long wait before it back up.
Engranaje
Heavy armor offers the best protection and +20% length of the crowd control debuffs for the price of lower mobility
. Por supuesto,
you can wear light or medium armor for some content where you need extra mobility
,
like farming resources
,
or making low-level quests
, por ejemplo.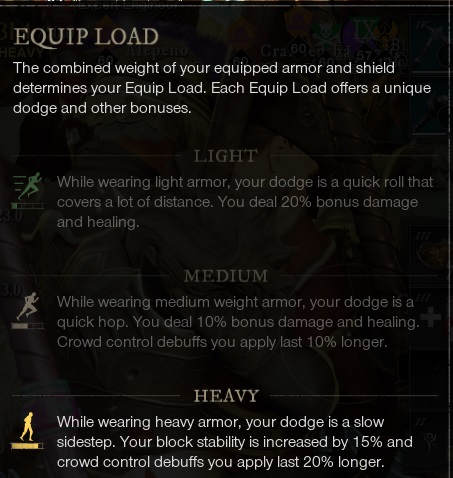 También, you can combine different types of armor, light with medium, staying under 13 kg, or medium with heavy, staying under 23 kg. You can change your armor type by simply replacing 3 parts.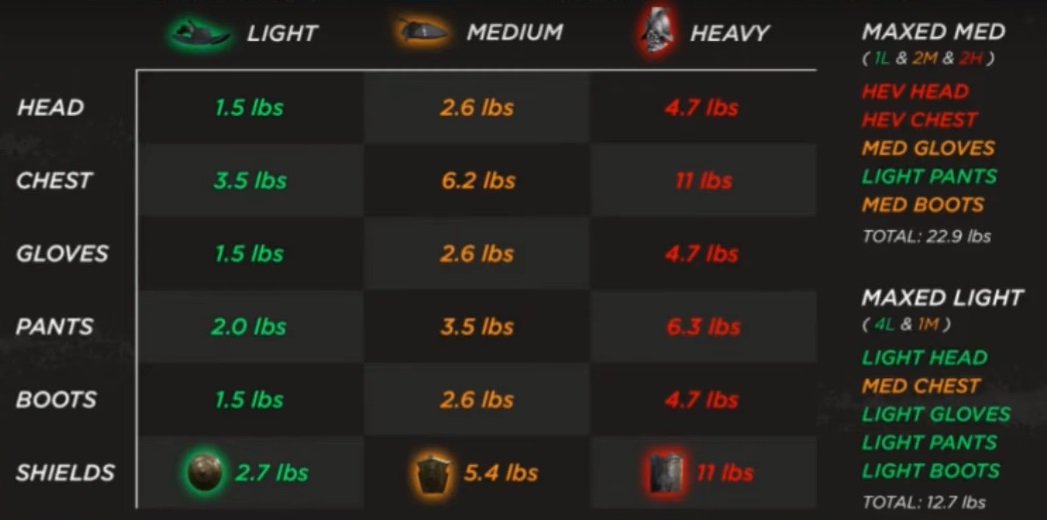 Look for Armor with Constitution or with Fuerza y Constitución.
The Shield ofrece una ranura de equipo adicional, y todos los atributos de la espada y el escudo son la mitad de lo que obtendrías de la misma arma de puntuación de equipo de un tipo diferente.
Sword and Shield's combo also grants you 6 total Perks, 3 on every item. Solo obtendrás Atributos y Beneficios de tu Escudo cuando lo tengas en tu mano.
Shields have damage numbers on them because this is what is used to calculate the damage dealt by Shield Bash and Shield Rush. Shields are also heavy and will affect your equipment load while it is equipped.
There are three types of shields: Ronda, cometa, y Torre.

Round Shields have the best damage and the lowest block stability.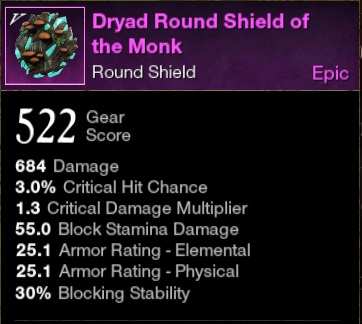 Tower Shields has the highest block stability and the lowest damage.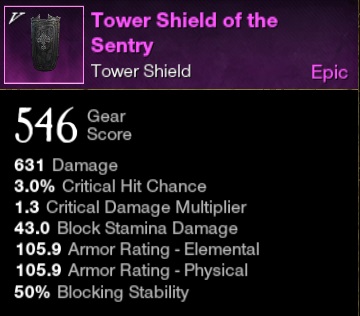 Kite Shields are the middle ground.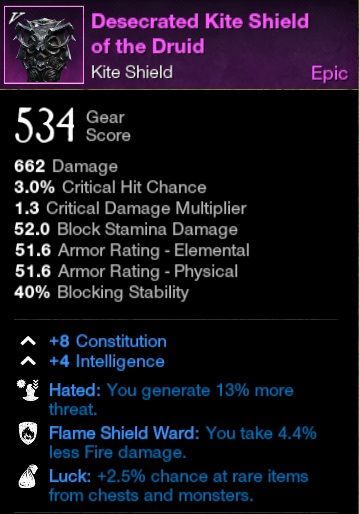 Block stability shows how much Stamina damage mitigation you will have when blocking with this weapon. Round Shields all have block stability of 30%, Kite Shields has 40%, and Tower Shields has 50%.
Entonces, si está buscando maximizar el daño que está haciendo con sus habilidades específicas de escudo para PvP o pura generación de amenazas, entonces quieres ir con Round Shields. Si lo que busca es que le resulte más fácil absorber el daño, entonces querrás usar un escudo de torre.
Gemas
Si eres un tanque, la única opción es Cut Pristine Carnelian ya que Sword and Shield es básicamente un arma de tanque.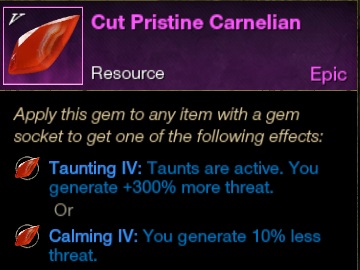 Si quieres jugar como DPS, para diversas situaciones y construcciones que puedes usar en tu espada: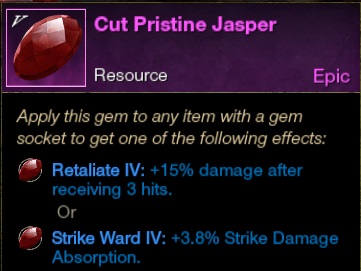 Se puede usar tanto para tanquear como para dañar, ya que te golpearán con bastante frecuencia..
Cortar malaquita prístina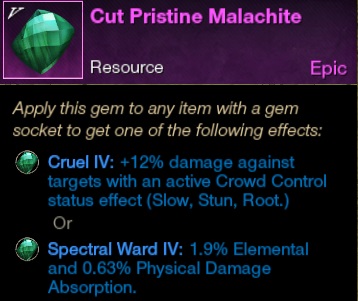 Se adapta más al juego en grupo ya que solo has aturdido.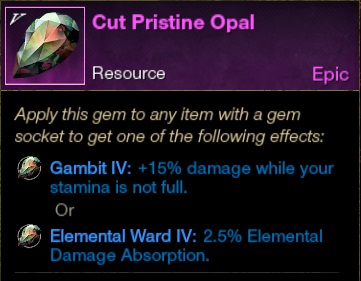 Bloquear y esquivar requieren resistencia – por lo que este se puede usar según la compilación y las preferencias.
Cortar esmeralda prístina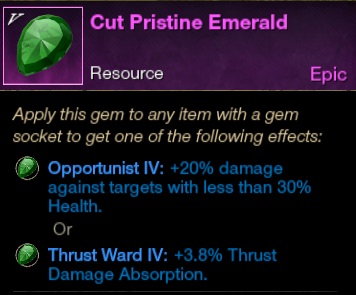 Esto te ayudará a ejecutar a los enemigos que huyen..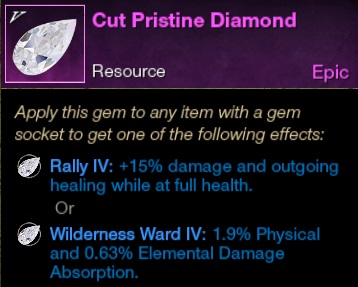 Se adapta más a un juego en grupo.
Si estás luchando principalmente contra un tipo de enemigo, por ejemplo, farming something, you can use it to convert your damage:
Cut Pristine Amethyst to fight against Ancients

.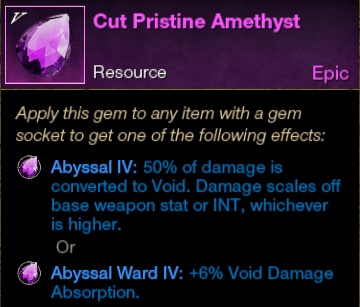 Cut Pristine Aquamarine against the Lost

.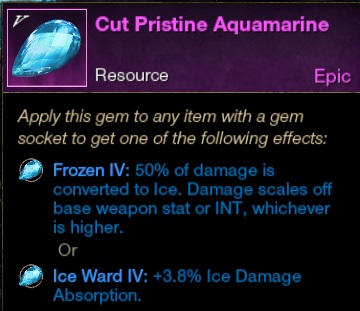 Cut Pristine Ruby against Angry Earth

.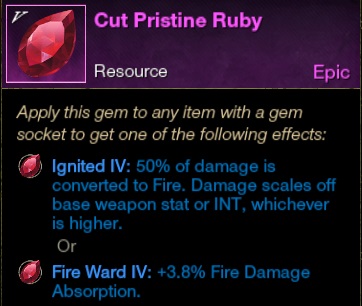 Cut Pristine Sapphire against Corrupted

.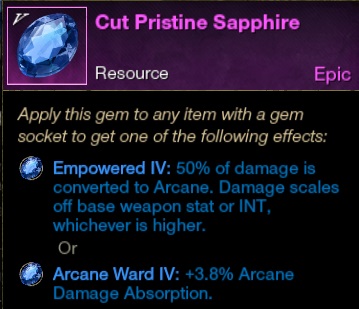 Cut pristine Topaz against Ancients

.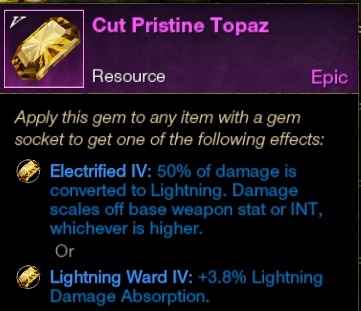 For Armor gems, if you're already level 60 and farming chests or mobs for gear, you need a Lucky Gem: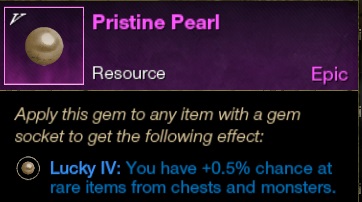 For other situations to provide generic damage absorption: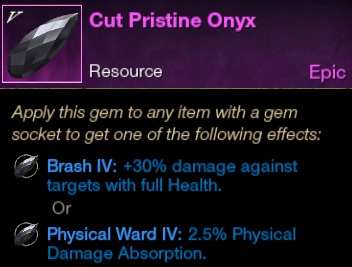 Cortar malaquita prístina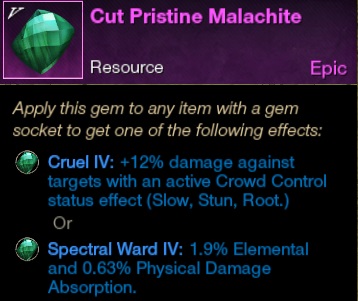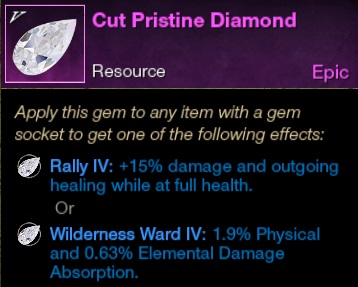 Equipment Perks
Sword and Shield Skill Perks
Estas ventajas se pueden encontrar en armaduras y armas, pero a menudo se incluyen en la armadura, ya que las armas tienen acceso a mejores ventajas en general..
Puñalada inversa contagiosa



Esta puede ser una buena opción para PvP si eliges ejecutar Reverse Stab. Sin embargo, no tiene mucho uso en PvE., ya que la mayoría de los enemigos en PvE realmente no te debilitan con demasiada frecuencia fuera de Enfermedad o un efecto de DoT.
Hoja giratoria empoderadora



Esta ventaja es situacional. Si está usando Whirling Blade para situaciones de AoE pesadas, puedes tomarlo.
Golpe de salto empoderador



It only increases your damage against foes that you hit in the back with Leaping Strike, which is not a great skill on its own. You can take it if you use the Leaping Strike, but this is not that great at all.
Repulsing Shield Bash



This Perk is occasionally nice as it allows you to reposition foes. Sin embargo, if playing with melee DPS, might cause them to have to reposition themselves as well.
En PvE, the only niche application this has is to push weaker mobs away from you and stun outside of your attack range. This means you take less damage, y pueden permanecer aturdidos durante toda la duración mientras continúas golpeando al jefe.
Acometida de escudo fortificante



Obtener Fortify siempre es bueno porque reduce el daño que recibes.. En PvE, incluso como DPS, usar Shield Rush generalmente significa sacar a la mayoría de los enemigos fuera de tu alcance. Es un efecto decente si ya estás usando Shield Rush, pero no hace de Shield Rush una habilidad particularmente fuerte.
In PvP, tiene un poco más de valor, ya que cualquier represalia de un enemigo causará menos daño. Tampoco tiene una calificación alta debido a la corta duración, which does mean they can space you out until the effect ends.
Accelerated Defiant Stance



In PvP, it can help you to avoid foes or catch up with them. The Haste effect is generally unnecessary in PvE as most enemies will be coming to you after using Defiant Stance.
Refreshing Ward



Pretty useful perk for tanking, especially in AoE situations.
Ventajas de armadura
Refrescante con Elástico from the Faction armor is a nice combination.



Refreshing also could be a useful universal choice depending on your secondary weapon.


Refreshing Evasion is useful if you're dodging a lot.


These skills fit mostly for tanking.
Sturdy



Nice perk for a Shield since you'll be using block as a tank pretty often.
Hated



Up to +15% more threat generation, which is very important for tanking.
Keenly Fortified



More Fortify is always great.
Refreshing Move helps a great deal with getting more skill rotations out.


You can also go for Lifestealing if you want to gain health back on hit.


Those fit more for damage dealing but remember that your damage also increases your threat level, so these perks can be used in tank builds too.
Pícaro y Vicious increase your damage heavily, as you'll almost always be dishing out backstab in group play.



Keenly Jagged is a nice choice to apply one more debuff.


Alternativamente, you can use Enchanted o Keen and get plenty of damage that way as well.



Slash Protection y Thrust Protection cover most PvE and PvP incoming damage.



Adivinar will give you more healing and Salud – más HP. Everything is simple here.



Fortified Recovery grants a fairly strong 30% Fortify for 5 seconds when hit below 50% health but has a 90 cooldown for effect.


Purifying Toast y Refreshing Toast are both great utility options for open-world PvP where health consumables tend to be used more. These all also help in PvE.




You can also grab Refrescante here if you don't manage to get it on your armor.
Regenerating is especially useful for tanking.


Despised



As a tank, you want as many threat generations as you can get.
Nimble helps the somewhat excessive use of Stamina from this build by boosting Stamina Regen slightly.


Refrescante is a decent Utility with the lowered cooldowns, but that's also available on armor.


Thrust Protection can be useful against Bow and Musket users.


Hearty will add you enough Aguante for one more additional dodge or shield block.


You can also go for Leeching if you want to gain health back on hit.


For damage dealing, you can also use on your Ring:
Keen Awareness is a strong option for higher burst damage potential



y Slash (for light attacks),



Thrust (for heavy attacks),



y Huelga (for shield attacks)



The choice mostly depends on your secondary weapon.
Blood Letting works great with Keenly Jagged on your weapon.


Weapons To Combine With
1.
Gran hacha
scales primarily with Strength and does a great job of gap closing and getting close to foes
.
It also has a taunt that heals you in Reap
.
But both these weapons deal mostly Slash damage
,
so both will be weak when fighting Ancient-type foes
.
2. Hacha. The Hatchet does a great job providing health sustain through Berserk, which allows you to heal up out of combat. Feral Rush can also root enemies so that you can catch slippery foes. You can also make the Hatchet a throwing weapon, which adds a ranged option to your setup. One downside is that both weapons have relatively short-ranged melee attacks.
3. War Hammer has enough crowd control abilities. Armor Breaker allows you to get a quick attack off that applies a powerful Rend; you can combine that with the Sundering Shockwave perk, and you can easily hit the 30% Rend cap. With these two weapons, you can switch between attacking and defending in a pinch. This weapon is strong against Ancient-type foes, which covers up for Sword's inherent weakness against them. One downside would be that you have no movement ability, and it's neither the hardest hitter nor the tankiest tank.
4. Life Staff. Paladin-like build where you can tank and heal at the same time. Although being in a Light Equipment load does provide benefits to healing, you can still heal in Heavy Armor. This combination is all about throwing down persistent heals like Beacon and Sacred Ground and then tanking with the Sword and Shield.
The downsides of this combination include no movement skill and not really having much damage because you trade it for maximum durability.
5. Lanza[nwnews.info]. This combination is mostly about tanking and applying Rend for your DPS to increase overall damage. Vault Kick can taunt foes and stun them, but since stuns and knockdowns are broken on hit, you cannot rely on this crowd control in group content besides as a temporary peel. The main problem with this combo is that you would not have any movement Abilities.
6. Void Gauntlet can be an amazing supporting weapon for a tank since Oblivion and Essence of Rupture don't go away when you swap your weapon. By casting these skills and switching to Sword and Shield, you'll get 20% Empower to you and your allies, 15% of target's weakening, 20% recovering of your damage as health, or just get unlimited block regenerating +30 Stamina per second; nothing in New World can hit you hard enough to break the block.
FAQ
How do you use a Sword and Shield in New World

?
A primarily defensive weapon, the Sword and Shield combo is designed purely to protect your allies, whether in PvP or PvE. It can be used for damage dealing but has pretty low damage.
Which attributes do I need

?
As a tank, you need only Constitution. As a DPS, you need Strength.
Which armor should I wear

?
Generalmente, players prefer heavy armor.
What is the best secondary weapon in New World

?
Cada arma tiene sus propias preferencias y puede cambiar la construcción de tu espada y escudo.. Puedes usar War Hammer para el control de multitudes., Hacha para agricultura JcE, Gran hacha para PvP masivo, o Bastón de vida para convertirse en un paladín que no se puede matar..
Más guías: