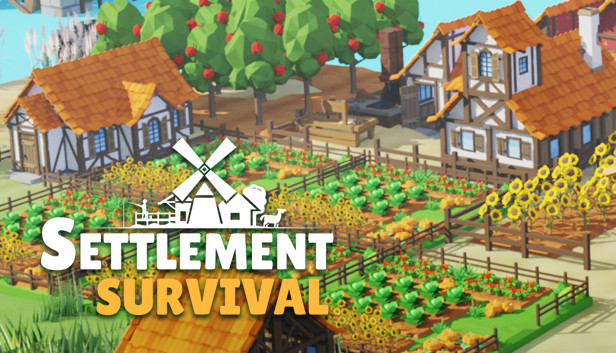 Aquí hay un tutorial para ayudarlo a superar la dificultad extrema. 9 año en Settlement Survival.
Los marcos de tiempo que proporcionaré al principio se basan principalmente en cuándo se construye un conjunto de edificios que quiero terminar.. Later in the guide I start providing longer and longer time frames that I am working with mostly revolving around sowing and harvesting time. This is because you will be switching around workers most frequently during these times.
This guide was written as of version v.0.84.182.698.
Map seed info
For this run I am going to use map seed 939683544. The problem with the map seeds at the moment is that the resource locations are randomized. I usually keep generating a map until I get a grassland on one side and fertile soil on the other. Aim to have either two fertile soils near your spawn or a fertile soil and a grassland. También, that location should be near a mountain so that you can build a mine pit. You will also want to be somewhat nearby the river to avoid your workers from having to travel too far to a ferry.
General tips and tricks
The most common method your villagers will die is from an injury during the winter. Usually its a forester who can't make it to a house in time. That or you placed all your houses too far away from the clinic and when the clinic gets too cold they die on their way to a house to warm up. Or even dying from a gathering job being too deep into the surrounding woods with no roads to get back somewhat fast once they realize they are cold. It would be easier to tell how villagers died if the game let you zoom to where the villager died but that doesn't seem to be in the game yet. And it's not clear if that functionality will be in the game at all but I'm hoping it will be.
On the topic of gathering, try to keep gathering plants while playing. It will help with your food levels and herb inventory. Just keep in mind that if you need stone or iron gathering plants will interfere with that action. Oh and workers who have nothing to do will gather so no need to take certain jobs off their duties like the vendor to make them temporary workers in order to gather. Sin embargo, if you decide that you need more gatherers and are relying on the sawmill operator to gather, they will stop gathering and return to work shortly after someone grabs a small stack of fuel for their house. This interferes with their ability to gather for any length of time.
Try to avoid having the tip of a logging camp's area on the other side of a mountain. Your forester will path all the way around the mountain to plant a tree there. Then they sometimes die due to how out of the way they are going. I fixed this issue by building a dirt path over the area they were planting trees in.
Fertile soil is supposed to increase the output of farmland, "fertile land" and forest farms by 100%. I think it only changes the amount of the harvest by 20% despite what the in-game information says.
The difference in using paper at the research institute is 2600 a year without paper and 25000 a year with paper. Entonces, instead of having a bunch of people in institutes have some of them making paper to be used for those institutes. You will also need paper for your school in town 1 when making town 2. This is to avoid having villagers who travelled so far to school that they are failing.
If you have a temporary worker aka labourer standing around they will perform collect tasks or fill in when a worker dies making it useful to have 1-2 temporary workers on hand when your settlement gets bigger. The biggest benefit is to prevent all the children "graduating" at once once the teacher dies leaving the entire school uneducated. También, the nice thing about having temporary workers is that when you assign a worker to a position it will choose the temporary worker that lives the closest to the job that you are trying to fill so having a bigger pool of temporary workers for the game to choose from is better.
La academia dice que permite que más estudiantes estudien la descripción de su edificio.. Dice que permite a los adultos estudiar en la sección de construcción de la ayuda del juego.. En practica, He visto dos 9 de un año que asiste a estudios allí, mientras que la única persona sin educación en la ciudad que está 92 años evita el lugar. Este hecho, combinado con el hecho de que cerrar una escuela para tratar de hacer que los estudiantes vayan hacia tu academia solo termina con un grupo de aldeanos sin educación porque se niegan a cambiar de escuela, makes this building a wash until you start building villas in an area as dense as possible. The plus side is that getting the academy tech provides you with 3 development points. Sin embargo, this will increase the cost of getting further development points as you will have those extra 3 points worth of development under your belt.
If you are looking to educate adults you need the adult school blueprint from traders.
Custom furniture adds 10 to the capacity of schools, boarding schools and academies.
Boarding schools are a bit cumbersome to use at the moment. I say this because they allow your population to grow quite fast by freeing up space in the homes the children reside in and they don't house the students until a proper house is built for them. They just get kicked out onto the street upon graduating and then you get a homeless villager notification.
Some upgrades can't be done without researching the respective technology. So don't go buying bricks or ovens without the development tech Construction: Potenciar: brick kiln. De lo contrario, quedará atrapado con ladrillos que solo puede usar para aumentar el espacio de almacenamiento y hornos que solo puede usar para almacenar en una instalación de almacenamiento hasta que pueda usarlos.. Si una actualización requiere una tecnología, puede verla colocando el mouse sobre la imagen en la parte superior izquierda del botón de selección.. Mostrará la tecnología requerida en texto naranja..
If you purchase the materials for an upgrade like medical soap you should make sure to use it as the soap is in transit from the ferry to the warehouse otherwise the villagers will start using it up. There is a way to change the priority for using an item in the statistics > Stock Overview menu. You will want to set the medical soap to 9 to make it a lower priority for usage.
Villagers with a home just walk into their home and restore their strength, comida, thirst and temperature almost instantly. Los aldeanos sin hogar toman descansos cuando llegan 0 fuerza y ​​no hacer nada hasta que consigan 2 barras lejos de la fuerza completa.
Puede parecer que la sequía no hace nada en sus primeras dos sequías, pero una vez que sus puntos de pesca desaparecen después de haber estado confiando en ellos, dolerá.
Si te apetece ser un conejillo de indias, podrías investigar Logística: Expansión de paquetes cuando investigué sobre agricultura: Eficiencia agrícola y vea si eso conduce a una mejora notable en toda la aldea para la eficiencia.. Then you could research Agriculture: Farming Efficiency when I researched Logistics: Packet Expansion. I don't feel like doing another run to test this for the guide right now. But I wonder about this because the Agriculture: Farming efficiency only affects the farmers and Logistics: Packet Expansion would effect everyone and it more than doubles carry capacity from 70 para 150 whereas the efficiency only affects farmers sowing and harvesting by +100%. Maybe I am just not appreciating the increased sowing speed as I tend to focus on the harvest speed.
Tips on research
Agriculture: Herb Knowledge is a bit of a waste considering you can just buy a herb seed from the traders for 12,000 plata. The tech is also only a chance to gain seeds and not a guarantee. It is only worth purchasing in my opinion in the Easter Island scenario when you won't see traders for a long time.
Agriculture: Fishing Net technology allows your fishing dock to gain roughly 3 times the amount of fish at the cost of needing people to grow flax or reed as well as someone to turn them into rope and then turn the rope into nets. Entonces, all in all a bunch of work and development points for little gain when you consider you could have all those workers just farming. You're better off skipping out on fishing unless you find a location where you can cover 2+ fishing resource points.
Agriculture: Fishing Pond is much better than the two predecessors.
Minería: Forge says in the forge's description that it is a building that makes tool kits. Pero, in order to make tool kits at the forge you require the tech below it called Mining: Upgrade Gear.
Quality of Life: Soap might seem useless without the associated bathhouse technology but villagers will use small amounts on their own when soap is available.
Quality of Life: Heater. From the building description you might think that this would boost productivity during winter by enabling villagers to stay within their respective structures. Instead your villagers will path towards the boiler room to regain heat. And I mean they will path towards it even if they feel like regaining their strength at home afterwards. I've watched one researcher do just that. A pesar de que, my research academy that used paper seems to have gone from 32000 para 35000 in development exp after using a boiler room. I noticed a significant drop in fuel usage after placing some boiler rooms however that could have been related to other factors. Como convertir casas en casas de lujo y detener el uso del carbón para producir cosas por alcanzar el límite de producción..
Educación: La expansión escolar es buena para duplicar la generación de puntos de desarrollo desde el principio. Mucho mejor que tomar un instituto de investigación, que requiere un trabajador independiente para el personal de un edificio por solo 30 puntos de investigación cuando una escuela mejorada con la expansión escolar puede producir 40. Los institutos de investigación solo comienzan a dejar las escuelas en el polvo cuando comienzan a usarse papel o libros. I'm talking going from 2600 para 25000 research points with paper.
Logistics: Transfer station. I never use this building. This might be far more useful on large maps but I play on medium sized maps and extreme difficulty means villagers might freeze to death if they're that far away from civilisation to make this building a necessity unless its paired with a boiler or a tent. How the building works is you place it near a building like a farm and the farm workers deposit their produce in the transfer station. Your transfer station worker then moves the goods to warehouses outside its effective range. This makes your farmers stay close to work longer.
Logistics: Small Supply Station. This building allows you to assign a resource to be taken from storage facilities around the map and given to production buildings within range. This is done so those production buildings aren't spending their time gathering the required resources and can focus on just producing things. Proporcionar papel a una academia de investigación aumenta su productividad desde 25000 para 32000 development points.
Logistics: Cava. Este edificio puede parecer que permite viajar rápido. En cambio, solo trata de decir que los aldeanos podrán caminar sobre el sótano para llegar a donde necesitan estar..
Logistics: Existencias. El centro de almacenamiento tiene bastante capacidad de almacenamiento.. Sin embargo, te arrepentirás de haberlo construido cuando un tornado lo golpee y acabe con la mayoría de tus recursos.. I would recommend to instead go with the mountain warehouse option available from the same development as it is indestructible.
TLDR build and research order
casa (
By the clinic
)
Large Well
Campo (
on top of fertile soil
)
casa (
by the field
)
Research
– Construction
:
sawmill
(1
st development point
)
Aserradero (
south west of the storage
)
Clinic
casa (
by the 1st logging camp
)
1
st Logging camp
Research
– Agriculture
:
Compost
(2
nd point spent
)
Research
– Agriculture
:
Fertile Field
(3
rd point spent
)
Research
– Agriculture
:
Farming Efficiency
(4
th point spent
)
Repair shop
2
nd Logging camp
casa (
by the 2nd logging camp
)
Cabaña de caza
Herrero
casa (
near 3rd logging camp
)
Church
3
rd Logging camp
Research
– Mining
: Minería (5
th point spent
)
6×7
open warehouse
(
in between the blacksmith and the paused mine pit
)
Tailor workshop
Research
– Mining
:
Stonepit
(6
th point spent
)
Pasture 11
×11
Paused Quarry
(
paused once the materials were brought to it
)
School
casa (
South east of the well
.
I assume that brewer died from freezing to death due to their workplace being too far from somewhere warm
)
Research
– Logistics
:
Basket
(7
th point spent
)
Research
– Logstics
:
Packet Expansion
(8
th point spent
)
Research
– Construction
:
laid stone
(9
th point spent
)
Masonry Workshop
Cantera
Research
– Processing
:
Weaving
(10
th point spent
)
Weaving Workshop
casa (
Near mining pit
)
Research
– Education
:
school expansion
(11
th point spent
)
4×3
open warehouse
(
near well to stockpile just water
)
Month

1 Año 1

Está bien, first things first. Pause the game. Save your awesome map and resource layout. See the screenshot below for my preferred starting location. Grasslands and fertile land resource points within range. A mountain for mining and a somewhat nearby the river for getting that ferry going. If your grasslands or fertile soil location is near a mountain check how much of it can't be worked unless you flatten the mountain with the development technology landfill and how much of a deal breaker it will be. In my case the grassland resource point had a single square occupied by the mountain which meant I could only make a 10×11 pasture instead of an 11×11 pasture.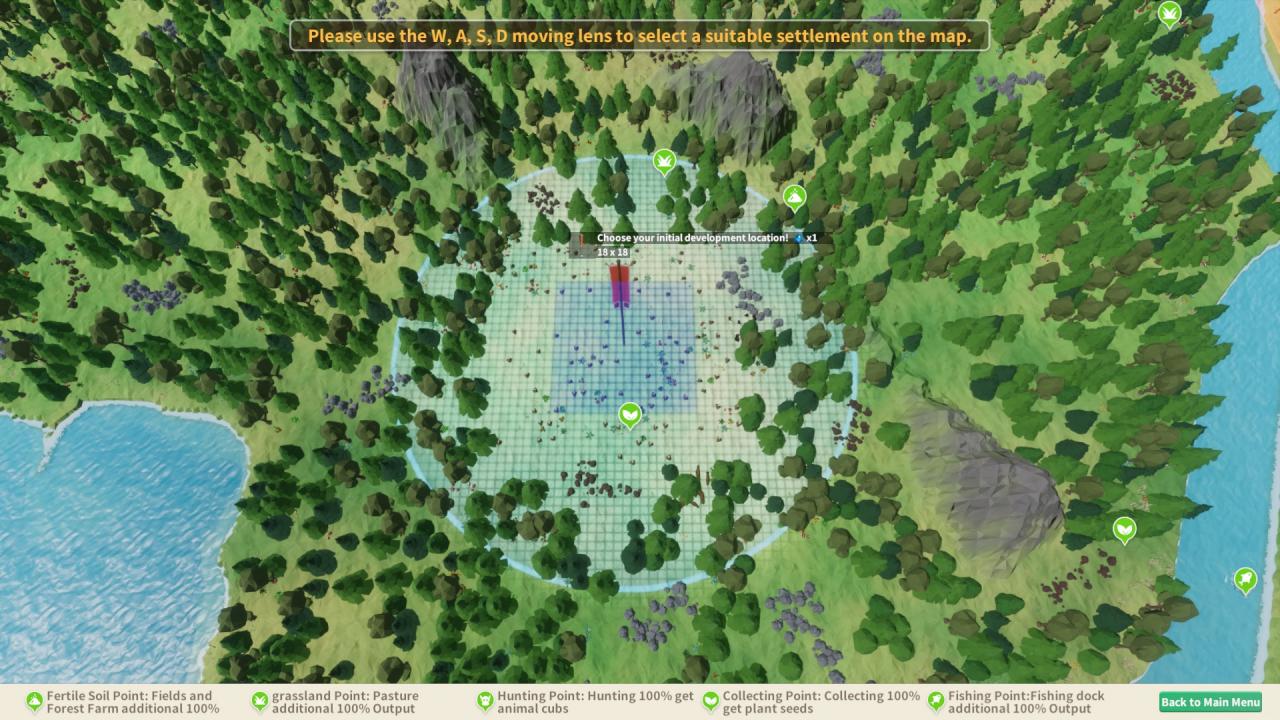 Queue up some dirt roads around your starting builder cabin, starting durable storage and starting marketplace. Agregar 1 builder to your builders cabin. "Why just 5 builders" you might ask? Most buildings only support having 2 builders working on them. The fifth person can slowly work on a third building or get started on those dirt roads. además, si tienes mas de 5 builders, they tend to just stand around instead of gathering goods whereas labourers seek out gathering jobs and clear building sites of trees. You're going to have no resources in no time flat if everyone's a builder.
You will want to place one house north west of the builders cabin(I rotated my camera a bit. You can see the layout in the screenshot below). Place and pause one clinic north west of the market. Set the house to be a priority (watch them promptly go build the field instead) so your villagers have somewhere to avoid freezing to death during the freezing weather that you start in. Make sure to place that house as close as possible to where you plan to build your clinic as injured people will leave the clinic to warm up in a house every so often. Also make that house face the clinic.
Place a church south east of the market. Queue up a large well south west of the church. Designate a patch of rocks and a patch of iron to be gathered (if you queue up plants to be gathered alongside the stone and ore they will prioritise that over gathering stones and ore as the game assumes you're in a food crises if you are gathering plants). Your vendor will gather them when they have nothing better to do. Your temporary workers will get right on gathering after they are done clearing the trees from the building sites. Pause the church but keep the well active.
Queue up one 11×11 farm to cover the fertile soil location.
Locate the mountain that you plan on making your mine and hope that its not shaped too weird to allow a mine to be built. Keep in mind that later on you will need to build a stockpile and blacksmith near that location. Entonces, for now place and pause a tailor workshop and a blacksmith near the mountain you want to use for mining as a reminder. In my case I placed the tailor's workshop north east of the church and the blacksmith north east of the tailor's workshop.
Unpause the game.
When the well gets built have only one villager assigned to it as it will default to having 2 water fetchers. When the field gets built assign the crops you want grown and leave it with 3 trabajadores. I assume that pumpkins (that were added during this halloween patch) are overpowered so I am going to try and get by using my starting crop that has low yield but grows quick (in this playthrough it is lettuce. You might get another crop.) I also expect that starting with pumpkin seeds is a seasonal thing that readers of this guide might miss out on somewhere down the line.
Pause the game once your well, house and field are built. Queue up some more stone and ore to be gathered if you dont have enough to finish building as you may have forgot to during the last set of instructions. If you are good on stone and iron then start gathering plants to try and avoid the coming food shortage. Llevar 3 builders off of the builders cabin to be temporary workers. Keep in mind if you start clear cutting the forest around your starting location it will affect how close plants (mostly those vital herbs) grow next to you. Luego, it will be harder and harder to gather during the winter (if you start forgetting to gather) as you will need to travel further and further away to get anything as you keep clear cutting further and further away. I like to cut patches of forest in the area outside of town when gathering wood during spring so that the trees can replenish on their own. Sin embargo, this makes the process of gathering wood less efficient.
Buildings being built during this time frame
• House (By the clinic)
• Large Well
• Field
Buildings paused
• Clinic
• Church
• Tailor workshop
• Blacksmith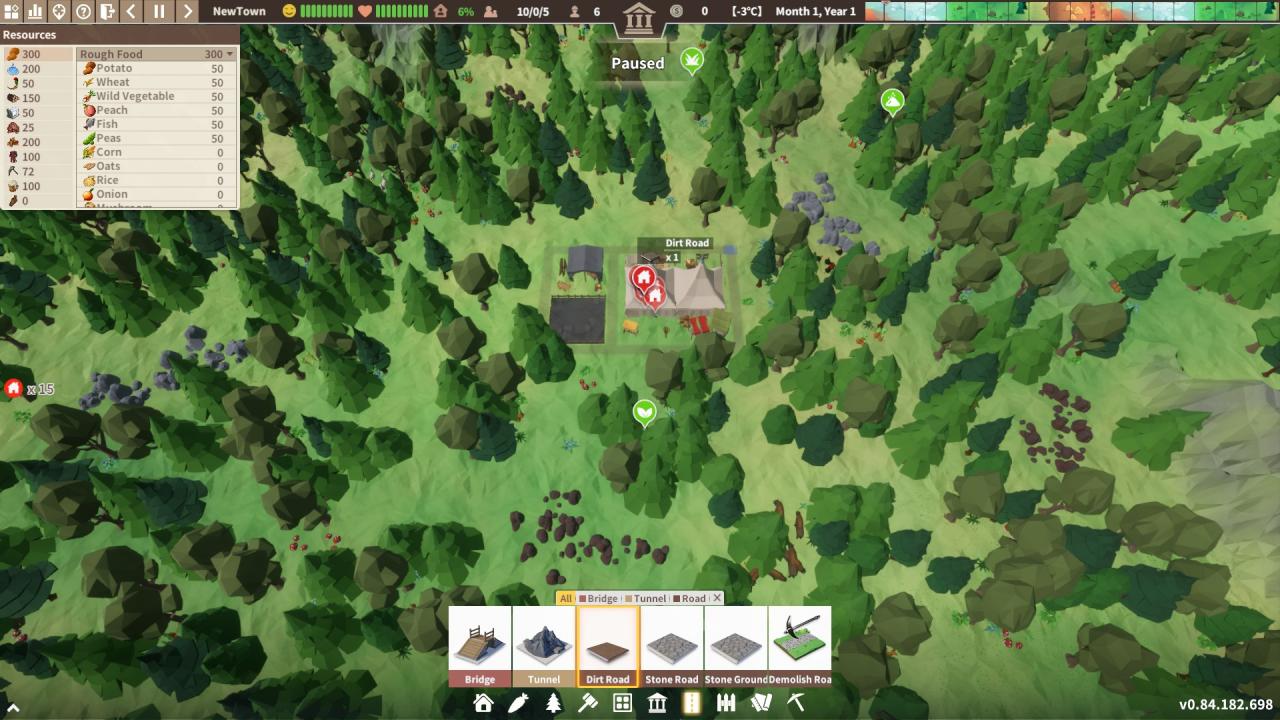 Paso 1 plan some dirt roads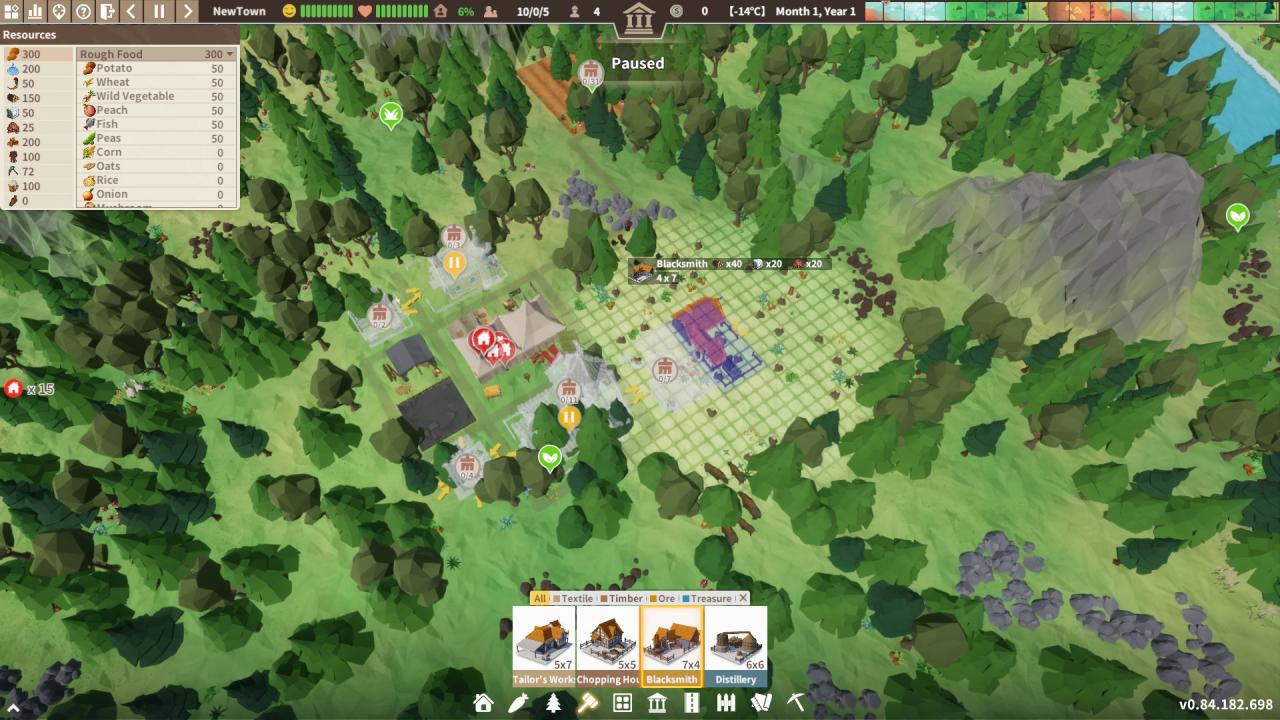 Paso 2 draw the rest of the owl… quiero decir… plan the rest of the colony. I have yet to pause the tailor and blacksmith in this screenshot.
Month

2 Año 1

– Month

6 año 1

Ensure that your fields have 3 farmers assigned to them for sowing season.

I will be placing houses from here on out near workplaces to prevent villagers from freezing to death. For example I will be placing the second house right next to the field. This is a horrible concept in terms of keeping an orderly layout. Sin embargo, your villagers will be less likely to freeze to death compared to if they get caught far away from a residential district in an orderly building layout. As a side note don't go off on your own and build too many houses at the start. Each house will end up using their own portion of fuel to remain warm during winter. And you only start with 200 fuel.

On the topic of fuel, open your development menu by clicking that building in the middle at the top. Navigate to construction and activate the sawmill. Now you might be thinking "I'll just build a water sawmill. It's description says its more efficient". Pero, keep in mind your sawmill operator has to travel to your storage to place the fuel there. You will also need a house by the water sawmill to prevent freezing during the winter. Also the water sawmill requires more resources. Entonces, just build a regular sawmill by the storage. Resume construction of the clinic.

When March rolls around your 3 farmers will start sowing.

When the sawmill is finished building assign 1 villager to it to start making fuel. Also instruct the sawmill to make fuel out of timber. The default amount of fuel to stop at it 200 which will work for now.

I was getting down to 108 food so I queued some plants to be gathered. If you're located near water avoid gathering reeds during a food shortage. The shortage was getting bad because I forgot to gather stone and ore earlier which led to a shortage of plants when I needed to start gathering plants. Entonces, I took the remaining 2 builders off of building to be temporary workers and help out with gathering food. I managed to get a development point and found agave tequila seeds during this time.

You might feel like you're doing nothing during this time but you're just waiting for harvesting to start so that you can assign extra villagers to bring in the harvest before the frost gets at the crops. They seem to start harvesting once they're about 25% into month 7.

Research
• Construction – sawmill (1st development point)

Buildings being built during this time frame:
• House (by the field)
• Sawmill (south west of the storage)
• Clinic

Buildings paused
• Church
• Tailor workshop
• Blacksmith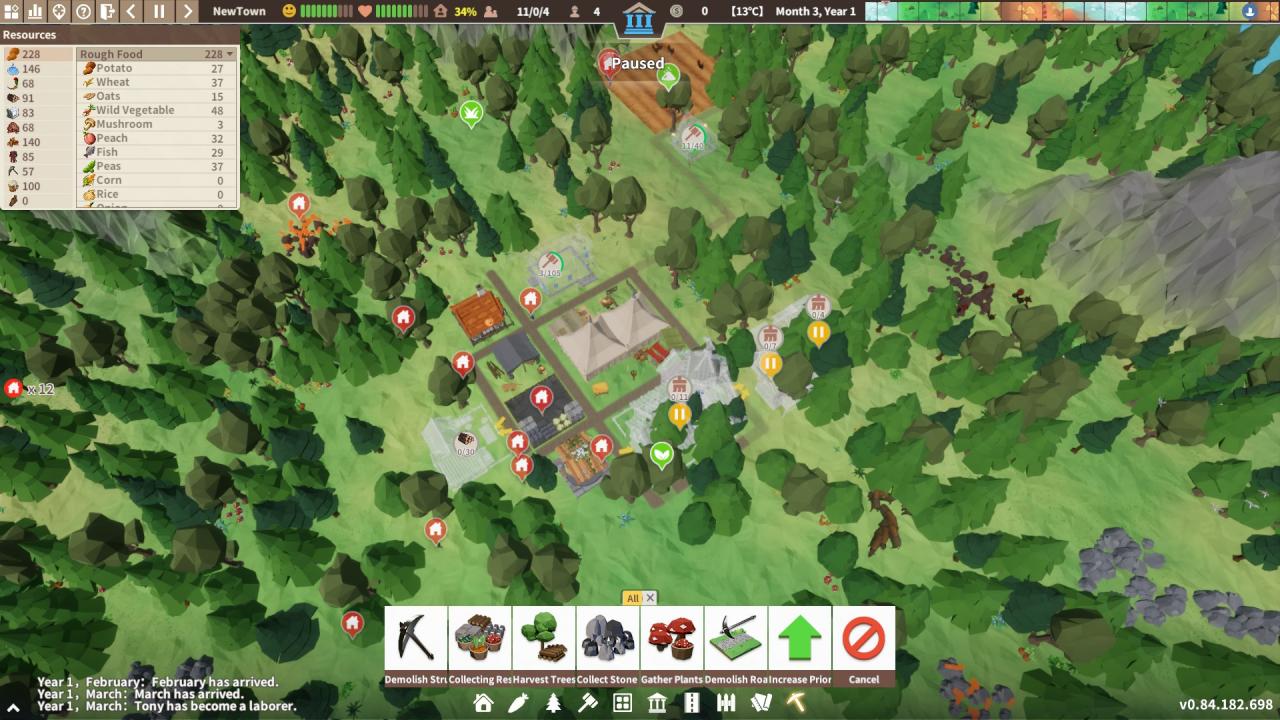 2nd house, sawmill and clinic work in progress.
Month

7 año 1

– Month

2 año 2

Agregar 2 villagers to help with the harvest (For a total of 5 working the fields). Assign one builder to the builders cabin. Sitio 3 logging camps and pause 2 de ellos (preferably the two that aren't near a stone or iron pile so that you can build a road to the one you plan on building. Then you can retrieve those resources faster when you need them.) Place a house by the one logging camp that is scheduled for building. Take the sawmill operator off of the sawmill once the production limit is reached and make them a builder.

I got another development point in month 8 año 1. I plan on holding onto this one for now.

I got a notification about the autumn harvest in month 9. There were almost 4 rows of lettuce left to be harvested. I took one builder off of building and made them a farmer while the remaining builder finished the logging camp. The frost took my one remaining row of lettuce as I didn't have enough farmers to harvest in time. I finished the harvest with 850 comida? I forgot to check once the harvest was done and I started making them gather plants which got me up to 929 comida.

I took my farmers off of the fields to be temporary workers. I took my builders off of building also. This is because I ran into a shortage of wood so I cancelled all the gathering actions to stop the food gathering and assigned them to just gather wood.

Once I had a healthy 57 timber to my name, which was around month 12, I resumed building on the logging camp. And I resumed fuel making. I made there be 3 total builders and one sawmill operator. I resumed gathering of plants as the trees were getting a bit sparse near my base and I couldn't go further out to get trees due to the cold weather.

When the logging camp was finished I assigned a total of 4 foresters to the camp. I also assigned a second water fetcher to gather water. Leaving me with 3 temporary workers.

I got pea seeds in month 1 of year 2.

I realized that I placed one of my logging camps that I have paused is too far away from the village. I moved it so that the circular perimeter is touching a building in the village and paused its construction again.

When month 2 rolls around assign 3 farmers to the pea field. If you feel like waiting until month 3 rolls around go ahead. But if the game is notifying you during month 3 that its planting season you're kinda late to start planting and will require 4 farmers.

I got my third development point waiting to be used.

When taking into consideration that planting hasn't started yet, and I received the pea seeds, and I have 3 development points to spend, I am switching to growing peas. Al menos, I would have switched had I remembered to while being distracted by writing this guide. I researched Agriculture: Compost, Agriculture: Fertile Field, Agriculture: Farming Efficiency. If you don't have pea seeds at this point you should still get farming efficiency in order to avoid the same scenario that played out during the first year where the crops weren't harvested fast enough despite growing crops that grow fast. It won't seem like much of an improvement without Logistics: Packet expansion and Construction: Laid Stone.

I also got flax seeds in month 2 año 2.

Research
• Agriculture: Compost (2nd point spent)
• Agriculture: Fertile Field (3rd point spent)
• Agriculture: Farming Efficiency (4th point spent)

Buildings being built during this time frame:
• House (by the logging camp)
• 1st Logging camp

Buildings paused
• Church
• Tailor workshop
• Blacksmith
• 2 logging camps
Month

3 año 2

– Month

11 año 2

Build a repair shop now to avoid the fate I ran into below.

Resume construction of one of those paused logging camps. Keep only two builders in the builders cabin and remove the third one so they can be a temporary worker. Gather some wood further away from town. Once the logging camp is built start construction of a house near it. I got a notification about having 0 repair men so I placed a repair shop. The placement of repair shop doesn't matter too much as it seems like one repairman can work most of the map. I shoved it near the fields. I took one worker from the well and two from the foresters to be temporary workers as I was experiencing a timber shortage. I also shifted one forester from the now barren logging camp to the newly built one. Unfortunately the repair shop took so long to build (because I was short on timber) that the house that needed repairs got destroyed and needed to be rebuilt. Entonces, since that was a waste of resources I will be changing the build order in this guide to build the repair shop before the second logging cabin.

Keep gathering timber during month 8. Assign a total of 5 farmers to harvest. I managed to finish harvesting with a total of 1032 food in month 10 once the farmers made it back to the stockpile. Take the farmers off the field. Build a hunting cabin south east of the paused church. I got a development point when month 8 was almost done. Resume building the blacksmith.

Research:
• None

Buildings being built during this time frame:
• Repair shop
• 2nd Logging camp
• House near that logging camp
• House (rebuilt the one next to the clinic)
• Hunting cabin
• Blacksmith

Buildings paused:
• Church
• Tailor workshop
• 1 logging camp
Month

11 año 2

– Month

2 año 3

Once the blacksmith is built set the blacksmith to have a production limit of 50 stone tools and start making stone tools. If you're like me you have 26 tools left at this point. Assign 3 hunters to the hunting cabin. Clear the trees by the grassland resource point in case you get a good animal cub. By good animal cub I mean either a buffalo or an alpaca for the tailoring materials. Queue up and pause the building of an 11×11 pasture on the grasslands resource (my pasture is only 11×10 in this guide due to the mountain taking up 1 square of the grasslands resource.) Gather plants. Build a house near the third logging camp. Once that house is built resume the church. Also pat yourself on the back as you should now have all your villagers in a house. Add one builder to the building hut to work on the roads. Once the church is built pull a hunter to be a cleric. Watch the calendar to assign farmers. Switch the field to peas if you have found pea seeds by now.

Research:
• None

Buildings being built during this time frame:
• House (near final logging camp)
• Church

Buildings paused:
• Tailor workshop
• 1 logging camp
• Pasture (preferably 11×11 on the grasslands resource)
Month

3 año 3

– Month

7 año 3

Take one hunter and 2 builders and make them farmers. I'm going to mention it again. Switch to peas if you have found them. Resume construction of the logging camp. Gather more stone and iron. Research Mining: Minería. Save and call it UnCancellableBuildingsSuck. Place and pause the mining pit. I got another development point in month 5 año 3. Spend it on Mining: Stonepit. My blacksmith reached the tool limit so I made him a temporary worker. Assigned more trees to be felled.

Research:
• Mining: Minería (5th point spent)

Buildings being built during this time frame:
• 3rd Logging camp

Buildings paused:
• Tailor workshop
• Pasture (preferrably 11×11 on the grasslands resource)
• Mining pit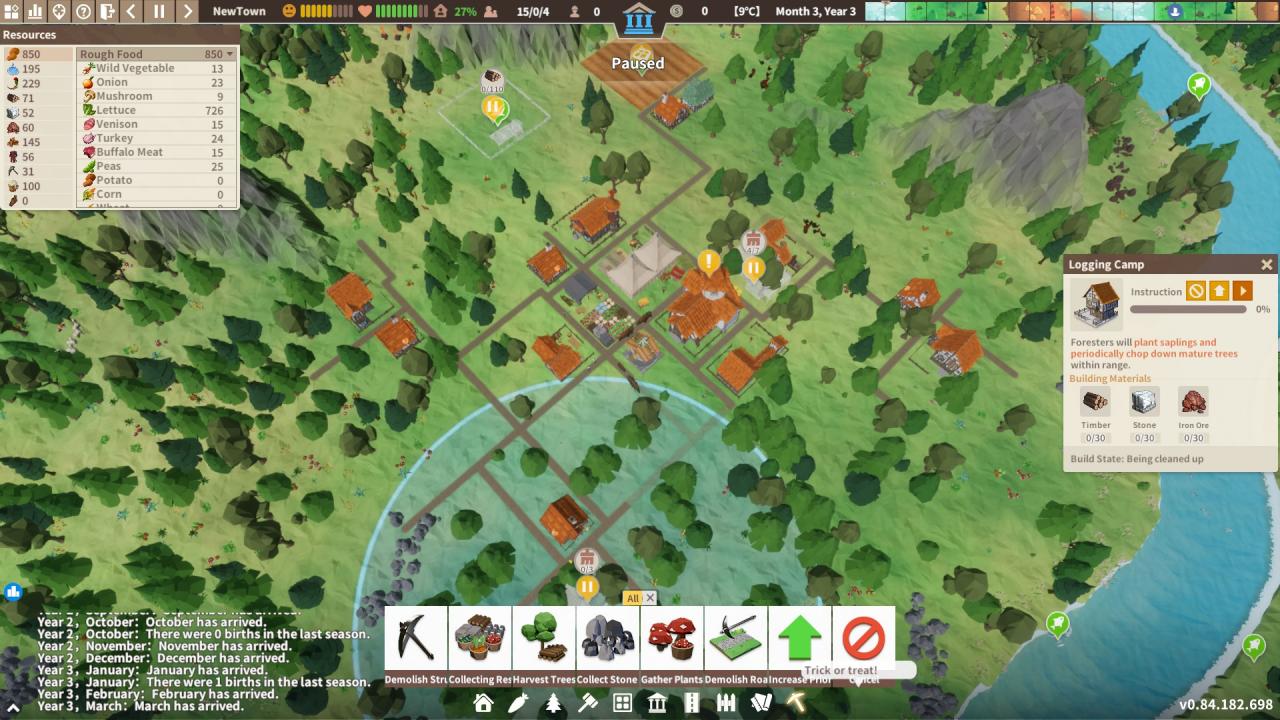 Here's what the layout looks like as of month 3 año 3.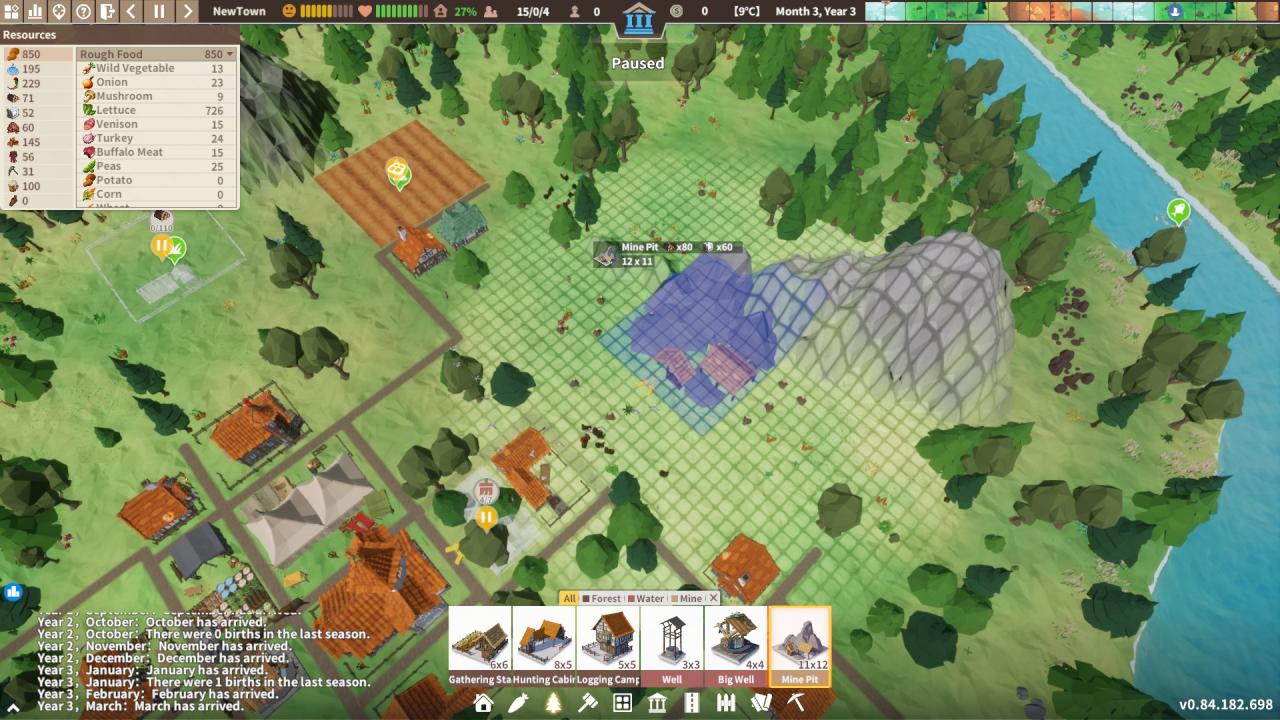 Mining pit location. Save before placing it as you can't cancel a placed mining pit.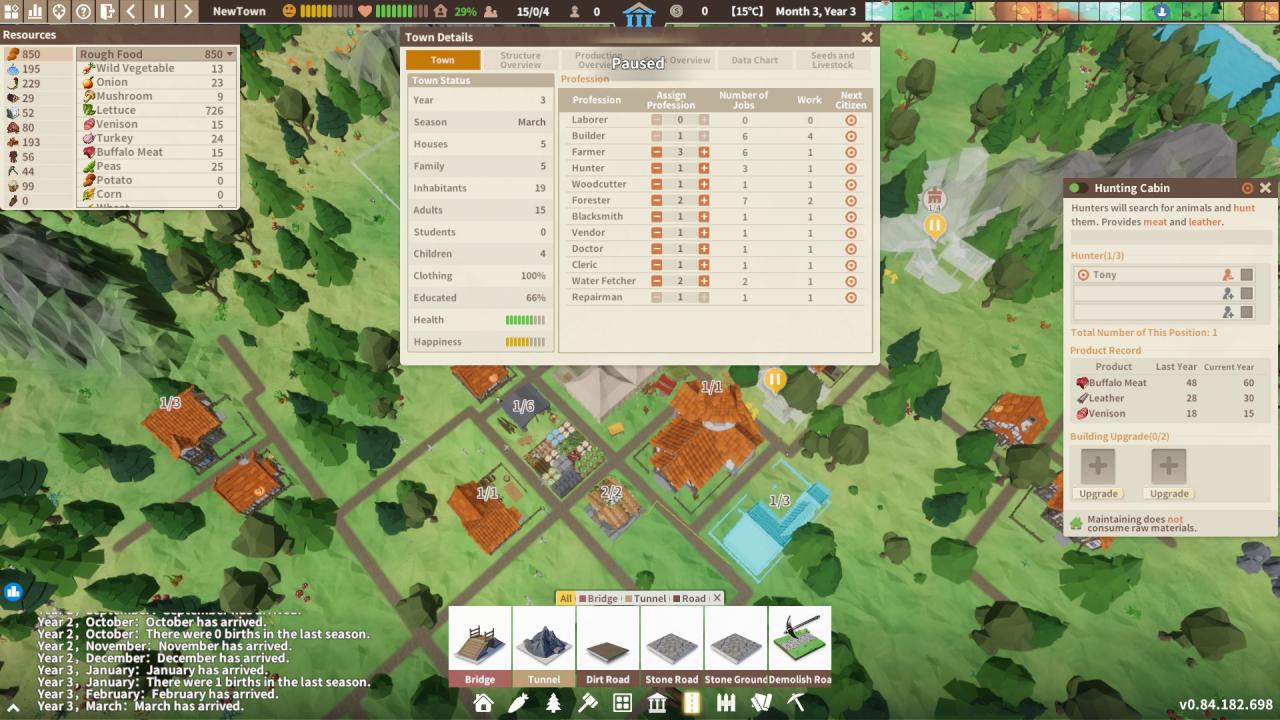 Worker assignments as of Month 3 año 3.
Month

8 año 3

– Month

2 año 4

Assign one of the hunters and one water fetcher to work the field. I had an abundance of stone but little iron left so I gathered a bunch of stone in anticipation of the mine being built. I reached the notification about the autumn harvest starting so I took another water fetcher off the well seeing as I'm sitting on 398 agua. My durable storage yard was reaching 80% capacity so I built a 6×7 open warehouse in between the blacksmith and the paused mine pit.

I finished the harvest with 1436 food and 361 water in month 10 año 3 con 5 degrees Celsius to spare. I went from 615 lettuce last year harvested to 957 peas harvested in year 3. Time to make the farmers do other jobs. Resume building the tailor's workshop. Tener 2 builders, 1 blacksmith, 3 hunters and 1 water fetcher. You will notice that your booze stockpile is now starting to go down. Once your tailor is built figure out whether you have an abundance of leather or alpaca wool. En mi caso tengo mucho cuero de búfalo y ciervo, así que tendré que hacer ropa con cuero.. Si cazaste muchas alpacas, usa su lana como único valor. 2 plata por lana mientras que el cuero es 5 plata por cuero. También es más difícil obtener cuero.. Si las cosas se ponen realmente mal, puedes intentar hacer ropa con 5 calabazas y 5 cañas si tiene esos recursos a mano y la elaboración de ropa de Halloween todavía está en juego cuando está leyendo esta guía.

Tomé un constructor para trabajar como sastre. Asigné al otro constructor para que fuera un forestal. Llegué al límite de producción con mi herrero y lo asigné como guardabosques..

Obtuve otro punto de desarrollo en algún momento durante todo este. Lo puse en minería: cantero.

Mira la fecha del mes 3 asignar 3 agricultores para trabajar.

Research:
• Mining: Stonepit (6th point spent)

Buildings being built during this time frame:
• 6×7 open warehouse (in between the blacksmith and the paused mine pit)
• Tailor workshop

Buildings paused:
• Pasture (preferrably 11×11 on the grasslands resource)
• Mining pit
Month

3 año 4

– Month

7 año 4

Assign 3 agricultores al campo. Es posible que ya hayas notado que algunos aldeanos cruzan la ciudad para llegar a su lugar de trabajo.. Así que muévalos para que estén más cerca de sus lugares de trabajo y coincidan con las asignaciones de mis trabajadores en la imagen de abajo. tuve 3 of the people living in the farm house working as: a vendor, a hunter and a water fetcher. They all got put on farm duty. I am trying to stockpile enough wood for both a pasture and a mine pit in case I need to build the pasture on a moments notice. Sin embargo, seeing as I have 0 hunters working I just resumed the mine pit for building. I took the tailor and made them a builder. Try to gather more distant timber and iron seeing as it is spring and only going to get warmer.

I got a development point in month 5 año 4. I am saving that for Logistics: Packet Expansion which requires Logistics: Basket.

I managed to reach 204 timber so I resumed the construction of the pasture in anticipation of getting an alpaca or buffalo. I took my one temporary worker and made them a builder. I set the durable storage yard to no longer accept construction materials and ore. I set the open warehouse to not accept food or water. I built a distillery south east of the sawmill. I also bumped up the domestic fuel production limit to 240.

Research:
• None

Buildings being built during this time frame:
• Pasture 11×11

Buildings paused:
• None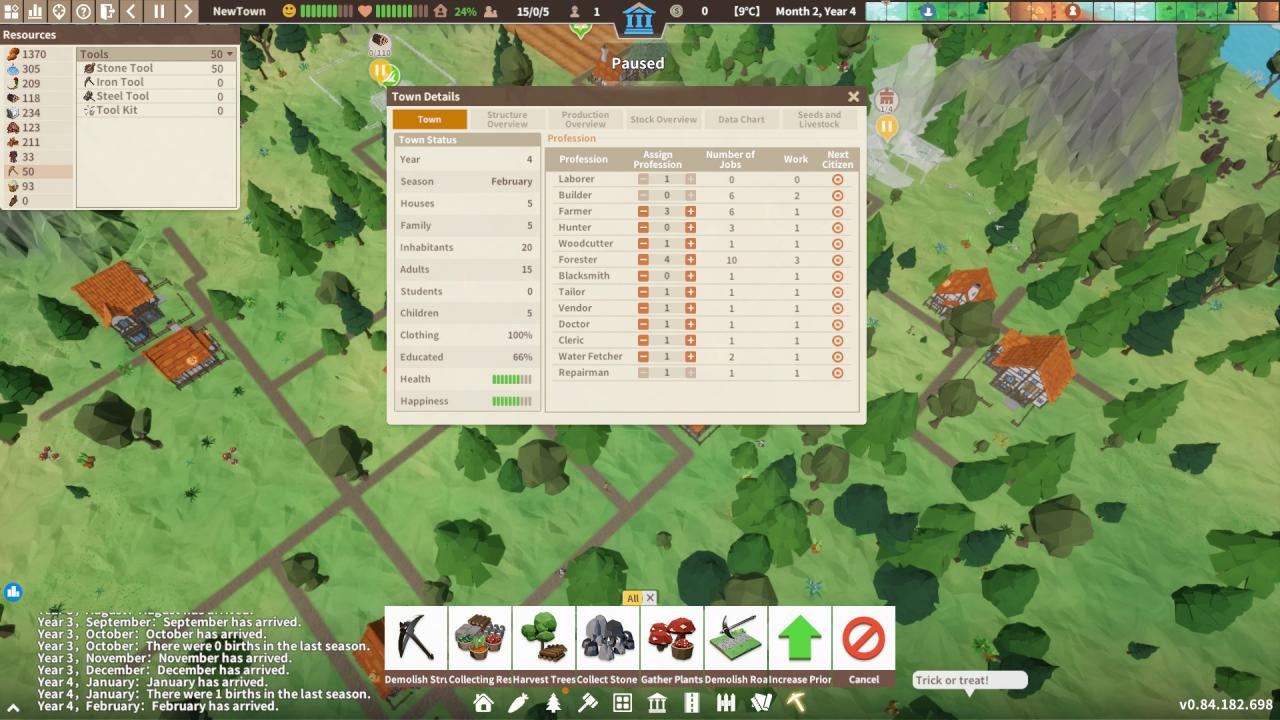 Here are my worker assignments after making the villagers work closer to home.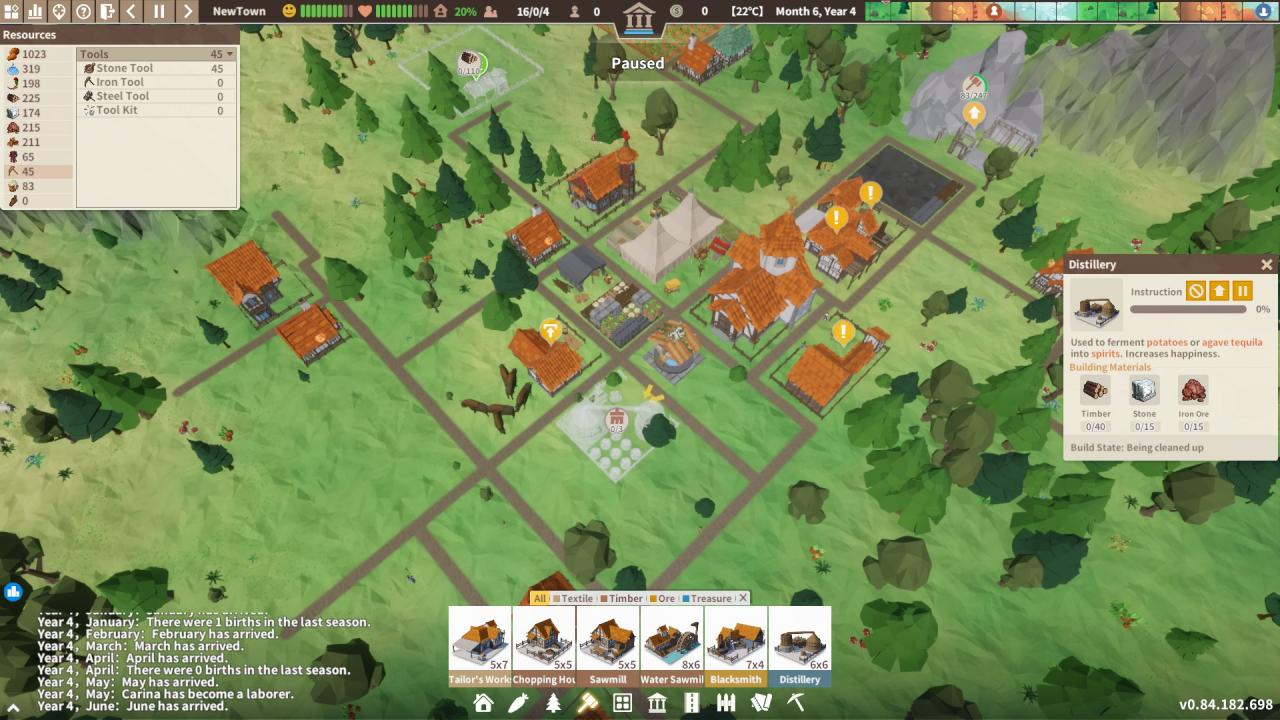 Here is the layout showing the pasture in progress and the distillery starting to be built.
Month

8 año 4

– Month

10 año 4

Take a builder and put them to farming. If you happen to have a temporary worker from one of the kids growing up assign them to be a farmer. Otherwise scrounge up one more farmer so you have 5 farmers for harvesting. tuve 17 workers at this point. The temperature was at roughly 11 Celsius and dropping. The temperature reached 6 degrees when I received the notification about the autumn harvest so I took the builder and made them a farmer as I had 50% of the field left. And two of the foresters became farmers too. tuve 9 farmers at this point. I harvested all the food with 1 degree to spare in month 9. I reached a food level of 1894 and harvested 991 peas.

You might be wondering why the farming speed hasn't improved much since getting that efficient harvesting development perk. Bien, that has to do with the fact that the travel time and carry weight hasn't improved since getting it.

Take all the farmers and assign them to other tasks. Assign 2 to be builders, 3 to be hunters, 1 water fetcher, 1 blacksmith and 1 tailor and 1 forester to the logging camp with the most timber near it. If any temporary workers get assigned to the pasture make sure to remove them until you get an alpaca or buffalo.

Research:
• None

Buildings being built during this time frame:
• None

Buildings paused:
• None
Month

11 año 4

– Month

2 año 5

The distillery should be done by now. Assign one of the builders to it and lower the production limit to 140. tuve 94 agave tequila and 84 spirits in stock. This will use up water fairly quickly which is why I lowered the production limit for now. I queued up a quarry to be built north east of the fertile soil spot. Its a bit out of the way located way out there but stone doesn't get consumed very fast and I would rather not make it use up some of my land occupied by the logging camps just to make it be closer. Save before placing it as you can't cancel it once it is placed.

My first death happened in month 12 año 4. My brewer froze to death. And I don't have a graveyard yet to keep the family happy.

I took a hunter and made them a brewer. Immigrants came by in month 1 año 5. I still had no town hall built. I ended month 2 año 5 con 98 spirits and approximately 10 more on the way. Once the brewery is out of agave tequila for brewing assign the brewer to be a water fetcher.

Research:
• None

Buildings being built during this time frame:
• Quarry

Buildings paused:
• None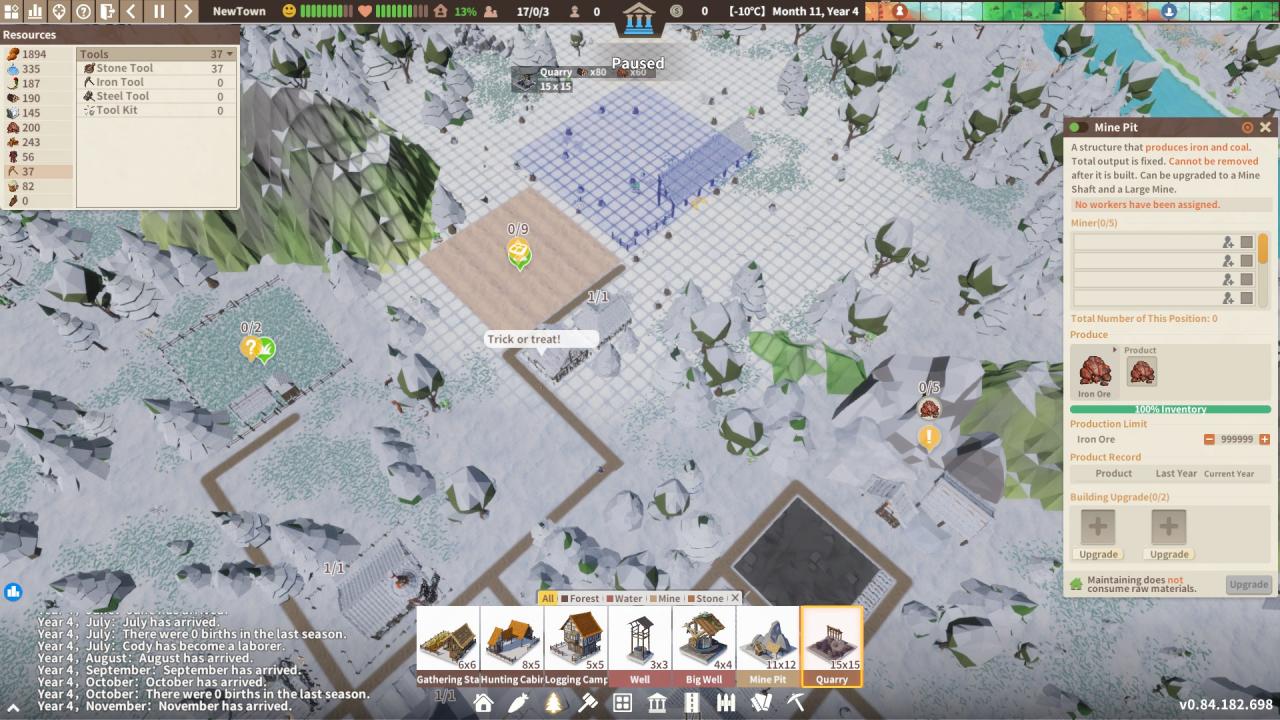 Quarry location. Save before placing it as you can't cancel it once it is placed.
Month

3 año 5

– Month

7 año 5

Gather plants. Llevar 3 aldeanos, preferably from the house near the farm, and make them farmers. In my circumstance they were working as a blacksmith, a tailor and one more. Set some stone to be gathered. The quarry is going to take a while to build since I placed it so far out of the way. You might even want to pause yours since it takes 562 hammer hits to complete after fetching all the resources. I know I paused mine rather than wait for that to complete.

Change the blacksmith's tool production to iron tools. Make the production limit 40. Place a school. I placed mine south west of the sawmill. tuve 2 temporary workers gathering so I put them to hunting. I had a total of 16 workers after that death. I made a hunter a teacher after the school got built.

I made another house south east of the well because I assume that brewer died from freezing to death due to their workplace being too far from somewhere warm. I left a 3×4 area worth of space in between it and the well. Set the fuel production to 280. Also I now have have plenty of food to support kids getting their education. But not too many kids. A good ratio at this point is to have roughly 50% as adults, sobre 20-25% of the adults as kids in school and 20-25% of the adults as children. Entonces 16/4/4 in my scenario. I am currently at 16/1/3. One child is 10 and too old to start school (creo), another is 9 in school and the others are 6 y 1. One might think to build a new house? It has room for 2 kids. Pero, 2 is actually the wrong number of children to expect in your village after building a house. You also need to consider that the houses the couple moved out of now has a vacant slot for another kid there as well. This brings the potential children from one house being built up to 4. It shouldn't be too difficult to raise them all as I don't have many children in school to take care of right now. Time to raise that educated ratio from 62%.

Place two standard fertile fields for your builder to work on.

I got another development point in month 7 año 5. I put the two that I have into Logistics: Basket and Logistics: Packet Expansion.

Keep an eye on month 8 coming soon.

Research:
• Logistics: Basket (7th point spent)
• Logistics: Packet Expansion (8th point spent)

Buildings being built during this time frame:
• School
• House (South east of well because a brewer died)
• 2 standard fertile fields

Paused
• Quarry (paused once the resources were brought to it)
Month

8 año 5

– Month

2 año 6

Assign 2 more workers to the pea field. I chose the builder and the hunter for this. Con esa nueva actualización de paquete, deberían completar la cosecha a tiempo. Mi 5 los agricultores completaron casi justo a tiempo este año en 2 Celsius cuando antes me tomó entrar en pánico y levantarme 9 farmers. Completé la cosecha con 2189 comida total y 1063 cosechado del campo. Assign 2 cazadores, 1 constructor, 1 blacksmith and 1 Sastre. Gather plants.

Un cazador murió congelado en un mes. 11 año 5. Ahora mi fuerza laboral se reduce a 15 aldeanos.

Una vez que el sastre haya terminado de usar el cuero o cualquier otra cosa que estés usando como materiales, mételos en la mina.. Lo mismo con el cazador restante. Una vez que el constructor complete sus tareas, tírelos al herrero..

Esté atento durante un mes 3.

Research:
• Logistics: Basket (7th point spent)
• Logística: Packet Expansion (8th point spent)

Buildings being built during this time frame:
• None

Paused
• Quarry (paused once the resources were brought to it)
Month

3 año 6

– Month

7 año 6

Assign 3 agricultores a los campos de guisantes y uno al campo de tequila de agave. Yo tomé 2 del herrero, 1 de las minas y un recolector de agua. Toma al operador del aserradero y ponlo a cazar.

Tengo un punto de desarrollo en el mes 5 año 6. Lo puse en construcción: laid stone. Coloqué el taller de mampostería al sureste de la pila de piedra y mineral.. Lo hice mirar en la misma dirección que la casa cercana para entrar a la casa más rápido cuando el trabajador tiene frío..

Puse un guardabosques en la cabaña de los constructores. Una vez construido el taller de albañilería pongo al albañil a trabajar en él. Establezca el límite de producción de piedra colocada en 60. Gather plants. Esté atento durante un mes 8.

Research:
• Construcción: laid stone (9th point spent)

Buildings being built during this time frame:
• Taller de albañilería

Paused
• Quarry (paused once the resources were brought to it)
Month

8 año 6 –

Month

2 año 7

Tome un cazador y un recolector de agua y póngalos a trabajar en los campos de guisantes.. Lamentablemente, no obtuve todas las cosechas a tiempo. Solo tengo una cosecha de 754 guisantes y 150 agave tequila.

Assign 1 constructor para colocar caminos de piedra para 75% mayor velocidad de movimiento en lugar de solo 25% con caminos de tierra. Hacer un camino desde las minas hasta la casa a la que van a calentar.. En mi caso esta es la casa de campo hacia la que caminan para calentarse. Luego, más tarde, haga un camino desde los campos hasta el patio de almacenamiento duradero. Cuales, en mi caso ya estaba siendo pavimentado como parte del camino desde las minas hasta su casa de calentamiento. Agregue un operador de aserradero y lleve a los mineros hasta 3, agregue una cervecera y agregue una forestal. Puedo tener un trabajador desaparecido aquí. Así que mira la captura de pantalla de abajo de mis trabajadores asignados. Cuando el cervecero alcanza el límite de producción, haz que trabajen en el taller de albañilería..

Puedo ver una escasez de ropa porque he estado tratando de evitar que los cazadores trabajen durante el invierno.. Entonces, Yo asignaba 3 cazadores en el mes 2 una vez que empezó a calentarse. [/vista previa]

Research:
• None

Buildings being built during this time frame:
• None

Paused
• Quarry (paused once the resources were brought to it)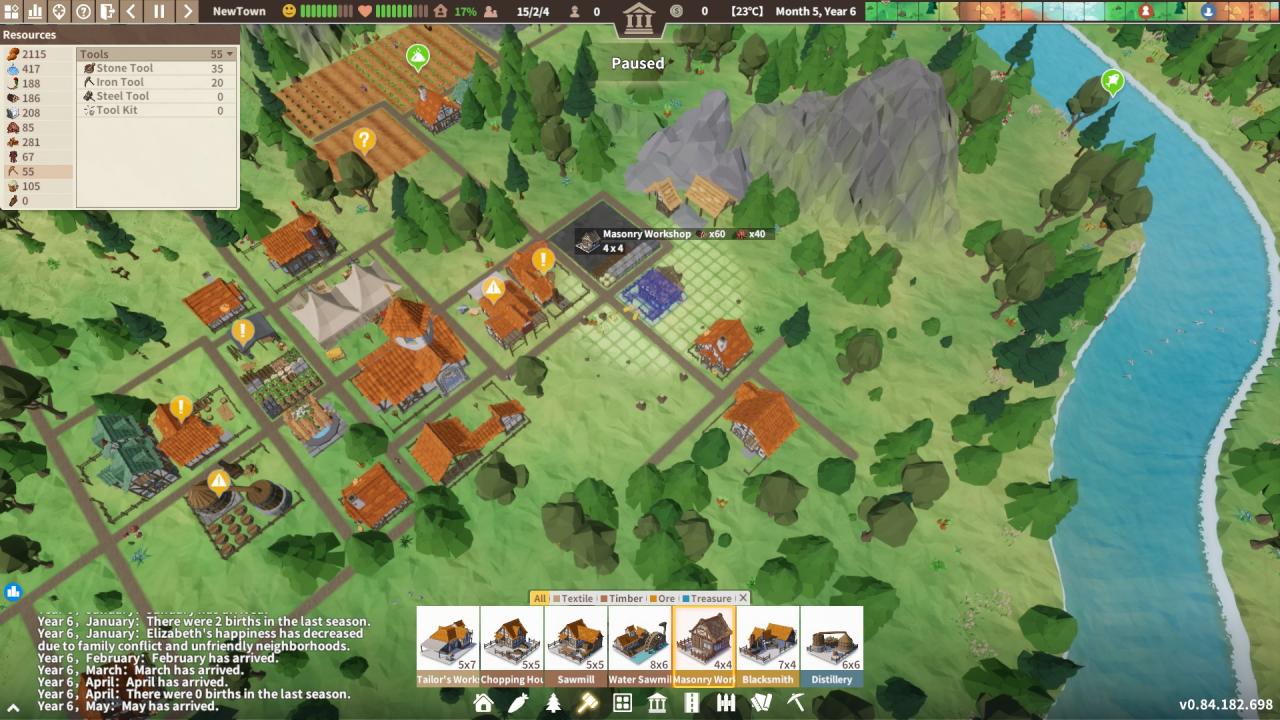 Ubicación del taller de mampostería.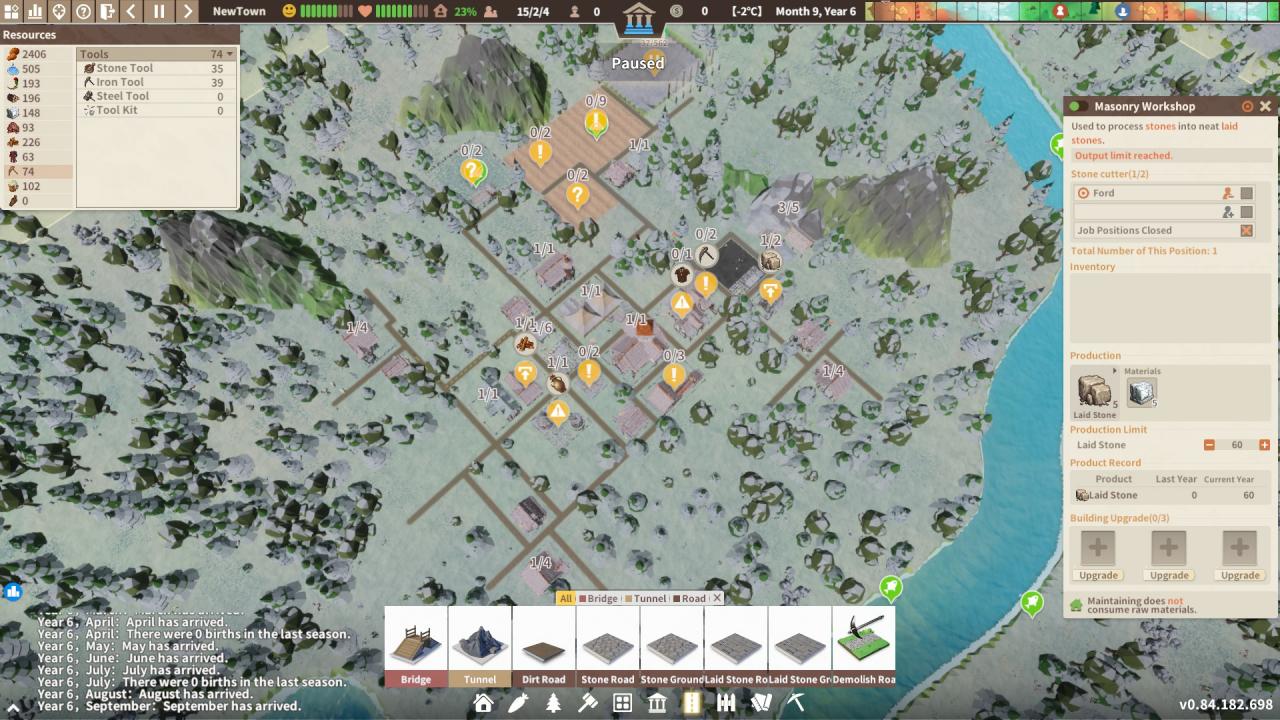 Trabajadores asignados al mes 9 año 6.
Month

3 año 7

– Month

2 año 8

Voy a tratar de mantener a mis cazadores trabajando durante el clima más cálido y agotar mis 2247 reserva de alimentos. Aunque supongo que podría tomar 2 miners and place them on the standard fertile field and make them grow some fast growing low yield lettuce. Also resume work on the quarry and make the sawmill operator build it. I took another miner and made them a builder to try and get that quarry up sooner.

I got a development point in month 5 año 7. As of month 5 I am hunting turkey. Lots of turkey. If my warm clothes situation was better (such as having an alpaca farm started) I would put it into Education: school expansion for the +100% development points output by schools. Since I am not in a good way regarding warm clothes I put the development point into Processing: Weaving with the intention of growing flax next season and turning that into linen for clothes. I built a weaving workshop across from my masonry workshop as I expect the flax to be placed into the ore/stone stockpile since it is the closest stockpile to the farms.

The quarry finished month 7 año 7. My two farmers completed harvesting the standard fertile field of lettuce in month 8 año 7 con 16 degrees until freezing. They only harvested 320 lettuce. I'll have to assign the field to grow peas next time. Assign those two farmers and two builders to the quarry.

Watch the temperature and when its gets to close to 0 re-assign your workers. Such as putting one on sawmill duty, one on blacksmith duty making iron tools and one brewer. I shuffled workers around so that the 3 people in the farm house were working the quarry. When the brewer reached the production limit I re-assigned them to the tailor's workshop. My water started getting low so I took a tailor and a blacksmith to work the well. I had an extra worker as they graduated from school so I assigned them to the saw mill. For some reason my 3 injured villagers started to walk towards the farm house instead of the house across the street from the clinic to get warm during the winter.I assume its because I placed the laid stone road. This is considerably slowing their recovery rates now that they are walking so much further than normal. Especially considering they just have sprains. Sprains normally last a month and these injuries were taking all winter to recover.

Esté atento durante un mes 3.

Research:
• Processing: Weaving (10th point spent)

Buildings being built during this time frame:
• Quarry
• Weaving Workshop

Paused
• None
Month

3 año 8

– Month

7 año 8

I assigned two of the quarry workers to the standard fertile field with peas growing and 1 quarry worker to the field with flax. I also pulled a forester to work the flax field. My rough clothes were down to 28 con 14 leather and 15 alpaca wool. I put the other 2 foresters as hunters as my wood situation is sitting nice at 314 timber.

When the sawmill reached its production limit I re-assigned 1 to the masonry workshop to try and fix the clinic road situation. I reduced the production limit of laid stones to 15. I assigned the other sawmill operator to hunt. I had another student graduate. I assigned him to be a forester as it was the closest job and quarry work was across town. I assigned the tailor to work as a forester as he ran out of materials. The masonry workshop reached its limit so I made them a builder to place the laid stone road.

Decidí construir una casa cerca del pozo minero..

Me levanté hasta 41 ropa áspera, pero mis cazadores están ocupados cazando gansos en lugar de cosas que puedan ayudar a hacer ropa.

Construí un pozo al suroeste de la cabaña de los constructores para tratar de aliviar la situación del agua.. Asigné dos trabajadores al pozo una vez que se hizo.

Research:
• None

Buildings being built during this time frame:
• House (Near mining pit)

Paused
• None
Month

8 año 8 –

Month

2 año 9

Cuando terminen de trabajar los campos, asigne a dos agricultores para que sean tejedores en el taller de tejido.. También agregué a la familia del trío de agricultores a la cantera..

Obtuve un punto de desarrollo en algún momento durante todo este. Pon ese punto de desarrollo en Educación: school expansion for the 100% salida de puntos de desarrollo para escuelas.

En un período de tiempo bastante corto tuve 105 lino con 81 lino todavía en cola para su procesamiento. Reasigné a un tejedor al taller de sastre..

Puse un 4×3 almacén abierto al sureste del pozo para agua.

Tuve un trabajador extra. Los asigné a las minas. Saqué el tejedor del taller de tejido cuando me quedé sin lino.

tuve 3 los cazadores siguen cazando a pesar del invierno. Los reasigné a otros trabajos. Uno de los cuales fue el herrero. (Lo siento, Me distraje y olvido a qué trabajos les asigné)

Research:
• Educación: school expansion (11th point spent)

Buildings being built during this time frame:
• 4×3 open warehouse (Cerca del pozo para almacenar agua)

Paused
• None
Month

3 año 9

– Month

7 año 9

Yo tomé 2 de la familia de la cantera y los asignó al campo de guisantes más pequeño. Vea mis asignaciones de trabajo a continuación que en realidad no duran mucho, ya que comencé a hacer cambios poco después.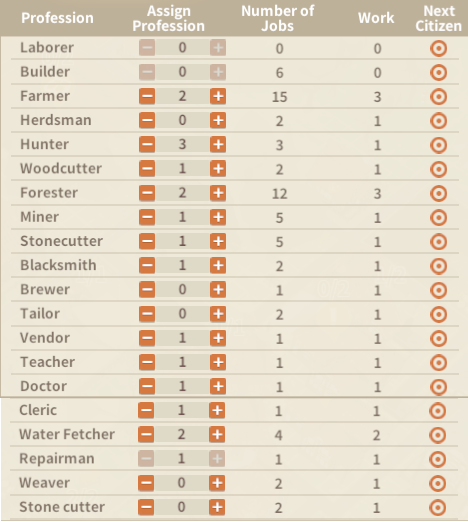 Después de que se repartieron las asignaciones de trabajo anteriores, Tomé al herrero y lo puse en las minas cuando alcanzaron su límite de producción.. Puse al operador del aserradero en forestación. Asigné árboles para que fueran talados ya que estaban cubiertos de maleza en todas partes de la ciudad.
Obtuve un nuevo punto de desarrollo en Month 6 año 9. Me aferré a ella. Probablemente sea aquí donde dejaré de escribir esta guía.. El asentamiento es en su mayoría autosuficiente en este punto.. Aparte de no tener una forma de aceptar inmigrantes o cultivar algunas hierbas en viveros. Normalmente solo acepto inmigrantes al principio del juego cuando estoy experimentando una muerte de la población debido a que la población envejece y no tiene suficientes jóvenes para reemplazarlos..
Your goal is to save up enough development points to afford Agriculture: Nursery + Minería: Sand Mining + Comercio: Grocery Store. This will require a ferry to be built to buy the herb seed and grow it. En practica, you will probably end up spending development points on things like Education: Medical Research when there is a cholera outbreak. The top right notification will say every disease is spread through contact and during my previous playthrough I rushed towards Education: Skin disease because of it. Your long term research goal should be the unlimited mines and quarries but that requires quite a bit of other research to be done. Such as research into furnace burden, smelting, forges, calcinating kilns, and lighting. When you do get the unlimited mines and quarry research you can upgrade your mines and quarry with the upgrade button at the bottom right of the building details window. While building up towards unlimited mines and quarries you can always just make an extra mine to mine for coal when you have 2 towns and turning wood into fuel becomes unmanageable. También, when building that second town you will probably want to turn on paper usage for education on your first school that you made. This is because, in the current version of the game, your students will move into a house in town 2 but still go to the school in town 1 even if a school is located in town 2.
Entonces, I am hoping that with 9 en años de juegos de comentarios sobre la microgestión de una ciudad, tienes la idea de dónde sacar a los trabajadores cuando los necesitas y cuáles dejar para trabajar en un trabajo.. Y cuando sacarlos de sus trabajos. Principalmente, cambia a los trabajadores durante la temporada de siembra y la temporada de cosecha y trata de asignar a los que viven cerca del trabajo que desea trabajar (dentro de lo razonable. La mayoría de las veces solo asigno a alguien a un trabajo). Principalmente, se extrae de las industrias que tienen un exceso de recursos hacia las que no tienen tantos recursos.. I managed to get this far with only two or three villagers freezing to death (I may have savescummed one of their deaths after the clinic-road bug). I am kind of surprised I didn't get any alpaca cubs this playthrough but I think I recovered fairly well by turning flax into linen for clothing. If I did get some alpacas I would have assigned just 1 villager to manage them. I am still doing fine in terms of herbs with 195 however I could be doing better. My production overview says I produced 42 herbs and used 42 herbs last year.
Recuerde cambiar sus límites de producción a medida que se expande y buena suerte con el resto de su juego de dificultad extrema..