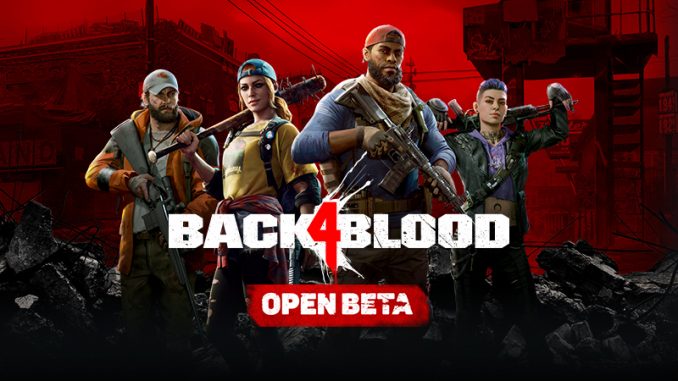 Analyse des différentes options d'armes, et cartes liées aux dommages, disponible en Retour 4 Du sang.
introduction
Bienvenue dans ce guide sur les différentes options d'armes disponibles dans Retour 4 Du sang. Ce guide couvrira l'analyse des armes, pièces jointes et cartes spécifiques aux dommages. Je vais également ajouter quelques recommandations et astuces ici et là, parce que je suis gentil comme ça. Bien sûr, tout cela devrait être évident à partir du titre, mais je suis un traditionaliste et chaque guide a besoin d'une introduction.
Avertissement – Les informations contenues dans ce guide sont basées sur ma propre expérience et mes recherches, sauf indication contraire dans les crédits. Cela a été en grande partie mené sur des vétérans, bien que j'aie assez joué à Nightmare pour me faire une opinion dessus. Je ne couvrirai pas les cartes de mêlée car je n'ai pas joué assez de mêlée pour être sûr de mon point de vue, et cette analyse est mieux adaptée à un guide de mêlée dédié quel que soit (dont il existe plusieurs).
TL;RD
Cette section s'adresse à ceux d'entre vous qui lisent ceci et qui pensent déjà très bien connaître le jeu, et ne visitent ce guide que pour essayer de trouver des minuties qu'ils ne connaissent peut-être pas. Ou éventuellement pour essayer de trouver des erreurs à signaler.
Pour toi, J'ai compilé une liste de ce que je pense être des points largement inconnus ci-dessous, vous pouvez donc sauter le reste du guide.
– Vous devriez utiliser 2 scopes, ou à défaut 4x scopes, sur les fusils de chasse
– L'UMP45 frappe plus fort, par balle, que la plupart des fusils d'assaut
– Bien que le jeu répertorie parfois une puissance de feu accrue sur les munitions AP et HP, c'est un bug d'affichage et en fait ils ne font rien pour vos dégâts
– Toutes les armes ont un certain niveau de pénétration des balles, bien que ce ne soit généralement pas plus de 10% des dégâts de balle à moins qu'il ne s'agisse d'un fusil de sniper
– La vitesse de rechargement est la statistique la plus importante pour les fusils de sniper
– La « puissance de feu' les statistiques sur les armes sont fonction des dégâts par seconde, pas une mesure des dommages réels; en test, le super 90 a en fait les mêmes dégâts par pastille que l'AA12, par exemple
– Le TEC 9 compte comme un SMG pour les réalisations bien qu'il s'agisse d'une arme de poing
– Je déteste le M1A avec une passion brûlante qui n'a d'égale que ma soif de fèves à la gelée japonaises
Glossaire
LES PUBLICITÉS – Viser vers le bas
AVEC – Fusils d'assaut
Commun – Raccourci pour les infectés communs, un terme de maintien de gauche 4 Mort se référant à la norme, abattre facilement des zombies sur toute la carte
CQC – Combat rapproché; dans ce guide, généralement utilisé pour désigner <3m gammes et/ou spécialités fusil de chasse et mêlée
DPS – Dommage par seconde, un terme de report des MMO. Principalement pertinent en termes de dégâts infligés contre les spéciaux et les boss
Duels – Doubles primaires, c'est à dire. la carte deux est un et un est aucun. Ceci est mon terme plutôt qu'un terme communautaire, Mais salut, voilà en espérant que ça s'accroche
Horde – Une attaque, généralement télégraphié, par un grand nombre de communes. Cela se produira généralement soit à la suite d'un déclencheur dans le jeu (par exemple. activation d'un objet spécifique à la carte) ou à la suite d'un chronomètre Horde qui est visible sur le côté gauche de votre écran sur certaines cartes. Notez que contrairement à Gauche 4 Morte, Les hordes incluent des spawns automatiques de plusieurs Specials qui se chevaucheront fréquemment dans les espèces
LMG – Mitrailleuse légère
Temps de disponibilité – Temps passé à tirer activement sur ou à engager un ennemi; le plus souvent utilisé pour désigner les temps de rechargement (où le temps de tir est le temps de disponibilité et le temps de rechargement est le temps d'arrêt)
Spécial – Raccourci pour Infecté spécial, un terme de maintien de gauche 4 Mort se référant à tout non-Commun, ennemi non-Boss; classés dans Tallboys, Stingers et Reekers, puis sous-catégorie plus loin
RS – Fusil de sniper
Balayage – L'acte de nettoyer les communs non alerte en entrant dans une nouvelle zone; le plus souvent pertinent dans les grandes, zones ouvertes. Un rôle généralement méconnu, le balayage est très certainement un rôle en soi et effectuer le balayage efficacement conduit à des dégagements plus rapides, moins de dégâts de puces provenant de rogue commons, et une consommation de munitions réduite à tous les niveaux
Une note sur deux est un et un est aucun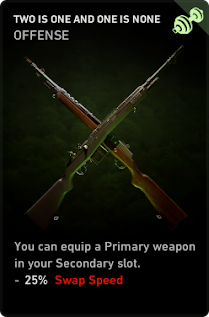 Cette carte, ci-après dénommés « Dual' pour épargner mes doigts paresseux, a quelque chose d'un effet de distorsion sur les choix d'armes car il atténue fortement certaines armes' faiblesses et modifie fortement l'économie des munitions. Il y a, en général, deux raisons de prendre des Duals – soit vous voulez effectivement un secondaire plus puissant, ou vous exécutez une version hybride.
L'ancienne option, mise à niveau de votre secondaire, indique que vous considérez toujours une arme comme votre arme principale. Vous envisagerez toujours de prendre des cartes qui profitent uniquement à ce type d'arme, et vous ne retomberez dans votre deuxième primaire que dans les situations qui le justifient. Où c'est le cas, vous voudrez le plus souvent prendre un SMG comme « secondaire' arme car les SMG et les munitions SMG/pistolets en général sont rarement utilisés par la plupart des builds. Cela vous permettra d'avoir une réserve abondante de munitions de sauvegarde et une quasi-garantie d'une option de secours relativement puissante. La raison la plus courante pour exécuter les Duals de cette manière est si vous souhaitez exécuter les SR en tant que votre principal et aurez donc besoin d'une option solide pour faire face aux hordes..
Dans le dernier cas, une construction hybride, vous devriez généralement éviter d'utiliser des cartes spécifiques à une arme à moins qu'elles ne soient particulièrement puissantes. Alors qu'en théorie, vous pouvez justifier n'importe quelle combinaison de types d'armes pour une construction hybride, en pratique, vous choisissez effectivement « fusil de chasse plus X ». C'est parce que vous devriez choisir vos types d'armes en fonction du cas d'utilisation, et pour CQC le fusil de chasse est presque sans égal – pendant ce temps, LMG, RA, Les SMG et, dans une moindre mesure, les SR relèvent tous du même cas d'utilisation, étant balayant les médiums et anti-spécial. L'utilisation de versions hybrides permet à plusieurs personnes d'utiliser un type d'arme spécifique sans trop de problèmes; pourtant, si votre groupe comprend une personne utilisant un type d'arme comme arme principale, les utilisateurs hybrides devraient leur accorder la priorité dans le choix des armes en raison d'une disponibilité supérieure.
Vous ne devez en aucun cas utiliser deux armes utilisant le même type de munitions avec les Duals (par exemple. AR et LMG, ou deux fusils de chasse). While doing this does provide certains benefit, cela revient à gaspiller une carte car vous n'obtenez aucun dommage ni aucun avantage pour les munitions. Notez également que les secondaires sont loin d'être inutiles (au moins le Desert Eagle et le TEC 9, De toute façon), alors assurez-vous que vous utilisez définitivement les avantages de cette carte si vous décidez de l'exécuter.
Une note sur l'efficacité des cartes et les niveaux de difficulté plus élevés
L'erreur la plus courante que je vois être commise par les personnes qui élaborent des versions théoriques dans Retour 4 Le sang, c'est oublier que la sélection des cartes est une économie en soi. Essentially this means that les cartes sont rares – vous en obtenez un par carte (à moins que vous ne trouviez quelque chose de pertinent pour l'achat). Étant donné la puissance des cartes' les effets sont, leur offre limitée signifie que chaque carte que vous incluez doit faire beaucoup de travail pour justifier son existence.
Oui, vous pouvez (par exemple) empiler cinq cartes de vitesse de rechargement à utiliser avec un Super 90 avoir une disponibilité fantastique. Mais le problème est, vous venez de brûler cinq cartes pour créer un AA-12 légèrement plus puissant. pendant ce temps, toi pourrait have taken cards like Down In Front, Affronter vos peurs, Marqué pour la mort (etc. etc.) qui ont un effet considérablement plus important sur votre efficacité (et en effet, votre équipe dans son ensemble).
C'est particulièrement vrai sur Nightmare, où vous serez martelé par des attaques déloyales à la limite de la seconde où vous sortez du coffre-fort. Ta première 2-3 les cartes doivent être les choses les plus puissantes que vous puissiez faire pendant cette période, parce que si vous sortez avec des cartes poubelle en pensant « tout cela viendra plus tard », tu vas te faire rouler, tu vas ragequit, et vous allez laisser un message pleurnichant dans les forums de discussion Steam sur le fait que la difficulté de Nightmare est trop difficile et que vous voulez que cela soit plus facile.
C'est pourquoi les cartes de cuivre ont tendance à être pauvres. Sûr, tout le monde aime avoir plus d'argent à dépenser – mais ils ne le font pas en fait faire anything for you. Vous brûlez une ressource à laquelle vous avez un accès incroyablement limité en échange d'un peu plus de quelque chose que vous pouvez trouver freakin' partout. Chaque carte que vous mettez dans votre deck – tous carte, sans exception – a un coût d'opportunité. C'est à vous de sélectionner des cartes qui ne seront pas un gaspillage de votre ressource la plus précieuse et la plus limitée.
Qualité/rareté des armes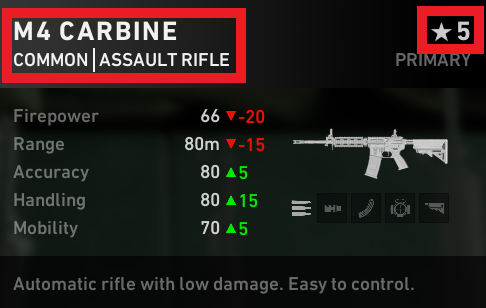 Toutes les armes ont à la fois un niveau de qualité (représenté par un chiffre et une étoile à côté du nom de l'arme) et une rareté (la couleur du nom de l'arme). Les deux montrent fonctionnellement la même chose, qui à l'avenir sera simplement appelé la qualité de l'arme. Pour plus de clarté, armes blanches (armes de départ de base) avoir une qualité de base de 5*, armes rares vertes 20*, armes rares bleues 35*
and purple epic weapons being 50*.This weapon quality has a direct and extremely significant impact on the damage output of a weapon
– vers le haut d'un 100% augmentation des dégâts de base passant d'un 5* à un 50* une. pourtant,
it is important to note that the quality number shown on your weapon is
ne pas
its true quality in most cases
. C'est parce que le jeu modifie le niveau de qualité en fonction des pièces jointes – 2* pour les pièces jointes vertes, 3* pour le bleu, 4* pour le violet et 5* pour l'or/légendaire. Bien que ces accessoires augmentent le niveau de qualité visible du pistolet, ils font
ne pas
have an effect on its damage output
(sauf si c'est une pièce jointe qui augmente les dégâts, de toute évidence).
La clé à retenir pour comprendre la qualité des armes est que vous devez toujours passer à une arme de meilleure qualité., à condition qu'il soit d'un type que votre build utilise (et ce n'est pas une arme pourrie, voir la section ci-dessous pour l'analyse). Alors que la valeur du confort et de la familiarité est indéniable, vous ne survivrez tout simplement pas avec une difficulté raisonnable si votre arme est sous-nivelée par rapport aux ennemis auxquels vous faites face. Dans certains cas rares, les pièces jointes peuvent avoir un impact substantiel sur le fonctionnement d'une arme – la vitesse de rechargement sur les SR est la principale – mais pour la plupart, prends le plus joli pistolet de couleur.
Pièces jointes d'armes pt. 1
Il existe quatre catégories de pièces jointes, et au sein de chaque, un certain nombre de sous-types. J'ai fourni une brève analyse ci-dessous de chaque sous-type, mais n'entrera pas dans les détails de chaque pièce jointe disponible – pour cela, je vous dirige plutôt vers l'excellente feuille de calcul des pièces jointes de Lordreaper12 (voir Crédits pour le lien). Notez que toutes les armes ne peuvent pas recevoir tous les types de pièces jointes. aditionellement, certaines armes se sont cassées (rouge) attachments which are a hindrance until replaced. Pour terminer, note that a card is currently under development (au moment de la rédaction) to allow players to remove attachments from weapons – une fois mis en œuvre, it will be optimal for only one player per team to run this card and to perform an attachment removal service for others.
Comme ci-dessus, prioritise weapon quality over attachments wherever possible.
Baril


Compensator – Recoil control and movement speed while firing. Generally this shouldn't be necessary, car peu d'armes ont un recul suffisamment important pour nécessiter une amélioration (et ceux qu'il y a ne valent généralement pas la peine d'être utilisés). Une poignée d'armes (notamment le M249) peut trouver une utilisation de niche de cela. La vitesse de déplacement pendant le tir est essentiellement sans importance dans la plupart des cas.


Visée laser – Précision. Cela devrait être la référence pour la plupart des armes, principalement parce qu'il améliore considérablement la précision du tir à la hanche. Les SR peuvent toucher quelque chose sans ADS, et les AR peuvent tirer à la tête de manière fiable sur les communes proches. Un peu redondant sur les fusils de chasse.


Canon long – Portée efficace. All weapons in B4B have damage fall-off at longer ranges. Long Barrel attachments mitigate this. pourtant, in practice this is generally pointless – it's rare that you'll need to get that much damage down at extreme ranges unless you're sweeping commons (in which case a silencer will usually do that job better). Has some niche use on SRs for picking off incoming Tallboys. Note that this will usually improve your boss DPS (since you won't usually want to be particularly close to them), mais construire votre arme pour quelque chose que vous verrez au maximum quelques fois par carte n'est pas une stratégie gagnante à moins que vous n'ayez vraiment du mal à les gérer.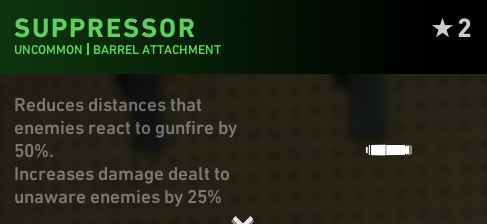 Suppresseur – Réduit les réactions ennemies et augmente les dégâts infligés aux ennemis inconscients. Aussi plutôt niche, et pratiquement inutile dans les halls publics. En équipe coordonnée, pourtant, 1-2 les personnes avec des suppresseurs peuvent balayer Commons pendant que l'équipe se déplace sans qu'aucun d'eux ne réagisse. Ceci est totalement inutile sur Recruit, mais sur des difficultés plus difficiles, l'augmentation substantielle des dégâts du suppresseur peut permettre des tirs à la tête à un coup de manière fiable, quelle que soit la qualité de l'arme, rendre le balayage beaucoup plus fluide et conserver les munitions.
Optique


Portée à zoom élevé – 4grossissement x plus dommages aux points faibles. En général, ce sera le moins utile de tous les types d'optique – il n'y a presque jamais de situation où un grossissement de 4x est nécessaire - à moins que vous ne prévoyiez pas beaucoup d'utilisation d'ADS, auquel cas les dommages aux points faibles sont agréables.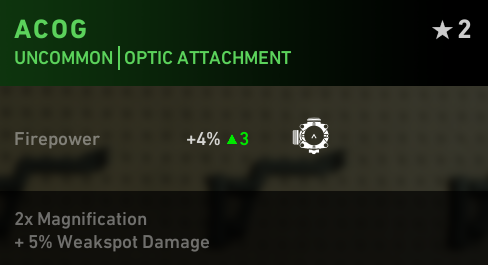 ACOG – 2grossissement x plus dommages aux points faibles. Une meilleure option, mieux adapté aux SR pour exploiter les points faibles de la plage. Évitez toute arme que vous voudrez tirer en mode entièrement automatique, car le zoom accru amplifie les effets de recul – bien qu'ayant dit que, le bonus de dégâts des points faibles fonctionne, que vous soyez à portée ou non, donc vous voudrez peut-être le gifler sur votre AA12 pour des dommages en rafale malgré à quel point vous vous sentez ridicule de le faire. Notez que bien que le jeu prétende qu'il y a une augmentation des dégâts de ce mod, il n'y a pas. Ça ment.


Holo-Sight/Sight Reflex – Vitesse de déplacement en ADS. Both do essentially the same thing, so which you use will be down to personal preference and/or what you managed to find. My preferred option on virtually all weapons is Reflex, but that's just me. Note that the movement speed while in ADS, although not particularly useful, does make Sweeping slightly smoother.
Pièces jointes d'armes pt. 2
Magazine


Extended Mag – Magazine size. Never bad, and usually very helpful given the tiny size of many clips in this game. Most useful on the AA-12 and fall-back secondaries, pourtant, car ce sont les armes les plus susceptibles d'être utilisées dans des circonstances désespérées lorsque vous n'avez vraiment pas le temps de recharger.


Presque Mag – La vitesse de rechargement. Fonctionnellement très similaire en termes de disponibilité au chargeur étendu pour la plupart des armes, que vous utilisez dépendra souvent de vos préférences personnelles. pourtant, notez que la vitesse de rechargement a un effet disproportionné sur les fusils à pompe et les fusils à verrou car elle affecte le temps d'arrêt entre les tirs.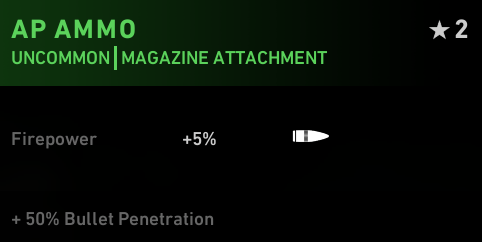 Munitions AP – Pénétration des balles. Une statistique de niche tout en ayant deux utilisations théoriques. d'abord, allows you to hit multiple Commons with a single bullet so long as they obligingly line up for you; cases where this happens are rather rare in practice, and when it does happen those Commons are usually pretty easy to deal with already. Deuxièmement, does provide some assistance with dealing damage to armoured weakspots once these start appearing on Corruption cards – but the damage increase doesn't tend to be all that noticeable. More alarmingly, this attachment has the side effect of drastically increasing the chances you'll clip a Hazard by mistake – and while birbs are fairly easy to spot and avoid, alarmed doors and cars are far less so. Generally speaking, avoid this attachment, as anything that needs penetration usually has it by default.


HP Ammo – Bullet stumble. Although technically any enemy type can be stumbled (which amounts to a short-duration stun), you'll most commonly see this happen to Tallboys. Typically you'll only get a stumble animation after the target takes a substantial amount of damage in a short period of time – par exemple, unloading an auto-shotgun or firing an M95. HP ammo can improve the speed at which the stun takes effect, lequel pouvez be lifesaving (but rarely is). Hit-or-miss, but it's acceptable if it's all you've got.


+P Ammo – Bullet damage. Standard, boring, but fairly effective. If you can hit a breakpoint (particularly one-shotting Commons or weakspot Stingers) this gets a lot better. Note that this is potentially more ammo-efficient than the magazine size/reload speed attachments, which may be relevant in public lobbies or if your team likes to run multiples of one weapon type. Note that AP/HP Ammo can sometimes display in-game as increasing Firepower – this is a bug, as you can test for yourself on the firing range. Interestingly, the name of this attachment is shared by a brand of powerful diuretics available in-universe.
[N.B.. Not actually true, but I wish it were. Oh god do I wish it were.]
Stocker


Stock de compétition – Vitesse ADS. Aucun des types d'actions n'est particulièrement précieux, mais généralement, vous voudrez choisir entre celui-ci et le Tactical. La vitesse de l'ADS aide à frapper les tirs à la tête et les points faibles dans des situations stressantes, donc j'ai tendance à privilégier celui-ci.


Stock tactique – Vitesse d'échange. Vous verrez les avantages assez rarement, mais quand tu en as besoin, il vient en embrayage. C'est un incontournable sur de nombreuses versions Duals, en particulier ceux qui s'appuient sur les LMG et Admin Reload.


Crosse légère – Vitesse de mouvement. Le plus faible des trois, movement speed is rarely particularly valuable given the importance of sticking with your team and the rarity of situations where rushing is necessary. Even when you need to rush, unless everyone on your team has a speed boost, you'll wind up getting split up or having to wait for them. Can occasionally come in clutch, but so can basically anything.
Assault Rifles
As with most games (et en effet, réalité), ARs are the generalist choice of weapon; they're suitable for all ranges and useful in all situations. Unlike most games, pourtant, ARs require a decent amount of skill to use effectively. On any difficulty above Recruit you should be aiming for headshots on Commons as a matter of course, while using short bursts of fire at centre mass for runners or small groups.
Choices of attachments are fairly free, with a reasonable argument being available for most options. en outre, while there are differences between each weapon, these are relatively minimal – you should therefore always take the best quality option available, prioritising comfort thereafter. The main exception to this is the Ranch Rifle, which is poor and should be avoided in most circumstances.
Carabine M4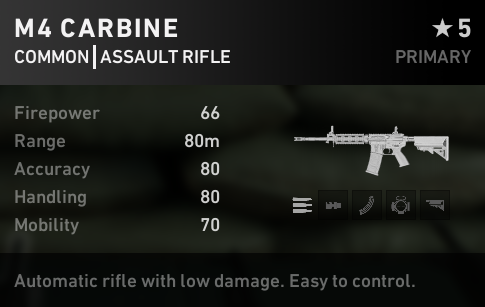 Base bullet damage: 10.0
Magazine: 25
Walker's starting weapon and usually fairly easily acquired, this AR is middle-of-the-road in all aspects. Its main selling point is lower recoil than the other ARs, which shouldn't matter too much as you should rarely be firing on full auto; Cela fait, pourtant, assist with keeping sustained fire on a weakspot. Cela dit, it has relatively low bullet damage compared to the alternatives; the combination of low recoil and low damage can lead to inefficient usage of ammo. It's a carbine, not a rifle, so the developers are all kinds of wrong on this one.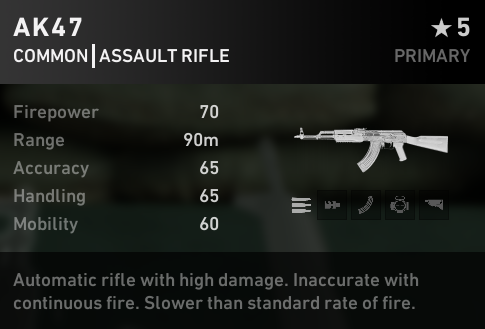 Base bullet damage: 14.0
Magazine: 20
Karlee's starting weapon, the AK has relatively high bullet damage for an AR (although still lower than the SCAR); this can lead to it hitting Common one-shot breakpoints more easily. It has substantially more recoil than its competitors, pourtant, which can be problematic if you're not used to controlling it – bien que, comme ci-dessus, this should rarely become relevant. The favourite of megalomaniacal dictators in third-world countries everywhere.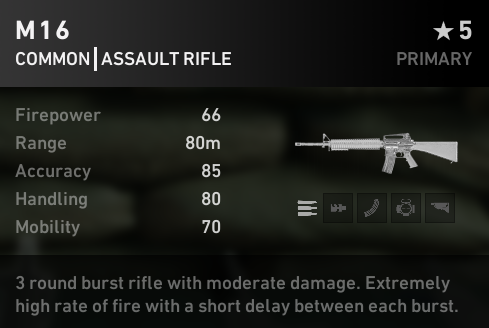 Base bullet damage: 14.0
Magazine: 20
Rather an unusual AR due to its burst-fire characteristics. While in other games the burst-fire is a mixed blessing, in B4B this is nothing but a detriment – it ensures you can't be ammo-efficient at sweeping Commons while also making it more difficult to output sustained damage into Specials' weakspots. This doesn't make the weapon unusable – particularly if rifle ammo is uncontested – but does make it weaker than its competitors; it is recommended that you only use an M16 if its quality is higher than what you have. Like most M16s in games, stuck on burst-fire even though there are M16 variants which allow for fully automatic fire, primarily because that's how most kids think these things work.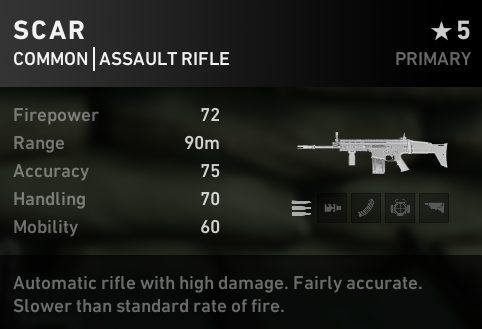 Base bullet damage: 15.0
Magazine: 20
Arguably the 'best' AVEC, the SCAR combines modest recoil with good bullet damage. It has a lower rate of fire than the M4 or AK, but not to a substantial extent and its other characteristics allow for a comparable, if not superior, DPS output. Named after the villain in 'The Lion King'.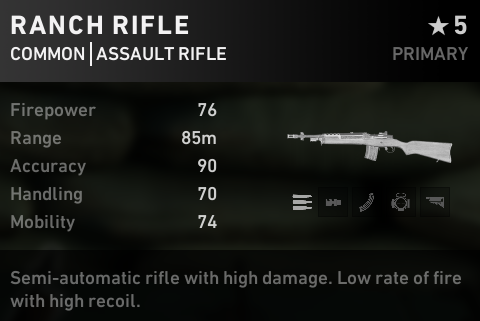 Base bullet damage: 22.0
Magazine: 15
Mom's starting weapon, the Ranch Rifle is a single-shot AR with a 15-round clip. It can charitably be described as a niche choice, and more accurately described as terrible. Despite having higher bullet damage than the other ARs it still struggles to hit any non-headshot one-shot breakpoints; pendant ce temps, its recoil makes staying on-target on weakpoints more difficult. en outre, due to the combination of not-actually-very-high bullet damage and no automatic fire, it can struggle at dealing with hordes. Avoid this weapon wherever possible. Underperforms substantially compared to the Mayo rifle, but is comparable to the BBQ rifle [that's right, I made a condiments joke, come at me].
Assault Rifle Cards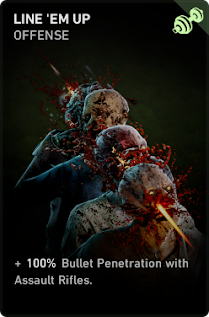 Pas bon.
Bullet penetration is questionably useful at the best of times
,
let alone at the cost of a card
.
If you really want some pen
,
take Combat Training so you at least get some damage out of it
.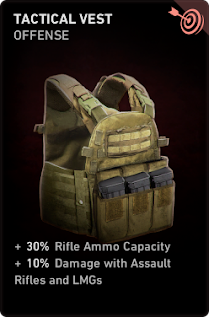 The first of many similar cards
,
so get used to hearing me say
(ou plutôt,
reading me write
) –
solid card
,
you'll want it in your deck if you're running this weapon type
.
How deep in
, d'autre part,
is an open question
.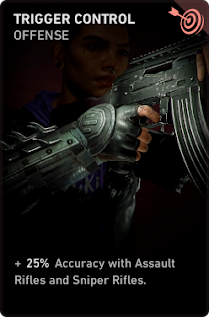 Slightly better than it is for SR-users
,
as ARs actually have a reason to hip-fire
.
Still isn't good enough to burn a card slot on
, bien que.
Light Machine Guns
LMGs have an awkawrd niche in B4B; their biggest handicap is their usage of rifle ammo, which your AR-carrying teammates won't be particularly happy to see you unloading wantonly. Cela dit, the only time you should be firing on full auto is when you would do so with any other gun – when firing into a Special. Resist the temptation to open up against Commons, as this is both wasteful and unnecessary – stick to short bursts to allow the bodies to hit the floor and ensure your shots are hitting things that matter.
LMGs are, in essence, ARs which trade their sweeping ability for better sustained damage output. They are surprisingly useful, in public lobbies in particular; ici, players are often competing for Common kills, frequently isolate themselves by accident or design, and will struggle to focus fire on priority targets. Having access to the ability to simply hose down a Tallboy without regard for weakspots is a boon in these circumstances. In more coordinated teams the LMG's niche falls away, although it can still be used as an alternative to (or support of) the AA-12 as the team's primary problem-solver.
As a further note – if you want to use LMGs as your primary weapon group, it is recommended that you spec into Duals and Admin Reload. This will allow you to avoid reloading for substantial periods, swapping to your secondary (likely an SMG) only for long enough for your LMG to reload. Not taking these cards can, paradoxically, lead to you spending even more time reloading than you otherwise would – you'll need to retain a minimum level of ammunition in case you need to hose down a Tallboy (ou alors, on Nightmare, Trois), so you'll have to reload at 50% magazine capacity.
M249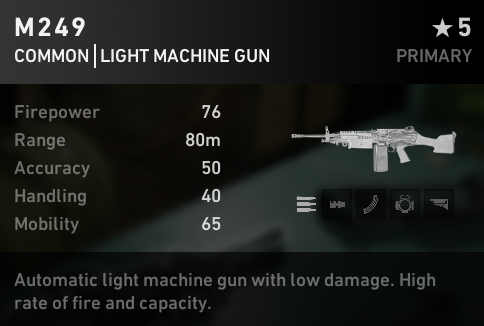 Base bullet damage: 13.0
Magazine: 80
Of the two LMGs available, this is the anti-Special (and anti-ammunition) choix. It has lower bullet damage than the RPK, as well as higher recoil – but a substantially increased rate of fire lead to a much higher DPS output. A compensator is strongly recommended to assist with keeping its prodigious recoil under control, as without one it can be challenging to maintain fire on a weakspot. Generally the better of the two LMGs for doing things that LMGs do. When firing on full auto, screaming as loudly as possible until the magazine goes dry is compulsory.
RPK

Base bullet damage: 18.0
Magazine: 40
Essentially an oversized AK-47 which trades awkwardness of use for a bigger clip and more bullet damage. Like its smaller cousin, its recoil can be tricky to manage if you're not used to it; unlike the AK, pourtant, you actually have a reason to get used to this one. When compared to the M249, the RPK unfortunately falls short; it loses out on DPS and clip size, and in exchange only really gains a limited ability to sweep (a role which ARs and SRs already do substantially better). A niche weapon in an already niche category. Should really be called the AK-48.
Light Machine Gun Cards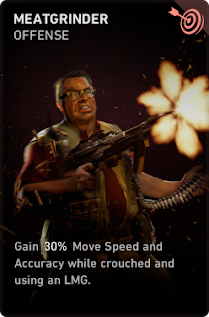 Not
… -ce- mauvais, réellement.
Allows for some quite accurate hip-fire with a laser-sighted LMG
;
you'll want to be crouched regardless for Down In Front
,
so could be usable
. Cela dit,
still probably not worth burning a card slot for
,
even with the movement speed added in
.
Submachine Guns
While in most games the benefits of SMGs are mobility and better hip-fire, these aren't anywhere near as relevant in B4B; as a result, SMGs wind up being categorised for the most part as 'better pistols' (ou alors, si tu préfères, 'worse ARs'). Cela dit, they're capable of surprisingly good damage output due to their generally low recoil and high rate of fire; they certainly aren't awful. It is simply unfortunate that they lack the bullet damage for sweeping and the magazine size for Special-killing, which results in them getting shunted into a backup role.
SMGs are, as a category, very well designed; they all feel different to fire, but all perform similarly enough to one another that which one you use can simply come down to personal preference. The only one which stands out is the Uzi, which tends to underperform relative to the rest.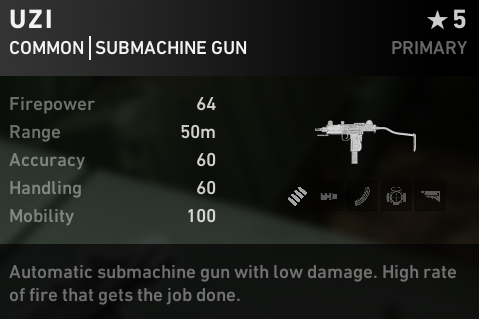 Base bullet damage: 10.0
Magazine: 32
Evangelo's starting weapon and by far the most common SMG encountered early, the Uzi unfortunately lacks merits relative to the other SMG options; its bullet damage is low, its rate of fire is decent but not incredible, and it has some minor recoil issues. Still perfectly serviceable, but replace it with something else as soon as quality permits. Named after a famous Chinese League of Legends player.
MP5

Base bullet damage: 11.0
Magazine: 25
The more generalist SMG, performing fairly well in all areas. It can largely be thought of as a slightly better Uzi, having better bullet damage and recoil but slightly lower fire rate. Doc's starting weapon. Named after the super-advanced file format used for music in the B4B universe.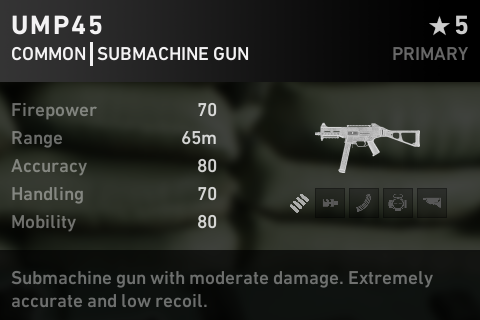 Base bullet damage: 13.0
Magazine: 20
The closest thing you'll find to a miniature AR, the UMP both feels and acts like one. If you like to play with ARs but your group already has several AR-users, the UMP is a good compromise. Named for the number of UMPs in the average R&B track.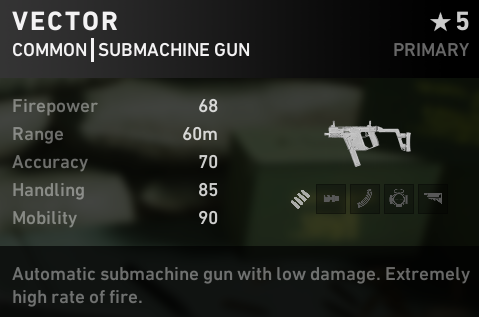 Base bullet damage: 11.0
Magazine: 19
While the UMP45 is a smaller AR, the Vector is a larger TEC 9. It has an even smaller clip than its counterparts but, curiously, an extremely high rate of fire with very little recoil. The Vector's DPS output is phenomenal during its uptime, but the speed at which it empties its clip severely limit it. If you can get your hands on an Extended Mag (or at very least a Fast Mag) its performance skyrockets. Pour ce que ça vaut, I adore this weapon in spite of its faults. Named after a doctor specialising in cybernetics with questionable taste in friends.
Submachine Gun Cards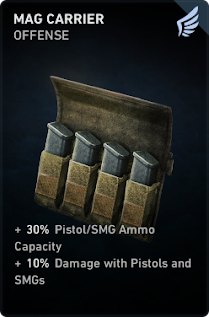 Much like all the other similar cards
,
if you're running SMGs
,
you will probably want this card
. 30%
ammo capacity helps a great deal for getting through the longer maps
, et 10%
unconditional damage boost is nice too
.
Particularly useful for SMGs as they tend to have lower damage than their counterparts
.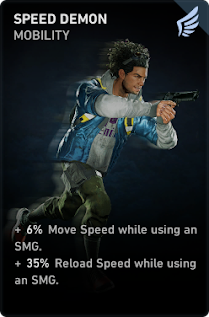 35%
reload speed is actually pretty good
,
but the fact remains that reload speed just isn't a valuable stat unless you're running SRs
.
Given the tiny Vector clip you might be tempted
,
but in the end
,
avoid
.
Fusils de sniper
Although there are three entries in this category, there are really only two sniper rifles – the M95 and the Phoenix – and these are the ones I refer to in this section. SRs, although niche, are nowhere near as weak as many in the community seem to think. They're obviously very effective at dumping damage into weakspots – this much anyone can tell you – but they're also perfectly good at sweeping and not awful at dealing with hordes so long as you're aware of one thing – reload speed affects bolt cycle time. While an unmodified SR will take a relatively long time to eliminate single Commons (which in turn causes slow sweep speeds), avec un chargeur rapide et une seule carte de vitesse de rechargement, les SR dépassent rapidement les AR car il n'est pas nécessaire de viser les tirs à la tête.
La pénétration innée des balles des SR les rend assez solides pour faire face aux hordes, trop, tant que vous pouvez prévoir leur trajectoire d'approche et leur position de manière appropriée. Vous n'avez pas besoin de tuer en masse à chaque pression sur la gâchette, bien sûr, mais simplement mettre deux Commons avec une balle est généralement un gain d'efficacité suffisant pour permettre à l'utilisateur SR de maintenir un angle seul.
néanmoins, il est recommandé aux utilisateurs de SR d'utiliser des Duals avec un bon SMG dans leur poche arrière – notamment parce que le balayage SR est très inefficace en munitions.
Barrett M95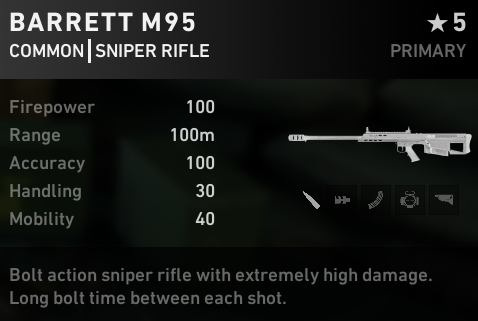 Base bullet damage: 120.0
Magazine: 5
Le grand garçon, vous ne trouverez pas de dégâts de balle plus élevés nulle part dans le jeu. Il frappe comme un camion (bien qu'un tout petit camion), mais en échange, le cycle de boulonnage et le temps de rechargement sont considérablement plus longs que le Phoenix.
Généralement, ce n'est pas un compromis à faire. Le Phoenix frappe déjà assez fort pour faire le travail du SR, so with the vast majority of targets the M95's extra damage is simply overkill. Having said that, if you're swapping to a higher quality M95 the damage step-up will be sizeable, so don't be too picky. If you do find yourself with an M95, bear in mind that it hits hard enough to get a stumble animation out of a Tallboy from 1-2 headshots, irrespective of weakspots, letting you generally deal with them alone. Named after a player-character in Final Fantasy VII, despite him never actually using a gun without it being embedded in at least one limb.
Phénix 350L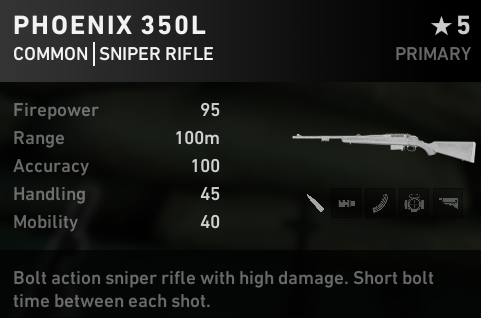 Base bullet damage: 90.0
Magazine: 5
Essentiellement, this is -the- SR of the game. It hits hard enough, assuming quality-parity, to one-shot any non-Tallboy Special with a weakspot hit – including Snitches, on Veteran at least – which is extremely valuable. With a modest amount of reload speed, the bolt-cycle is barely noticeable. Like the M95 it only holds a five round clip, but since you're already incentivised to favour reload speed this is much less of a concern than it might be. As with the M95, toujours take a Fast Mag if you find one – un Extended Mag pourrait vous donner plus de tours, mais ça ne les fera pas entrer plus vite dans la chambre. Vraisemblablement nommé par quelqu'un qui comprend extrêmement mal ce qu'est un phénix.
M1A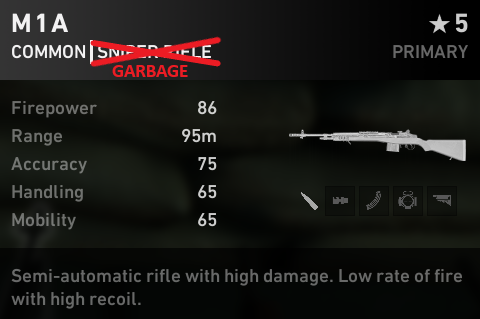 Base bullet damage: 38.0
Magazine: 10
Le beau-fils roux de la famille SR, ce fusil doit être traité comme tel et méprisé [clause de non-responsabilité: c'est une blague, s'il te plait ne m'annule pas]. Il est, effectivement, un fusil Ranch avec un clip plus petit et un tir à la hanche pire. In theory being a semi-automatic SR should mean it can deliver frequent high-damage punches to weakspots; en pratique, its recoil is far too high to maintain weakspot damage in any but the most favourable (or suicidal) of circumstances.
Avoid this weapon at all costs. It is literally worse than a Desert Eagle, and when your primary is worse than your secondary you know you have issues. If you're Jim, who starts with one, learn to love your revolver until you can find a Phoenix. Unlike the other entries, I will not be closing this entry with a joke because I hate this weapon too much for comedy.
Sniper Rifle Cards
Absolutely terrible
.
There is no reason why you need to boost your movement speed while in ADS
,
let alone this much
.
Don't waste your cards
.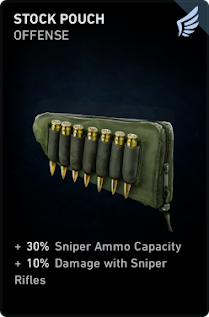 Just like all the other ammo cards
,
you'll want this in your deck if you use SRs
. Dans ce cas, bien que,
it's more for the ammo than anything else
.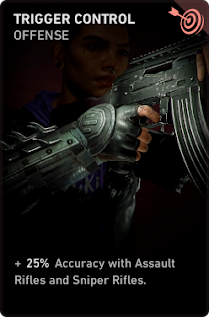 Almost certainly not worth it for an SR-user
.
SRs are already plenty accurate when in ADS
,
and they're inaccurate enough from the hip that you probably shouldn't be taking pot-shots even with this card
.
Even if this were good enough to enable SR hip-fire
,
it still wouldn't be valuable enough to burn a card slot on
.
Avoid
.
Fusils de chasse
A class of weapons which are extremely powerful in their niche, shotguns excel at holding down specific areas and dealing with hordes. Later-game shotguns also become Special-killing powerhouses; as well as this, shotguns have arguably the best weapon-specific cards besides melee weapons. As a result of all these factors, every team should have at least one shotgunner to be competitive.
Cela étant dit, shotguns fall into the CQC position that melee also competes with. Generally shotguns will be substantially easier to use and work around, as well as coming online earlier; pourtant, melee has a power ceiling far beyond anything else in the game. Which is used will depend on your group (and player preferences), and there is room for both to an extent. pourtant, essayez de ne pas avoir plus de deux joueurs CQC dans un groupe donné – plus que cela entraînera des difficultés de balayage et réduira le nombre de personnes disponibles pour renforcer un côté donné de votre groupe lors de la défense d'un point fixe.
Incidemment, bien que recommandé pour tous les joueurs en général, les utilisateurs de fusils de chasse en particulier devraient donner la priorité à la carte Down In Front (en supposant qu'ils ne jouent pas sur Recruit, bien sûr). Dans n'importe quelle situation, les tireurs de chasse sont plus susceptibles d'être à l'avant (and so most vulnerable to being tagged by less-than-competent allies), while also having arguably the highest damage potential from a misfire (aside from SR-users who are supposed to be the marksmen and therefore less prone to have an 'incident').
N.B.. Pellet counts are from my own count on the firing range; je pense qu'ils sont exacts, mais non 100% certain. Comme tout bon guide-écrivain, my approach to accuracy is to whine 'but that's difficile' et abandonner après quelques essais.
870 Express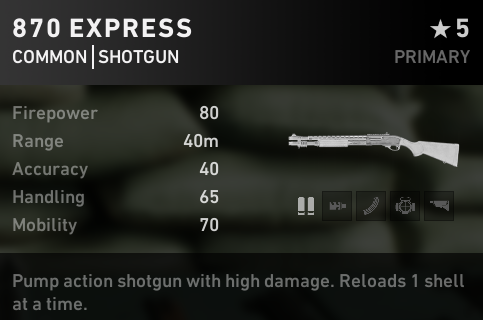 Base bullet damage: 8.0
Comptage de granulés: 8
Magazine: 8
Votre fusil de chasse à pompe standard, Holly commence avec ça aux côtés de sa batte (ou plus exactement, l'a comme arme secondaire pour les ennemis légèrement hors de portée de la chauve-souris). C'est décevant mais fait le travail de fusil de chasse de manière acceptable en début de partie; contrairement aux fusils de chasse ultérieurs, ses dégâts contre les Specials sont médiocres. Remember that, like SRs, pump-actions get dual benefit from reload speed as it also improves the speed that they pump (heh heh). Replace with one of the two auto shotguns as soon as you find one. Nommé par quelqu'un qui croyait à tort nommer un train.
TAC-14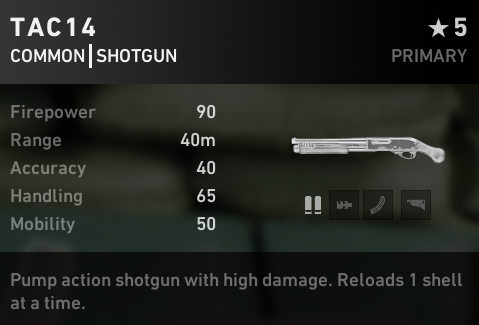 Base bullet damage: 10.0
Comptage de granulés: 12
Magazine: 3
Hoffman commence par ceci, et il n'en est pas particulièrement content. Fonctionnellement identique au 870 Express, il a une meilleure sortie de dégâts par obus mais une capacité risible de trois obus. Étant donné que les deux obus rechargent individuellement, la seule vraie différence entre les deux est la fréquence à laquelle vous devez appuyer sur le « R »' clé. Tout comme le 870, remplacer au plus vite (avec un meilleur fusil de chasse, de toute évidence, pas ce M95 que tu as trouvé dans un placard). Son nom complet est « Teamkillers Are Cool 14 ».
AA12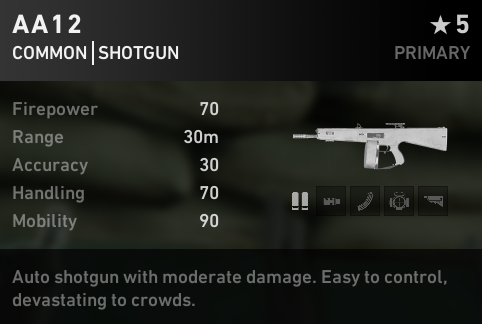 Base bullet damage: 8.0
Comptage de granulés: 7
Magazine: 12
À présent we're talking. The AA12 is without doubt the best shotgun in the game; it has a serious argument for being considered the best gun in the game, period. It has a nice chunky magazine which reloads fairly quickly, enough punch to put down a Common with one shot on any difficulty (provided reasonable range, De toute façon), et, surtout, the ability to unload shells extremely quickly. This makes it phenomenal at bursting down Tallboys who, if not killed outright, will invariably be stumbled by the damage output.
The only thing the AA12 doesn't do well is sweep, for obvious reasons. Trust your AR and SR players to sweep for you, don't get greedy and waste shells trying to do their job, and in return they will trust you to protect them from hordes, hold down chokepoints, and obliterate any Tallboy who looks at them funny. Also note that the 2x scope is optimal on the AA-12 despite common sense suggesting otherwise, simply due to the damage boost. This gun's very existence makes the setting and premise of the game implausible, because anyone holding one is essentially immune to everything, partout, déjà.
super 90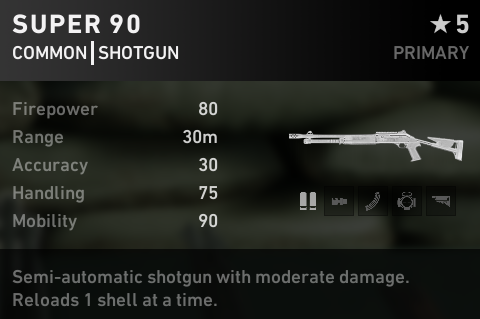 Base bullet damage: 8.0
Comptage de granulés: 9
Magazine: 6
Inevitably the Super 90 must be compared to the AA12, as the premium weapon in the class. The result of that comparison is… unfavourable, but reasonably close.The Super 90 boasts somewhat superior per-shell damage due to pellet count compared to the AA-12, but that is essentially its only selling point. The AA12 wins for magazine size, reload speed and DPS – and therefore is superior for doing the two things shotguns exist to do, c'est à dire. kill Tallboys and hold the line.
Cela étant dit, this doesn't mean the Super 90 est mauvais. Pas du tout – it does the job and it does it well. It's simply unfortunate for it that the AA-12 does the job excellently. Use the Super 90 if you haven't found an AA12 yet, if you're using shotguns in a hybrid build and your primary shotgunner wants the AA12, or if you're an idiot hipster who thinks stacking 200% reload speed is a good idea.
Shotgun Cards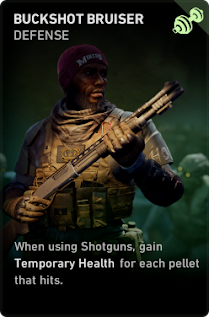 Although in theory this card is fantastic
– 7+
health per shot
,
not considering penetration
! –
in practice it never seems to do as much as it should
.
I suspect it may be tracking how many total enemies are hit by any given shot
,
rather than how many pellets hit
.
I recommend you run Face Your Fears instead
,
as it works universally
.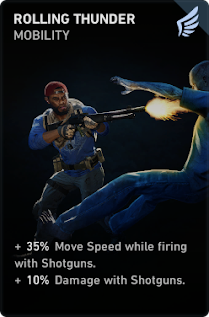 Not good enough
.
The movement speed while firing is basically irrelevant
,
so you're basically just taking a card with
10%
shotgun damage on it
.
There are better options out there
.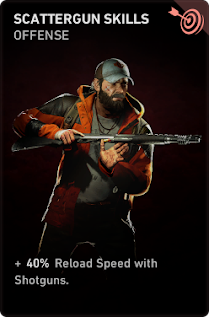 Much like Mag Coupler
,
would be good if the AA12 didn't exist
.
Since it does
,
you don't need this card
.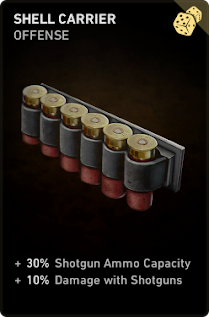 As with the other similar cards
–
if you're using shotguns
,
you'll probably want it
. Si vous n'êtes pas,
you definitely don't
.
Sidearms pt

. 1

Sidearms (or secondary weapons as they're usually referred to in-game) are very much a mixed bag, running the gamut from absolute garbage (Le M1A Belgian) through various flavours of mediocrity, all the way up to 'pretty good actually' (TEC 9 and Desert Eagle). pourtant, this is only if you're considering them as what they are – secondary weapons. As standalone choices (c'est à dire. if considered in the context of Duals), everything shifts downwards, the Desert Eagle and TEC 9 are underwhelming and everything else becomes worthless.

En tant que tel, when considering the relative merits of these guns, don't think of them as weapons in isolation. It's not just a TEC 9 – it's a TEC 9 and also a bonus card slot because you didn't take Duals. That's worth a lot, especially on Nightmare where drawing cards from your deck is a luxury, not a right.

.357 Magnum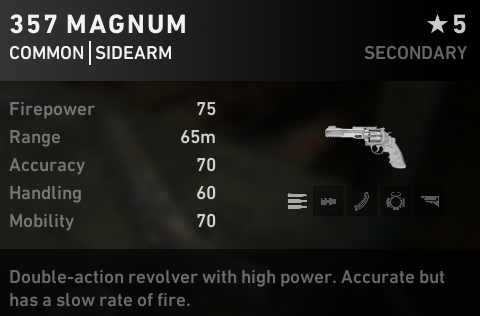 Base bullet damage: 20.0
Magazine: 8
The best you can say about the Magnum is that it's not completely awful. It effectively acts as a substantially worse Desert Eagle, doing the same job – allowing for sweeping with your secondary – but with a slower reload speed and a LOT more recoil. Its only point of superiority over the noble bird is that it uses rifle ammo, which is far more plentiful than sniper ammo (at lesat assuming nobody's carrying an M249).
Incidemment, Jim starts with one of these, and it's effectively his primary weapon because the M1A is so very, very horrible. En pratique, don't take one of these if you're the SR-user – you already have an SR which does the sweeping job far more effectively. Au lieu, look to the TEC 9 to give you some measure of anti-horde capacity. Named after a famous private investigator.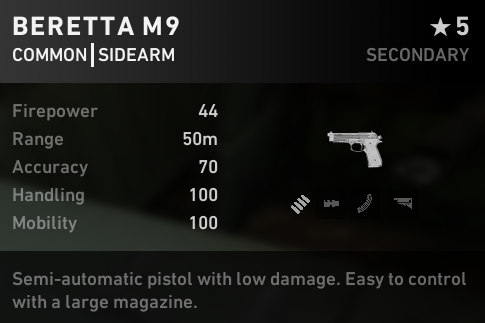 Base bullet damage: 10.0
Magazine: 12
Doc's starting sidearm and a study in mediocrity. It functions exactly the same as every other pistol in every other game. Importantly, pourtant, it is the only gun which actually fits Holly's 'pew pew' voice line.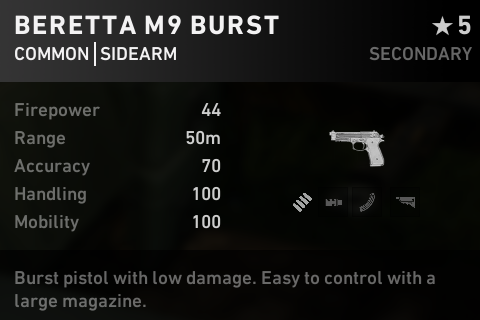 Base bullet damage: 10.0
Magazine: 12
Identical to the M9 but only fires in three-round bursts, which has no real benefit but makes the kick worse. Take this if you have such a severe inferiority complex that you won't even allow yourself mediocre things. Note that the designer of this weapon cunningly sidestepped the issue most burst guns have – overkill – by putting the burst function on a gun with no stopping power.
Desert Eagle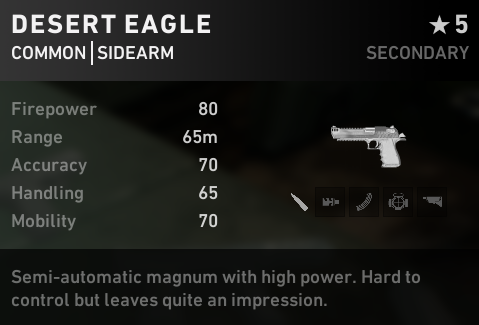 Base bullet damage: 28.0
Magazine: 7
Much better. The Desert Eagle is the ideal sidearm for the shotgunner who wants to be able to help out with sweeping, but not enough to take Duals – it packs enough of a punch to one-shot a Common from a chest shot on most difficulties and has a good reload speed, which is about all you can really ask for. Don't make the mistake of thinking it can function as a SR – it can sweep, but it can't kill Specials particularly effectively. Also note that it uses sniper ammo, so don't over-use it if you have a SR-user because they'll probably need that stuff at some point. 'Desert Eagle' is actually the gun's Native American name, but its real name is long lost in the mists of time.
Sidearms pt

. 2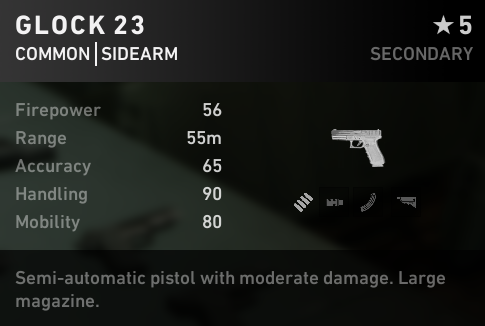 Base bullet damage: 12.0
Magazine: 15
Basically it's the M9 but better in every way. Still extremely generic, bien que. Take this pistol if you want to pistol at things with your pistol. Walker starts with this, as is only fitting for the most generic character in the game. If for some reason you're using this a lot, it is a legal requirement for you to start every round by telling your team to 'glock and gload'. [N.B.. [je]D'accord, that was the single worst joke in this entire guide. I can only apologise. But not enough to delete it or come up with anything better[/je].]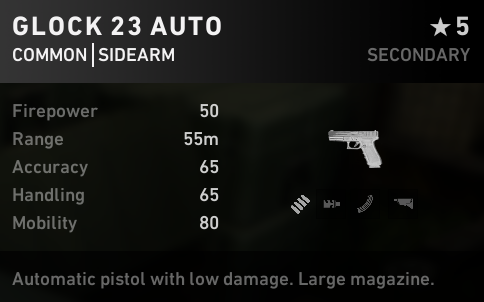 Base bullet damage: 10.0
Magazine: 15
Identical to the Glock 23, but with the added bonus of missing roughly 50% of its rounds due to the ludicrous recoil and losing 16% of its bullet damage for no adequately explored reason. Would be borderline usable for emergency situations if the TEC 9 didn't exist. Named 'Auto' because it's actually capable of transforming into a car; Malheureusement, as it can only hold 15 balles' worth of fuel, this doesn't come up much. [N.B.. [je]Serious competition for the joke above[/je]]
M1911

Base bullet damage: 15.0
Magazine: 8
Hoffman's starting pistol, this isn't actually too bad as far as pistols go. It has acceptable punch given it hits harder than an AK-47, and so long as the zombies aren't running at you very quickly that's often enough. Unfortunately it gets outscaled pretty quickly. Named because even though it's a pistol, it's still 1911 times better than the M1A.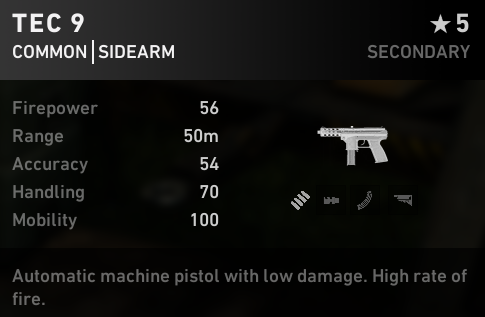 Base bullet damage: 9
Magazine: 20
Karlee's starting pistol and the other side to the Desert Eagle's coin; where the birb makes you a pseudo-sweeper, this makes you pseudo-horde control. It's easy to underestimate the TEC 9, as its bullet damage is poor and its clip size is mediocre; what matters, pourtant, is that it has fairly minimal recoil and a high rate of fire. This means that despite its unassuming appearance, it can put out DPS comparable to an SMG. Just make sure you're aiming it at the weakspot, ou si vous voulez réellement infliger des dégâts, prendre Duals et le remplacer par un Vector. Notez que, en dépit d'être une arme de poing, cela compte comme un SMG pour les réalisations. Notez également qu'en dépit d'être fortement associé à la criminalité de rue et aux fusillades dans les écoles, porter cette arme ne vous rend pas plus nerveux. Tu m'entends, Karlée.
Le Belge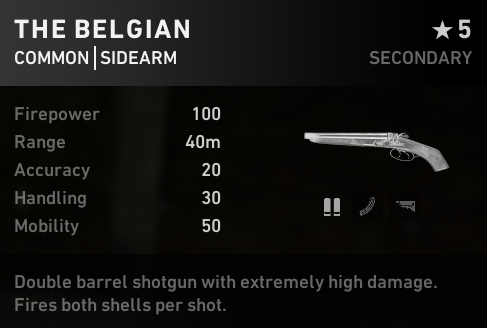 Base bullet damage: 8.0
Comptage de granulés: 12
Magazine: 2
Maman commence le secondaire, et une sorte de blague à plusieurs niveaux. D'un côté, c'est un shotun à double canon qui n'obtient toujours qu'un seul coup, ce qui est drôle. De l'autre, it can still do more damage in one shot than an M1A, which is also funny. Malheureusement, the comedy drains away once you start actually using this weapon, which is too awful for laughs. Note that although this is a sidearm, it uses shotgun shells and counts as a shotgun for achievements – this is a purely academic fact, pourtant, because you'll never actually fire it. Named 'The Belgian' because it's small, inoffensive, politically irrelevant and shares a land border with France.
Sidearm Cards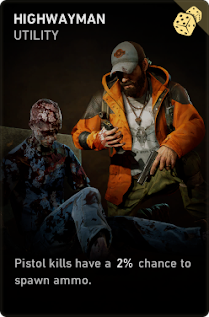 Non.
Absolutely not
.
If you're that desperate for ammo you should be running a max ammo boost
,
not fishing for a
2%
chance to get a handful of rounds
. Mieux encore,
just play Hoffman
.
Do not take this card
.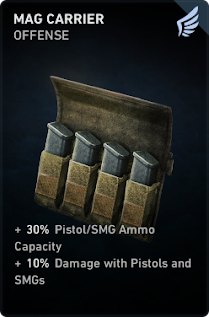 While this card is worth taking if you're focussing on SMGs
,
it really isn't worth taking just to bolster your sidearm damage
.
In this context
,
do not take
.
Melee weapons
Melee doesn't really compete with firearms in many ways, so I'm mostly including this section out of a sense of completeness. Metagame-wise, bien que, it competes with the shotgun for the role of CQC in any given team.
On Veteran, you'll find that melee locks down a tight section more effectively than a shotgun will due to the lack of downtime; pourtant, melee is worse at dealing with Specials, and is much worse at area coverage. Melee can also fill the 'damage sponge' role more effectively than any other role once it has some cards built up. It mostly comes down to what your team wants to use.
On Nightmare, d'autre part, melee is the hail Mary play. It doesn't come online until you're several cards in, and carrying a weak player on Nightmare for that long is a real struggle. Once it does come online, pourtant, melee becomes a real powerhouse (assuming the melee-user isn't crippled by trauma, au moins). The sheer number and variety of melee-oriented cards available give the role a lot of variance, and you'll need to experiment to discover your favoured way of using it.
As far as individual weapons go, you're effectively making two decisions – do you want a wide or narrow swing? And do you want a fast or a slow swing? This gives you your choice – wide/fast (machete), wide/slow (chauve souris), narrow/slow (fire axe) or narrow/fast (hatchet). Slower/narrower swings are higher damage and so more suited for putting down Specials, wheras wider/faster swings cover more area and so are better for killing Commons.
General Weapon/Damage Cards pt

. 1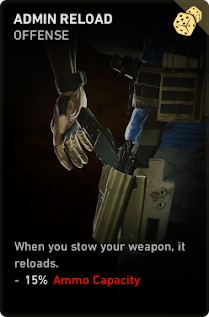 Although it might seem like this would be good for everyone
,
in reality the reload times of most weapons are close enough to their swap speeds that you don't really benefit from this
. Sûr,
you could also run a swap-speed card
; alternativement,
you could just run one reload speed card and one other card
,
and you'd get about the same benefit
.
The only real reason to use this card is if you're looking to run LMGs
,
or you really love the Super
90 pour certaines raisons.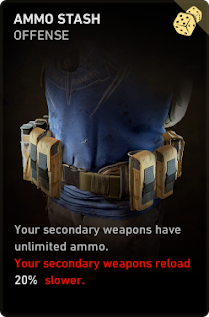 Terrible
.
Pistol/SMG ammo is extremely plentiful and should never be an issue
,
and you'll never need to use your Desert Eagle this much
.
Note that despite what a surprising number of people think
,
this does
ne pas
work with Duals
–
you're equipping a Primary weapon in your Secondary slot
,
not turning your Primary weapon into a Secondary
.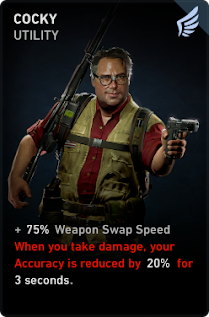 Garbage
.
No matter how much you think you want swap speed
,
and no matter how good you think you are at avoiding damage
,
it's really not worth risking losing a chunk of your hip-fire accuracy because of some stray Common
.
Avoid
.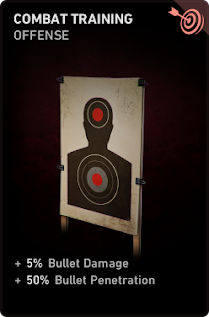 The most generic of generic damage cards
,
its only real stand-out feature is the bullet penetration
(lequel,
as explored in the Magazine Attachments section
,
is questionable at best
).
Avoid in favour of the more efficient damage cards like Shredder
,
Confident Killer etc
.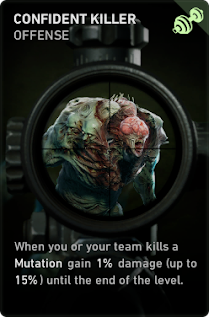 A very good card
–
the later a map goes
,
the more difficulties you're often having as ammo runs low and health follows it
.
Getting a stacking damage boost helps substantially to mitigate this
. pourtant,
it is a far more selfish boost than Shredder or Marked For Death
,
so this should usually be lower priority unless you're running something that desperately needs a substantial damage boost
.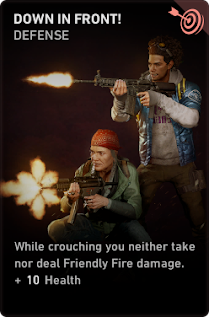 D'accord, Oui, je connais,
it's not actually a damage card
. pourtant,
if you're even remotely concerned about FF
(
which you should be unless you're playing on Recruit
),
taking this card will give you a huge amount of freedom in movement and firing
. Par conséquent,
it actually ends up being a functional damage boost
,
even not a direct one
,
for the vast majority of players
.
I strongly recommend this card for everyone
.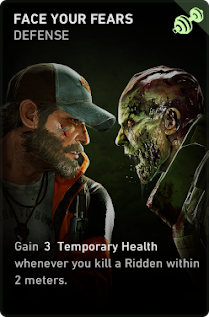 Also not a damage card
,
but included because it's in direct competition with Buckshot Bruiser
.
As noted in that entry
,
prioritise this one over that one
,
as Buckshot Bruiser does not seem to be working as advertised
.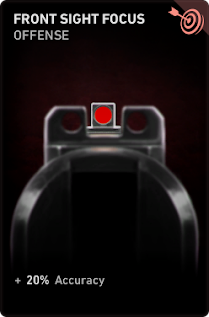 Not great
.
Accuracy mostly helps with hip-fire
,
as B4B's guns are all pretty accurate when firing in ADS
,
and while a barrel slot is a fair trade for improving your hip-fire
,
a card definitely isn't
.
Force
be acceptable as the last card in your deck
.
Peut-être
.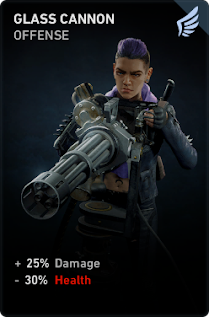 Ballsy
.
Isn't actually too bad if you're good at avoiding damage
– 25%
damage is a lot
. Cela dit,
note that it's
30
PERCENT health
,
not just
30 santé –
taking health boosts doesn't help much
. néanmoins,
can work well
,
especially in combination with cards like Face Your Fears
.
Consider taking Fresh Bandage and/or Saferoom Recovery
, pourtant,
as Trauma is going to be a real problem for you
.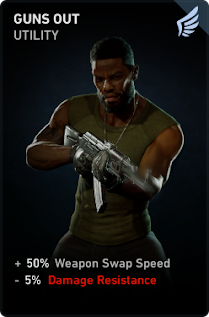 Probably the best weapon swap card
, comme 5%
damage resistance isn't too much of a price to pay
. Malheureusement,
as with the other weapon swap cards
,
the impact just isn't enough to be worth a card slot
.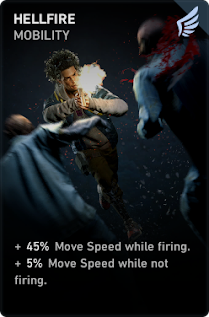 Terrible
.
You really don't want to boost your speed much while firing
–
all you're doing is making yourself less accurate
.
At least it has
5%
movement speed on it
,
but still not worth taking in many circumstances
.
Pas bon.
Aim speed is good in general
,
but much as with Front Sight Focus
,
it's good enough for an attachment slot and definitely not good enough for a card
.
Avoid
.
This is actually a really good card which most people seem to overlook
.
The loss of ADS movement speed really doesn't hurt much since you'll rarely be moving too much in ADS anyway
; pendant ce temps, 50%
is a LOT of extra damage
.
Seriously consider this if you're able to hit weakspots reliably
,
especially if you like to work the wide angle to help with Tallboys
.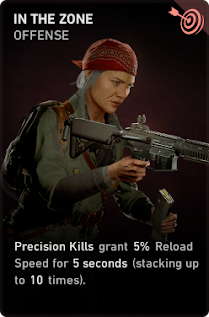 Garbage
.
Precision kills are the fancy term for headshotting Commons
,
and when you're headshotting Commons you're typically not pressured at all
.
Improves sweep speeds by a miniscule amount
,
and does at least give SR-users a reason to aim for headshots
(
not that they want one
).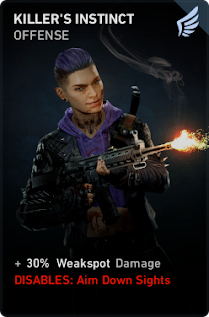 Pas bon.
Makes you deal more damage against weakspots
,
while also making it much harder to aim for them
.
If you're thinking about taking this
, ne pas.
Take Hyper-Focused instead
. Cela dit,
has some nice synergy with Quick Kill if you're able to burn two card slots
(lequel,
on any reasonable difficulty
,
you're not
).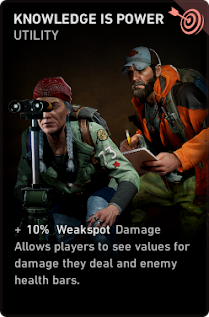 Pas complètement nul, mais extrêmement décevant par rapport aux autres cartes. D'autre part, voir les nombres de dégâts – alors qu'inutile la plupart du temps – c'est plutôt sympa pour écrire des guides. Alors il y a ça.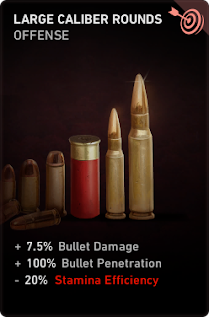 Not great
. 50% de meilleures performances que l'entraînement au combat – ce qui est extrêmement décevant comme carte – en échange d'un drain d'endurance plus rapide. Ce n'est pas un commerce acceptable.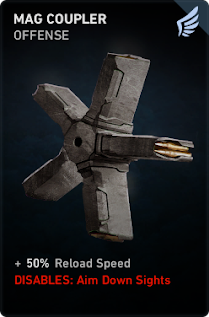 50%
reload speed is actually pretty good
, mais rien ne vaut la peine de perdre votre ADS pour (à moins que tu sois au corps à corps, De toute façon). A un certain attrait pour les tireurs de chasse, mais de manière réaliste, l'AA12 ne se soucie pas beaucoup de la vitesse de rechargement – et tandis que d'autres fusils de chasse le font, vous ne devriez pas vraiment planifier votre construction autour des armes à feu que vous allez abandonner à la première occasion.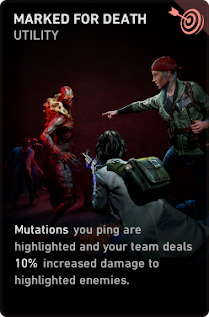 Une carte fantastique, cela équivaut à un 10%
damage boost
pour toute votre équipe
against Specials
. Je n'ai pas encore testé si les dégâts augmentent la pile, et c'est fondamentalement la seule raison pour laquelle vous ne le feriez pas dans tous les decks que vous avez créés.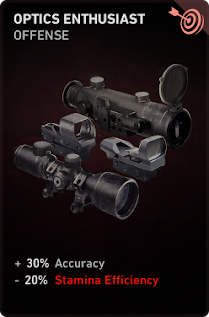 Ironiquement, une carte que vous prendriez pour éviter d'utiliser l'optique. Tout comme les autres cartes de précision, pas vraiment la peine.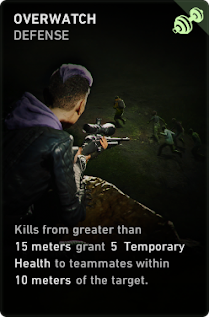 Mediocre game
,
worse card
.
There's no reason your team should be this split up in most circumstances
–
and there's no reason to take a card which will almost never be used unless someone screwed up badly
.
Avoid
.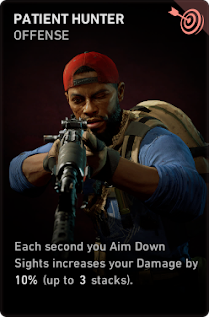 Pas mal,
but not as good as people seem to think
.
The issue is the situations this is actually going to be relevant
–
the times when you have time to sit in your scope for several seconds are the times when you don't really need the damage boost all that much
,
wheras the times when you really need a boost
,
you won't have it
.
You could make an argument for taking this on a SR-user
,
since they'll usually see Tallboys coming and can wait for them to come into optimal range
–
but personally I would take something more reliable like Marked For Death instead
.
General Weapon/Damage Cards pt

. 2
Not worth it
.
In theory could be handy for running gauntlets
–
one quick headshot for a
10%
speed boost
–
but gauntlets are rare enough that you won't see enough benefit
.
Besides which
,
you'll be leaving your team behind
.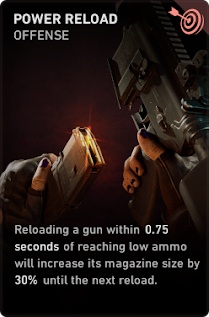 What exactly constitutes 'low
'
ammo is still up in the air
. Indépendamment,
this card isn't worth it
–
you're burning a card slot for what amounts to a chance to maybe get an Extended Mag for a while
.
Avoid
.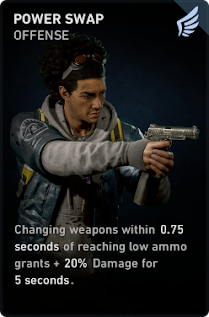 Has some nice synergy with Admin Reload
,
assuming you've figured out what 'low
'
ammo is
. Cela dit,
far too situational and far too short-duration for a
20%
damage boost
;
if it was
50%,
I'd be considering it
.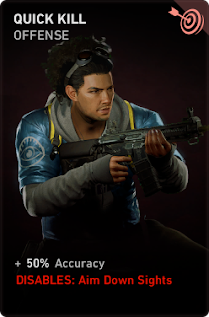 Not actually too bad
,
overall
–
while it disables ADS
,
the accuracy boost is big enough to potentially make ADS unnecessary if you're good at aiming for pixels
.
Probably not worth burning a card slot over
, bien que. D'autre part,
if you're desperate to turn this game into Left
4 Morte,
this is a good start
.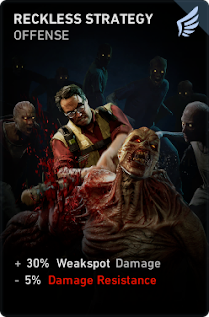 Not bad at all
– 5%
damage resistance is small enough that you won't really feel a difference
, et 30%
weakspot damage is sizeable
–
but unfortunately it's competing with Hyper-Focused which is simply better
,
and weakspot damage isn't critical enough to be worth stacking
.
Take Hyper-Focused instead
.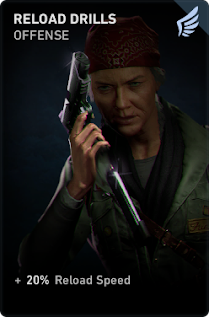 Surprisingly usable overall
–
most of the reload speed cards have some nasty side effects which are better off avoided
. Cela dit,
reload speed isn't important enough to be worth burning a card on unless you're a SR-user
(
and even then it's questionable
).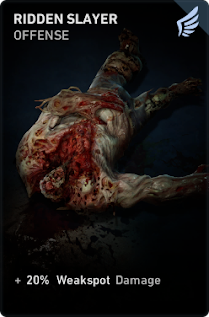 Not too bad
,
but doesn't quite pull enough weight to make the cut
.
Even if you want a selfish damage boost
,
Confident Killer is going to stack quickly enough to be superior to this
.
If you want weakspot damage
,
take Hyper-Focused
;
if you want damage
,
take one of the good generic damage cards
.
Non.
Absolutely not
. Il n'y a aucune raison pour laquelle vous voudriez prendre cela à moins que vous ne soyez complètement déconcerté par les événements du gant ou que vous abandonniez habituellement votre équipe. Carte poubelle.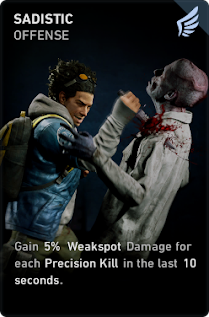 A des problèmes similaires à In The Zone, en ce que la seule fois où vous allez empiler beaucoup de kills de précision sont des moments où vous n'êtes sous aucune pression ou menace. Ce sont les moments où vous n'avez vraiment pas besoin d'augmentations de dégâts. Prenez plutôt quelque chose de plus général.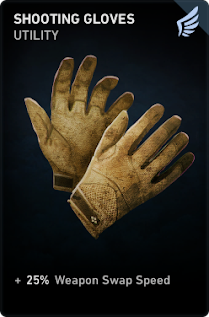 Pas assez bon pour un emplacement pour carte. Cela pourrait être tentant si vous exécutez une version LMG/Admin Reload, mais même alors, ça ne vaut pas le coup. Cela rend l'échange beaucoup plus agréable, certainement, mais gagner moins d'une seconde sur ce temps d'échange n'aura pratiquement jamais d'importance. Et même si vous êtes absolument déterminé à prendre une carte d'échange d'armes, Guns Out va généralement être mieux.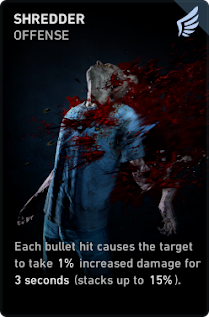 Pas mal, mais pas génial. Bien que vous puissiez empiler rapidement l'augmentation des dégâts,
unless you're using an LMG you're only going to get the full boost by the time you've basically emptied your mag already
.
If your team is also firing
,
they'll get the benefit
… mais même alors,
it's going to perform similarly to
,
or worse than
, Marqué pour la mort.
Still better than most damage cards
,
but both MFD and Confident Killer will outperform this
.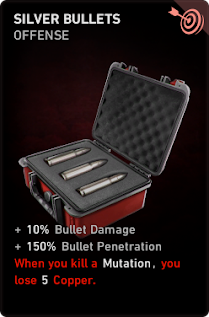 Definitely interesting
,
and if it was all damage boost instead of bringing penetration into the mix it'd be potentially good
.
As it is
,
bullet penetration is barely even useful
, et 10% l'augmentation des dégâts n'est pas suffisante pour paralyser votre économie personnelle.
Avoid
, mais sois triste.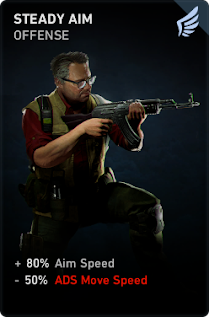 Wow, c'est beaucoup de vitesse de visée. Si seulement la vitesse de visée était une statistique pertinente, ça peut être bien en fait.
As it is
,
avoid
.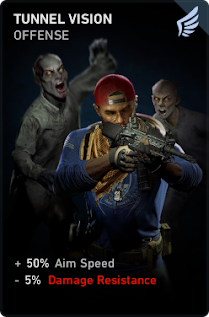 Même si tu veux désespérément viser la vitesse – et vous ne – Steady Aim serait mieux. Ne prends pas ça.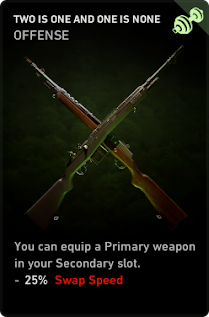 Il y a toute une section pour cette carte au début du guide. je ne vais pas me répéter ici, Zut!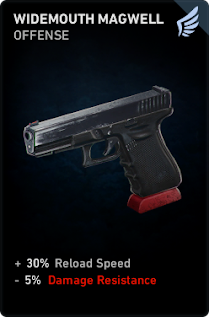 Pas terrible pour ceux qui ont besoin de vitesse de rechargement (lire: SR-utilisateurs). pourtant, tandis que 5% la résistance aux dommages n'est pas trop importante, ni est 10% la vitesse de rechargement – dans l'ensemble, je préférerais Reload Drills à cela car 20% est généralement suffisant avec un Fast Mag.
Plus de guides: