A complete guide on how to beat the Canyon Mine!
The Basics
The Canyon Mine is one of the mines in Cattails and may be one of the easiest to beat. It is located near the Forest Colony, so therefore you'll want to join them if you want to beat this mine without constantly being attacked.
You could also use a code (IAMTHESENATE) to get 100% reputation with all colonies.
Food and How Much?
Food is going to be a huge part in any mining situation! Always make sure you have plenty of food on you.
This part is counting on you having two inventory extensions. After hunting, your inventory should look like this: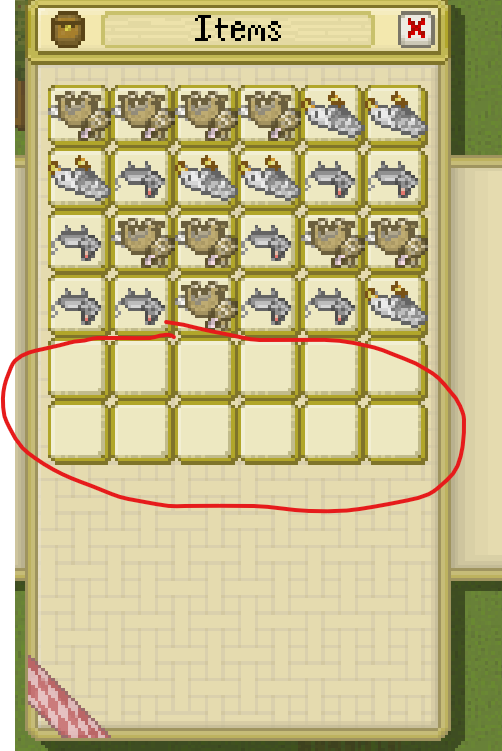 The red circle is going to be full of herbs, leading onto the next section.
Herbs and How Much?
Your best bet for herbs is to have two full rows of them. Marigold and Goldenseal should help you the most in this situation. I'd personally collect as much Marigold as possible and then fill in the gaps with Goldenseal. However, Valerian could also be useful as you have a speed boost.
The Warps
Another major part of this experience is going to be the warps. Once you get to level 25, 50 and 75 you can buy a quick warp for each. You can also buy some more herbs and food at the stops if you needed. The Canyon Mine as a whole also has a warp you can buy. Overall, these warps are all very useful.

The level warps are in the forms of little mole holes inside the Canyon Mine. There are three, all covered by debris at first. They'll all slowly unlock as you progress though.
Active Skills
The Wild Slash skill will be quite useful in this situation. Using this can break multiple rocks at a time.
The normal Sprint skill can be useful for quickly running around breaking rocks. These two paired together can be very effective.