A list per level/phase from start to finish of what parts the Ship Doctor wants to repair Beulah & where to find them.
Intro
This is a list of the parts you need, in total and organized by level/phase, to give the Ship Doctor to repair Beulah! First is a list of parts, the number of each part needed in total, and where to find those parts. Second is a list of what you need for each specific level.
How It Works
At a certain point in the story, you get the ability to collect parts to repair an old, ragged ship that has been given to you.
There are three ways to obtain these parts:
Find them floating around inside ships you're salvaging.
Rip them out of a barge item, heavily damaging the item or outright turning that item into scrap (losing most of its value).
For fuses, successfully remove a fuse from a ship with a power generator and pick up the fuse.
You must apply these parts in a specific order, which I'll call levels or phases, as shown by your Ship Doctor program. The parts you need for each phase are listed below. However, you can collect any parts you find, and they'll be stored until you need them. So, you may as well grab any parts you find floating around; they'll be useful later.
Part List & Sources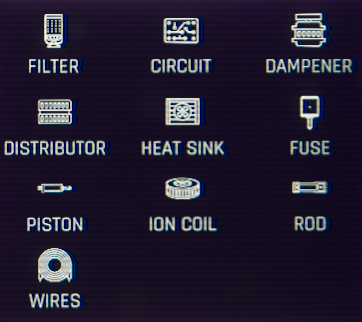 Circuit x7 – Communications Arrays
Dampener x4 – Forklifts
Distributor x2 – Waste Disposal Units
Filter x6 – Food Dispensers
Fuse x6 – Breakers and Power Junctions
Heat Sink x9 – Data Banks
Ion Coil x2 – Thermal Spreaders
Piston x4 – Utility Arms
Rod x6 – Industrial Hoists
Wires x9 – Terminals (Computer Terminals, Wall Terminals, Personal Terminals & Flight Terminals)
Levels/Phases
Unless otherwise indicated, you only need one of the given part for that phase.
Level One
Level Two
Level Three
Level Four
Level Five
Level Six
Level Seven
Level Eight
Level Nine
Fuse
Heat Sink x2
Dampener
Rod
Level Ten
Circuit
Filter
Heat Sink
Wire x2
Level Eleven
Level Twelve
Filter x2
Fuse x2
Heat Sink
Wires x2
Level Thirteen
Circuit
Distributor
Wires x2
Level Fourteen
Filter
Piston x2
Heat Sink
Rod x2
Level Fifteen
Circuit x2
Ion Coil
Distributor
Heat Sink x2
Level Sixteen
By somebodybond
More Guides: