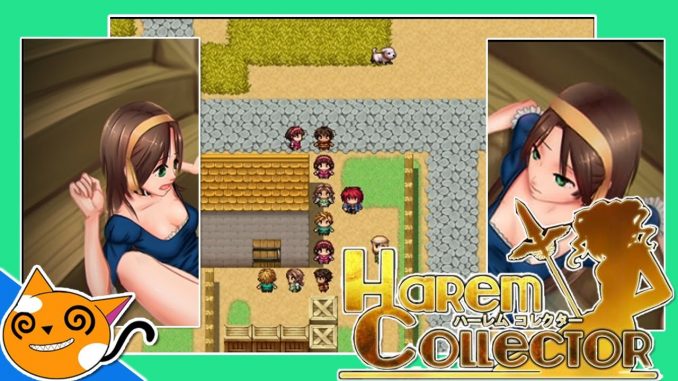 Harem Collector is a free adult game developed by Bad Kitty Games. here is a full list of all codes in-game. you can find the wiki-tan code, universal codes, name screen codes, red switch codes and etc.
Note: New Version 0.53.1 is now out with new sex scenes.
All Codes List (Credit to Twistty)
Super duper secret wiki code.
Wiki-Tan Code – 6niwW3Dq
Codes
In the game there are secret codes that can be used to get certain bonuses. These codes can be inputted either at the Naming Menu at the beginning of the game, or at the red switch inside the Manor Study.
Universal Codes
h9UeCK – One free Mid-Potion
p58Tkr – One free Essential Salts
KcQQrK – One free Potion of Resist Cold
f9p6QTn – One free Scroll of Fireball
XHgw5T – One free Clockwork Amusemente
3RMwgHYV – Snazzy paper crown (One per game)
External Codes
A code can be received at the end of the game Dungeon Assault. Said code gives a free t-shirt. – ??? Not sure anymore – Sorry 
– A code can be received after finishing the first assignment (get to the end of the demo) of the game Ether Count. Said code will give you the Ether Battery, a reusable item that gives 100 mana once a day. – ??? Not sure anymore – Sorry 
Name Screen Codes
ad7PSRkWDe
– Gives enough EXP to level-up by 50 to the Hero, Felix, and any party member recruited after the code is used. Untill level 99.
UUDDLRLRBA
– Gives 30 Resurrection Potions.
Red Switch Codes
The following codes can only be entered at the red switch, not at the Naming Menu:
Rule63 – Allows you to access the April Fools sex scene
JuFJrY – Allows you to access the first Patreon backer custom sex scene
JuFJrY1- adds scene to replay menu and makes it a random end quest H-scene
Bwjfnc – Allows you to access the second Patreon backer custom sex scene
Bwjfnc2 – adds scene to replay menu and makes it a random end quest H-scene
Name Codes
Naming Bonuses, in game bonuses that you get for giving your hero certain names that references games, TV shows and comics
Aeducan (House Aeducan from Dragon Age game series) – Gives 1 Proving Helm
Cartman (one of the main characters from South Park TV show) – +180 HP, -10 AGI
Larry (main character from the Leisure Suit Larry games) – Gives 1 Leisure Suit
Mario (main character from the Mario game franchise) – Gives three Mushrooms and a Scroll of Fireball
Shepard (main character from the first 3 Mass Effect games) – Gives a Markerlight Combat Item.
Stark (Tony Stark from Iron Man) – Gives the Mask Of Iron Man headgear and Cerulean a Dire Wolf follower
Stopped Clocks
– If you find a clock that has stopped, set it to 06-10-50 to get an Elixir. A clock can be found in Elvo's House and another in the Eastfort Clock Shop.
—————————————————————————————————————————————————————————————–
Changed codes:
Dungeon Assault T-shirt is no longer available
UUDDLRLRBA no longer works
ad7PSRkWDe – is NOT a name code any more, it is a Red Switch Code now (+49 levels for Player, +48 for Felix)
Universal Codes
v8PS8vyZ – +1 Sapphire to the player
t5XPRYk – +1 Bag of Marbles
Name Codes:
Caine – Not a real code, but changes name to Imposter (just for fun)
Red Switch Codes
ad7PSRkWDe – +49 levels for Player, +48 for Felix (does NOT work if hard mode is selected)
DERYru2G – +50000 Sil (money)
Test5902 – Transfer player to test arena (save first)
TeStEr – enable console
45!MngW – +1 Mid Potion