Quick Start Guide for Junkyard Truck
Quick Controls Guide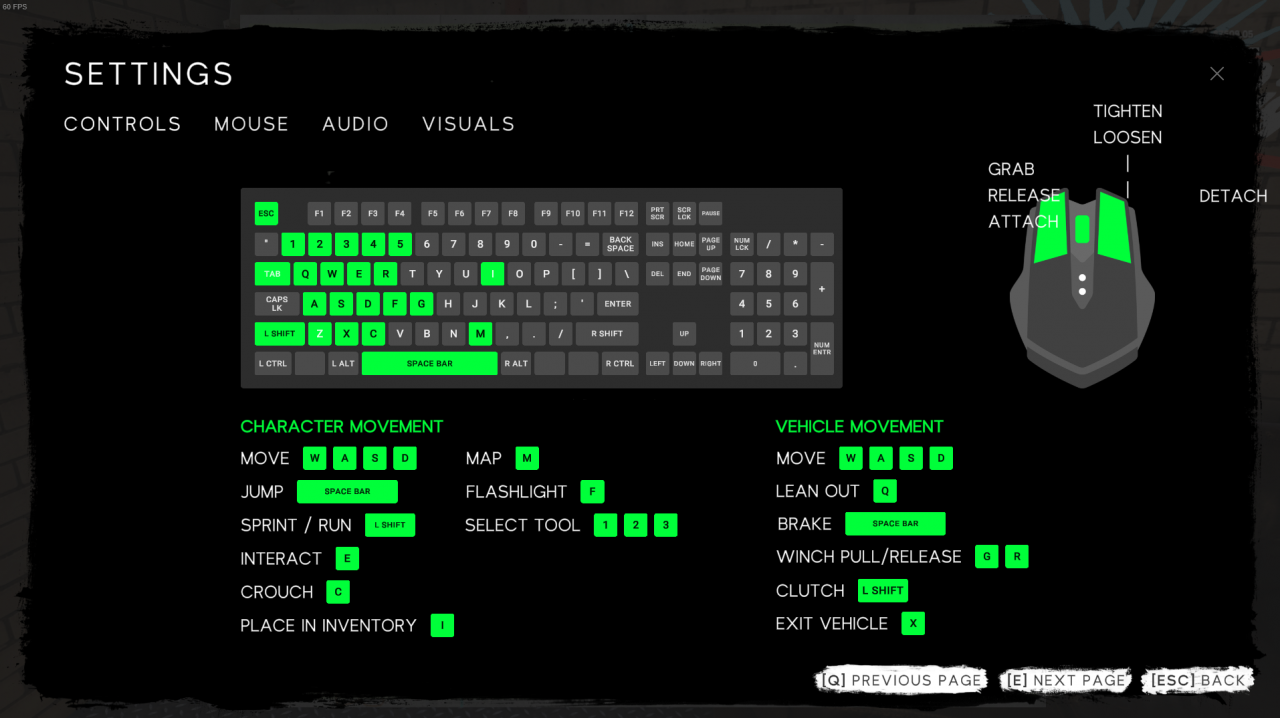 ESC – Main Menu
M – Map
TAB – Inventory
[Inside Vehicle]
W – Accelerate
A,D – Left, Right Steering
S – Reverse
Space Bar – Brake
Q – Lean Out
G/R – Winch Pull/Release
Left Shift – Clutch
X – Exit Vehicle
[Outside Vehicle]
Left Mouse – Pickup/Hold/Drop/Attach
Middle Mouse – Rotate/Tighten/Loosen
Right Mouse – Detach
Move WASD – Forward, Left, Back, Right
E – Open/Interact/Use
Space Bar – Jump
Left Shift – Sprint/Run
C – Crouch
I – Place In Inventory
F – Flashlight
Tools:
1: Hands 2: Wrench/Socket 3: Voltmeter/Ammeter 4: Screwdriver
5: Phone 6: Tyre Pressure Gauge 7: Crowbar
Z – ?
X – ?
First Day
First Day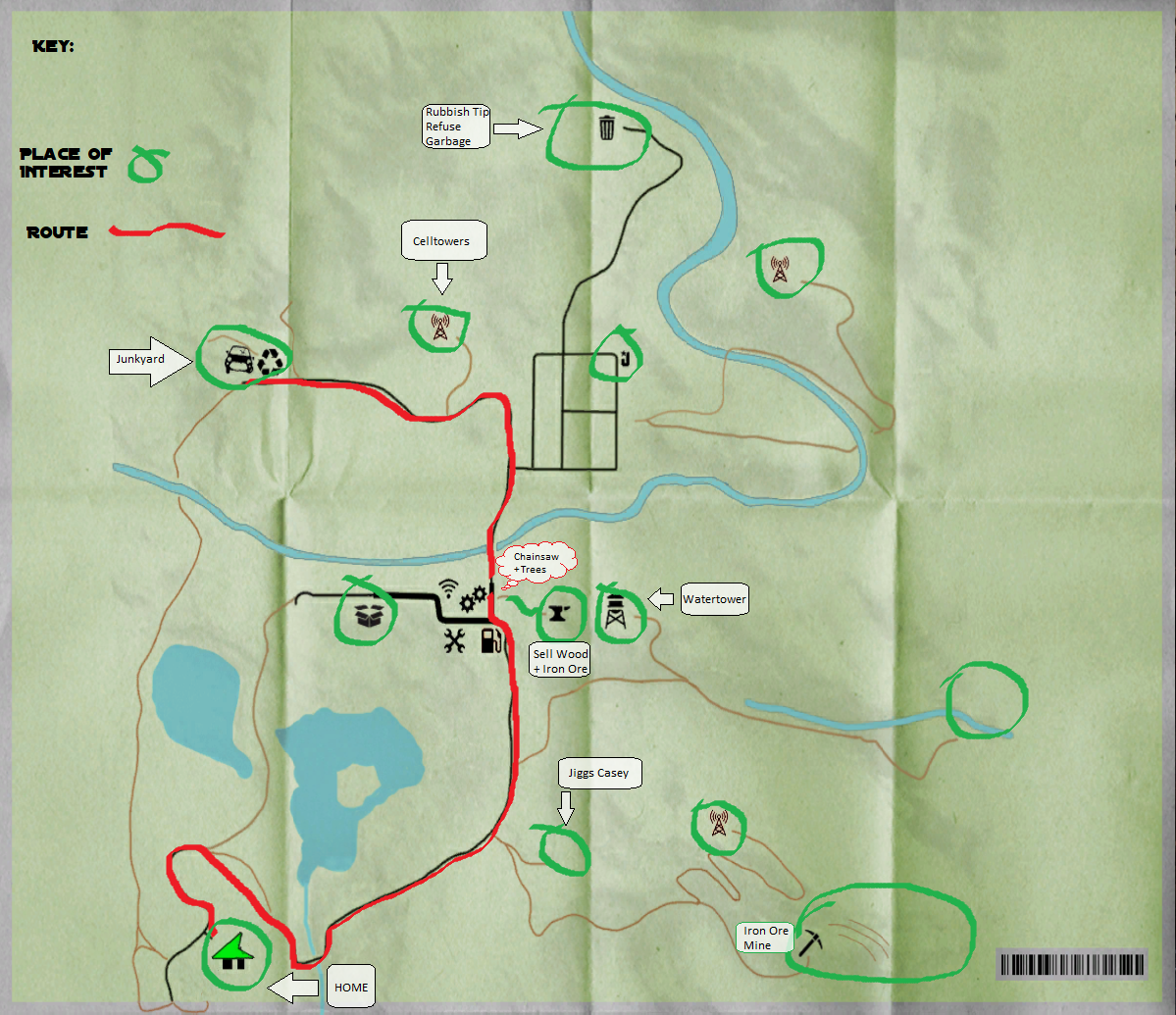 Go inside home/garage
Pick up money next to PC upstairs [Left Mouse]
Add to inventory ["I" key] [+$500]
Read messages on PC [Left Mouse / Click PC Screen]
Go downstairs pickup Chainsaw and cut the tree with the red ribbon around it down
Chop tree into parts and fit as many as possible into the car (Open car door ("E" key])
Put Chainsaw in car
Sit in car (["E" key] on car seat) and Start Car (["E" key] on ignition)
Take Chainsaw to town (follow road to the right) ["M" Map key]
[Inside Vehicle]
W – Accelerate
A,D – Left, Right Steering
S – Reverse
Space Bar- Brake
Q – Lean Out
G/R – Winch Pull/Release
Left Shift – Clutch
X – Exit Vehicle
Once in town, stop and leave Chainsaw by the person next to the trophy truck
Get back in car ("E" key) and continue to the junkyard
At the junkyard, left click the Sale tag on the truck side window next to Jimmy Junk [-$400]
While still at the junkyard, search and hope to find:
Cam Gear
Plug Wires
Fan Belt
Fan
[Air Filter – optional]
After searching junkyard, return to town the way you came, and go to the gas station
Back at the gas station, buy:
[4 x Beef-A-Reeno's] [-$12]
[1 x 12 Pack Crate of Beer] [-$10]
[1 x 2 stroke fuel] [-$8]
[Total = -$20]
* If you left your Chainsaw next to the race organiser earlier, you can now collect it and cut the three trees with red ribbons on the hill nearby, (start by clicking on the Chainsaw with ["E" key]), you can open the fuel cap when the the fuel runs out and use the 2 stroke fuel bought from the store to refuel.
* Cut logs can be taken up the hill to the building which has two skip containers outside, place the logs in the left side container and press ["E"] on the keypad to the side to retrieve your payment, this can be continued until you feel you have enough money to purchase the needed parts you were unable to find at the junkyard. Always leave the chainsaw in town next to the event organiser for future use.
* Once you have purchased the needed parts [see above or below], you are free to buy more supplies of food and beer, the truck will not need oil or coolant if you do not remove it.
* You can either choose to continue exploring the map by foot/car for the remainder of the day, or go home with your supplies using the car and sleep (["E" key] on sofa) to advance to the next day and begin fixing your new/old truck.
** Ideally you will have all the parts needed to repair your truck ready to take home, plus food and beer (or water instead), In total you will probably need to cut at least two trees worth of logs and take to the container to gain the needed funds to buy everything.
Checklist:
Food
Beer (or use Water)
Fan
Fan Belt
Plug Wires
Cam Gear
Air filter *optional
*Pro Tip #1: Store your excess food and beer in your fridge, beer will be slightly more effective.
*Pro Tip #2: You can take any junk you may find along the way such as washing machines etc to the junkyard and place them outside in the fenced off area ready to sell the next time you visit the junkyard or alternatively take them to the garbage site past the residential area.
*Pro Tip #3: Small items like the cam gear and plug wires can be stored in your inventory ["I"] key.
*Pro Tip #4: Try to remember *not* to store items in your vehicles before you sleep, it has been known to cause issues.
Second Day
Second Day
* Upon waking on the second day you should hopefully find your truck outside
* Open hood/bonnet of the truck ["E" key] and remove the red valve cover off the top of the engine using the socket tool ["2" key] and [mouse wheel] to loosen the bolts on the top
* Remove cover using [right mouse]
* Take and insert the cam gear, plug wires, fan belt and fan (and air filter if purchased) into their respective places, referring to the manual in the garage/home for pictures or by moving the part around the engine bay until you see a green tick symbol, take care to tighten any bolts parts may have by using the socket wrench ["2" key]
* Replace the valve cover removed earlier, and tighten all the bolts down.
* You can now start the truck.
** Don't forget to paint your truck!!
What to do from here?
* Missions
* Challenges
* Find junk and sell
* Cut trees, find garbage, find iron ore, make moonshine, grow tobacco, find salvageable parts in wrecks, upgrade your truck, explore… etc etc.. Refer to map for potential locations to visit.
Hints & Tips
Game Built in Tips
More Tips
* Crouching ["C"] and walking will allow you to "clip" inside another object such as vehicles and various other assets (useful for finding a loose bolt) (warning* if you stand up, the vehicle and your player will collide causing the truck to be possibly flipped and thrown through the air.
* You can drink water for free instead of beer to replenish your hydration meter, there are two faucets, one outside the gas station and one at your home, crouching with ["C"] helps.
* The bars on the back of the truck act like sticky tape, anything stuck inside them will lock into place, many objects stacked like this will even stay there after other objects are removed from beneath them.
* You can use the jack on the back of your truck or a pack of beer to move (nudge) your vehicle if it gets lodged in an awkward position.
* There are hidden items across the map that can be salvaged for a good price, engines from vehicles are worth $400 at the junkyard or garbage site.
* There are hidden challenges around the map that can be triggered by entering the area that contains the challenge, (Hint: one challenge is behind the junkyard).
* TBC..


Gas/Petrol/Fuel Station Prices
Oil………………. – $20.00 (Car/Truck)
Coolant……….. – $10.00 (Truck)
2 Stroke Fuel.. – $8.00 (Chainsaw fuel)
12 Pack Beer.. – $10.00 (Restores Hydration & Sanity)
Beef-A-Reeno. – $3.00 (Food)
Cram…………… – $5.00 (Food)
Sugar………….. – $2.50 (Moonshine Ingredient)
Cornmeal…….. – $3.00 (Moonshine Ingredient)
Yeast…………… – $4.99 (Moonshine Ingredient)
Propane Tank.. – $50.00 (Lasts for two full uses of still)
Scratch Card… – $10.00 (Win up to $10,000, $250, $50, $10)
Truck Parts Store (New Age Parts)
Misc / Mixed Use
Cone Filter………………………..
Starter Motor
Plug Wires
Welding Wire
12'000lb Winch
4 Cylinder Transmission Parts
Clutch Disk……………….- $190.00
Clutch Pressure Plate..- $75.00
Flywheel…………………..- $120.00
Transfer Case…………..- $250.00
Transmission…………….- $400.00
4 Cylinder Engine Parts
Alternator…………………. – $165.00
Fan Belt…………………… – $25.00
Crank Pulley…………….. – $80.00
Fan Clutch……………….. – $45.00
Fan…………………………..- $35.00
Timing Cover……………..- $
Cam Bearing (x3)……… – $7.00 each
Cam Shaft………………..
Cam Gear………………..
Timing Gear 1………….
Timing Gear 2…………..
Timing Gear 3………….
Engine Head…………….
Rocker Assembly………
Valve Cover……………..
Exhaust Manifold………
Distributor………………..
Head Gasket…………….
Intake Manifold(Carb)…
Carburettor……………….
Air Filter(Carburettor)….
Oil Pan……………………..
Oil Filter…………………….
Crank Shaft……………….
Piston (x4)…………………
Piston Rod Caps (x4)….
Main Bearings……………
Exhaust Header…………
Fuel Pump?
4 Cylinder EFI Upgrade Parts
EFI Intake Manifold (EFI)……
Throttle Body (EFI)…………….
4 Cylinder Turbo Upgrade
Turbo Inlet Pipe
Exhaust Manifold (Turbo)
Turbocharger
Radiator Hose
Radiator Hose (Lower)
V8 Engine Parts
V8 Radiator Hose
V8 Radiator Hose (Lower)
V8 Head Left
V8 Head Right
V8 Intake Manifold
V8 Carburettor
V8 Air Filter
V8 Water Pump
V8 Camshaft
V8 Crankshaft
V8 Crank Pulley
V8 Distributor
V8 Exhaust Manifold Driver
V8 Exhaust Manifold Passenger
V8 Clutched Fan
V8 Fuel Pump
V8 Alternator
V8 Oil Filter
V8 Valve Cover Left
V8 Valve Cover Right
V8 Oil Pan
V8 Pistons (x8)
V8 Timing Cover
V8 Timing Chain
V8 Timing Gear A
V8 Timing Gear B
V8 Twin Turbo Upgrade Parts
V8 Turbo Inlet Pipes
V8 Oil Cooler
V8 Inter-cooler Driver
V8 Inter-cooler Passenger
V8 Turbo Driver
V8 Turbo Passenger
V8 Fuel Rail
V8 Turbo Manifold
V8 Turbo Header Driver
V8 Turbo Header Passenger
V8 Transmission Parts
V8 Torque Converter
V8 Flywheel
V8 Transmission
Rims & Beadlocks
8 Spoke Rims
Steel Rims
8 Spoke Beadlocks
Beadlocks
Double Beadlocks
Tyres
[Name]…………………….[Street]……….[Mud]……[Rock]…..[Durability]…..
Nitro Standard…………..*****(5)……….*(1)………*(1)………*(1)…………….. $70.00
Nitro ATK1………………..****(4)………..***(3)……***(3)…….***(3)………….. $200.00
Nitro ATK2
Nitro K1
Nitro MD 2020
Nitro M1000
Nitro IND1
Nitro TSX
Other Items in Town
Moonshine Crates
Tobacco Crates
Poker Buy In Cost
Known Scrapyard Prices