This is about How You can Achieve all Red Rings in this Tough Wingsuit challenge. In this guide Every compulsory Topic has been described Carefully and Thoroughly.
Just Read !
Introduction
This is a Challenge or Training Course To Develop your Gliding skill in just Cause 3.
Also It is one of the Difficult Challenge Due To Hard Terrains where this Course is Arranged.
Specifications :
Total Rings ==> 36
Location ==> Monatana
Unlocked By ==> Liberate Guardia Montana I
Difficulty ==> Very hard
Course Path ==> Initials in Snowy Mountains and Ends in Lake water
Terrain Type ==> All kind of Terrestrial Structures Like Canyon, Mountain, Pits, Taiga and Tundra region, Desert.
Points Distribution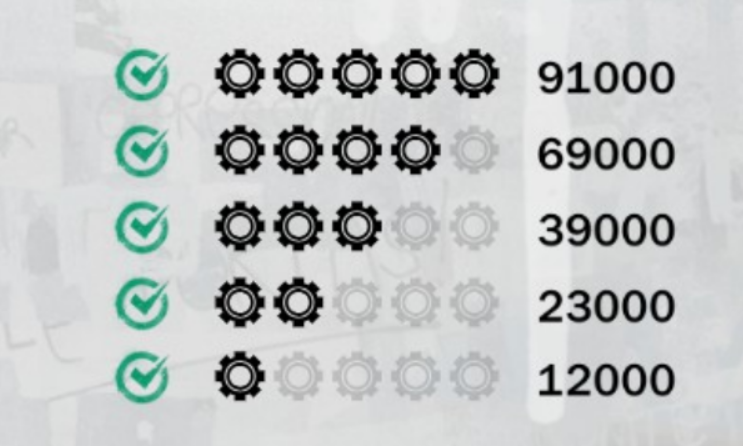 Requirements to Complete
You 
Must Have 
Many Skills and Mod Unlocked In order to Get all 5 Gears in this Challenges.
Mods ==> Airbrake (Default is LCTRL)
Courses That You should be a master ==> All Snowy Wingsuit Courses, Many other Medium to Hard ones and Must have complete 10+ Different Challenges of this type.
Until You have all of those Accomplishments You may Face some Difficulties.
Things To Notice
You should make sure Your Gliding speed is comfortable For you and You don't have to loose your control over gliding Rico. If you press one of your Movement keys Too much or Insufficiently You can Easily Imbalance and Flow of your Challenge Can be affected so use them when they are so important.
You Don't have to increase your speed Too much or make it Too slow it causes Most of your red Gears away from you. Try To not press any of your keys When Rico is about to get a Red Ring However You can Reposition your Character if he got the Ring. You have to bear in mind If you don't get Red ring for some reason Press Esc and select Restart or Quit, Priortize only Red Rings and Think if I got White one it is Shame for me. Make sure it is not your First challenge or Do a warm – up Before Start it.
Hard Checkpoints
Just Like Every wingsuit Challenges in this game, It has also Several Hard places where the Red Rings are located in perilous points of land or air where you can crash with Ground or trees easily. If you manage them to Obtain Central rings from such places then the specific challenge is no longer difficult. in this challenge you will at least 3 Hard places That makes your journey almost impossible to Get Rings.
Now Let's Talk about These Places, Read the Guide Sections Regarding these Points.
in Each Section almost everything is explained.
Hard Checkpoint – A
this place can not be difficult for some players But some Feel Uncomfortable to Cross this area. it is a snowy mountain Slope where some coniferous Trees have grown, you can Collide to Last Tree If you get imbalanced or ignorant also If your speed is very sluggish you will eat an Ice cream. slow down your speed so that you cross the area swiftly.
Start to make slow down yourself from here :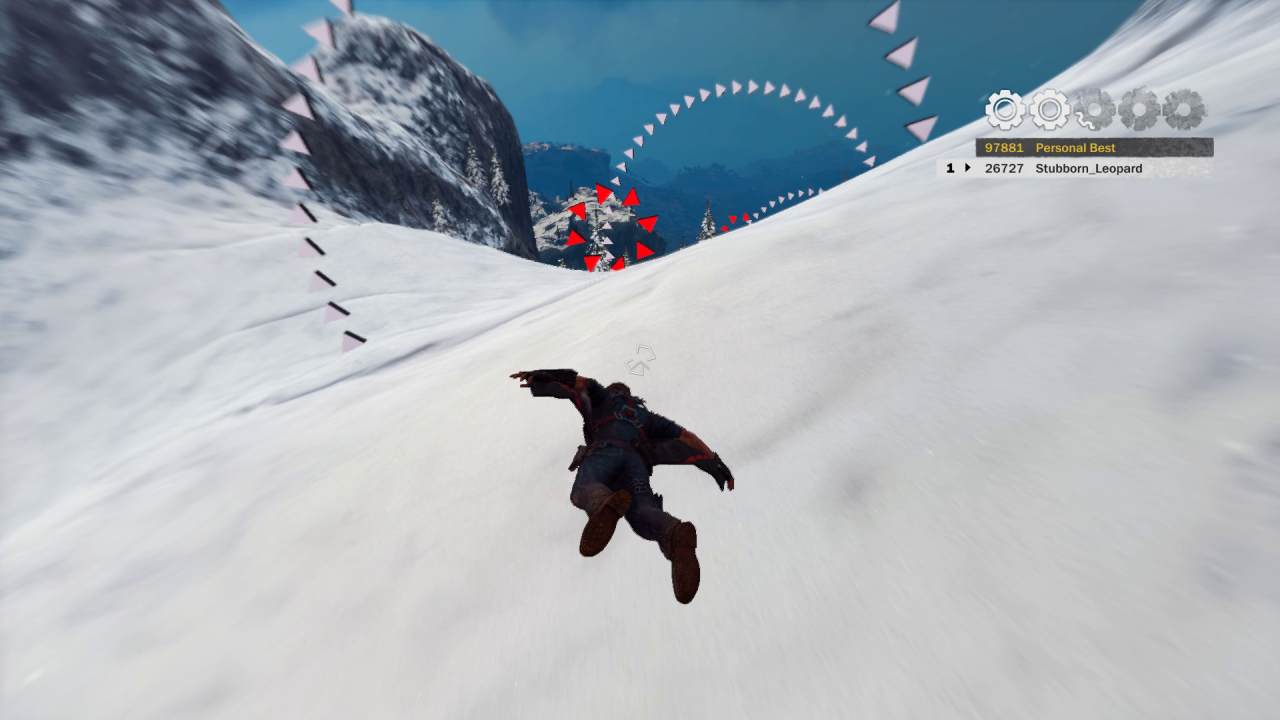 Do not press many keys or make your speed irregular Until you get the Central Ring :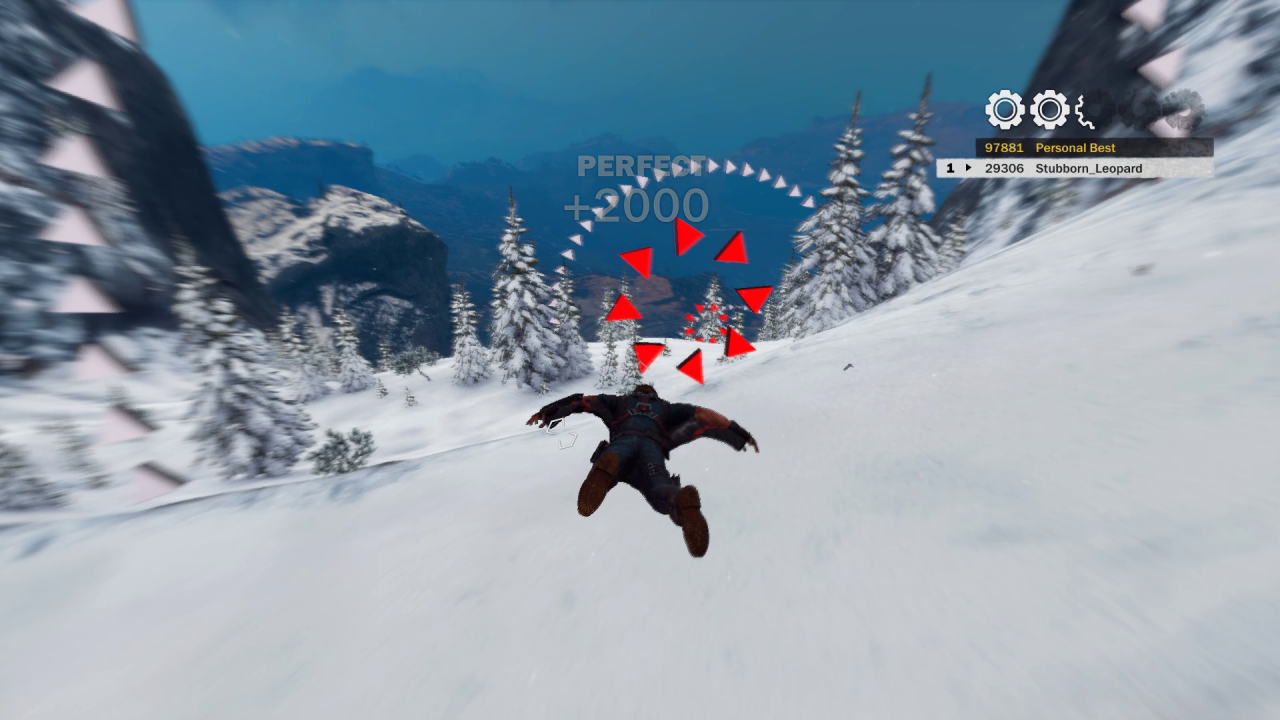 You made it
Hard Checkpoint – B
This place is bit hard for Some pros too, This area is a Transition zone between Icy mountain and Cold Desert. this is an industrial area too. You have to Slow your speed until you feel convenient to get a Red ring near the Box (maybe Trailer for loading raw stones)
Try not to kiss the Trailer or not Hug the tree.
Start Slow down yourself at this point but not too slow that you loose control :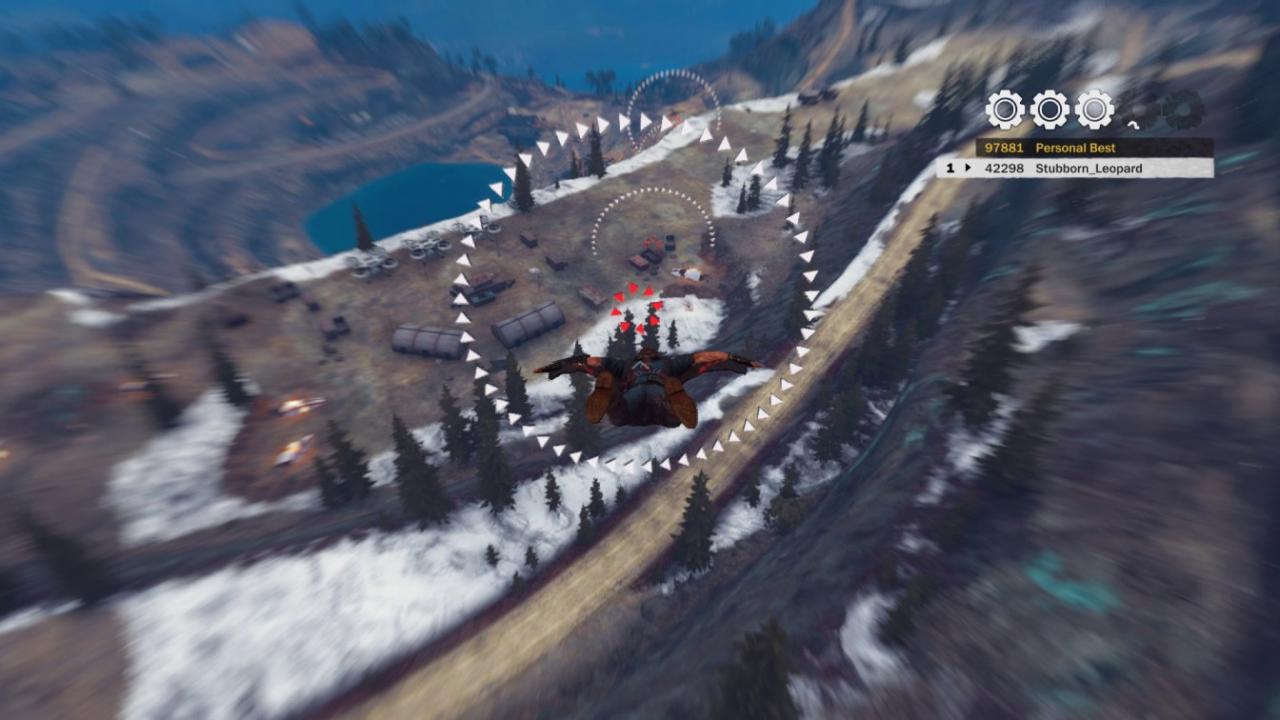 when You are at your normal speed get that Red Ring and don't press Any Wrong key that make your Rico Taste the Iron, soil or Stone.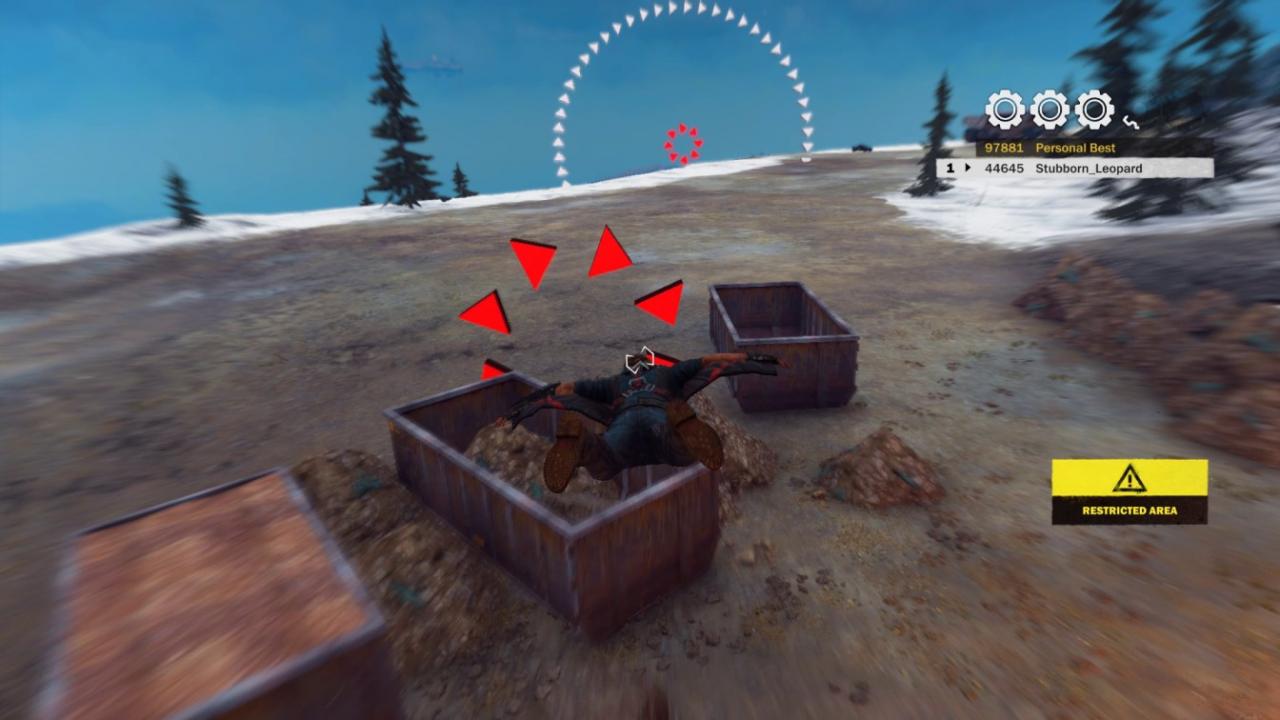 Cross this Area Feel That you done Half of it and take all other Red rings as you do usually.
Hard Checkpoint – C
This is the most Difficult area and it's also transition point of the Coniferous Forest and Desert.
At this area's Sharp and Deep Slope, Your All Wingsuit Abilities will be tested Because it's Mixture of Those Stunts that you did in your past Wingsuit Courses. You can Say this Tiny place is your All over Wingsuit Exam.
when you get the last red ring in the desert and fly over the road You need to slow down or press LCTRL at regular intervals so that you don't loose your balance speed. Mind It :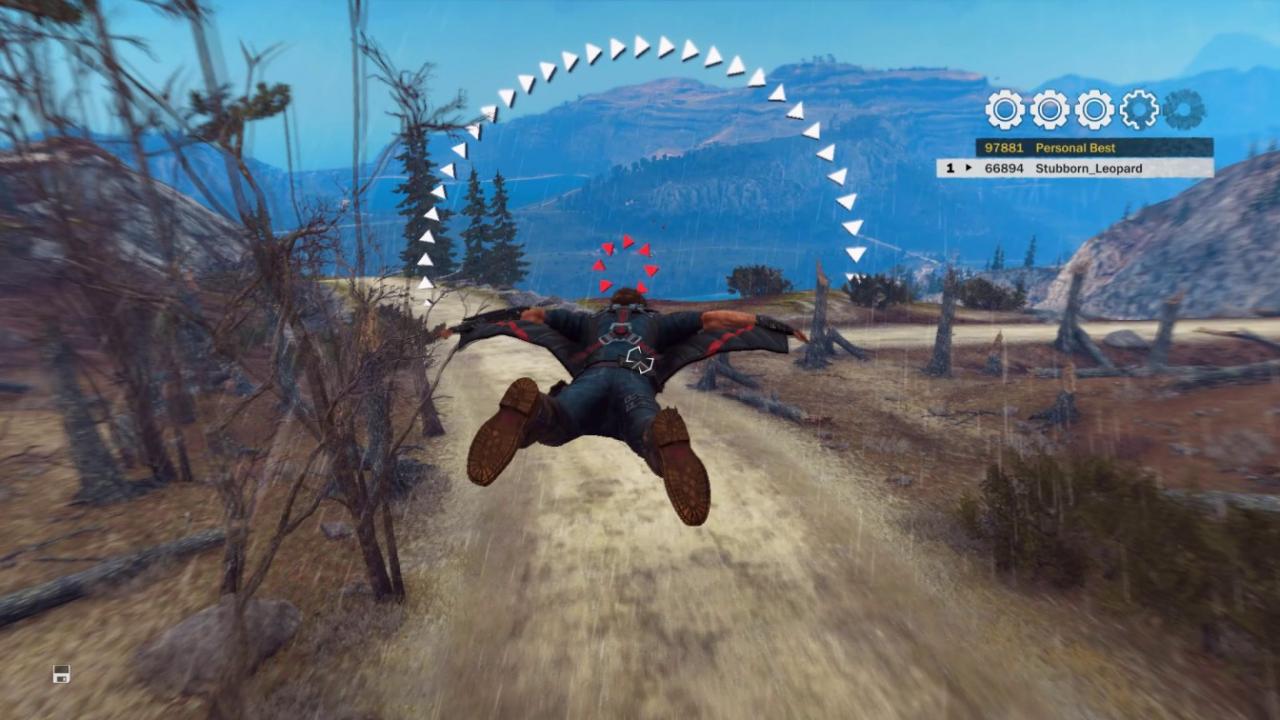 After you jump in slope you have to Stop Pressing LCTRL and press S to slow down yourself and Don't Let increase your speed at enormous amount and Carefully Grab the Red rings.
It is better to Crash yourself with ground to make yourself balanced but Try to do it least :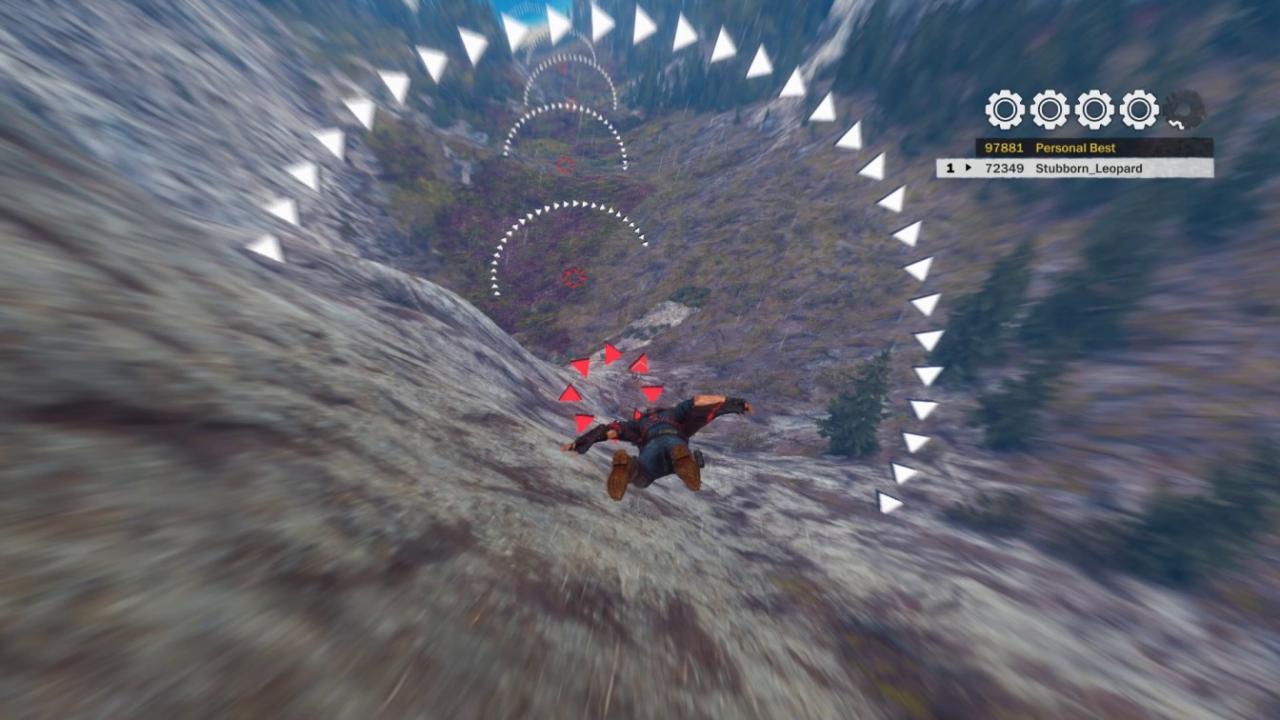 When you're about to reach this Ring move closer to ground and press LCTRL to slow down or you can press S :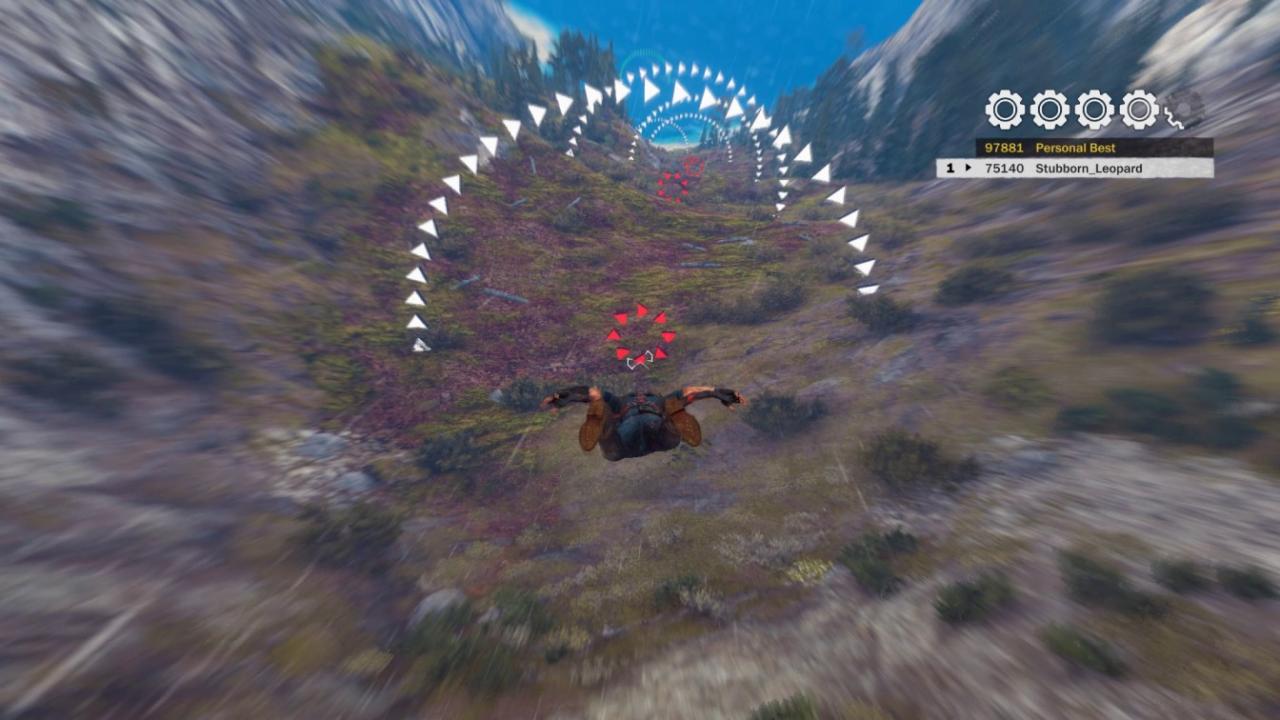 Finally You can Grab those Rest of rings by carefully Glide Through the area and If you are a pro Just don't pay attention much on rest of those just Don't Lick the Water and Ground.
Bottom Line
Note : All Control keys are based on Default keybindings.
This guide has been made up with several Analysis and Care. Has Tried to explain every hard aspects that Newbies find impossible to do. Also There are several Videos on internet but they don't Explain Much just Record their gameplay and share on social media. You can Learn many things by those videos but It's better to try to do yourself at least. The Author has found This guide was Very important to create because its wonder There is no Wingsuit oriented or Challenge based guide.
Some people do their feats and challenges Differently and don't share their thoughts.
Just cause 3 is still awesome game in 2023 it has a lot of fun Things to do. This game encourage us to find and do new things.