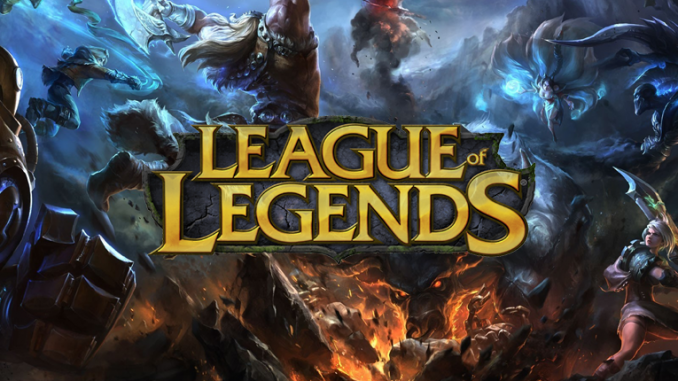 League of Legends, the bestselling MOBA from Riot Games, regularly offers new exclusive items and cosmetics for Prime Gaming subscribers. This month, subscribers to Amazon's service will be able to stock up on items, boosts, and bonuses as always, and even receive a permanent skin!
FILL UP ON RESOURCES WITH PRIME GAMING
Amazon's Prime Gaming service gives you regular perks and bonuses to unlock in the most popular titles among gamers. League of Legends, which is one of them, is renewing its partnership. Riot Games' MOBA periodically offers bonuses in the form of cosmetic packs, RP, XP bonuses, and various items. The game takes place in a heroic fantasy world, where each player takes on the role of a champion with unique abilities to form teams of 5 players whose goal is to destroy the enemy base. Currently, Prime Gaming is offering a 650 RP pack, Orange Essences, Champion Shards, Eternal Shards, a permanent skin worth 1,350 RP, and a 30-day XP boost to all premium subscribers who play League of Legends.
COLLECTING LEAGUE OF LEGENDS PRIME GAMING REWARDS "CAPSULE PRIME GAMING
You may not know it, but Prime Gaming is included in the Amazon Prime subscription, free for the first 30 days and offering many more benefits than just in-game bonuses: access to Prime Video's catalog of programs, free shipping on your orders of physical products on Amazon, an included Twitch support subscription to give to a streamer of your choice each month to support them and enjoy their custom emotes… The League of Legends May 2022 pack is just a small part of the many benefits that come with a Prime membership, and the list price is $49 per year. Here's how to get the League of Legends Prime Gaming Capsule if you're a Prime subscriber.
Go to the League of Legends portal of Prime Gaming.
Select the content pack you want to pick up and click "Go to Riot Games" to connect your League of Legends account to your Amazon account.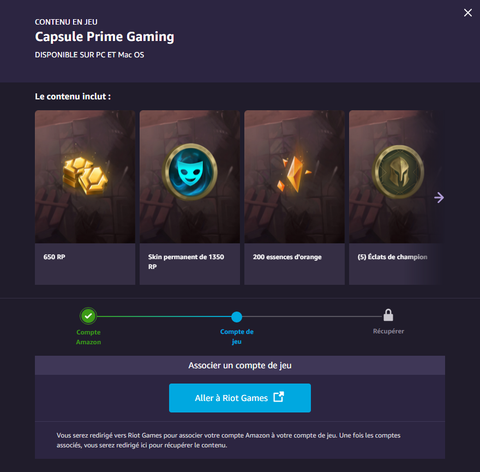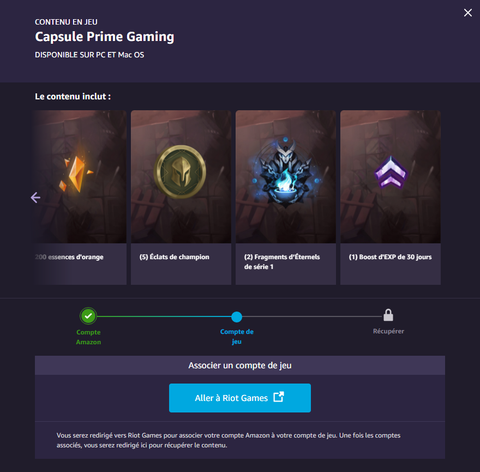 Go back to the Prime Gaming portal, click on "Complete Recovery."
Now all you have to do is start League of Legends to collect your reward and enjoy it without further delay.