All new combos added with the Ho Ho Holiday update for the "Naughty & Nice Combos" achievement.
Intro
This guide covers all of the combos for the new Ho Ho Holiday DLC that uses items from the new Naughty & Nice catalog. Be sure to start the DLC version of the game and not the base version.
Combos
Currently a work in progress!
The numbers are as they appear in the combo list in game. A number after an item such as (2) indicates that the item is from catalog 2. The first items/items with no number are from the Naughty & Nice catalog.
02. Pirate in a Pear Tree – Pear Tree + Toy Pirate (1)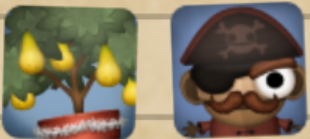 13. Santa's Pals – Poodolph Poo Poo Plushie + Disgruntled Elf Plushie (2)
16. Singers – Pear Tree + Valkyrie Doll (2)
18. Ginger Ginger – Gingerbread Disaster + Toy Leperchaun (2)
21. Poo Pals – Poodolph Poo Poo Plushie + Kitty Kitty Poo Poo Plushie (2)
22. 12 Days of Hanukkah – Bluetooth Enabled Smart Dreidel + Pear Tree
23. Drama Club – Nutcracker Doll + Valkyrie Doll (2)
24. Sweet Screams – Gingerbread Disaster + Marshmallows (2)
28. Plate of Cookie – Gingerbread Disaster + Fragile China (3)
30. Tooth Blue – Bluetooth Enabled Smart Dreidel + Tooth 'n' Corn Breakfast Flakes (3)
32. Can Opener – Sw1SS 4R-M3 + Future Fizz (3)
39. GingerBread – Gingerbread Disaster + Toaster (3)
40. Pear Juice – Pear Tree + Super Juicer 4000 (3)
41. Acorn Cracker – Nutcracker Doll + Squirrel Whistle (2)
44. Working Boss – Office Worker Plushie + The Boss Plushie (4)
55. Undead Alien – UFO + Toy Zombie (4)
56. Breaking Bulbs – Ho Ho Holiday Fun Starters + Fragile Bulbs (2)
57. Red, Green, and Blue Orbs – Ho Ho Holiday Fun Starters + Tiny Galaxies (4)
58. Galaxy Invasion – UFP + Tiny Galaxies (4)
73. Batteries – Batteries Included! + Batteries (1)
74. Field Trip with Santa – Sleigh of Learning + Celebration Bus (1)
79. Freezing Rein – Poodolph Poo Poo Plushie + Freezing Rain Cloud (5)
80. Dirty Power – "Clean Cole" Boy Plushie + Oil Barge (2)
81. Coal Cleaner – "Clean Cole" Boy Plushie + Naughty Sock
82. Dirty Dust – "Clean Cole" Boy Plushie + Reindeer Dust
83. Extra Clean Cole – "Clean Cole" Boy Plushie + Dish Detergent (5)
86. Boxed Wine – RE:Gift + Midlife Crisis Mitigator (3)
87. Balls – Balls of Tape + Sporting Ball (6) + Goo Ball Pack (4)
88. Football – Missile Toe + Sporting Ball (6)
92. Crank 'n Grab – Nutcracker Doll + Lumberjack Hand (6)
95. Birds of a Feather – Pear Tree + Game Bush (6)
96. abDUCKtion – UFO + Game Bush (6)
100. Mortars 'n' Missiles – Missile Toe + Unstable Ordinance (6)
108. Gym Sock – Naughty Sock + Protein Powder (6)
112. Hugs and Kisses – Missile Toe + Feelings Bear Plushie (2)
113. Recursive – RE:Gift + Russian Nesting Doll (5)
114. Bro Science – Lil' Scientist Kit + Protein Powder (6)
115. Footwarmer – Missile Toe + Naughty Sock
116. Sticky Vials – Lil' Scientist Kit + Balls of Tape
118. re: – RE:Gift + Email (7)
120. Laser Focused – Bluetooth Enabled Smart Dreidel + Laser Pointer (7)
121. Hands to Feet – Missile Toe + Laser Pointer (7) + Lumberjack Hand (6)
123. Santa's 24 Hour Flight – Sleigh of Learning + Flaming Globe (7)
124. Earth Invasion – UFO + Flaming Globe (7)
126. Blastoff with Santa – Sleigh of Learning + Rocketship of Learning (7)
128. Tape Worm – Balls of Tape + Computer Worm (7)
139. Factory Workers – Office Worker Plushie + Clone Factory (7)
144. Crack Down – Nutcracker Doll + This Way Down (7)
146. Beam Me Up – Broken Teleporter + UFO
149. Logged Online – Yule Log Delivery Subscription + Internet Cloud (7)
150. Sawing Wood – Yule Log Delivery Subscription + Drill Chain Thrower (6)