Here is a short guide on how to edit the save game, which will let you modify your fame as you want in-game.
How to Change Your Fame by Editing Save
Go to –> https://www.saveeditonline.com
Upload your saved file –> the one in the game\saves should be fine
the page will load hell of information
Press (ctrl+F)
Insert keyword: Fame
Change the variable of hut area, Lizard area, northcrest area that the naughty is less than 2 but you can change they brave to 10 (max) as follows:


hut_area_brave_fame > value #) –> #=<10

hut_area_naughty_fame > value #) –> #<3

Upload the game and replace the saved file
Load your saved game and try it out…
P.S. remember if you want to keep your hero fame high and avoid being bottom, you should wear clothes all the time.
What's new on version 0.50.0?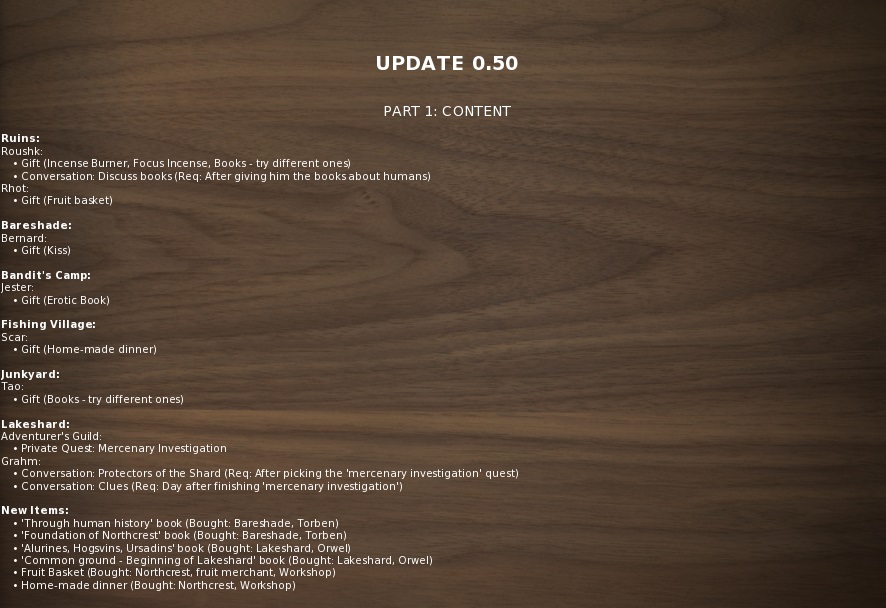 "A gift a day keeps the sadness away"
PART 1: CONTENT
Ruins
Grushk:
Gift (Incense Burner, Focus Incense, Lust Incense)
Event: Too incense (Req: After giving Incense Burner and Lust Incense to Grushk. Chance to happen when approaching him. Repeatable if Lust Incense gave again.)
Othra:
Gift (Incense Burner, Focus Incense, Flower Incense, Erotic Book)
Bareshade
Rose:
Conversation: Othra's gift (Req: Giving Othra Incense Burner)
Gift (Incense Burner, Flower Incense, Ornamental looking scissors, Erotic book)
Caleb:
Blake:
Conversation: Diabosite weights (Continuation of this is in the Logan part)
Logan:
Gunnar:
Gift (Erotic Book) – After initial gift conversation there is around 4 days with it not being accessible. Then this has three variants of the scene with one having two options to follow
Northcrest
Dulrig:
Gift (Erotic Book, Yourself)
Northcrest Outpost
Everett:
Conversation: Weird statuette (This year holiday event!)
Home
Krampus Statuette:
Four statuettes (Repeatable event with Everett)
Deep Jungle
Wander arround:
Carnenta meeting
New enemy: Carnenta
New Items
Insense Burner (Bought: Lakeshard, Orwel)
Focus Incense, Flower Incense (Bought: Lakeshard, Mei. Crafted: Recipe learned at home)
Lust Incense (Crafted: Recipe learned at home)
Ornamental looking scissors (Bought: Lakeshard, Orwel)
Erotic Book (Bought: Northcrest, equipment merchant)
Awakening (Bought: Lakeshard, Mei)
Carnenta's Petals, Carnenta's Roots (Loot: Deep Jungle, Carnenta)
PART 2: GUEST WRITER CONTENT
Writer: Urso
Garuik cooking (Req: Inviting Garuik home, between 22:00 and 24:00 at the player hut)
PART 3: VISUAL/AUDIO ASPECTS
Narram's addition:
Grahm
Carnenta (Sketch only)
Gavel's addition:
Murcad's Cove
Lake of the Ancients
Farmstead
Burb's addition:
New Icons: Banana, Beast bone, Beast claw, Black mold, Briefs, Crawler hide stone, Diabosite dagger, Diabosite knife, Diabosite spear, Diabosite sword, Earth moss, Fire bomb, Flower incense, Focus incense, Lust incense, Marsh breath, Nameless bracelet, Nameless ring, Nameless collar, Nameless piercing, Nepeta, Orange, Simple glasses, Swamp mash, Thunder fruit
PART 4: CHANGES AND BUG FIXES
Others:
Troubles in the Den event was added to the Event Log (With a part about "Owe you a beer" with Logan)
Far away from home event was added to the Event Log
Bombs and Cookies were slightly renamed to appear close to each other in the item menu