Select achievements in MarZ that are harder to get.
Note: Play on "Challenge" difficulty because THE CHALLENGING END is somewhat buggy and the most difficult.
All Achievements Guide
TOWERS? WHICH TOWERS?
First mission on the easiest difficulty. Skip the dialog via pressing SPACE. If it makes you build a tower, that's fine. Just don't put anyone in it (it's about tower kills, not actually building towers like the description says). Use the five crew members to kill all of the mobs. On this mission (the first), the mobs only come from one direction at a time.
FEARLESS
When a spawn point is counting down to enter, you can click it twice to "lure" them causing them to spawn immediately and trigger this achievement.
PHOTOGRAPHER
Hit F12 (or whatever your Steam screenshot bind is) while in the game to trigger this achievement.
PARAMEDIC
Build the infirmary on the lander and have at least one injured crew. It should pop immediately.
DON'T HURT ME
Build the shield on the lander.
ALPHA LEADER
Have a crew member accumulate enough XP that they get promoted. RAMBO perk in late game should make this easy.
FIRST ARMS FACTORY
YOUR FIRST SUPER WEAPON
MASSACRE
NO ONE CAN STOP ME
You'll probably get all of these on mission 6, in the order given, during regular play. Captain Obvious speaking: drop the bombs on the large clusters of enemies to get MASSACRE.
If difficulty changes spawn numbers, I did them all on Challenging difficulty using the Indestructible Extractor perk so I could safely cluster the four laser towers around the lander so they can cover both sides and each other.
PRACTICE, PRACTICE, PRACTICE
I was able to get this on mission 7. Whenever a unit would upgrade, I'd pull them out and swap them with someone that wasn't fully upgraded (do extractors, arms dealer, and tech lab before other weapons because those buildings don't give any XP). You can use RAMBO perk to get this easily if you're up to that point in the campaign.
TRAITOR
I got it at the very end of mission 8 but I'm not sure why. A "special" crew died via Electro, perhaps he turned and got killed.
LORD RAIDEN
Very easy to get at the end of mission 8 from the back door.
STOP!
I was able to get this one in mission 9 when there's a lot of runners and parasites in a combined wave.
SUB-ZERO
I got this on mission 10 by hitting clustered Pyros with the Freeze Ray super power.
ARMED TO THE TEETH
Mission 12 is the first mission this can be unlocked on. You only have to research every tech once from the tech lab, no matter the map. Most likely all you need to do is research the drone tower and this achievement will pop because you've researched the other variants on previous missions.
THE CHALLENGING END
Complete all 20 missions on "Challenge" difficulty. It does not show progress on the profile page. You can use the profile page to check which missions haven't been completed on "Challenge" difficulty. It pops after credits scroll and you're back on the map.
HELL YEAH
Requires unlocking the perk of the same name from mission 20. I did this on mission 19. Just build a Machine Gun (doesn't even have to be manned, click on it, then the top most button (looks like a crosshair) to take control over it. I recommend making sure the game is running at normal speed before doing this because game speed affects how it operates. Tower upgrades seem to have no impact on how it behaves in FPS mode. It doesn't matter if you succeed at the mission, just need to get 20 kills using the mode.
LASER MASTER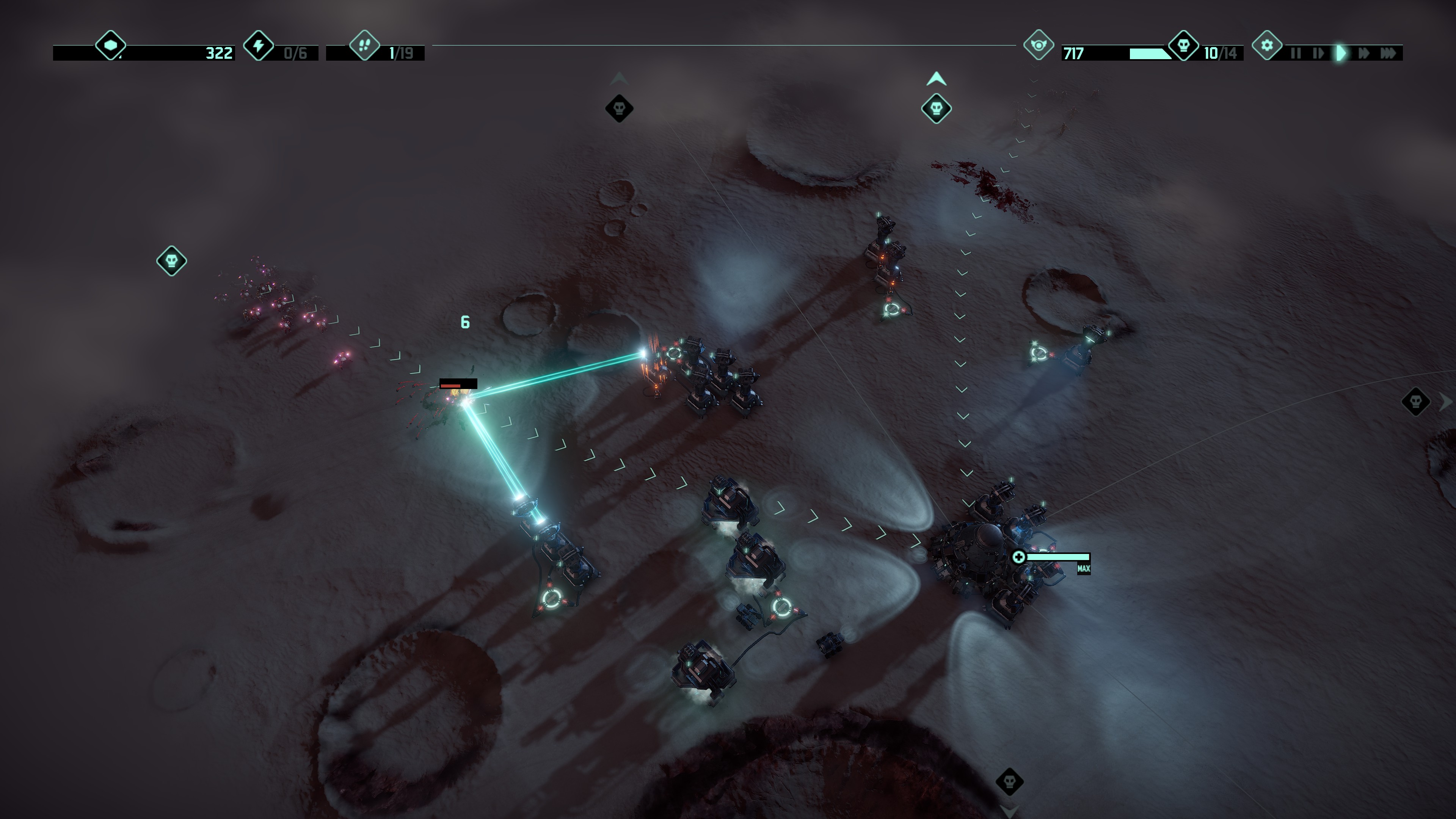 Use lasers to kill Bombers. Bombers are the ones that fly and explode when they get close to your structures. When I finished the game, I needed about 100 more of these kills. I loaded up Mission 7 on "Walking on Mars" difficulty and ALL BUILDINGS UNLOCKED perk. In this mission they exclusively come from the path that is nearest to the resource deposits in two waves. You should be able to get about 30 kills per play through on the map if you concentrate lasers on that side.
ARCHITECT
I had about 450 out of 500 when I finished the campaign. The easiest way to get this is to load up mission 20 with the REFUND perk then build/sell machine guns until it pops. Once it pops, you can quit the mission.
ALMIGHTY
Once you have all of the other achievements, this one should pop on the map screen.