Hey, do you fear dying in the harsh desert, because your stats just didn't work out. Trust me, I can relate. I'm sure we've all died in this game before. Well with this Guide I'm hoping to catalog the results of my many adventurous events so you can know what to expect going in, and hopefully find the ending you hope to achieve.
Intro
So you have answered the call of The Prank Masterz. and hope to get this roadtrip off to a rockin' start, but you want help in order to both not die, but also get enough STATS to get an ending. Well in this guide I will try to explain the various systems at play, in order to help maximize stat growth, while helping minimize risk when it comes to your decision making.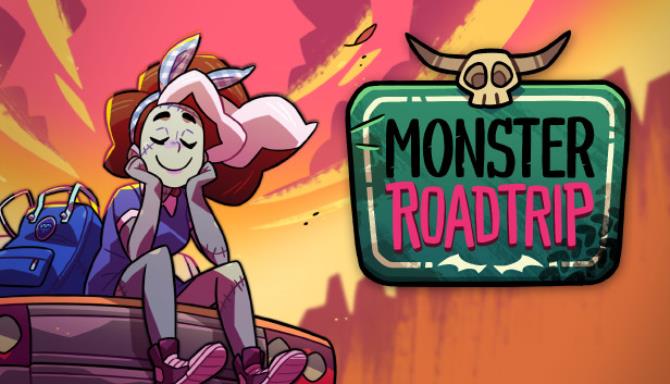 STATS
First of all we need to discuss stats. Specifically how to tell what kinda stat you'll be gaining or losing from an event. So while playing the game you need to memorize your road signs. After all safe driving is very important, especially when you have upwards of 6 people in a car. Every event usually comes with two roadsigns. A Choice sign, and a Stat sign. Choice signs come in two varieties the yellow diamond, and the blue rectangle. Yellow diamonds show that you'll be choosing which stat is gained or lost. Blue Rectangles show that all the choices effect the same stats, the choice instead being how large of an effect you want. Stat signs are always circular, and show whether that stat is gained or lost. They each have visual distinctions between the two. All gain signs, will be very brightly colored. All lost signs will be dimmer, and have a sad expression of some sort. Each Stat also has colors associated with them. They are as follows: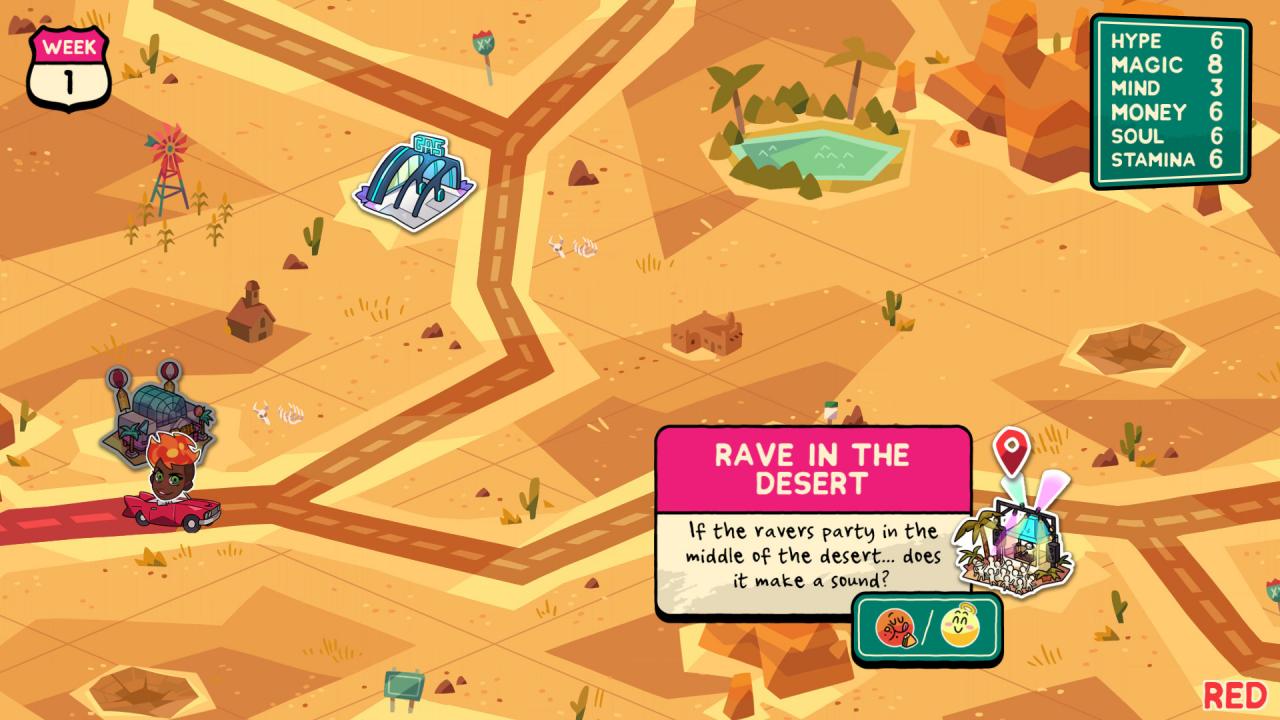 Hype (Blue): Gain(Big Smile with Starry Eyes)/Lose(Bored Half Asleep Face)
Associated with excitement and good vibes. Why have a Roadtrip if you ain't gonna enjoy it. Choices that increase hype would be things that are fun, silly, or just plain insane. Anything associated with Drugs, Booze, Prankz, and Play will most likely increase hype. You lose hype by doing things that are boring and sensible, though that needn't be the same thing. Competitive Secret Santa is certainly not sensible, but it would be very boring to watch. If two choices have varying levels of insanity, than the one that is crazier has a good chance of being the Hype choice.
Magic (Pink): Gain(Confident Smile with Gas Canister)/Lose(Scared Face with Empty Gas Canister)
Associated with the ability to both use magic, and actually drive your Car. Every car needs gas, and every roadtrip needs a car. Keep your cars fed to keep the party going. Choices that increase magic would be gas refueling, Faustian bargains, and interacting with beings far more powerful than you. You lose magic by using it, summoning circles, magic attacks, banishments, all of these and more can cause you to burn your fuel. If a choice has anything to do with outside forces interacting with you through hypnosis, spells, and other odd powers. That choice will probably increase magic.
Mind (Purple): Gain(Satisfied Smile)/Lose(Gormless Drooling Dead Eyed Stare)
Associated with planning, intelligence, art, and sensibility. Often at odds with Hype, though not always Mind is the stat that represents your ability to stay safe and plan ahead. If a choice is the more boring of the two, there is a good chance that mind will increase. Though if you expect Magic to increase, Mind will likely go down, as the mind is the favorite meal of the eldritch beings. If it has to do with art and performance, in a non silly way mind will likely increase. If it is silly, most likely Hype will increase as that is a playful activity.
Money (Green): Gain(Dollar-sign eyes with a big smile)/Lose(Dollar-sign eyes with a small frown)
Associated with Capitalism, the exchange of goods and services, debt, and betrayal. Everyone loves a gift shop, best keep your money with you so you can enjoy them. Money will usually increase through situations where you trick someone else to giving you money, (as how most capitalists do), though sometimes you are paid for honest labor. You lose money by spending it, whether refueling gas, buying souvenirs, or using expensive items your money is a gate way to these events.
Soul (Yellow): Gain(Angel)/Lose(Devil)
Associated with Morality, Good Deeds, Evil Deeds, Helping Others, or Deceiving them for your own gain. Soul is an easy stat to spot because it simply boils down to whether you are doing something surprisingly nice for something else, or actively preying on another naivety. As such Soul is tied to a lot of other stats. Gaining Hype and Money, can easily lose soul, due to Prankz, and Capatalism. Gaining Soul can usually end up losing Hype as doing good usually is far more boring than being a Chaos Gremlin. Make sure to keep a balance, because this is a game that rewards the wild, not the good.
Stamina (Red): Gain(A content face eating)/Lose(A starved face)
Associated with food, snacks, physical endurance, and excersize. Another easy one to sus out, as you usually gain stamina through eating. Choose the Spaghetti Wig, gain stamina. Mukbang, gain stamina. You lose stamina through strenuous activity. Weather that be running, working long hours, or committing the devils tango you will lose stamina. Anything 18+ in nature, will usually end up losing stamina.
Event List [WIP]
This next section will include my current work so far. I am hoping to get it whipped into something more easily digestible, but it will certainly take a lot of effort to get it along. I hope you have enjoyed reading this guide, unfinished though it is, and I hope you have fun driving through the mythology of our lives, as this story which has lasted for years and brought me so much joy moves onto it's next chapter.
Monster Roadtrip Excel
[mailmissouri-my.sharepoint.com]
Location
Event
Gain
Lose
Choice 1
Choice 2
Choice 3
Result 1
Result 2
Result 3
Lake
Go Swimming
Hype
N/A
Build Sandcastles
Mind
N/A
Remove Sand
Murder Plaza
N/A
Lose
Lose Hype
N/A
Collect Seashells
Magic
N/A
National Park
Pick Mushrooms
Look for Cryptids
N/A
Mind
Go Hiking
N/A
Stamina
The Heart of the Park
Path of Enlightenment
N/A
Gain Magic
Gain Mind
N/A
Roadside Wig Museum
Check out the Exhibit
Attend the Kids Tour
Hype
N/A
Visit the Gift Shop
N/A
Money
The Cool Squirrel
The Spaghettiest
The Shoujo
Gain
Gain Stamina
Gain
Rave in the Desert
Party 24/7
Magic
N/A
Hypno D&J
Dead/Mouse
N/A
Lose Mind
Lose
N/A
Find the Best Rave Spot
Soul
N/A
Try to get some Drinks
Stamina
N/A
Graveyard
Raise the Dead
Soul
N/A
Pose as Ghosts
N/A
Soul
Invest in Scott and Polly's Edible Food
Give us that Sandwich
N/A
Gain Money
Gain
Secluded Village
The Church
The People
N/A
Soul
Currency are these silly Drawings
Mukbang
N/A
Gain
Gain Stamina
N/A
Experimental Prison
Impossible Mazes
Complex Rules
N/A
Stamina
Door as Metaphor for adulthood
Lampshade a door being in the Savannah
N/A
Gain Mind
Gain
N/A
Caves
Look for Ore
Money
N/A
Expositions
Therapy
N/A
Lose Hype
Lose
N/A
Help Trapped People
Soul
N/A
Much Cooler Shadows
Get a PHD in Philosophy
N/A
Lose
Lose Money
N/A
Desert Foot
Gift Shop
N/A
Money
Feet Facts
Spare Feet
Feet for Snakes
Gain Mind
Gain
Gain
Feet Lovers Gathering
N/A
Soul
Abandoned Village
Investigate what happened
Mind
N/A
Go Wild
Hype
N/A
Home Alone
Run for Mayor
N/A
Lose
Lose Money
N/A
Pillage what you can
N/A
Soul
Cult-HQ
Ritual Sacrifice
Magic
N/A
Initiation Rites
Magic
N/A
Cult Marketing Meeting
Money
N/A
Secret Santa
Cool Tattoos
N/A
Lose Hype
Lose
N/A
Rodeo
Rodeo Clowns
Hype
N/A
Lasso Tricks
Hype
N/A
The Catch-22
Shibari
N/A
Lose
Lose Stamina
N/A
Event List Part 2 [WIP]
Location
Event
Gain
Lose
Choice 1
Choice 2
Choice 3
Result 1
Result 2
Result 3
Futuristic Gas Station
Use the Restroom
Go to the Store
N/A
Money
Larry flavored Chips
Whale Mating Jazz
SUPER FUTURE SKATER
Gain
Gain
Gain Hype
Obstacle Course
Hype
N/A
Trolley Course
Social Climbing Course
Permit Course
Lose Soul
Lose
Lose
Movie Set
Get an Autograph
Hype
N/A
Talk to him. INTENSLY.
Lure him out with an Academy Award
N/A
Lose
Lose Money
N/A
Pillage the Buffet
Stamina
N/A
Doom's Diner
Use the Jukebox
Hype
N/A
Go full DDR
10 hours of Happy Birthday!
N/A
Lose
Lose Mind
N/A
Order Something
Stamina
N/A
Look for a Booth
Mind
N/A
Biker Bar
Start a Brawl
Hype
N/A
Play some Pool
Money
N/A
Bend Physics
The power of Love
N/A
Lose
Lose Hype
N/A
Border of a One Person Country
Learn the Customs
Smuggle Stuff Out
N/A
Soul
International Relations
N/A
Mind
Trade Treaties
Nuclear Armament
N/A
Gain
Gain Soul
N/A
Battle Royale
Make Allies
Go Berserk
Hype
N/A
Do a silly dance
Kill them FOREVER!
N/A
Lose
Lose Magic
N/A
Charming Village
Visit the Locals
Join the Celebrations
N/A
Money
Visit the Shady Landmark
N/A
Soul
Catchy Chants
Adjectives
N/A
Gain Hype
Gain
N/A
Carnival
House of Mirrors
Freakshow
N/A
Money
The Man who is Nice on the Internet
The Dog who thinks he is a Programmer
N/A
Gain
Gain Mind
N/A
Probably just a Mirage
Talking Bush
1,000 Scotts
N/A
Mind
Energy cube Scott
Cat-Maid Scott
N/A
Gain
Gain Stamina
N/A
90's Action Movie City
Car Chase
Sudden Explosion
Hype
N/A
Vent Crawl
N/A
Stamina
Praise City Government
Ask if he's read anything interesting recently
N/A
Gain Soul
Gain
N/A
Event List Part 3 [WIP]
Locations
Event
Gain
Lose
Choice 1
Choice 2
Choice 3
Result 1
Result 2
Result 3
World's Biggest Potato
Research the Potato
Mind
N/A
Feed from the Potato
Stamina
N/A
Quantity
Benefit from the Potato
Money
Stamina
Fish are not Potatoes
Vodka is made from Potatoes
Potatoes Scare Alligators
+1 Money/+2 Hype
-1 Stamina/-2 Soul
Cows
Soul
N/A
Embrace Anarchy
A totally Normal Rabbit
N/A
Lose Money
Lose
N/A
Used Car Dealership
Go on a Joyride
Sell Some Cars
Money
N/A
He can have your Kidneys
It transforms into a Battle Robot
N/A
Lose Stamina
Lose
N/A
Dance with the Air Dancers
N/A
Stamina
UFO Sightseeing Spot
Look for UFOs
Hype
N/A
Make Tinfoil Hats
Soul
N/A
Send a Message
N/A
Soul
Still Doing Crop Circles
Top 8 Earthlings you should Abduct
N/A
Gain
Gain Hype
N/A
Fancy Motel
Prank Call
N/A
Soul
Take the Deal
Don't do it
N/A
Gain Money
Gain
N/A
Digital Detox
N/A
Hype
Butter Churn
Greek Agora
N/A
Gain Stamina
Gain
N/A
Regular Gas Station
Use the Restrooms
Soul
N/A
A fancy Hat
Screenplay
A piggyback Ride
Lose
Lose Hype
Lose
Picnic Spot
Have a Nice Picnic
N/A
Money
Empathy
Taxi License
N/A
Gain
Gain Hype
N/A
Crash other Picnics
Stamina
N/A
More Guides: