Night of the Dead is full of stuff; what is it and how can you get it?
Natural vs Synthetic Objects
Natural Objects
Natural Objects are generally anything that isn't "man-made" like a Boulder or Tree; found throughout the world outside of Points of Interest (POIs). Tools like the
Woodcutter Axe
and
Jackhammer
cause more damage to Natural Objects, making it easier to harvest and mine with the right tool.
Different regions of the map will have different versions of Natural Objects, with their own materials; aside from Iron Deposits found in the open, Metal Ores can only be harvested in Mines. Mines cause passive Chemical Gas damage upon entering, you will need Chemical Gas Resistance via Gas Mask or Purification Coil.
Synthetic Objects
"Man-made" items like Cars, Vending Machines and Loot containers are considered Synthetic Objects. Found all throughout the world map, but mostly inside POIs. Paper Boxes and Broken Barrels require nothing to harvest, but breaking down more complicated objects like Cars and Lamp Posts will need a Wrench.
Special Loot Containers are the only way to obtain certain objects like Coils or Weapon Mods and each type has their own container.
Coil Box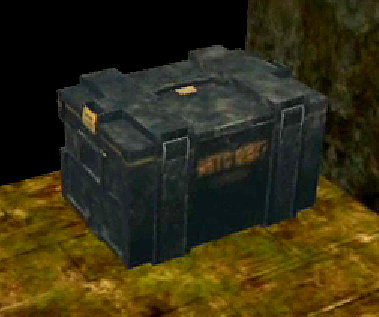 Wooden Crate (Various Construction materials)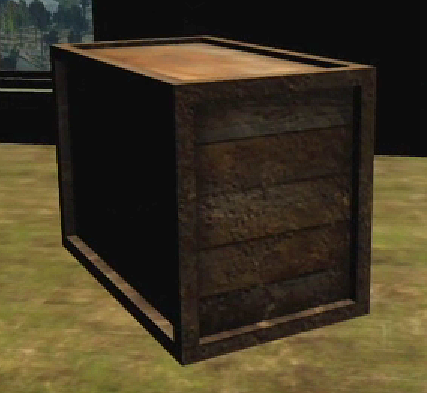 Equipment Locker (Weapons, Tools and Armor)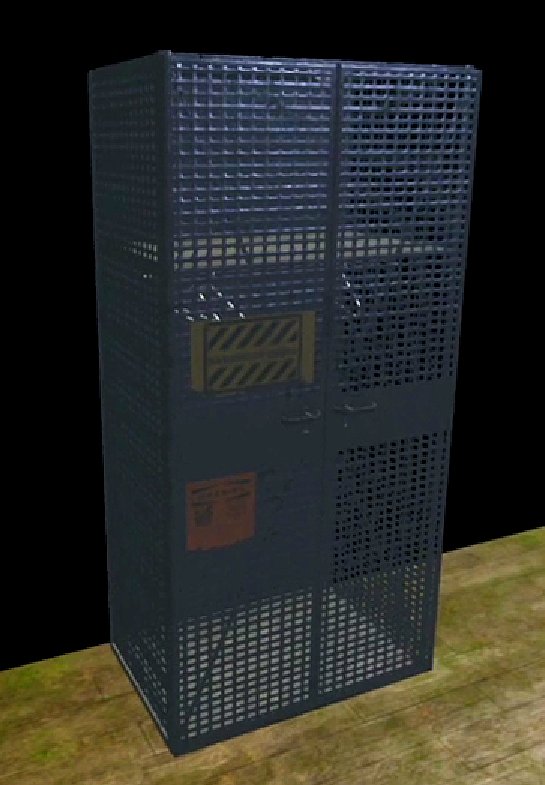 Weapon Mod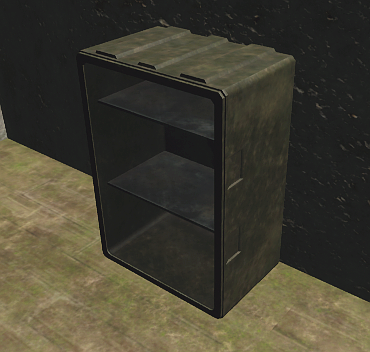 Reward Box (One of a couple different types that contain Vehicle Materials)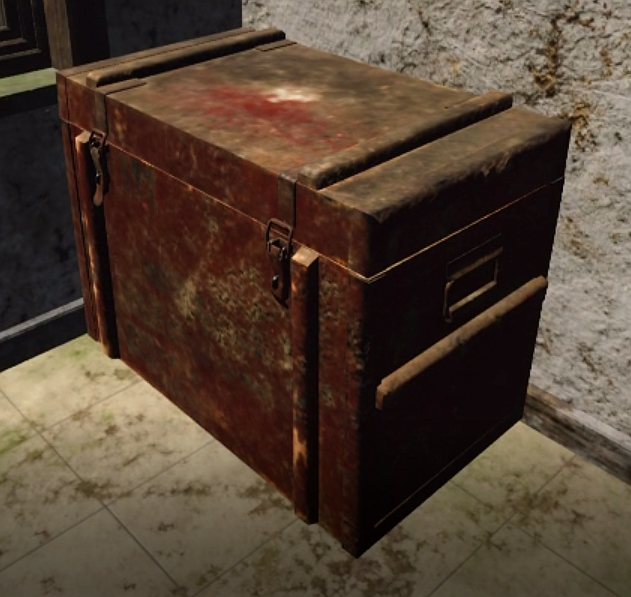 Resource Production
Resource Production
In addition to looting and harvesting resources from the world, you can also produce many resources using structures from the build menu.
Extractors
Found in the Build tab alongside the Research Table, Extractors help gather rock, ore, and fuel materials and are reloaded with Fuel and Maintenance Kits; unlocked with Mechanic in the Research Table, crafted in the Electronics Workbench.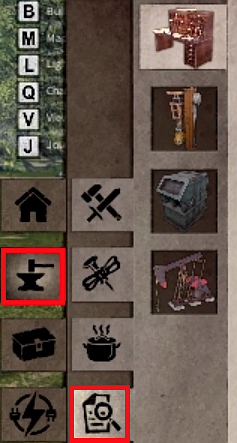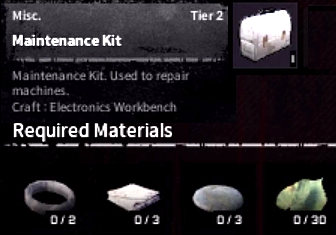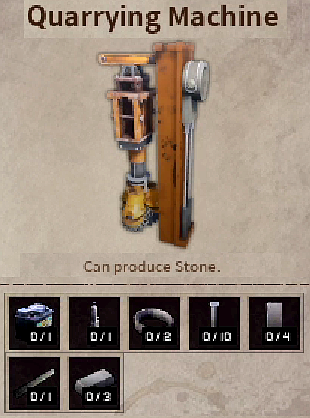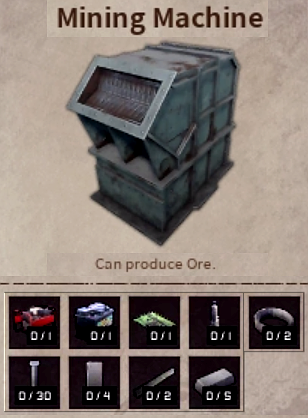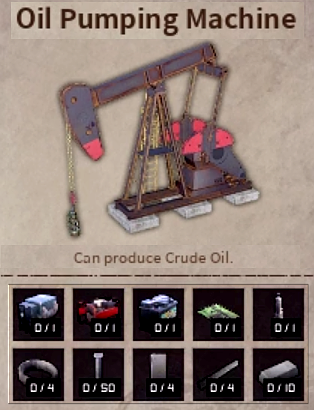 Farming
The other form of resource production is
Farming
, whose relevant structures can be found in the
Build Menu
alongside the
Cooking Table
: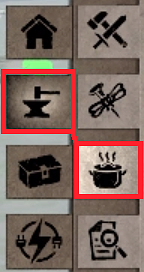 While most of the "Farms" can offer copies of Natural Objects found in the world, only the Farm is upgradable. Similar to the extractors, the Farm will need to "reloaded" between harvests.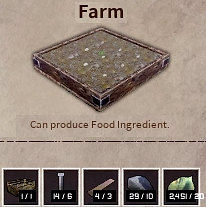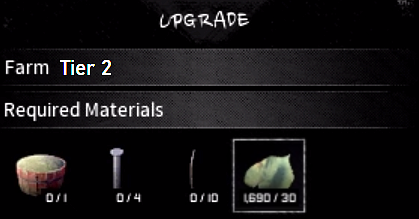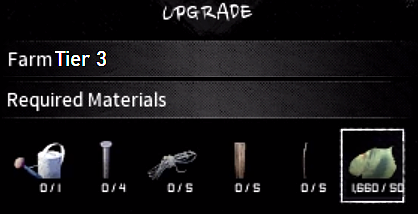 Before upgrading, the Farm will need to have Seeds Sown:

Structure
Resource
Reload
FarmTier 1
Seed
Cucumber
Sweet Potato
Ginger
Potato
Cabbage
Manure
Seed
FarmTier 2
Tier 1 Resources
Garlic
Carrot
Onion
Zucchini
Broccoli
Fertilizer
Seed
FarmTier 3
Tier 1 + 2 Resources
Red Cabbage
Pumpkin
Natural Pesticide
Seed
Resource Table for everything else…
Aluminum Ore
Ore Deposits (East Mine)
–
Branch
Trees
Bushes
Crafted (Material Production Workbench)
2 Vine
Copper Ore
Iron Deposits (Low chance)
Generated (Mining Machine)
Disassemble (Copper Ingots)
–
Crude Oil
Break (Sealed Barrel)
Generated (Oil Pump)
–
Gold Ore
Ore Deposits (Tundra Mines)
–
Herb
Bush
Generated (Farm)
–
Leaf
Trees
Bushes
Disassemble (Research Data)
–
Magnesium Ore
Ore Deposits (Desert Mines)
–
Piece of Iron
Iron Deposit
Break (Various Synthetic Objects)
Loot (Various Containers, Enemies)
–
Seed
Tree
Bush
Generated (Farm)
–
Sulfur
Ore Deposits (Low chance)
Generated (Mining Machine)
–
Titanium Ore
Ore Deposits (West Mine)
–
Aluminum Ingot
Crafted (Material Production Workbench)
1 Aluminum Ore
1 Branch
Arrow
Crafted (Handmade)
1 Piece of Iron
1 Branch
Ballista Bolt
Crafted (Equipment Workbench)
1 Piece of Iron
1 Branch
Brick
Crafted (Material Production Workbench)
Loot (Wooden Crates)
1 Stone
1 Branch
Cement
Crafted (Material Production Workbench)
Loot (Wood Crates)
1 Limestone
Charcoal
Crafted (Material Production Workbench)
1 Log
1 Branch
Cloth
Crafted (Crafting Workbench)
Loot (Containers, Enemies)
5 Leaf
Copper Ingot
Crafted (Material Production Workbench)
Disassembled (Copper Wire)
1 Copper Ore
1 Branch
Duralumin Ingot
Crafted (Material Production Workbench)
1 Aluminum Ore
1 Magnesium Ore
1 Branch
Fuel
Crafted (Crafting Workbench)
Break (Vehicle)
Loot (Sealed Barrel)
1 Crude Oil
Gold Ingot
Crafted (Material Production Workbench)
1 Gold Ore
1 Branch
Iron Ingot
Crafted (Material Production Workbench)
1 Iron Ore
1 Branch
Lumber
Crafted (Material Production Workbench)
Loot (Wooden Crates)
1 Log
Magnesium Ingot
Crafted (Material Production Workbench)
1 Magnesium Ore
1 Branch
Manure
Crafted (Crafting Workbench)
1 Animal Intestines
1 Small Meat Cut
20 Leaf
Nail
Crafted (Crafting Workbench)
Loot (Wooden Crates)
1 Piece of Iron
Plastic
Crafted (Crafting Workbench)
Break (Various Synthetic Objects)
Loot (Containers, Enemies)
1 Fuel
1 Rubber Resin
Processed Feather
Crafted (Handmade)
1 Bird Feather
Processed Leather
Crafted (Handmade)
Break (Vehicle)
1 Animal Hide
Research Data
Crafted (Crafting Workbench)
10 Leaf
Rubber
Crafted (Crafting Workbench)
Break (Various Synthetic Objects)
Loot (Containers, Enemies)
1 Rubber Resin
Titanium Alloy Ingot
Crafted (Material Production Workbench)
1 Aluminum Ore
1 Titanium Ore
1 Branch
Titanium Gold Ingot
Crafted (Material Production Workbench)
1 Gold Ore
1 Titanium Ore
1 Magnesium Ore
1 Branch
Titanium Ingot
Crafted (Material Production Workbench)
1 Titanium Ore
1 Branch
Trebuchet Stone Ball
Crafted (Equipment Workbench)
2 Stone
Wooden Plank
Crafted (Material Production Workbench)
Loot (Wooden Crates)
1 Log
Cell
Crafted (Electronics Workbench)
1 Fuel
1 Piece of Iron
Copper Wire
Crafted (Material Production Workbench)
Break (Various Synthetic Objects)
Disassemble (Electronic Device)
1 Copper Ingot
Equipment Repair Kit
Crafted (Equipment Workbench)
Loot (Equipment Lockers)
1 Plastic
1 Cloth
Fertilizer
Crafted (Crafting Workbench)
1 Manure
1 Animal Intestines
1 Animal Fat
1 Vine
Gunpowder
Crafted (Material Production Workbench)
Loot (Containers, Enemies)
1 Sulphur
1 Charcoal
Iron Plate
Crafted (Material Production Workbench)
Break (Vehicle)
1 Iron Ingot
Maintenance Kit
Crafted (Electronics Workbench)
2 Rubber
3 Cloth
3 Piece of Iron
30 Leaf
Mechanical Equipment Repair Kit
Crafted (Mechanical Equipment Workbench)
Loot (Equipment Lockers)
1 Plastic
1 Cloth
1 Copper Ingot
Rebar
Crafted (Material Production Workbench)
Break (Street Lights)
1 Iron Ingot
Rope
Crafted (Crafting Workbench)
Loot (Wooden Crates)
1 Cloth
1 Vine
Switch
Crafted (Electronics Workbench)
1 Plastic
10 Piece of Iron
Tape
Crafted (Crafting Workbench)
Loot (Various Containers)
1 Rubber
Varistor
Crafted (Electronics Workbench)
1 Plastic
10 Piece of Iron
Assault Rifle Ammo
Crafted (Mechanical Equipment Workbench)
1 Gunpowder
1 Copper Ingot
1 Iron Ingot
Battery
Crafted (Electronics Workbench)
1 Rubber
1 Plastic
1 Copper Ingot
1 Iron Ingot
Coil
Loot (Coil Box)
Crafted (Equipment Modification Workbench)
1 Clay
1 Plastic
1 Copper Wire
Electric Plate
Crafted (Electronics Workbench)
5 Copper Ingot
2 Iron Ingot
Electronic Circuit
Crafted (Electronics Workbench)
3 Plastic
5 Piece of Iron
4 Copper Wire
Electronic Device
Crafted (Electronics Workbench)
1 Iron Plate
1 Copper Wire
1 Iron Ingot
Engine
Crafted (Electronics Workbench)
2 Rubber
2 Plastic
3 Copper Ingot
3 Iron Ingot
Fuse
Crafted (Electronics Workbench)
1 Iron Plate
1 Copper Wire
1 Iron Ingot
Gear
Crafted (Crafting Workbench)
1 Iron Ingot
1 Piece of Iron
Grenade
Crafted (Mechanical Equipment Workbench)
1 Fuel
1 Gunpowder
1 Copper Ingot
1 Iron Ingot