We show an interactive map of Tiny Tina's Wonderlands with loot, bosses and other important objects.
The world of Tiny Tina's Wonderlands consists of more than 15 major locations. Each has loot, bosses, secrets, interesting and useful objects. To find everything you need and not miss important items or opponents, use the interactive map, which conveniently shows everything.
Tiny Tina's Wonderlands interactive map – loot, bosses
An interactive map of Tiny Tina's Wonderlands can be found at this link . Go and open the main page of the map. It looks like this: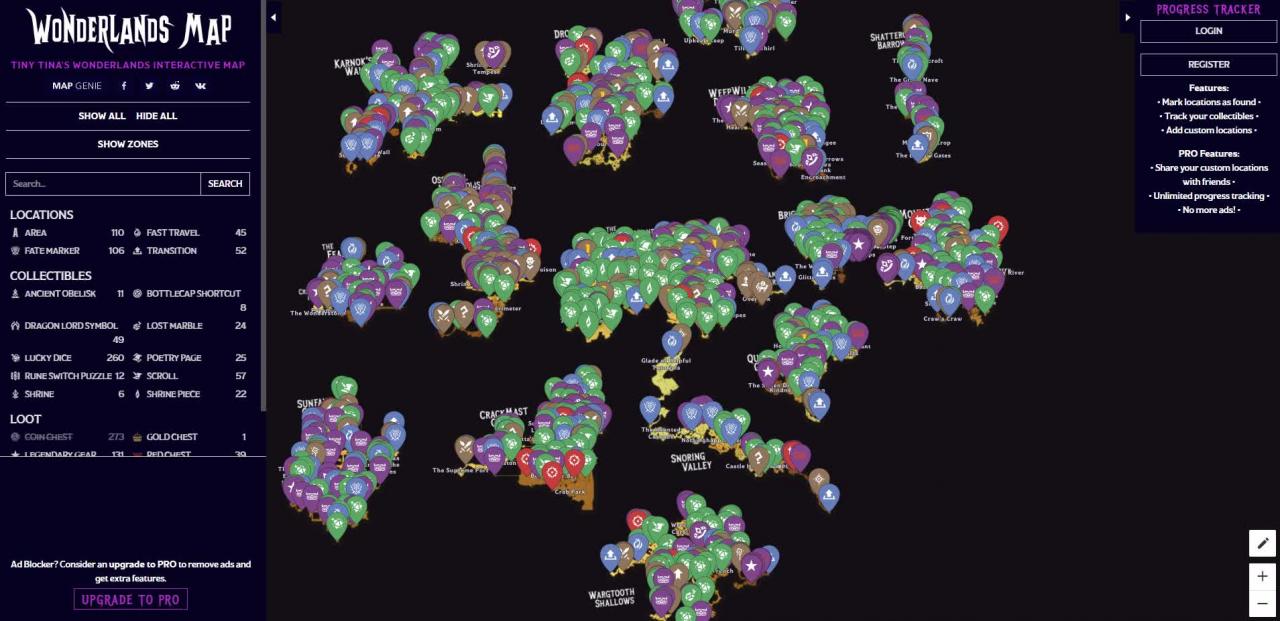 In the center is the map itself with all the game locations. By default, it shows all marked objects – to improve visibility, click "Hide All" in the left menu. After that, zoom in and out of the map using the wheel and move it in different directions with the left mouse button pressed. 
By the way, about the left menu. It contains the basic controls. You can choose the location of various objects:
Locations, fast travel points, markers.

Obelisks, symbols, scrolls, shrines.

Loot – chests, legendaries, unique equipment.

Enemies – bosses, mini-bosses.

NPCs, quests, easter eggs, side quests, forges, etc.
For the convenience of moving between locations, you can click "Show zones" at the very top – after that, a list of game locations will open. Choose any and it will appear on the left in an enlarged state. 
If you wish, you can register on the site with this card and even purchase a subscription. After that, you will be able to track your progress and remember the elements selected on the map so that you do not have to adjust them every time you visit the browser. But this is not necessary at all – for most players, the free version of the map without registration is enough.
More Guides: