How to make a Supermassive Black Hole that has the orange rings like the newly discovered ones on Sagitarious A.
How to Make a Real Supermassive Black Hole
Step 1:
First, click "tools" and click "add"
Click "Random Spiral Galaxy" and place it.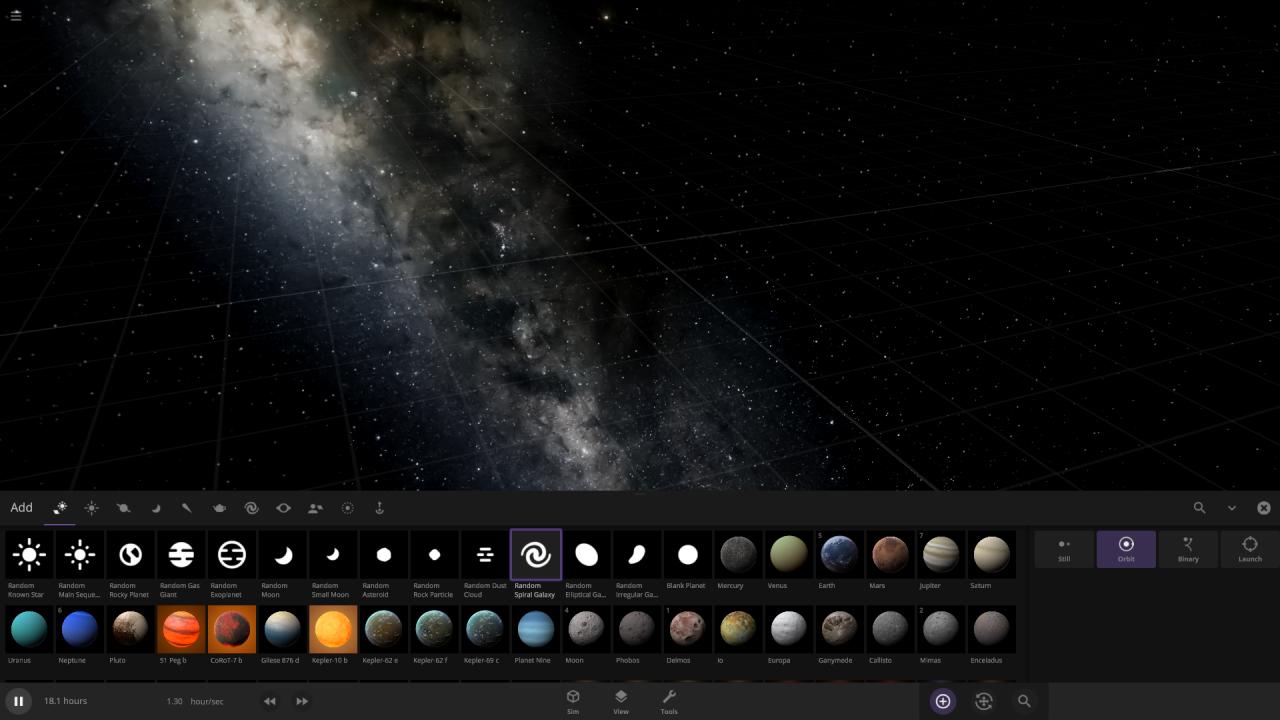 Step 2:
Right click on it *ONCE*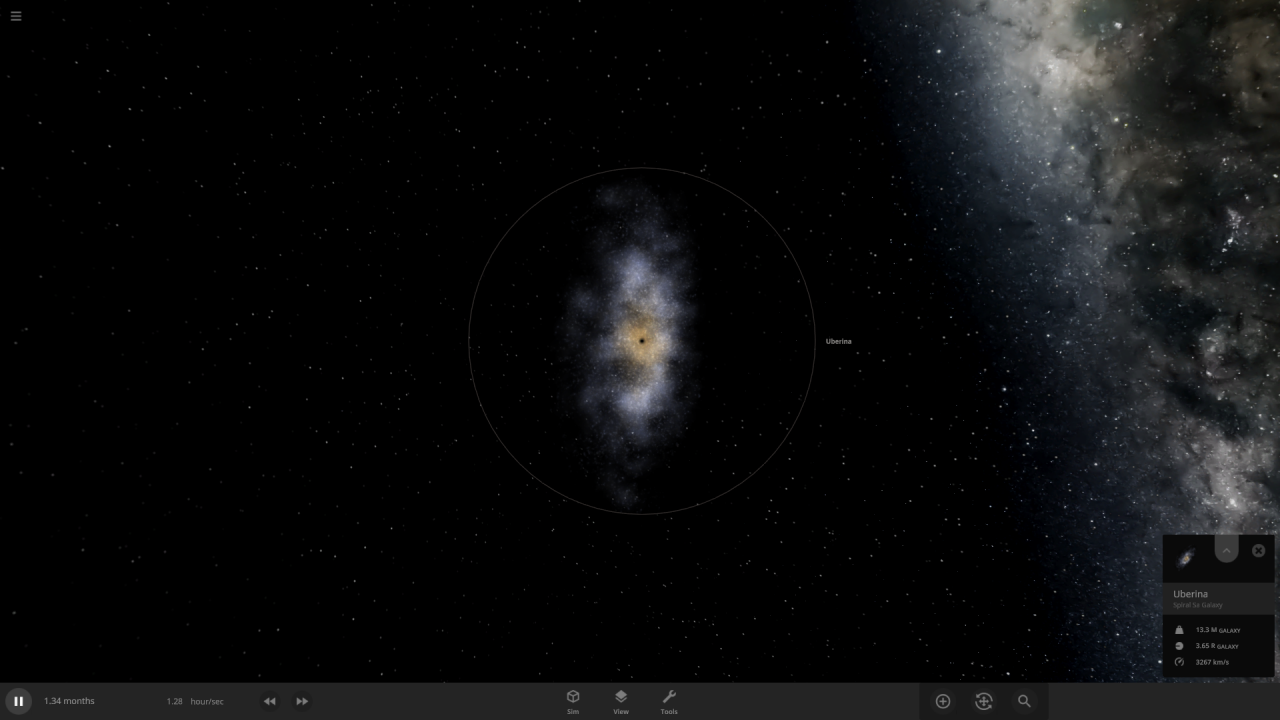 Step 3:
click "Radius" and click "10x" *TWICE*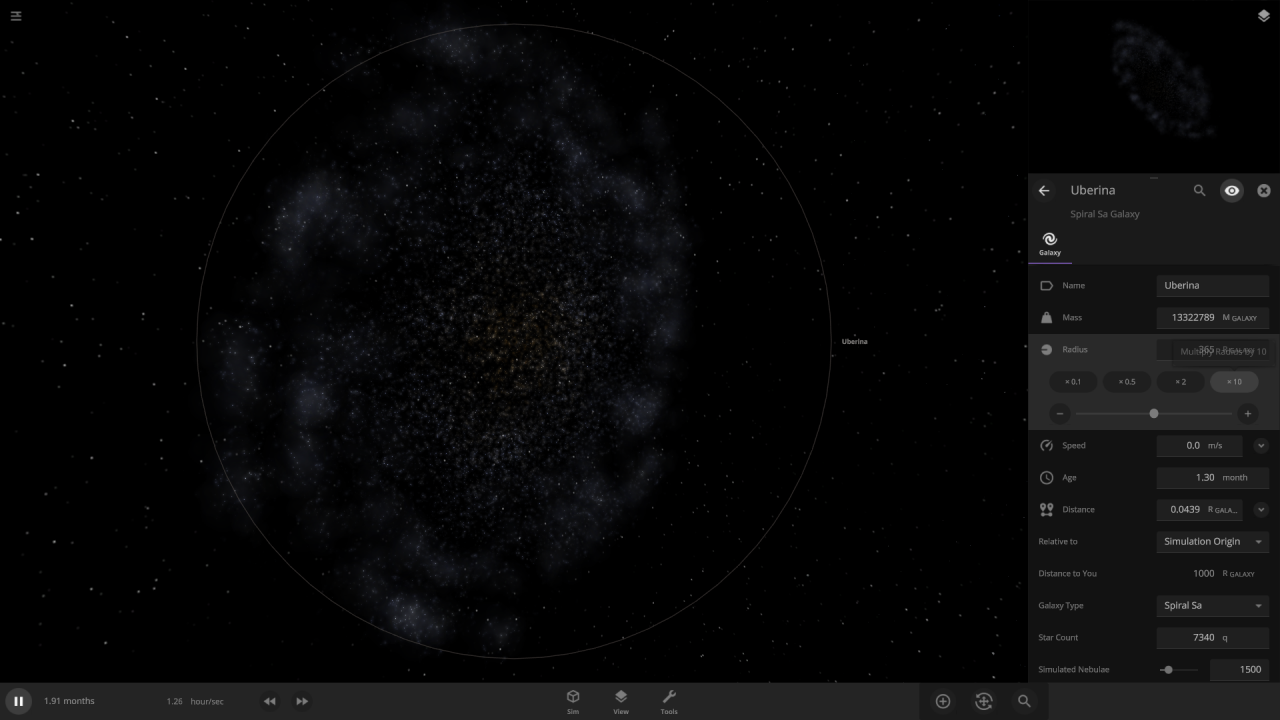 Step 4:
NOW YOU HAVE TO *PAUSE* THE GAME BY PRESSING THE SPACE BAR ON YOUR KEYBOARD. YOU WILL HAVE TO *REDO* THE GUIDE *AND* YOUR GAME WILL CRASH *IF* YOU *DONT* PAUSE THE SIMULATION!
After pausing, click "Mass" on the sidebar.
Click "10x" PATIENTLY (very slowly) until it says E+ (example below)
EXAMPLE: 1.33E+8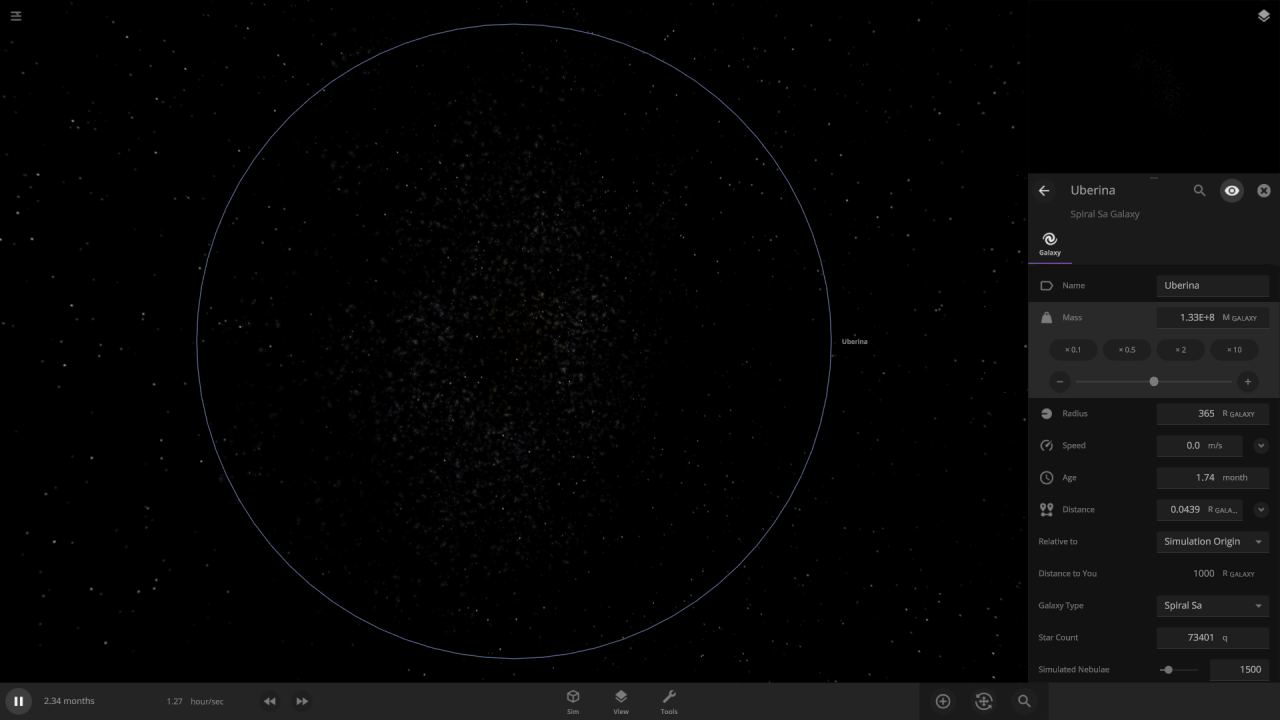 Step 5:
Scroll down to "Simulated Nebula" and set the bar to the maximum
You will start to see it come together into an orange galaxy.
In my opinion this looks absolutely awesome!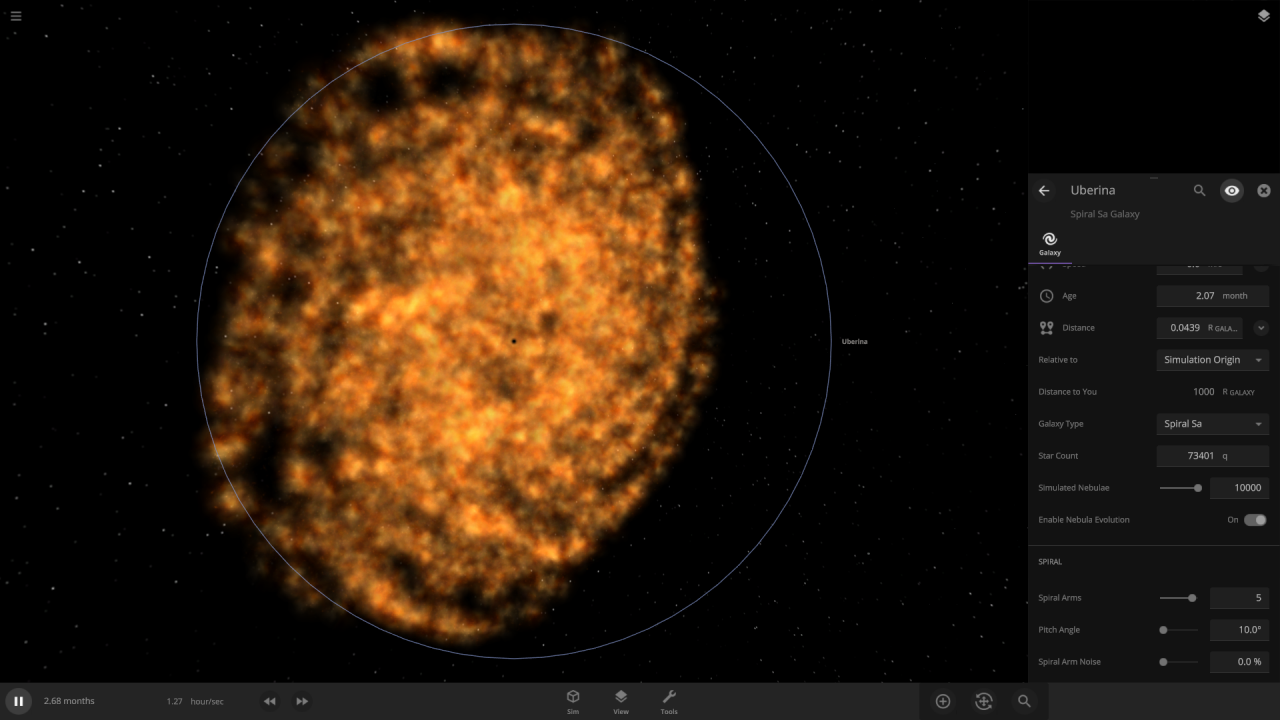 Step 6:
DO THESE STEPS CAREFULLY!
Now, hit transform right on the bottom left of the RIGHT sidebar. There will be a magnifying glass and right next to it you will hover over it for a few seconds until you see it say "Transform"
Click it then click "Rotate" above it.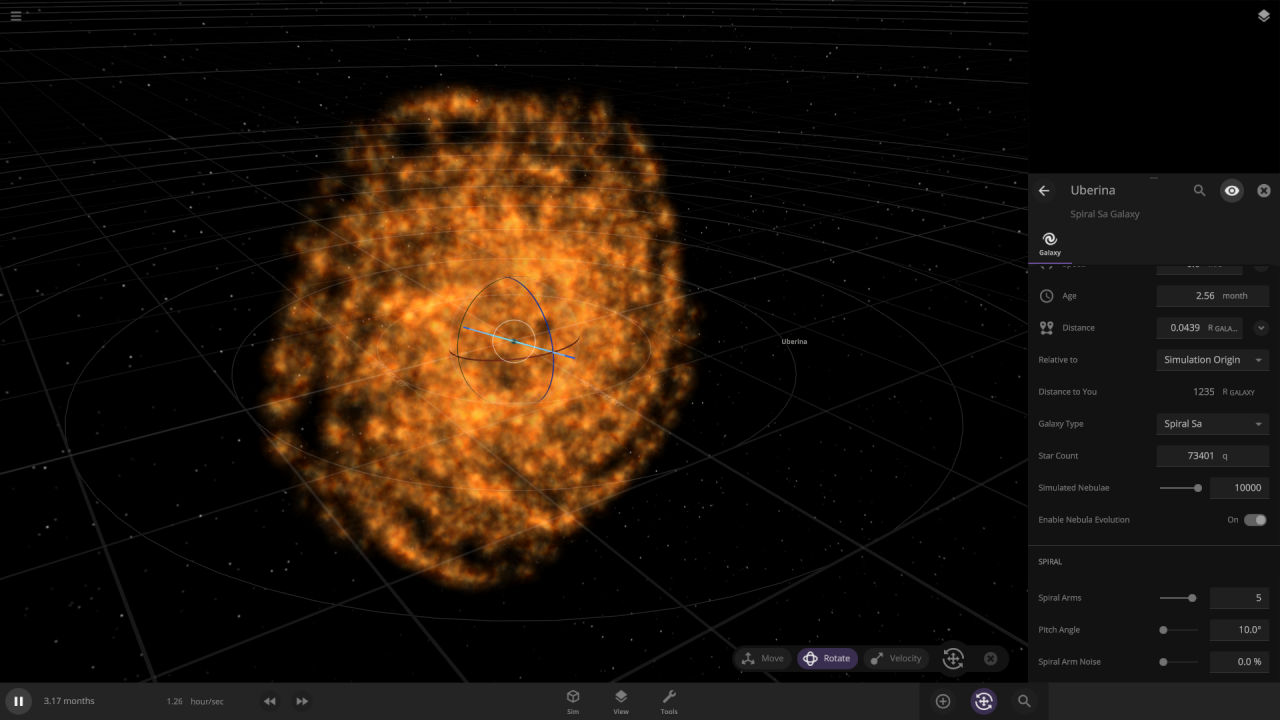 Step 7:
Scroll inward and you will see a sphere around the center.
Hold click on it and move the cursor until it is level with the grid below it.
To see here:
Step 8:
Now, click transform again to close out of it. Afterwards, click the center black dot and look at the side bar. If it says on the title that it is a black hole then you have selected it, if it says that it is a nebula then try hovering over the black dot until you see the title of the black hole, when it stays there click it. THIS MAY TAKE MULTIPLE TRIES! After you have selected it click the upwards arrow on the bottom right sidebar.
DO THE NEXT STEP VERY CAREFULLY! IT IS POSSIBLE TO MESS UP AND HAVE TO RESTART THE MAKING OF THIS AGAIN!!!!
Click "Schwarzschild Radius" and click "10x" until you see the center black dot become large(THERE ARE MANY DIFFERENT WAYS OF THIS WORKING. IF THE BLACK DOT BECOMES LARGER THAN THE GALAXY THEN CLICK ".5x" ONCE AND TRY TO MAKE IT LOOK LIKE THIS EVEN IF YOU DIDNT MESS UP:

Finally:
make your camera look at the black hole like this: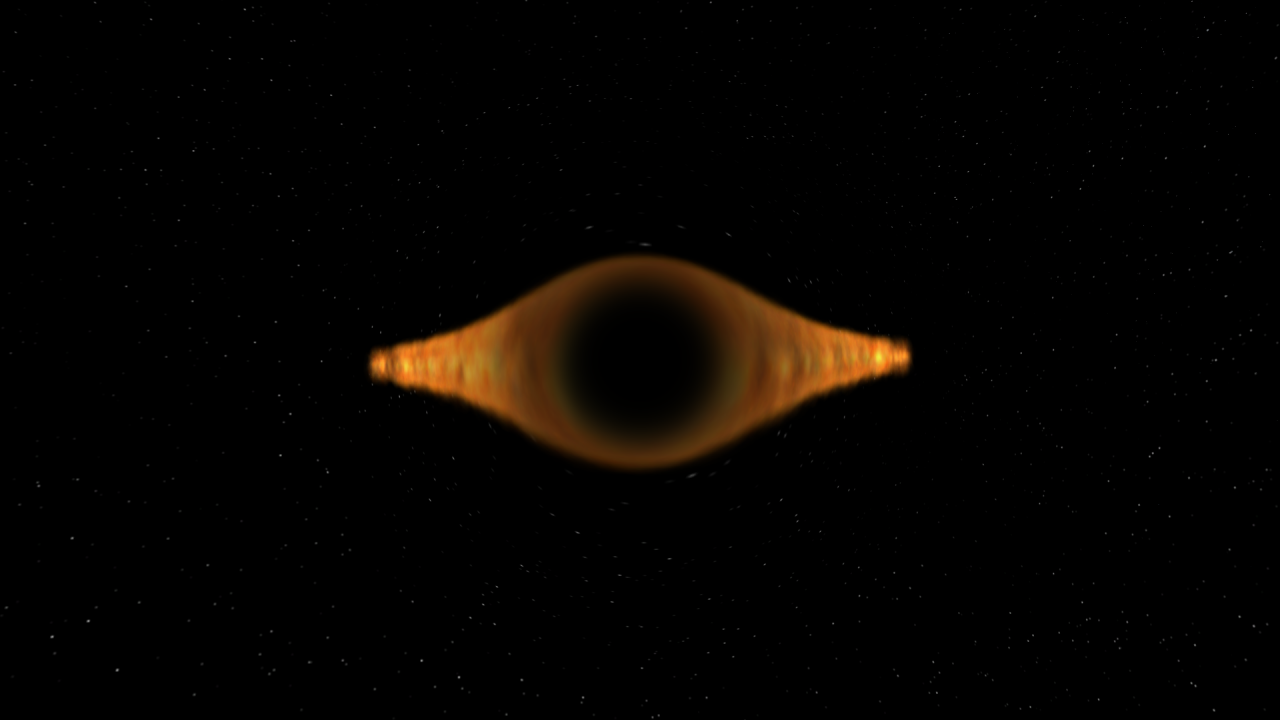 YOU ARE DONE!!!!
isnt it beautiful?
More Guides: