This guide will tell you how to save your ship designs, share them with other players, and play with ship designs made by other players.
How to save your ship designs
1. Click the small button with 3 horizontal lines to the right of your ship's name.
2. Select "Save Ship Design".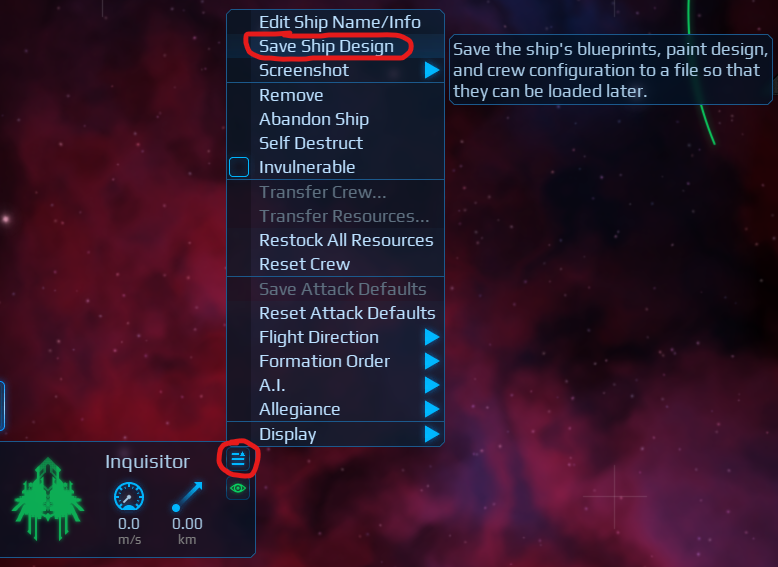 3. Type in a name for your ship.
4. Click "Save Ship".

Saved ships are usually located in:
C:\Users\[username]\Saved Games\Cosmoteer\[Steam ID]\Saved Ships
You can also access this folder by clicking the little button with three horizontal lines in the top-right of the ship library and selecting "Open Folder".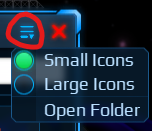 WARNING: Ship save files are saved as literal PNG image files with a ".ship.png" extension. The actual data for the ship is stored in the image pixels. Do not resize, crop, or in any other way modify the contents of the PNG file; doing so will almost certainly destroy the ship data and prevent the ship from being loaded. (Renaming it is fine as long as you keep the ".ship.png" extension.
You can send your ship save files (ending with a ".ship.png" extension) to your friends or post them online. (Some image-hosting websites, such as Facebook, will resize the image and destroy the ship data. Imgur and Twitter seem to work fine, though.)
Where to share your ship design
Discord
Probably the best place to share ship designs is on the official Cosmoteer Discord server[discord.gg]. Simply drag-and-drop the ship file you saved into the #ships channel and post it!
Steam Community
You can also share your ships in the Share Your Ships section of the Steam discussions board.
Unfortunately, Steam doesn't make it easy to upload image files, so you'll have to first upload them to an image-sharing service such as Imgur[imgur.com]. (Do not upload your saved ships as "Artwork" to Steam if you want others to be able to play with your designs. Doing so will corrupt the ship data in them and make them unplayable.)
How to play with other players' ship designs
There are two ways to download another player's ship design that they've shared online.
OPTION 1: Download the image file
1. Right-click on the image of the ship and select "Save image as" or whatever similar save option appears.
2. Save the image into your Saved Ships folder (usually C:\Users\[username]\Saved Games\Cosmoteer\[Steam ID]\Saved Ships). Make sure you save it with a ".ship.png" extension; if it's just a ".png" then Cosmoteer won't load it.
3. If the ship file is valid then it should almost immediately appear in the "My Ships" section of your Ship Library.
OPTION 2: Drag-n-drop the image file into Cosmoteer
1. Start up Cosmoteer and make sure you're playing in "Resizable Window" mode in the settings. (It also helps to disable the "Trap Mouse Cursor" interface setting.)
2. Start a new (or load an existing) Creative Mode game. (This won't work in any other game mode.)
3. Click, hold, and drag the image file directly from the web browser or Discord into Cosmoteer. After a few seconds, the ship should load and you should see its blueprints at your mouse cursor.
4. Click to place the ship into the game. (You may have to click a couple times.)
Note that this ship still isn't "saved" to your computer. You'll need to explicitly save the ship design using the above method if you want to keep it.
More Guides: