The best settings for playing HITMAN: World of Assassination on the Steam Deck!
Introduction
HITMAN: World of Assassination is playable on Steam Deck, but it can take a small bit of tweaking to get things working smoothly. So that's what we're going to do in this guide!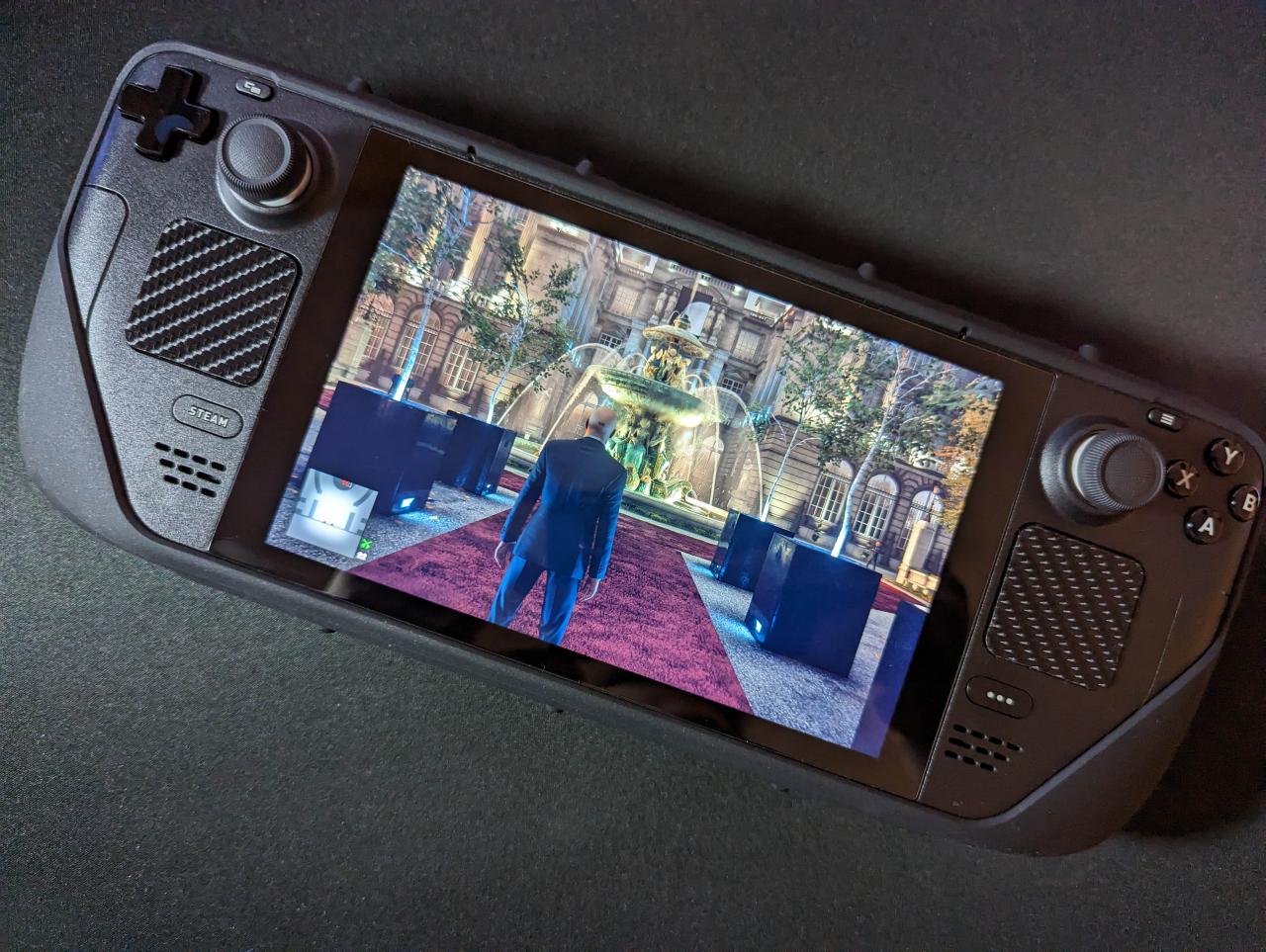 Frame Rate & Frame Times
I will say this now, getting a solid 60FPS does NOT seem to be possible. I've tested a lot of settings and unless you make the game look like a blurry mess (which isn't even enough in some levels), a consistent 60FPS isn't possible.
Even if it was possible, 60FPS will drain your battery faster as well. This isn't ideal as HITMAN already drains the Steam Deck battery fairly fast, lowering the frame rate will reduce this.
So for this guide, our target FPS and refresh rate will be 40. The reason for this is 40FPS is the halfway point between 30FPS and 60FPS.
Frame Times:
30FPS = 33.3ms
40FPS = 25ms
60FPS = 16.6ms
In this guide, we're going to try to have the best visuals possible, while maintaining a solid and CONSISTENT 40FPS. This means the frame rate drops as little as possible and our frame time remains consistently at 25ms.
If your frame time is inconsistent and jumping around, this will cause that feeling of the game micro-stuttering and is generally not pleasant to play.
Steam Deck Settings
So first, we need to tweak our Steam Deck performance settings for HITMAN.
Go to the menu (the "…" button) on your Steam Deck with HITMAN running. Navigate to the performance section, enable advanced view and then make sure "Use per-game profile" is enabled.
Once you've done that, copy the following settings below. MAKE SURE you change your refresh rate to 40 like below.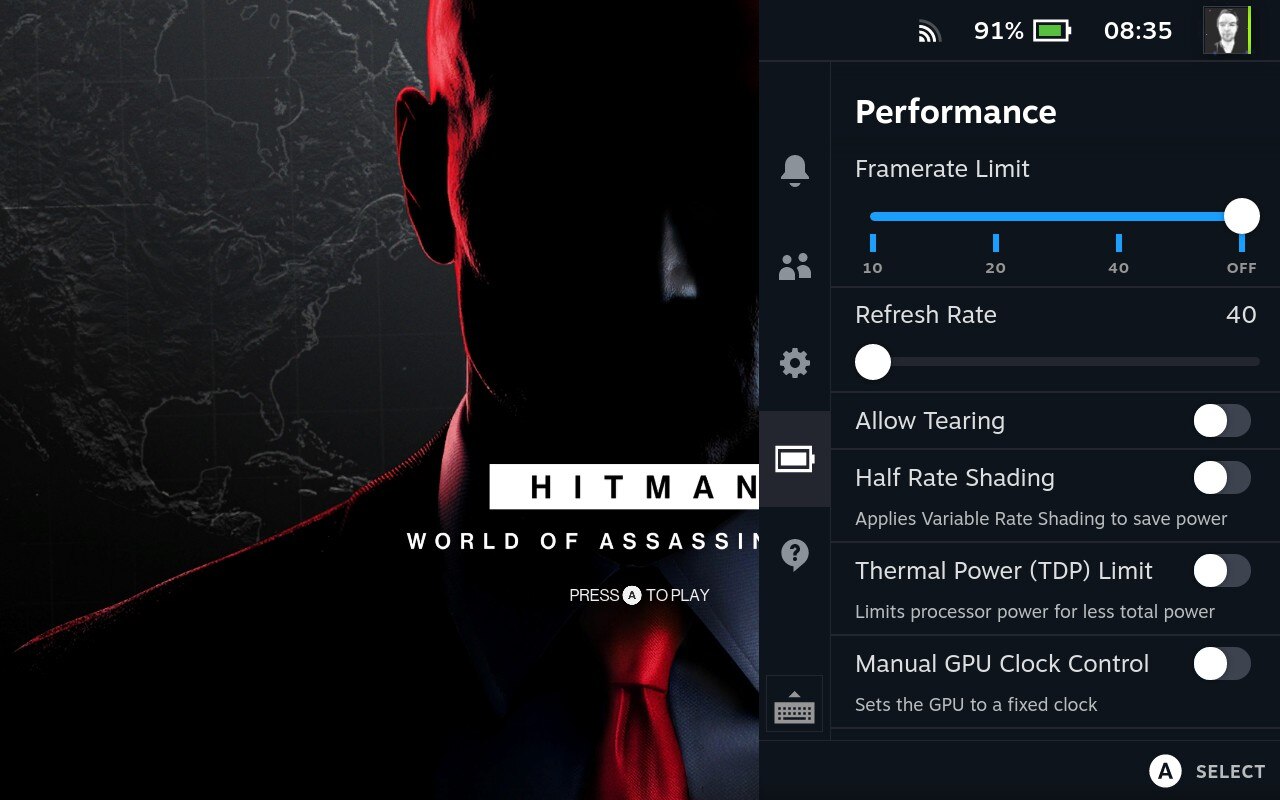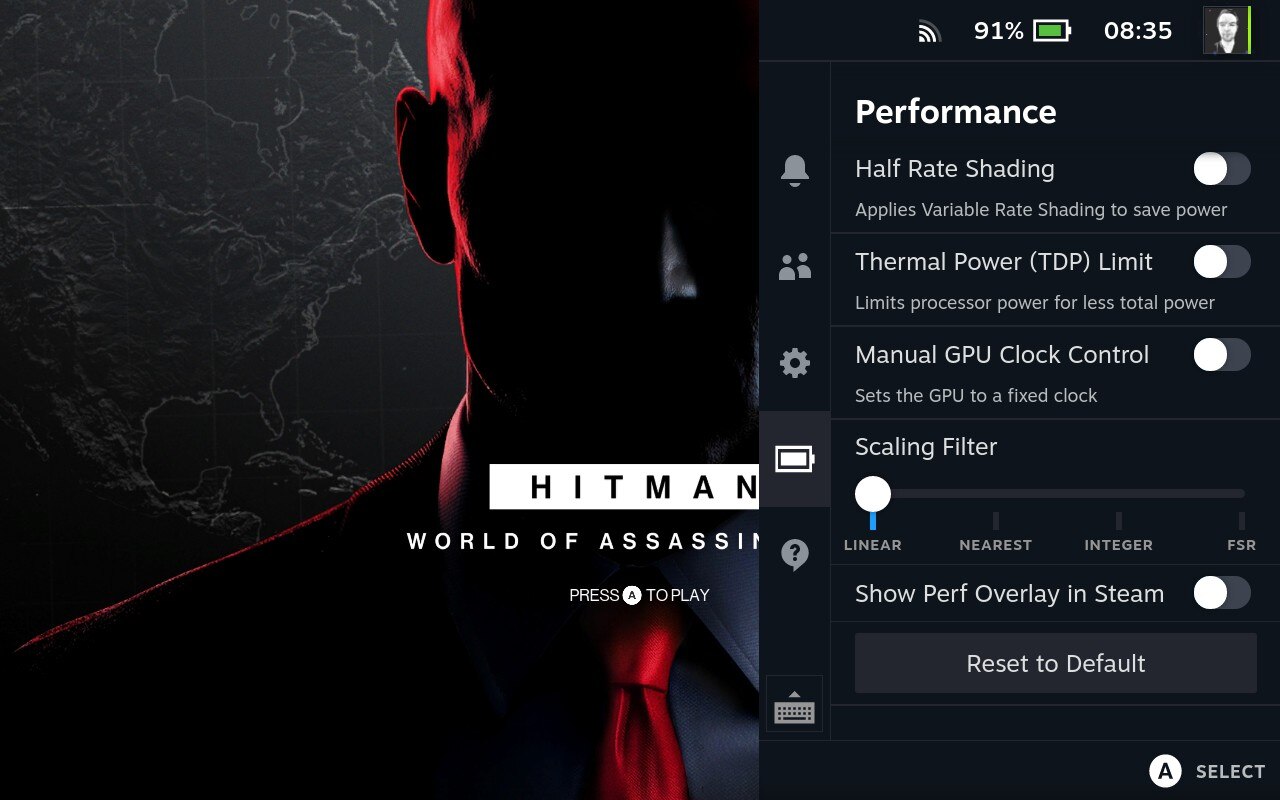 In-Game Settings
Next, you need to tweak the in-game graphics settings. So, head to the options menu in HITMAN, then proceed to the graphics section.
Any settings not listed here you can't alter on the Steam Deck. Copy the following settings.
FULLSCREEN RESOLUTION = 1280X800
DISPLAY MODE = EXCLUSIVE FULLSCREEN
V-SYNC = OFF
V-SYNC INTERVAL = 1
GAMMA CORRECTION = 1.00 (this is up to you)
ADAPIVE SUPERSAMPLING TECHNIQUE = OFF
RESOLUTION SCALE = 1.00
LEVEL OF DETAIL = MEDIUM
TEXTURE QUALITY = HIGH
TEXTURE FILTER = ANISOTROPIC 16X
SSAO = MEDIUM
SHADOW QUALITY = MEDIUM
MIRRORS REFLECTION QUALITY = HIGH
REFLECTION QUALITY = MEDIUM
VARIABLE RATE SHADING = OFF
MOTION BLUR = MEDIUM
Notes
Since HITMAN will now trigger the Steam Deck display to refresh at 40hz, your screen will temporarily flash black when going from the game back to Steam and vice versa, as it switches between 60hz (default) and 40hz (HITMAN).
You may get some small stutters when first loading into a level. These should go away after 5 seconds or so. I noticed it mostly on CPU heavy levels with crowds, such as Miami.

This could also possibly be the result of me launching the game from a microSD card however, as the game loads in assets. Just something to be aware of.
Screenshots
Enjoy these screenshots showing the game running at a nice consistent frame rate with decent visuals!
Although keep in mind, the game is running at a lower resolution. So if you're viewing these on a PC, they might not look as good as they do on the Steam Deck.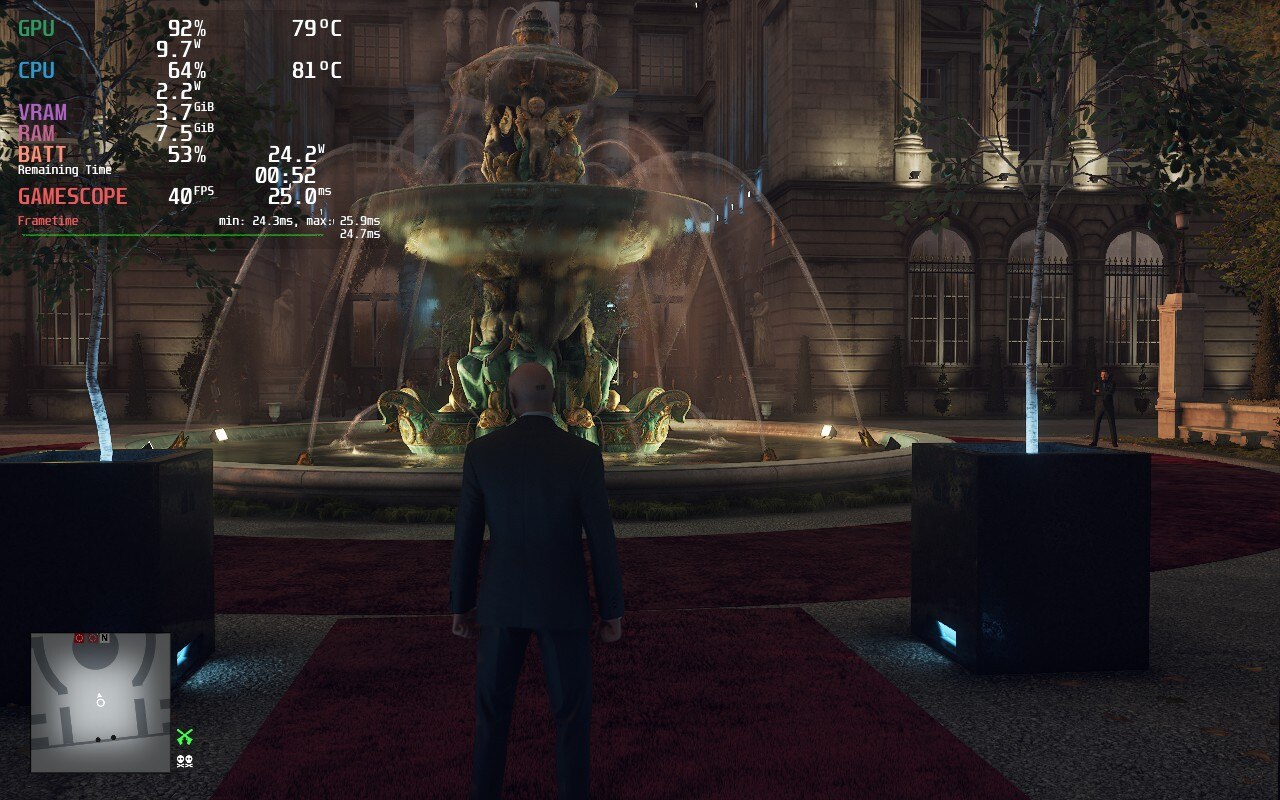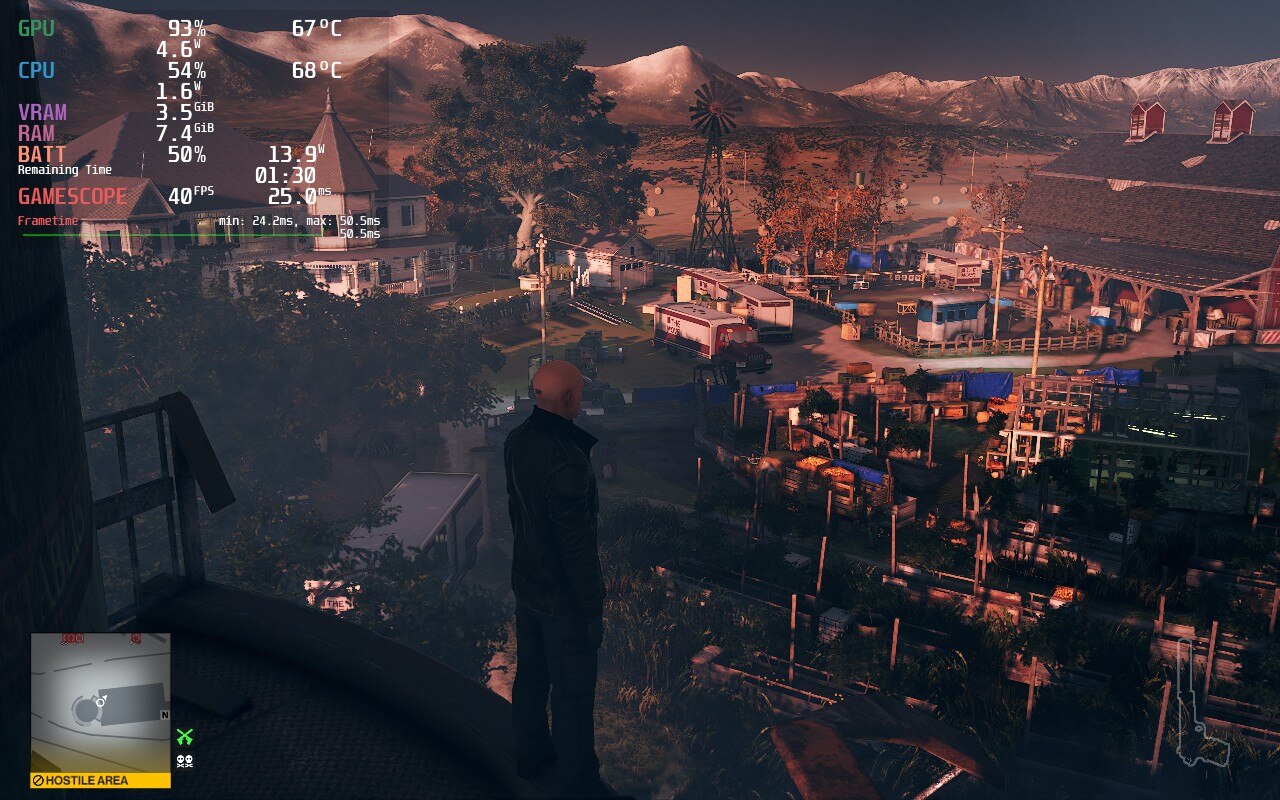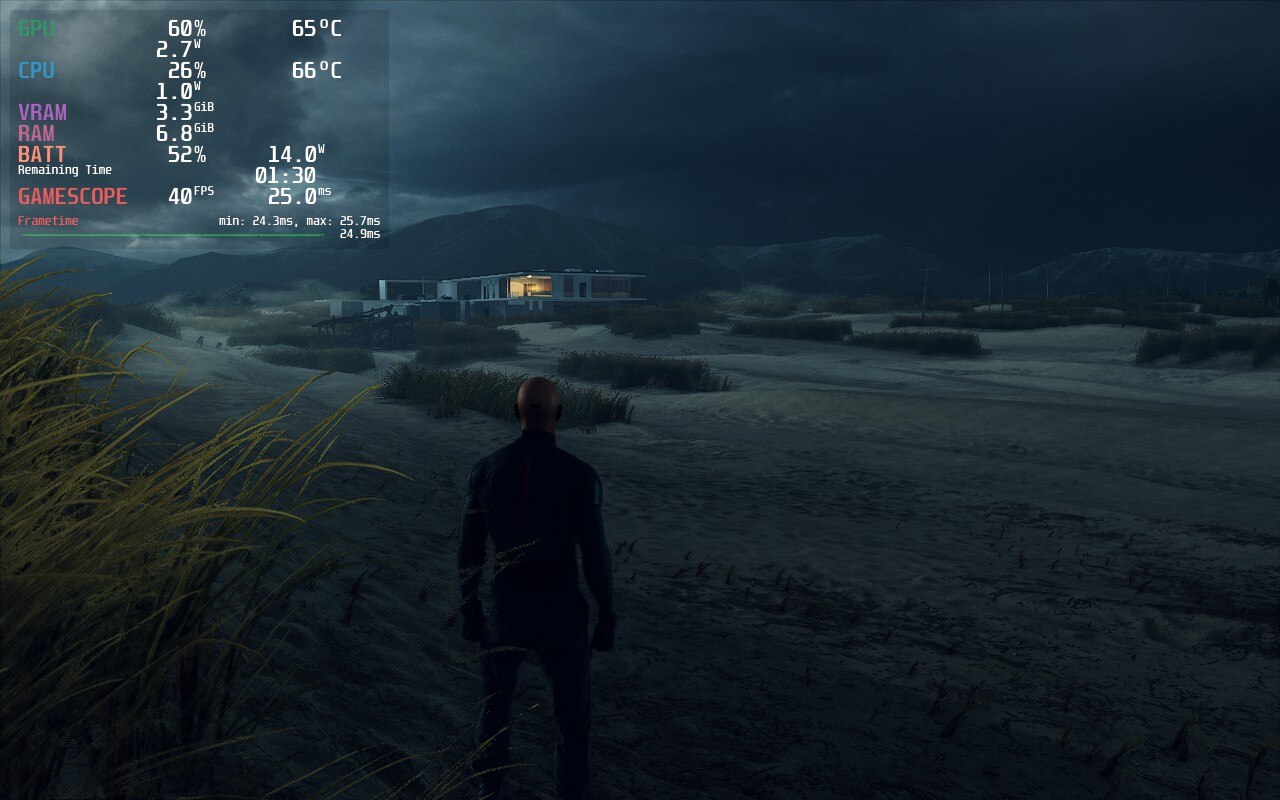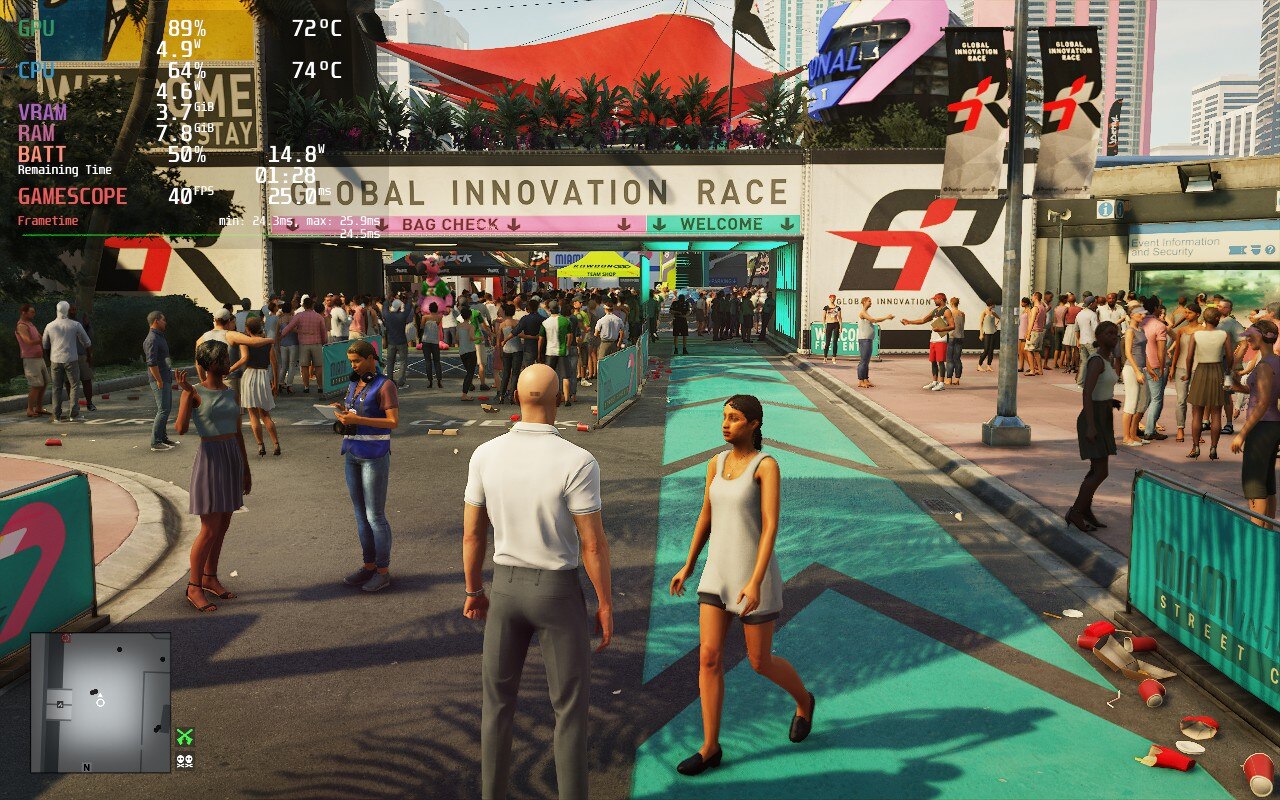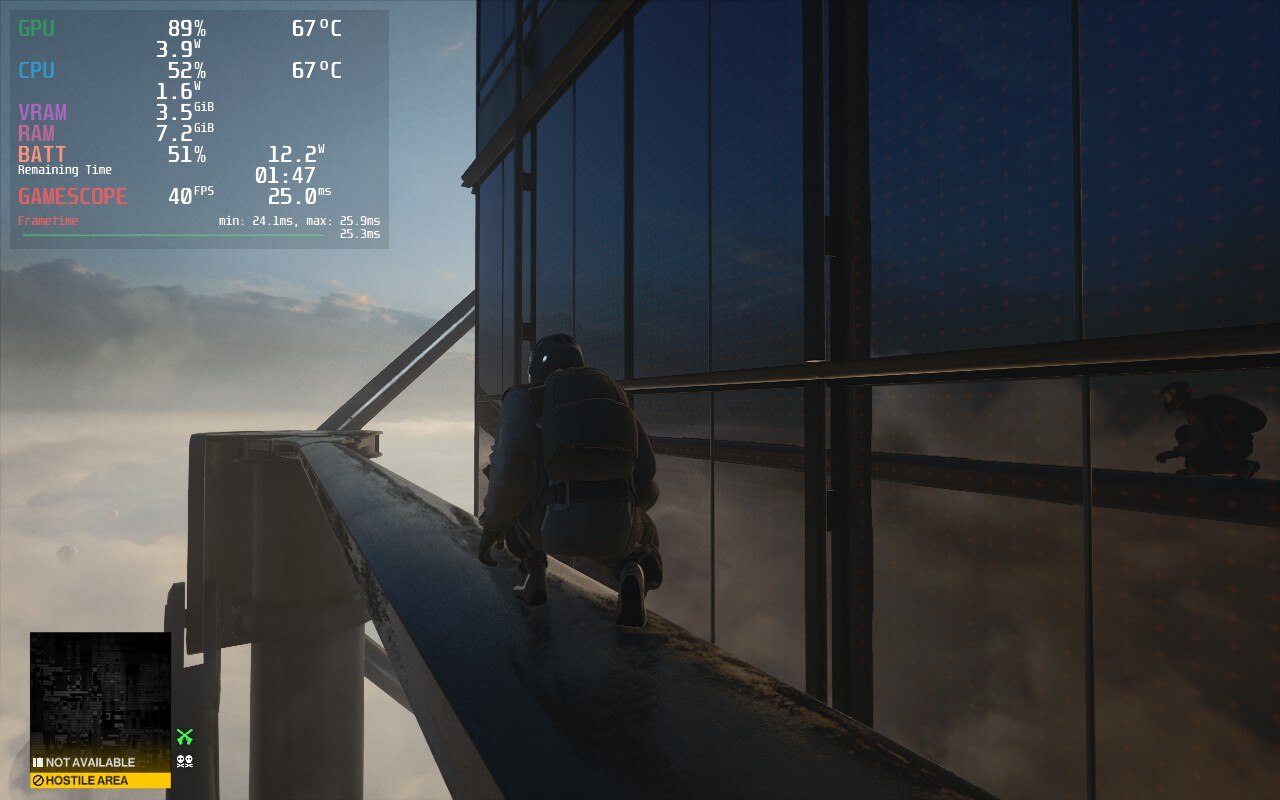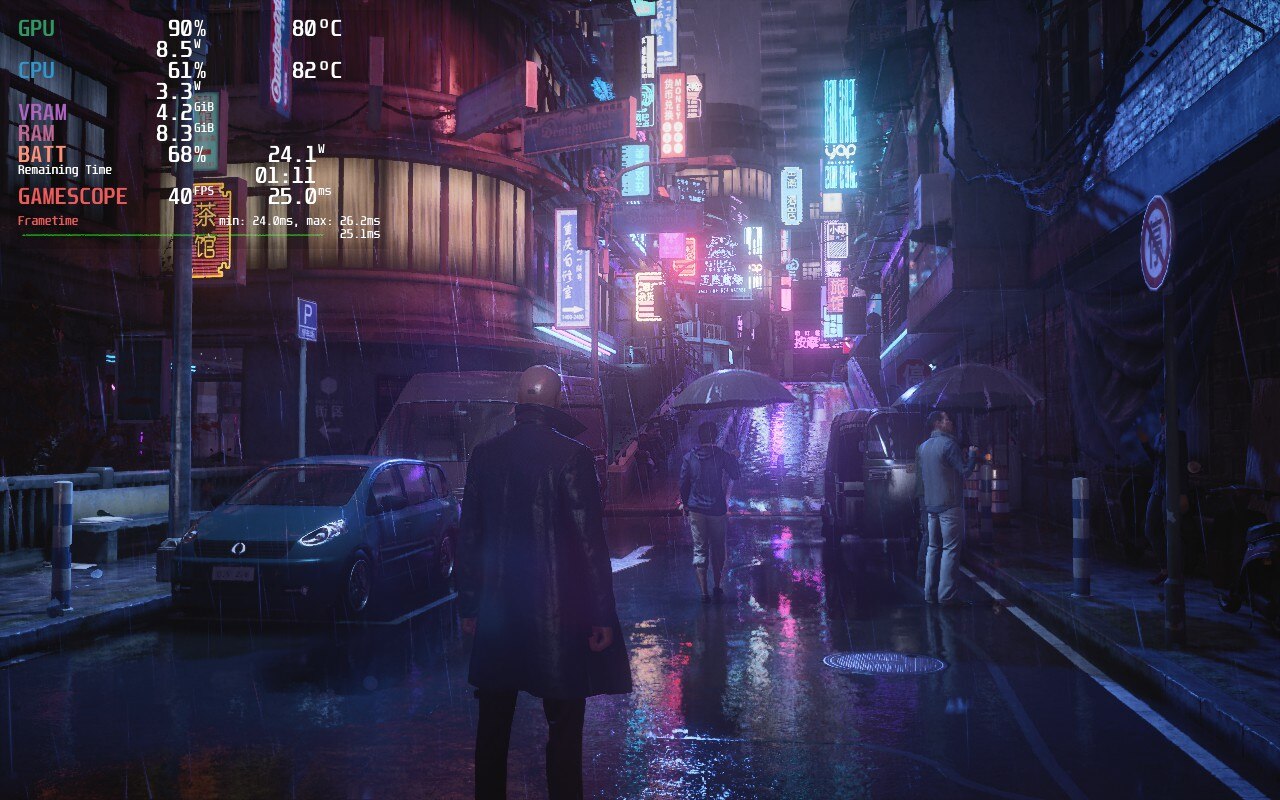 More Guides: