Guide: Might & Magic: Heroes VII Cheat Menu
Activating Cheat Menu
By using cheats there might be unpredictable problems in your game, so remember that you are doing so at your own risk.
How to activate the cheat window:
Open "MMH7Game.ini" found in My Documents\My Games\Might & Magic Heroes VII\MMH7Game\Config
Find the line "mDebugCheats = False"
Replace the "False" by "True"
Save the file
Next time you launch the game, a little star icon will appear above your command panel. This is the cheat window shortcut. The cheat window is not available in multiplayer games.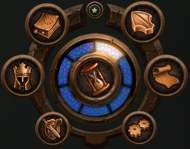 Cheat abilities
From the cheat window you can:
– Modify your current hero stats
– Teleport
– Add XP and resources
– Build all buildings in your town
– Enable/Disable Manacost
– Enable/Disable TurnOver Popup
– Enable/Disable Movecost
– Enable/Disable Unlimited Building
– Enable/Disable Fog of War
– Upgrade and change selected skills and abilities