The most efficient way of leveling through Path of Exile while still acquiring all the useful quest rewards, with minimal backtracking or wasted time.
How to read the guide
*WP. Waypoint
DC/TP: Log out/in-game or use Portal Scroll to get back to Town.
(!)
: Crafting recipe in area.
Optional:
1. Drop a portal at Bridge to save a bit of time.
2. Kill "The Great White Beast" in "Den" for a second Quicksilver flask.
3. Check your elemental resistances and do the one you have highest for. Kaom (Fire) and Daresso (Cold). Alternatively save both bosses for last.
4. Drop a portal if you find "Dread Thicket" on the way to "Causeway". It spawned SW of the waypoint if you didn't find it on the way.
Recipe Location:
1. In 'The Eternal Laboratory West for Diana.
2. In "Oriath" beside Helena.
*Typically do first Lab before Kaom/Daresso in Act 4.
*Do you next two Labs before Kitava fight in Act 10.
*Last Lab as soon as you have all the trials that randomly spawn in maps.
Act 1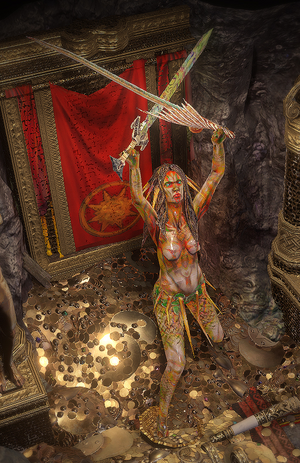 "Hillock – Tarkleigh
Coast – WP – Mud Flats – 3 eggs – Submerged Passage – WP
Coast – Tidal Island – Hailrake – DC/TP
Submerged Passage – (1) – Ledge (N) – Climb – Navali – Lower Prison – WP
Submerged Passage – Flooded Depths (S) – Dweller of the Deep – DC/TP
Lower Prison – Trial – Upper Prison – Warden's Quarters – Warden's Chambers – Brutus – DC/TP
Prisoner's Gate – Ship Graveyard – WP – Cavern of Wrarth – WP
Ship Graveyard – Cave – AllFlame – Ship Graveyard – Fairgraves – DC/TP
Cavern of Wrarth – Cavern of Anger – Merveil's Lair – Merveil – Southern Forest – Forest Encampment"
Act 2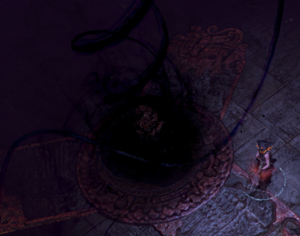 "Old Fields – (2) – Crossroads (N) – WP (N) – Chamber of Sins 1 (W) – Chamber of Sins 2 – Trial – Helena – DC/TP
Riverways – WP – Western Forest – WP – Weaver's Chambers
Weaver's Nest – Weaver – A1 Town – A2 Town
Crossroads – Fellshrine Ruins (E) – Crypt 1 – WP – Trial – DC/TP
Crossroads – Broken Bridge (N) – Kraityn – DC/TP
Riverways – Wetlands (W) – Oak – WP
Western Forest – Alira – Blackguards/Blocked Pass (S) – DP/TP
Wetlands – Vaal Ruins – Seal – Northern Forest – WP – Caverns (!) – Pyramid – Apex – Vaal Oversoul (!)
City of Sarn – Clarissa – Sarn Encampment"
Act 3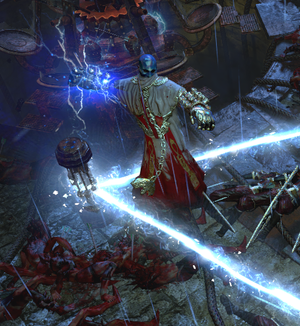 "Slum – Crematorium – WP – Trial – Piety (!) – DC/TP
Slum – Sewer – 3 Busts – WP – Marketplace – WP – Catacombs – Trial (!) – DC/TP
Marketplace – Battlefront – Ribbon Spool/WP – Docks – Thaumetic Sulphate – DC/TP
Battlefront – Solaris 1 – Solaris 2 – Dialla (!)(1) – Sewers (!) – Ebony Barracks – WP – Lunaris 1 – Lunaris 2 – Piety (!) – DC/TP
Ebony Barracks – Imperial Gardens – WP – Trial (!) – Lower Sceptre – Upper Sceptre – Dominus – Aqueduct – Highgate"
Act 4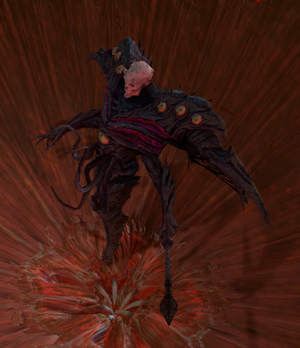 "Dried Lake – Voll (!) – DC/TP
Mines 1 – Mines 2 – Deshret's Spirit – Crystal Veins (!) – WP (3)
Crystal Veins – Daresso's Dream – Grand Arena – Daresso
Crystal Veins – Kaom's Dream – Kaom's Stronghold – Kaom – DC/TP
Crystal Veins – Dialla – Belly of the Beast 1 – Belly of the Beast 2 – Bowels of the Beast – Piety (!) – Harvest – WP
Harvest – 3 Guardians – Black Core – Malachai – DC/TP"
Act 5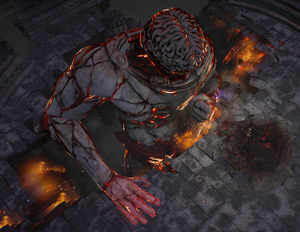 "Ascent 
(!)
 – Oriath Portal – WP – Overseer Crow – Overseer's Tower
Control Blocks – Supplies – Justicar Casticus – Oriath Square – WP
Oriath Square – Templar Courts – Chamber of Innocence 
(!)
 – WP – High Templar Avarius – DC/TP
Chamber of Innocence – Torched Courts – Ruined Square – WP – Kill Utula – Reliquary 
(!)
 – Kitava's Torments – DC/TP
Ruined Square – Ossuary 
(!)
 – Sign of Purity – DC/TP
Ruined Square – Cathedral Rooftop – Cathedral Apex – Kitava – Wraeclast"
Act 6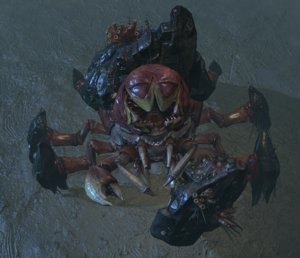 "Twilight Strand – Buy missing gems
Coast – WP – Mud Flats – Forgotten Warrior – Nessa – Karui Fortress – Tukohama's Keep – Tukohama (!) – Ridge – WP
Ridge – Lower Prison (!) – WP – Trial – Shavronne's Tower – Prison Rooftop
Shavronne – Warden's Chambers (!) – Prisoner's Gate – WP
Prisoner's Gate – Valley of the Fire Drinker – Abberath – Gloven Pass – Valley of the Fire Drinker – Abberath – DC/TP
Prisoner's Gate – Western Forest (!) – WP – Riverways – WP – Wetlands – Spawning Grounds – Puppet Mistress – DC/TP
Riverways – Southern Forest – WP – Cavern of Anger – Beacon (!) – WP – Beacon – Brine King's Reef
Brine King's Throne – Brine King – Act 7″
Act 7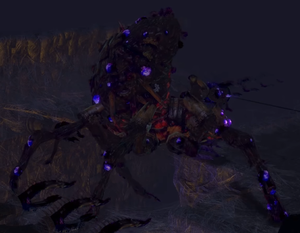 "Broken Bridge – Crossroads – WP – Fellshrine Ruins (E) – Crypt (!) – WP – Trial/Maligaro's Map – DC/TP
Crossroads – Chamber of Sins 1 (W) (!) – WP – Map Device – Maligaro's Map
Maligaro – Chamber of Sins 1 – Chamber of Sins 2 – Trial (!) – Den – Ashen Fields
Fortress Encampment – Greust – Northern Forest – WP (4)
Northern Forest – Dread Thicket (!) – Fireflies – Den Despair – Gruthkul – DC/TP
Northern Forest – Causeway (!) – Kishara's Star – Vaal City – WP
Vaal City – Temple of Decay 1 – Temple of Decay 2 (!) – Arakaali's Web – Arakaali – Sarn Ramparts – WP – Sarn Encampment"
Act 8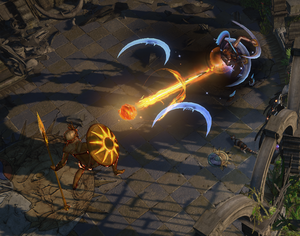 "Toxic Conduits – Doedre's Cesspool (!) – Loose Crate – Doedre the Vile – Sewer Outlet – WP
Sewer Outlet – Quay – Ankh of Eternity – Resurrection Site – Tolman – Grain Gate – WP
Grain Gate – Gemling Legionnaires – Imperial Fields – WP – Solaris Temple 1 – WP – Solaris Temple 2 – Dawn (!) –
Solaris Concourse – Harbour Bridge – Lunaris Concourse – WP – Lunaris Temple 1 – Lunaris Temple 2 – Dusk (!) – DC/TP
Lunaris Concourse – Bath House – Trial (!) – High Gardens – Pool of Terror – Yugul – DC/TP
Lunaris Concourse – Harbour Bridge – Sky Shrine – Solaris & Lunar – Blood Aqueduct – Highgate"
Act 9
"Toxic Conduits – Doedre's Cesspool (!) – Loose Crate – Doedre the Vile – Sewer Outlet – WP
Sewer Outlet – Quay – Ankh of Eternity – Resurrection Site – Tolman – Grain Gate – WP
Grain Gate – Gemling Legionnaires – Imperial Fields – WP – Solaris Temple 1 – WP – Solaris Temple 2 – Dawn (!) –
Solaris Concourse – Harbour Bridge – Lunaris Concourse – WP – Lunaris Temple 1 – Lunaris Temple 2 – Dusk (!) – DC/TP
Lunaris Concourse – Bath House – Trial (!) – High Gardens – Pool of Terror – Yugul – DC/TP
Lunaris Concourse – Harbour Bridge – Sky Shrine – Solaris & Lunar – Blood Aqueduct – Highgate"
Act 10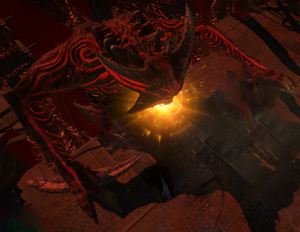 "Cathedral Rooftop – Kitava's Cultists – Ravaged Square – WP (N) – Torched Courts
Desecrated Chambers (!) – Sanctum of Innocence – Avarius – DC/TP
Ravaged Square – Control Blocks – Vilenta – DC/TP
Ravaged Square – Ossuary (!) – Bone Pits – Trial – Lab – DC/TP
Ravaged Square – Innocence – Canals – Feeding Through (!) – Kitava – DC/TP (!)(2)"
More Guides: