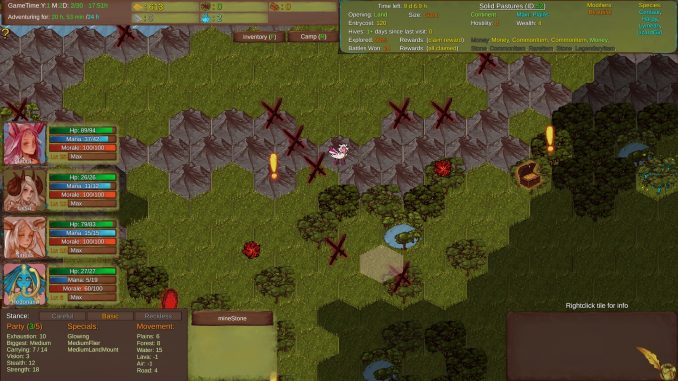 Portals of Phereon is an adult game developed by Syvaron, there are 3 different characters in the game. you need to explore the open world with your characters. here is a cheat guide for you below.
Note: the latest version 0.20.0.0 is now out with new events, items, skills and etc.
Portals of Phereon Cheats
Warning: Most cheat codes flag your save game as "cheated" and you can't unlock traits etc. for the next playthrough.
| Cheat Code | Description | Location |
| --- | --- | --- |
| money | gives money | Town |
| stone | gives stone | Town |
| wood | gives wood | Town |
| crystals | gives crystal | Town |
| resources | gives you all resources | Town |
| maxexhaustion | increase player(max)exhaustion | Town |
| commonitem | gain a random item of a common rarity | Town |
| rareitem | gain a random item of a rare rarity | Town |
| legendaryitem | gain a random item of a legendary rarity | Town |
| character | get a random basic character | Town |
| portal | create random new portal | Town |
| relations | maxes out all town npc relations | Town |
| lewds | maxes out all town npc lewdity (not considered cheating in v0.9.10.1) | Town |
| tavernpoints | gain points to use in the tavern | Town |
| skillpoints | gain points to use in the main character skill tree | Town |
| breed | instantly breeds the two first characters in your party with basic focuses | Town |
| unlimited | sets savetype as unlimited/the basic one | Town |
| evoall | unlocks all body parts for the evolution main character | Town |
| egg | random egg | Town |
| makeegg | get an egg from first 2 partycharacters | Town |
| opmc | makes mc op(overpowered) | Town |
| brothelrank | increase brothelrank | Town |
| passtime | pass 10 days without triggering events/things | Town |
| mcexp | gives 100xp to main character | Town |
| allspecies | unlock all forms | Town |
| genetics | max all genes for main character | Town |
| newgameplus | starts a newgame+ immediatly | Town |
| clear | clears creation worldmodifier | Town |
| scout | to reveal entire map | Overworld |
| event | to trigger an event | Overworld |
| restore | heal party | Overworld |
| gen | generates a new world with the same settings | Overworld |
| mana | a lot of maxmana for main character | Overworld |