Today you might learn something new, a hidden way to get a white flame in case you want to start a Fort of the Damned.
STEP I
– Search for ocean crawlers.
STEP II
– You need to find this specific ocean crawler, it's called "Eel-ectric" and you can identify it by it's ranged attacks like tridents and electricity. (Image down below to clarify)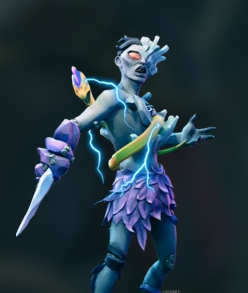 STEP III
– Get yourself low hp, preferably 1 shot from being dead to make this work. (Use blunderbombs for easier self-damage)
STEP IV
– Make sure to equip the sword (Cutlass) and give the creature a swing and you should see it reacting by an electricity zap and you would die.
STEP V
– Offer your soul to the Ferryman and grab your flame of fate!
HELPFUL NOTE
– If you got the green flame of fate it means that the electricity zap didn't kill you but rather a melee hit from the creature, try again with lower health to guarantee a white flame of fate from the electricity zap.
– If the storm is so far or bugged (No lightning, apparently there is bug where storms got no lightning) you can shoot crewmates to islands and try getting the white flame, you might get it before you reach the storm therefore winning allot of time chasing storms! NO MORE CHASING STORMS MY FRIENDS!
– I found out that thieves haven is one of the best islands to do this, allot of barrels for food and allot of ocean crawlers spawning their regularly (From thieves' haven runs experience)
More Guides: