This guide should help you locate the BlackBay items with ease.
Introduction
This guide is work in progress. I don't have sufficient time to do it all in one sitting, so please allow it some time to be done
I tried listing the items in the order they come in the playthrough. So you should not face the situation where the 1st item from the 1st list is lcoated in the final mission
Screenshots will come in later
I would appreciate any feedback and / or corrections to this guide
Basic mechanics
Items that are required for BlackBay have a green envelope icon when both looking at them or browsing the inventory
Some items, such as car parts will not respawn, as the cars do not respawn. Same goes for several other items, so be careful!
There are several items that might look identical but are not accepted by the BlackBay. The most notorioous example is two almost identical PC sets (monitror, keyboard and mouse), 1st of which is located in 109, and the 2nd one in the final mission.
Electronics
Here goes the first category from BlackBay. It consists of 16 lists
Furniture
Item
House
Location
Prerequisites
Screenshot
Cyli's table lamp
103
Next to bed
Lockpicking 2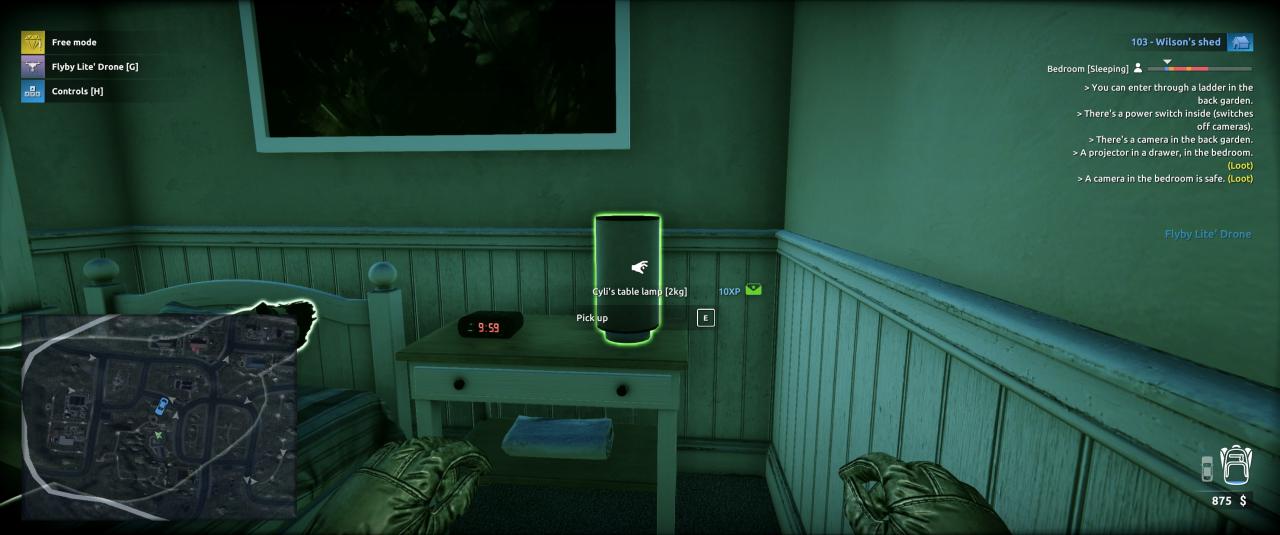 Ikee table lamp
102
Next to bed
None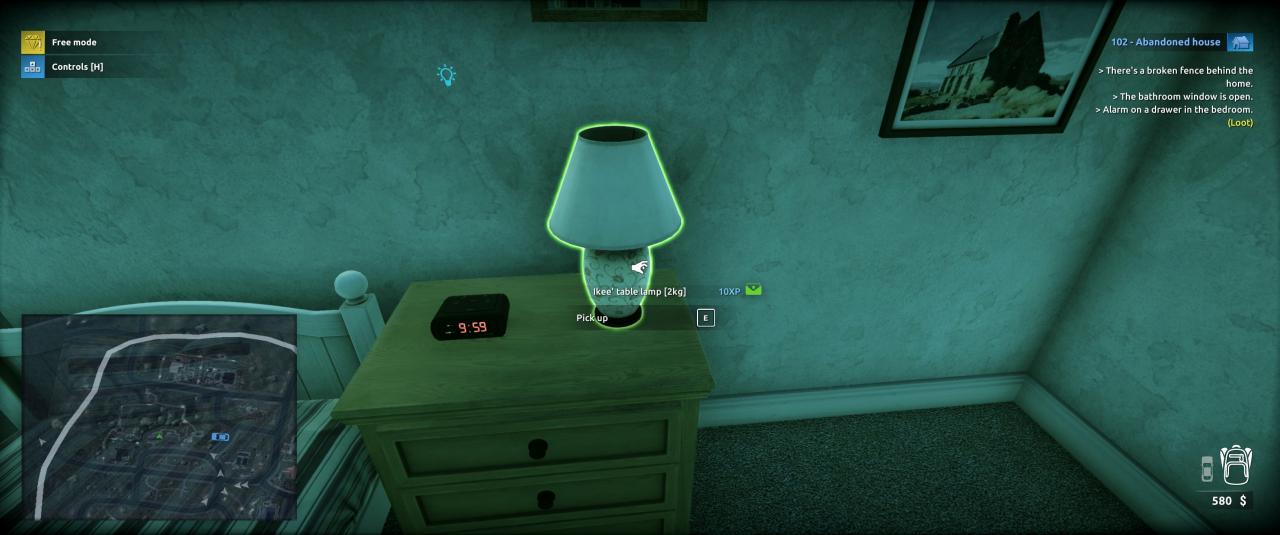 Gaming 1
Item
House
Location
Prerequisites
Screenshot
VR Set
111
Cabinet upstairs
Lockpicking 3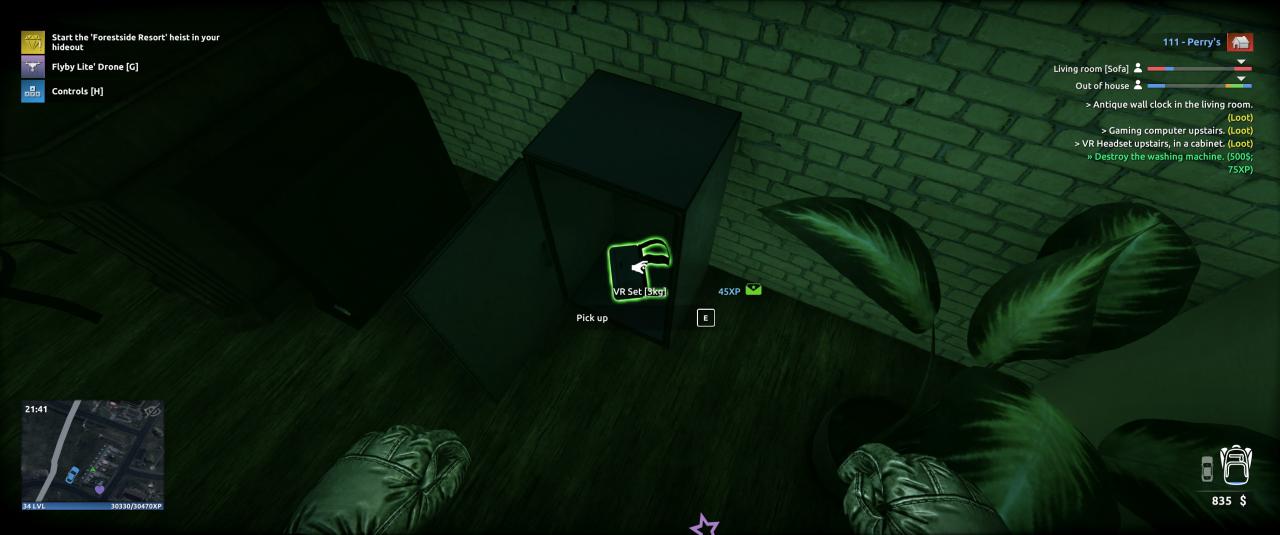 Xcube's gaming console
109
Living room
Agility 1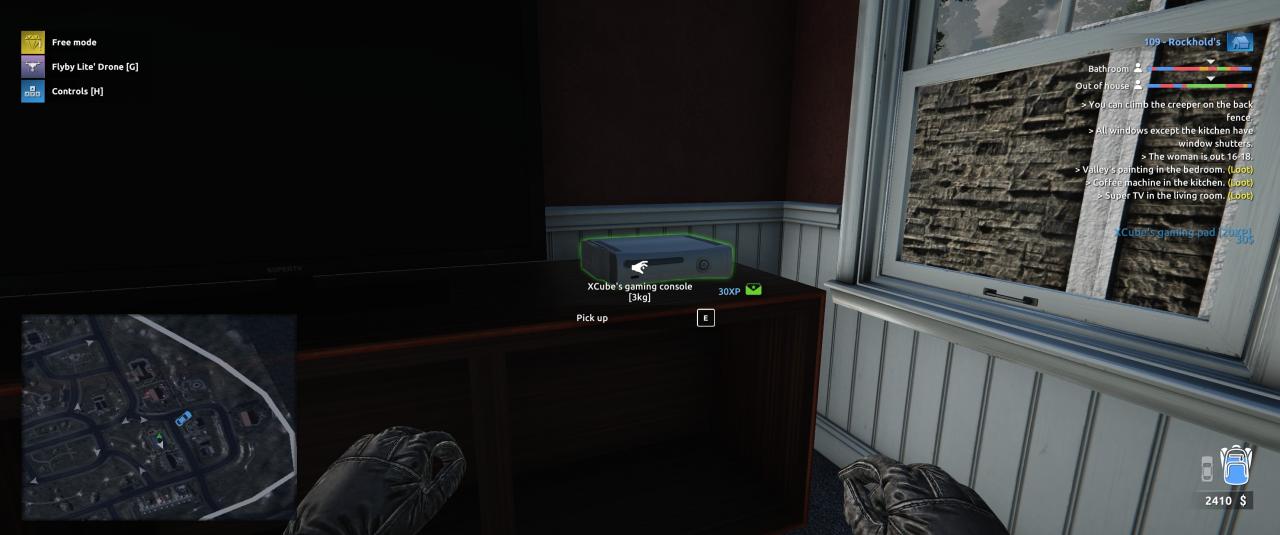 Xcube's gaming pad
109
Living room
Agility 1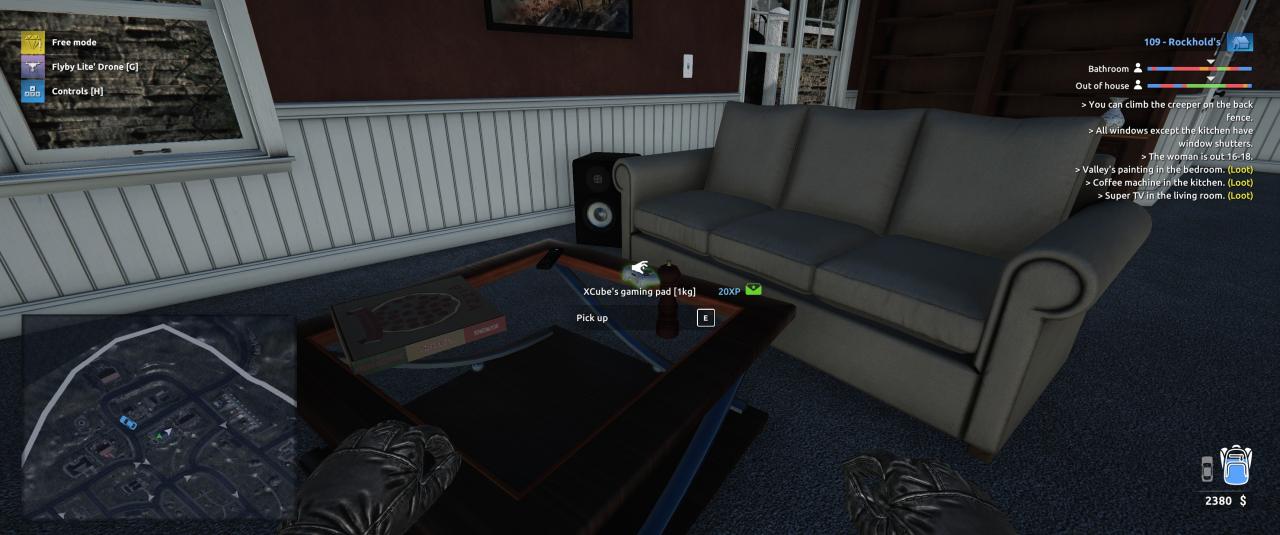 Gaming 2
Item
House
Location
Prerequisites
Gamestation 2′ gaming console
TBC
TBC
TBC
Gamestation 2′ gaming pad
TBC
TBC
TBC
Gaming 3
Item
House
Location
Prerequisites
Ninledo's gaming console
TBC
TB
TBC
Gaming 4
Item
House
Location
Prerequisites
Gamestation' gaming console
TBC
TBC
TBC
Gamestation' gaming pad (2x)
TBC
TBC
TBC
Headphones
Item
House
Location
Prerequisites
Screenshot
Headphones 'No-Name' [yellow]
108
2nd floor, on the shelf
Lockpicking 2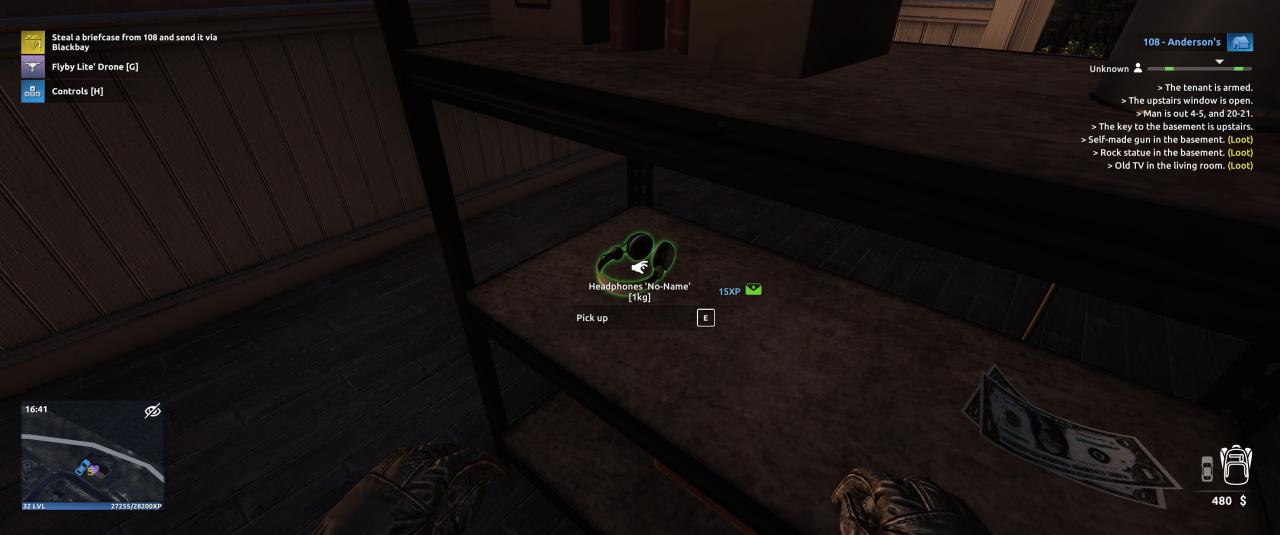 Headphones 'No-Name' [red]
109
Living room, glass shelf
Agility 1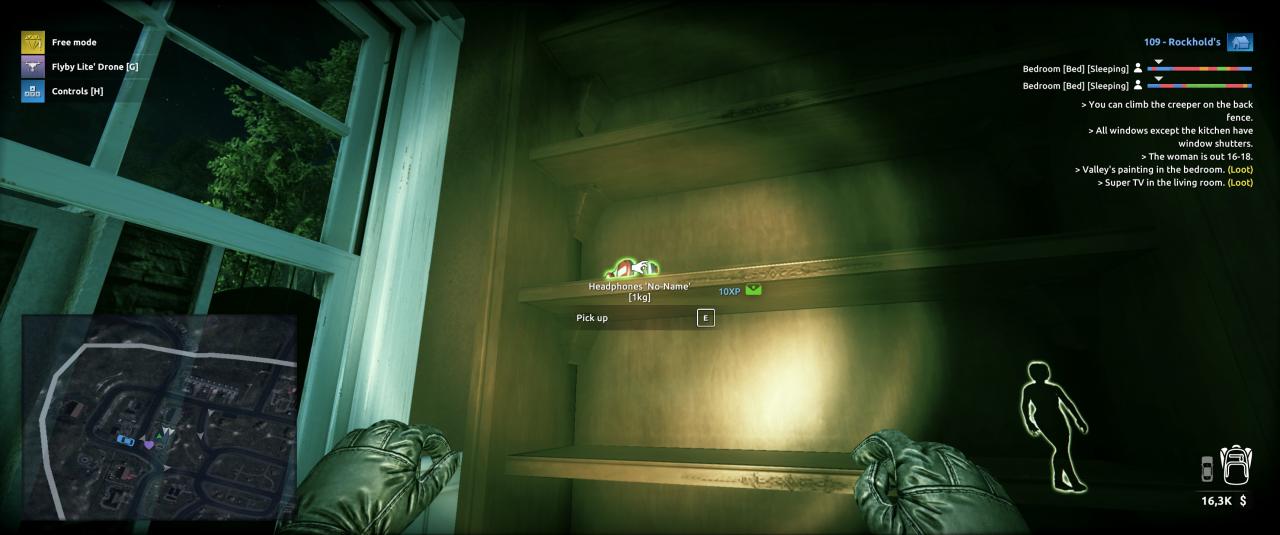 Headphones 'No-Name' [blue]
TBC
TBC
TBC
ComingSoon
Headphones 'No-Name' [silver]
102
Safe outside of the house
Safe cracking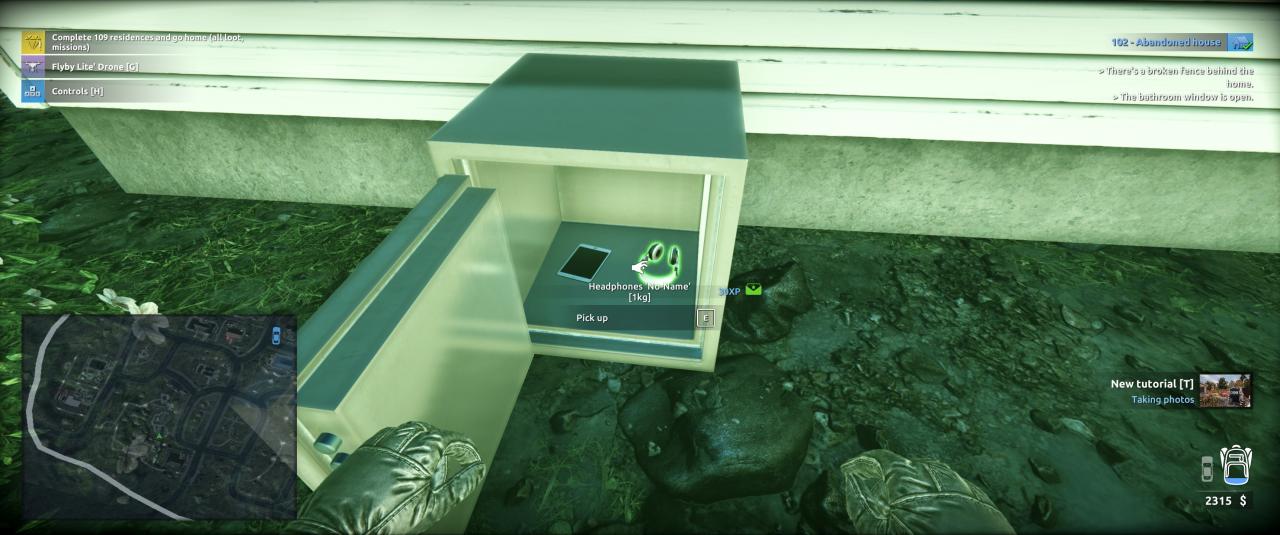 PC accessories 1
Item
House
Location
Prerequisites
Screenshot
Router
105
At the bottom of the staircase
Lockpicking 1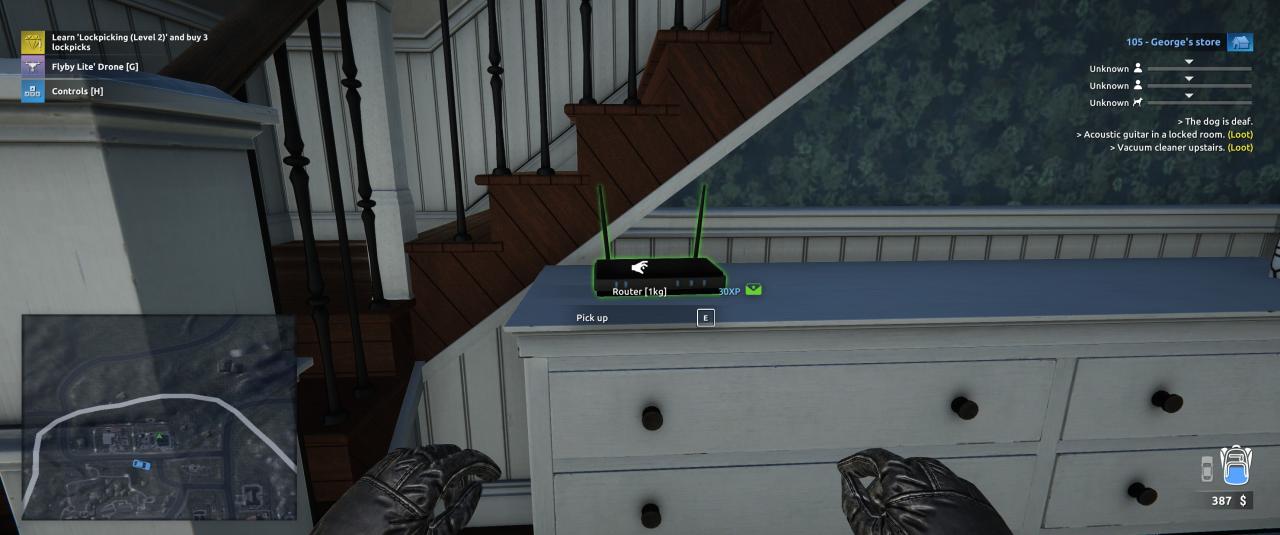 USB WiFi Adapter
105
Room 1st floor, table drawer
Lockpicking 2
PC accessories 2
Item
House
Location
Prerequisites
Screenshot
PC Mouse [variant 1]
104
Main area
Lockpicking 1
Keyboard [variant 1]
104
Main area
Lockpicking 1
Monitor [variant 1]
104
Main area
Lockpicking 1
PC accessories 3
Item
House
Location
Prerequisites
Screenshot
Drawing tablet
112
Next to stairs, in the cupboard
Agility 1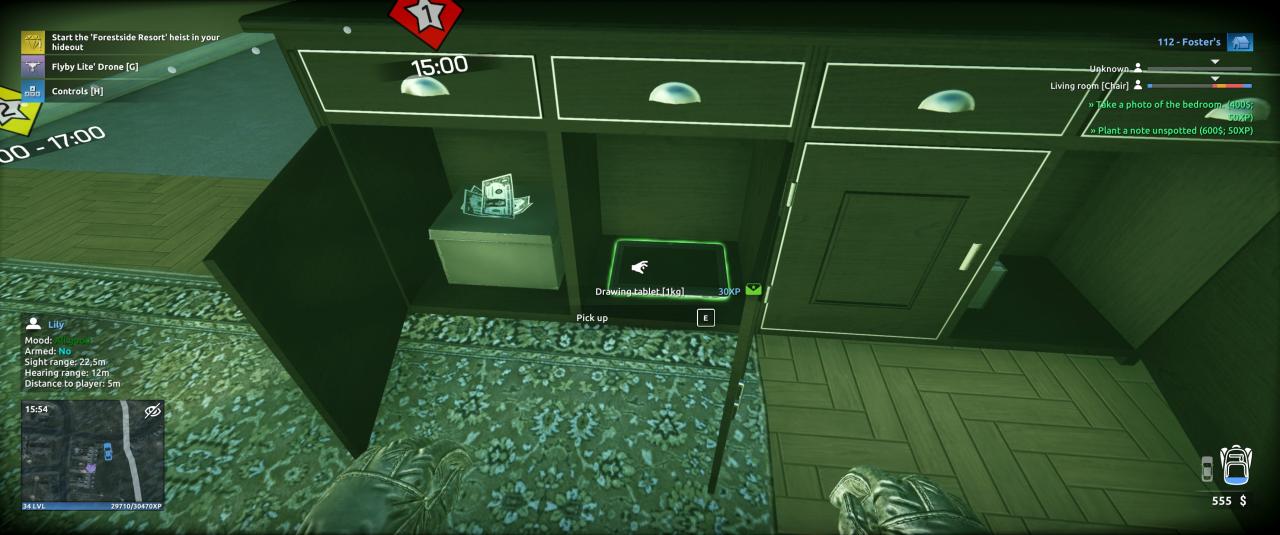 Scanner
104
Storage
Lockpicking 1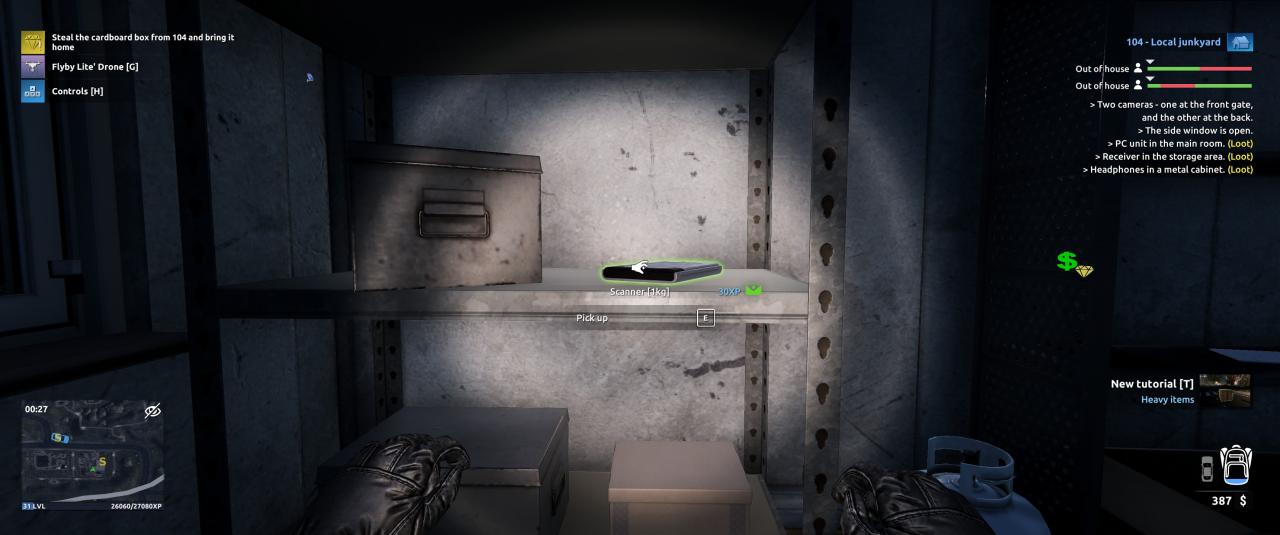 PC accessories 4
Item
House
Location
Prerequisites
Hard drive (3x)
TBC
TBC
TBC
PC accessories 5
Item
House
Location
Prerequisites
Screenshot
Low-end laptop
106
Back garden, on the table
Agility 1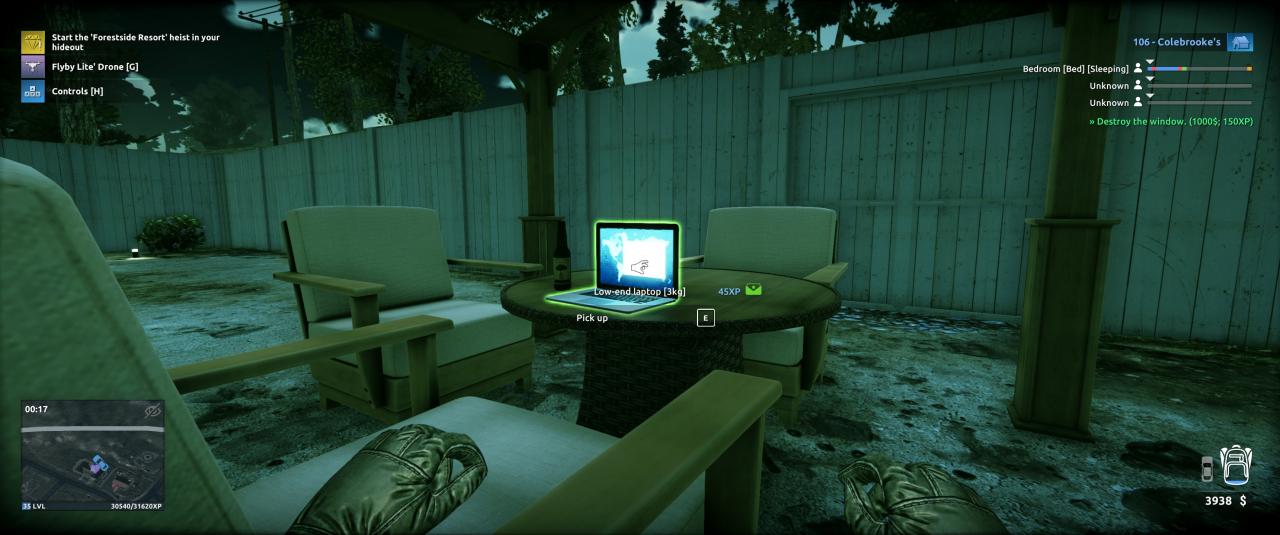 Monoblock's laptop (broken)
TBC
TBC
TBC
ComingSoon
PC accessories 6
Item
House
Location
Prerequisites
Screenshot
Decnt SSD drive (2x)
1: Police station
Chief's office
Lockpicking 2
ComingSoon
Decnt SSD drive (2x)
2: TBC
TBC
TBC
ComingSoon
Phones
Item
House
Location
Prerequisites
Screenshot
Flyp' smartphone
109
Metal cabinet in the bedroom
Lockpicking 2
ComingSoon
Motoloco' phone
TBC
TBC
TBC
ComingSoon
Sanny's phone
TBC
TBC
TBC
ComingSoon
Radios
Item
House
Location
Prerequisites
Screenshot
Cheap radio
102
In the wardrobe
None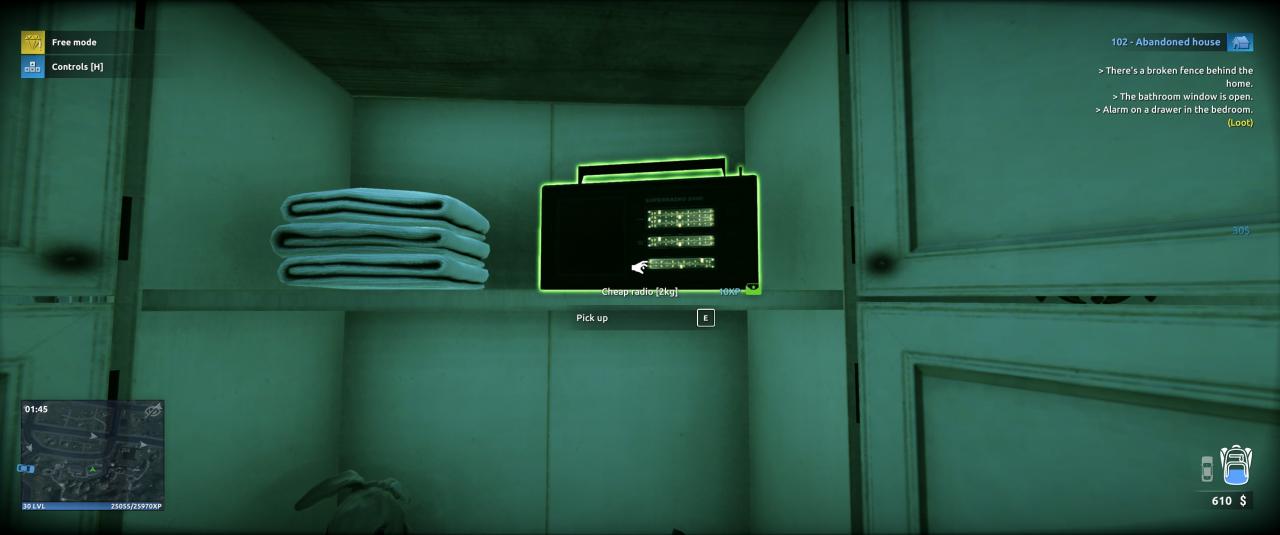 Radio
110
Bedroom
Lockpicking 1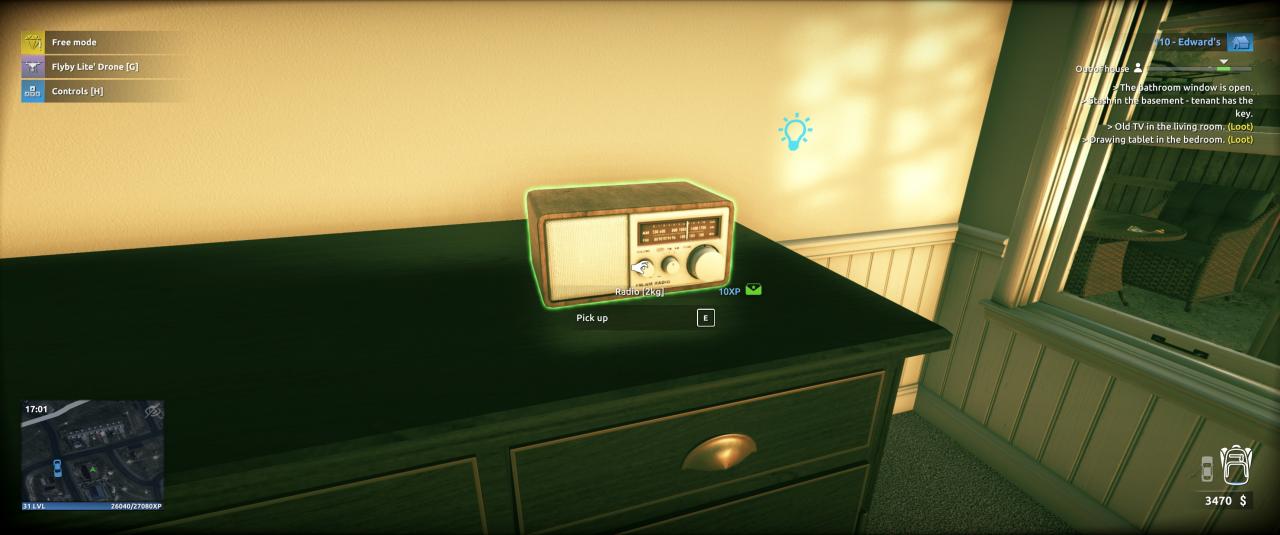 Tools 1
Item
House
Location
Prerequisites
Screenshot
Laser meter
110
Basement
Lockpicking 1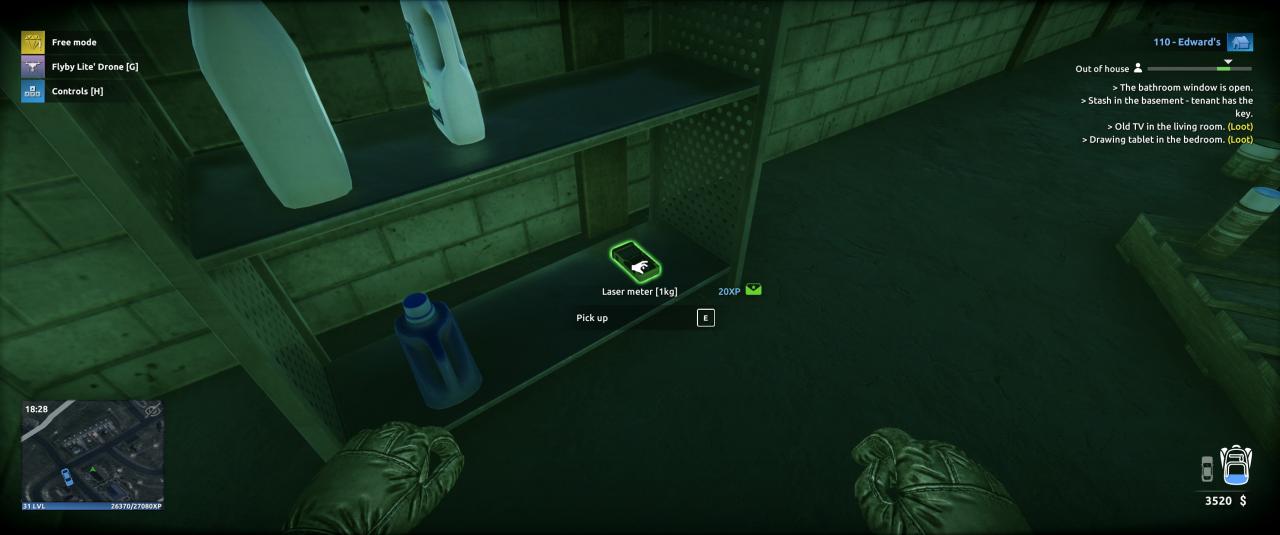 Multimeter
104
Storage
Lockpicking 1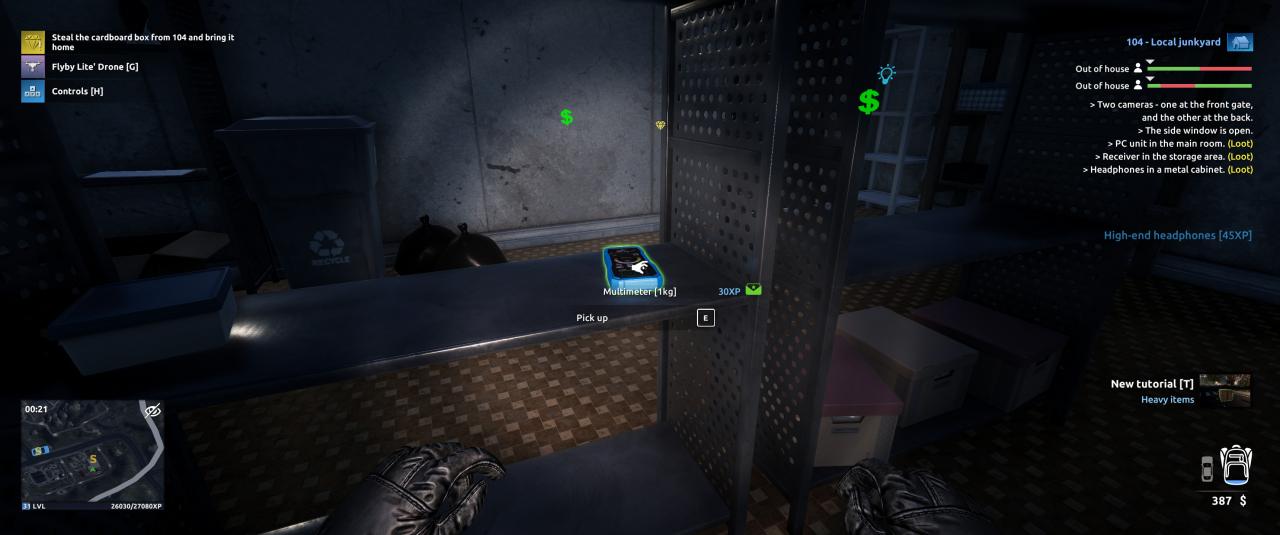 Transistor radio
108
Basement
Lockpicking 1
ComingSoon
PC accessories 7
Item
House
Location
Prerequisites
Monitor [variant 2]
Bank
Floor 2
None
Keyboard [variant 2]
Bank
Floor 2
None
PC Mouse [variant 2]
Bank
Floor 2
None
PC accessories 8
Item
House
Location
Prerequisites
USB Flash drive (16 GB)
TBC
TBC
TBC
Headphones 'No-Name' [yellow]
TBC
TBC
TBC
Kitchen
Appliances 1
Item
House
Location
Prerequisites
Screenshot
Cheap blender
TBC
TBC
TBC
Screenshot
Electric kettle
104
Bathroom
Lockpicking 1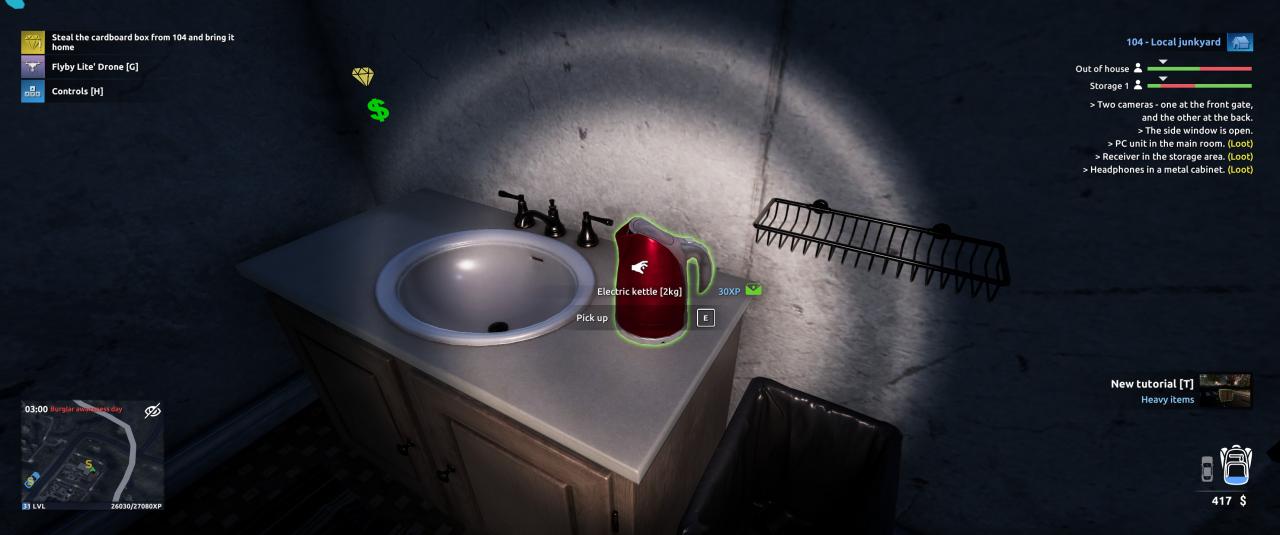 Microwave
Forestside resort
2B
Lockpicking 3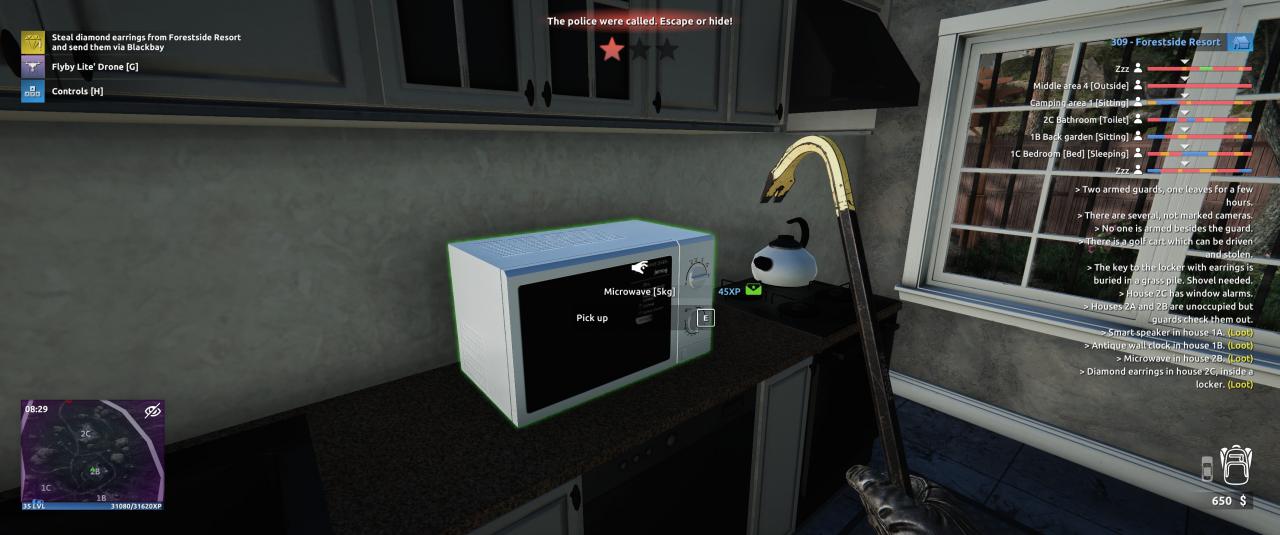 Appliances 2
Item
House
Location
Prerequisites
Screenshot
Cheap blender
109
Kitchen
Agility 1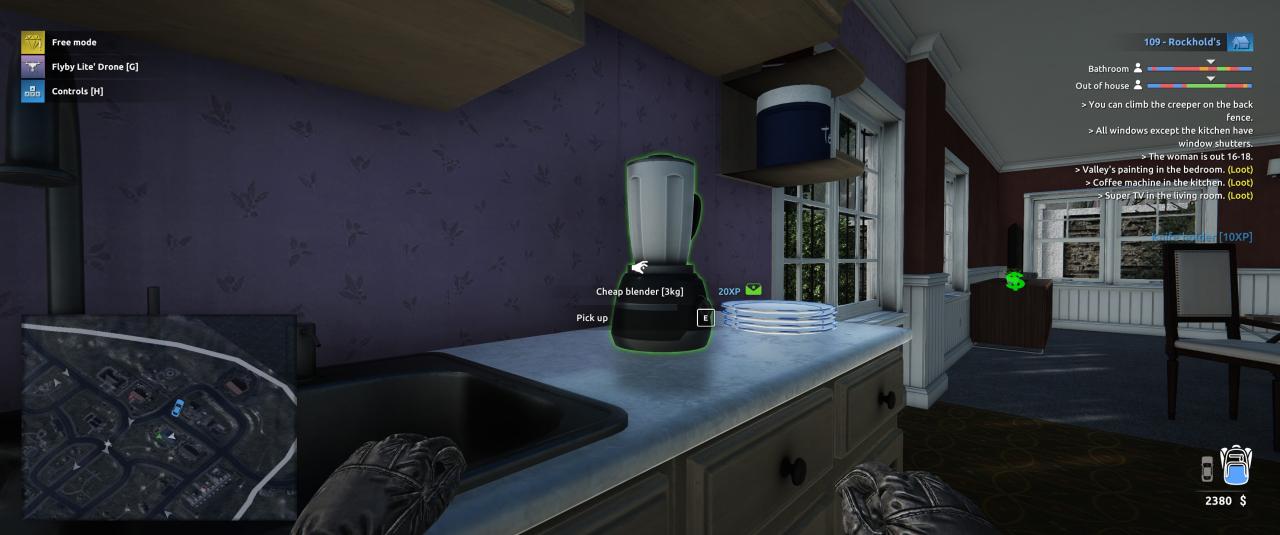 Toaster (note this is a blue toaster)
102
Kitchen cabinet
None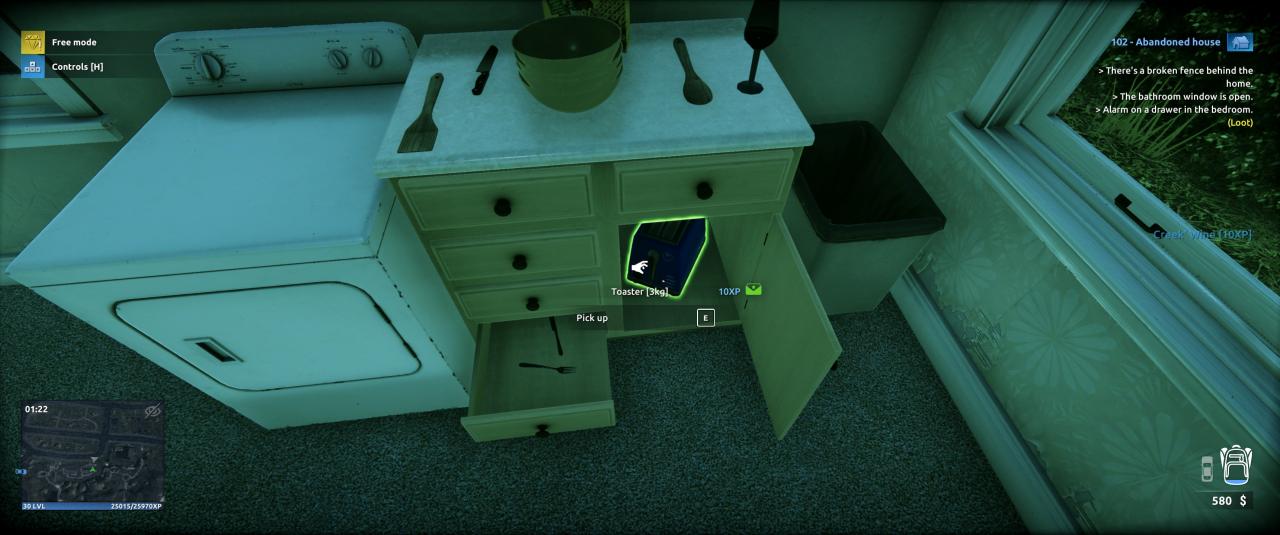 Appliances 3
Item
House
Location
Prerequisites
Knife holder
109
Kitchen
Agility 1
Pot
109
Kitchen
Agility 1
Appliances 4
Item
House
Location
Prerequisites
Knife holder
TBC
blank
TBC
Toaster (note this is a blue toaster)
TBC
TBC
TBC
Coffee Machines
Item
House
Location
Prerequisites
Screenshot
Black' Coffee machine
TBC
TBC
TBC
Screenshot
Coffee machine
109
Kitchen
Agility 1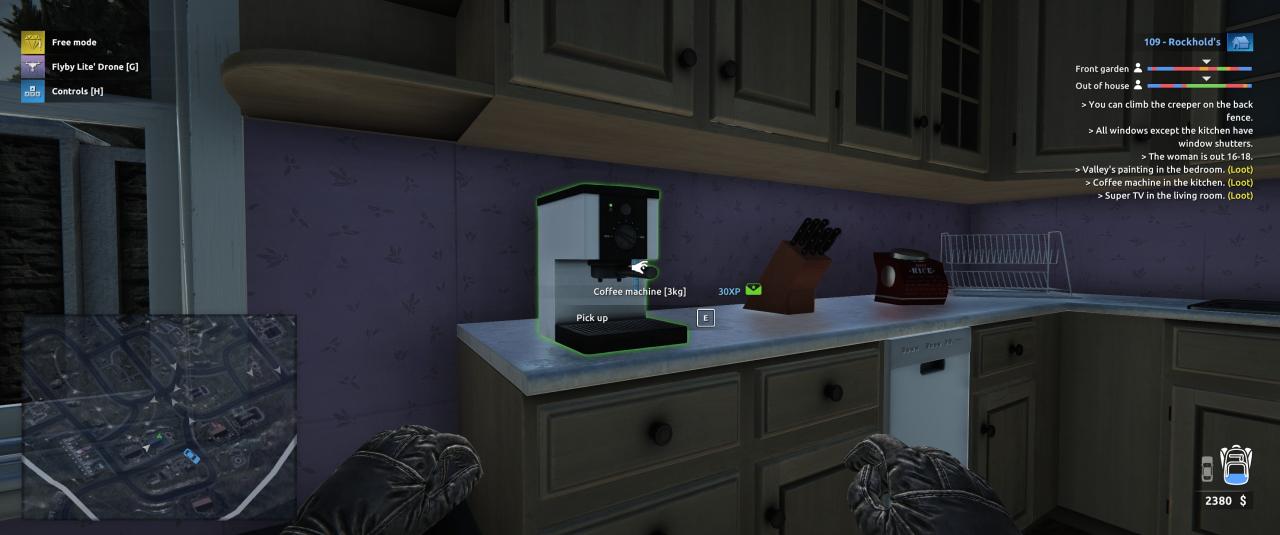 Néga's coffe maker
TBC
TBC
TBC
Screenshot
Dishes
Item
House
Location
Prerequisites
Screenshot
Frying pan
102
Stove
None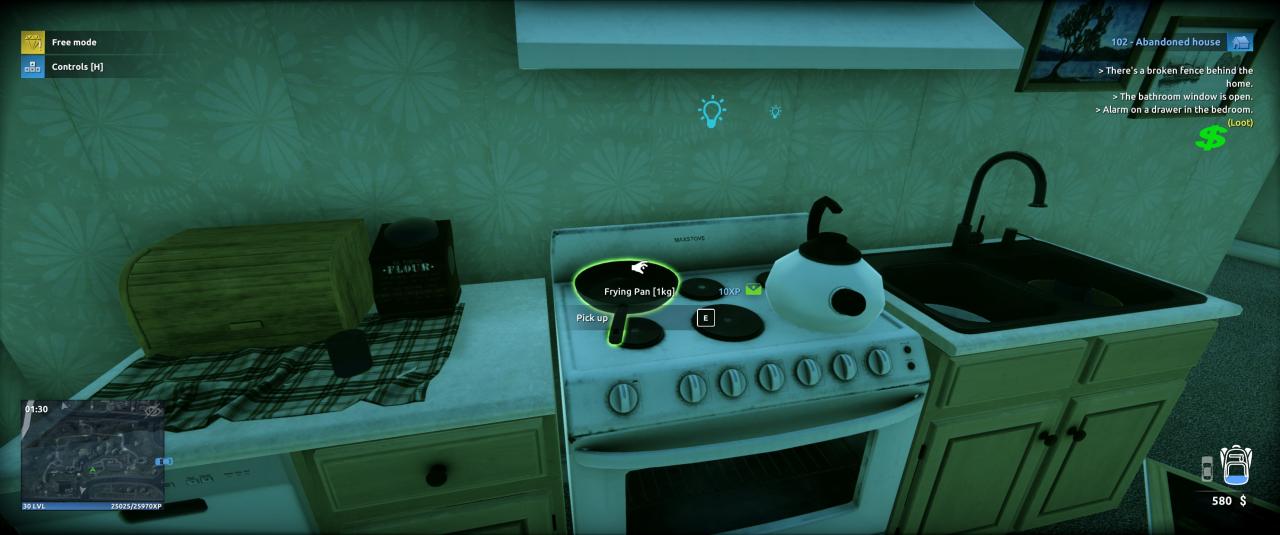 Teapot
102
Stove
None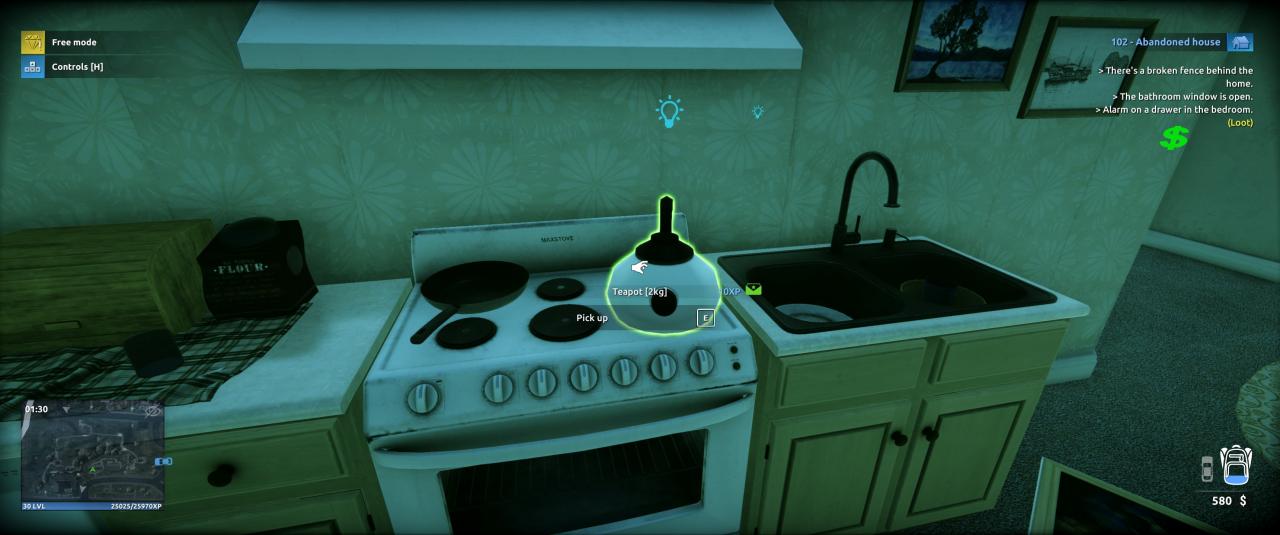 Wines
Item
House
Location
Prerequisites
Screenshot
Creek' Wine
102
Kitchen cabinet
None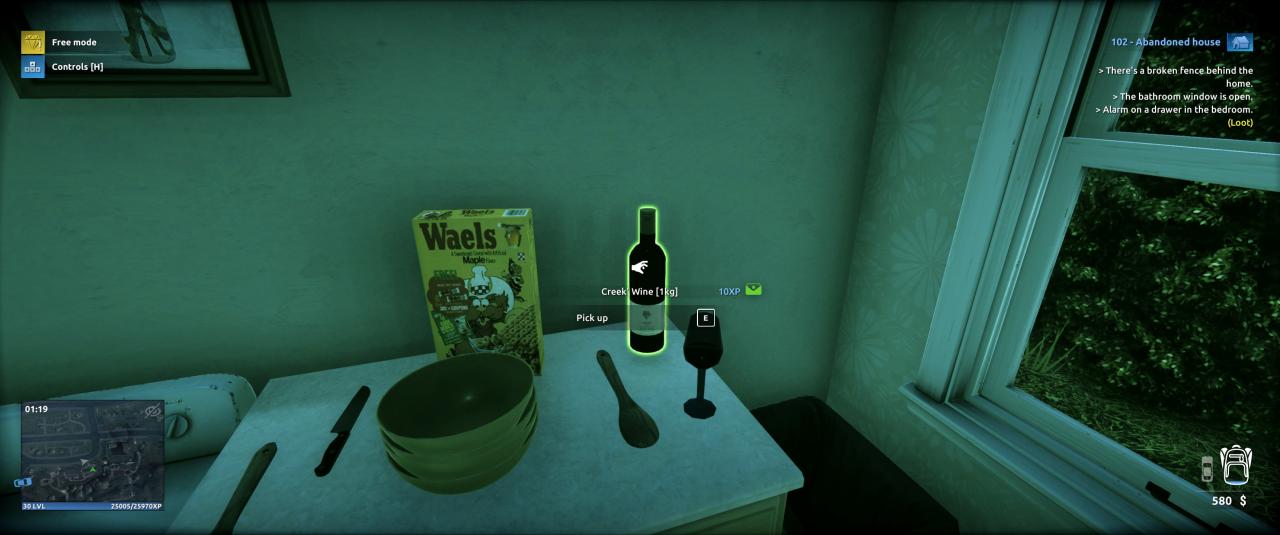 Robert' Wine
102
Under the sink
None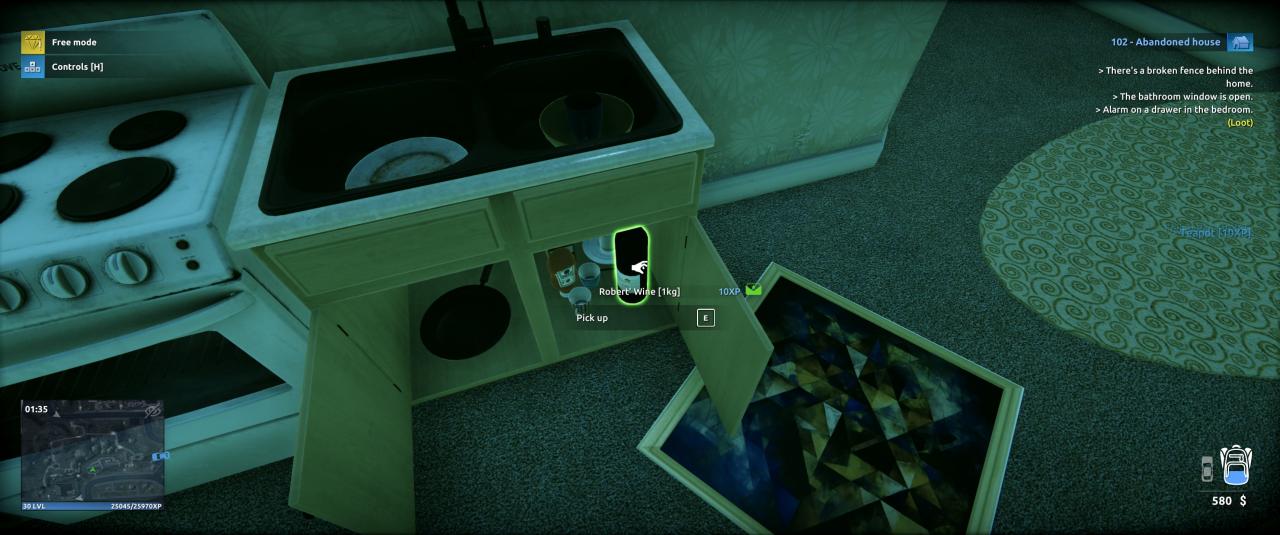 Others
Décor 1
Item
House
Location
Prerequisites
Cracked vase
112
Next to the stairs, on the cupboard
Agility 1
Orange vase
110
Bedroom
Lockpicking 1
Décor 2
Item
House
Location
Prerequisites
Head statue
103
Shelf next to entrance
Lockpicking 1
Small vase
108
Next to entrance
Lockpicking 2
Décor 3
Item
House
Location
Prerequisites
Decorative vase [flower pattern]
TBC
TBC
TBC
Decorative vase [white]
Forestside resort
2B
Lockpicking 3
Hobby 1
Item
House
Location
Prerequisites
Skateboard 'Chess'
106
Garage
Agility 1
Skateboard 'Flame'
108
Next to kitchen
Lockpicking 2
Skeleton' skateboard
TBC
TBC
TBC
Hobby 2
Item
House
Location
Prerequisites
Chessboard (3x)
TBC
TBC
TBC
Hygeine
Item
House
Location
Prerequisites
Electric toothbrush (3x)
TBC
TBC
TBC
Statues
Item
House
Location
Prerequisites
Rock staue
108
Basement
Agility 1, Lockpicking 2
Tools 2
Item
House
Location
Prerequisites
Drill
108
Basement
Lockpicking 2
Spirit level
108
Basement
Lockpicking 2
Tape measure
108
Basement
Lockpicking 2
Weapons
Item
House
Location
Prerequisites
Self-made gun
108
Basement
Lockpicking 2
Valuables
Cameras
Item
House
Location
Prerequisites
Nexon' camera
103
Cabinet in the bedroom
Lockpicking 2
Clocks
Item
House
Location
Prerequisites
Antique table clock
TBC
TBC
TBC
Antique wall clock
109
Small room
Agility 1
Guitars
Item
House
Location
Prerequisites
Acoustic guitar
104
Room 1st floor
Lockpicking 2
iMak
Item
House
Location
Prerequisites
Screenshot
iMak
Police station
2nd floor, on the table
Lockpicking 2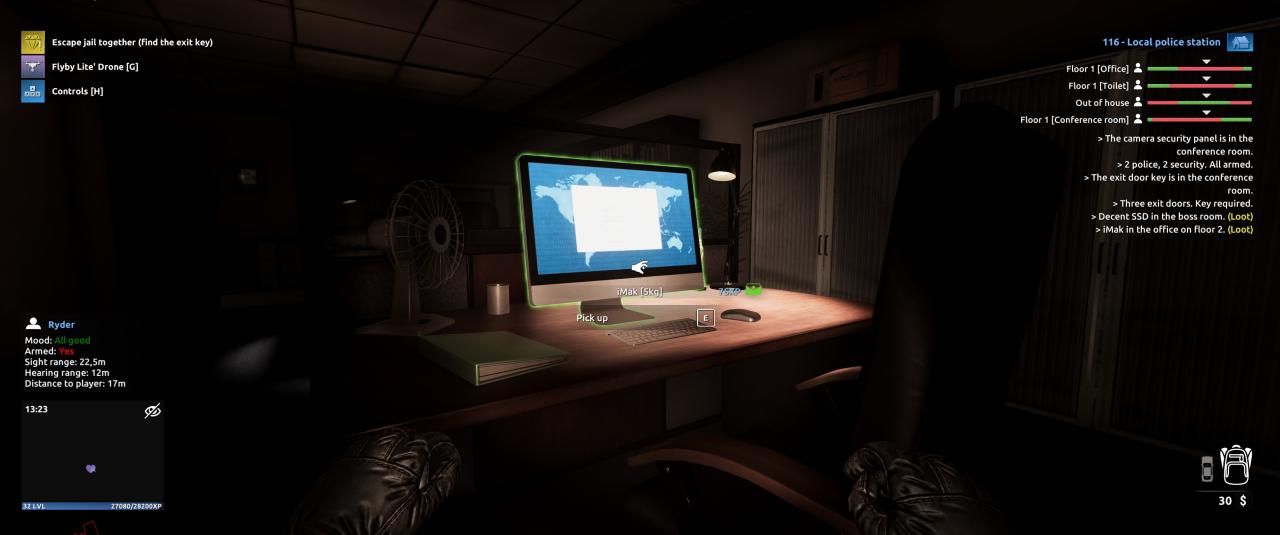 iMak keyboard
Police station
2nd floor, on the table
Lockpicking 2
same as above
iMak mouse
Police station
2nd floor, on the table
Lockpicking 2
Medals
Item
House
Location
Prerequisites
Bronze medal
110
Basement, in the drawer
Lockpicking 1
Paintings
Item
House
Location
Prerequisites
Abstract painting 'Planet'
109
Bedroom
Agility 1
Painting 'Bridge'
TBC
TBC
TBC
Painting 'Fruit tree'
TBC
TBC
TBC
Statues 2
Item
House
Location
Prerequisites
Golden head statue
TBC
TBC
TBC
Wallets
Item
House
Location
Prerequisites
Regular wallet
TBC
TBC
TBC
Leather wallet
108
2nd floor, table next to stairs
Lockpicking 2
Black leather wallet
109
Shelf next to the bedroom
Agility 1
More Guides: