This guide will show you how to install Simple Radar for CS:GO in 2022.
Short FAQ
1. What is Simple Radar?
This is a community made mod that provides a replacement for the official CSGO map layouts. The maps use a different color scheme to give the optimal contrast against red highlighted positions on the map (which is especially useful for beginners) enemies, bomb, and potential threats.
2. Can I get banned for Simple Radar?
No, Simple Radar is absolutely safe and is even used in Faceit.
3. Will this get me banned on FaceIT, ESL or ESEA?
FaceIT has officially approved it in their rules. Read about it! [faceitsupport.zendesk.com];
ESL has disallowed this for all pro competition. We are talking with them about approving it for amateur competition.
ESEA has not officially allowed Simple Radar. That being said, a staff member said it is fine. Why you ask? Changing your radar is no different than changing hour HUD fonts or colors – it's not a third party app, it's purely a cosmetic change of your game files.
1. Go to the "Simple Radar" developer's website
2. Enter your email
You will receive a link and a password to download it. Actually, you can use temporary mail to avoid clogging up your main one. For example: 
temp-mail.org
3. Go to your mailbox and find a download link. If the email has not arrived, check the correct input and the spam folder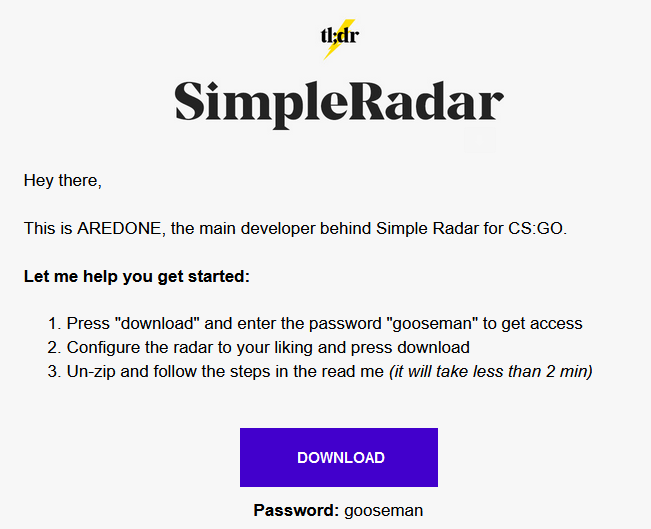 4. Click on the link and configure the necessary sliders. I recommend choosing all available ones
5. Download the archive and unpack with replacement into the following folder
<…>Steam\steamapps\common\Counter-Strike Global Offensive\csgo\resource\overviews
Actually, if you want to return the standard radar in the future, then I recommend copying the "overviews" folder.
More Guides: