PERFORMANCE INCREASE! That worked for me and looks decent.
Better Performance With less pop-in and further ground distance
You need to go to the Engine.ini file to do this and to do so you just hold Windowskey+R and then type %appdata% it will take you to the roaming tab at the top change it to local and go to Icarus.
If you do not see any of this you will need to click on View at the top and make sure "Hidden Items" is checked.
Then proceed to the Local, Icarus file then head to Saved, Config, WindowsNoEditor and then click on Engine.ini and open with notepad.
C:\Users\User\AppData\Local\Icarus\Saved\Config\WindowsNoEditor
PC Specs are – Ram 24gigs, i7-9700k, and AMD 5600 xt
if you do not like the settings you can simply just erase what you put in from the Engine.ini file and it will default back to normal.
COPY AND PASTE ALL OF WHAT I HAVE HERE FOR BETTER PERFORMANCE
Note: we recommend you to switch the English version to copy the codes below.
[SystemSettings]
r.TextureStreaming=1
r.Streaming.Boost=1
r.Streaming.LimitPoolSizeToVRAM=1
r.Streaming.UseBackgroundThreadPool=1
r.Streaming.HLODStrategy=2
r.Streaming.UseFixedPoolSize=1
r.Streaming.PoolSize=8000
r.MipMapLODBias=0
r.Streaming.MipBias=0
r.ViewDistanceScale=3
r.DetailMode=2
r.MaterialQualityLevel=1
r.LightFunctionQuality=0
r.LightShaftQuality=0
r.LightMaxDrawDistanceScale=5
r.SkylightIntensityMultiplier=0.5
r.MinScreenRadiusForLights=0.015
r.ShadowQuality=0
r.Shadow.DistanceScale=4.0
r.Shadow.RadiusThreshold=0.01
r.Shadow.RadiusThresholdRSM=0.01
r.DistanceFieldShadowing=1
r.DistanceFieldAO=1
r.Shadow.FilterMethod=2
r.ShadowFilterRadius=4
r.ShadowFilterQualityBias=4
r.Shadow.PointLightDepthBias=0.2
r.AmbientOcclusionLevels=3
r.AmbientOcclusionRadiusScale=0.001
r.AmbientOcclusionMipLevelFactor=0.4
r.AmbientOcclusionMaxQuality=100
foliage.LODDistanceScale=4
r.StaticMeshLODDistanceScale=0.50
r.SkeletalMeshLODBias=-2
r.LandscapeLODDistributionScale=3
r.LandscapeLOD0DistributionScale=3
r.SSR.Quality=4
r.PostProcessAAQuality=6
r.TemporalAASamples=4
r.TemporalAACurrentFrameWeight=0.20
r.DepthOfFieldQuality=0
r.BloomQuality=0
r.DefaultFeature.Bloom=0
r.MotionBlur.Max=0
r.MotionBlurQuality=0
r.Color.Mid=0.4
r.Tonemapper.Quality=4
r.TonemapperGamma=2.6
r.Tonemapper.GrainQuantization=0
grass.DensityScale=0
r.MaxQualityMode=1
r.Shadow.CSMDepthBias=8
r.Shadow.CSMSplitPenumbraScale=1
r.Shadow.TexelsPerPixel=16
r.Shadow.MaxSoftKernelSize=80
r.Shadow.MaxCSMResolution=4096
MY IN GAME SETTINGS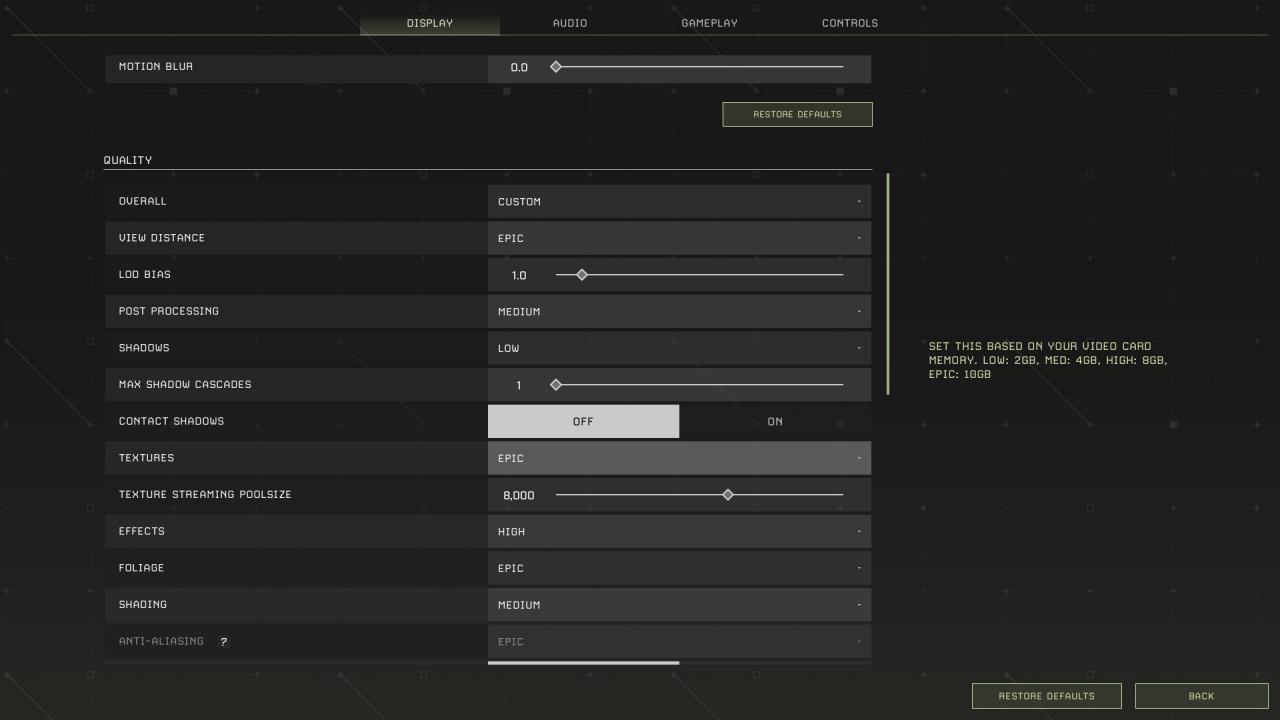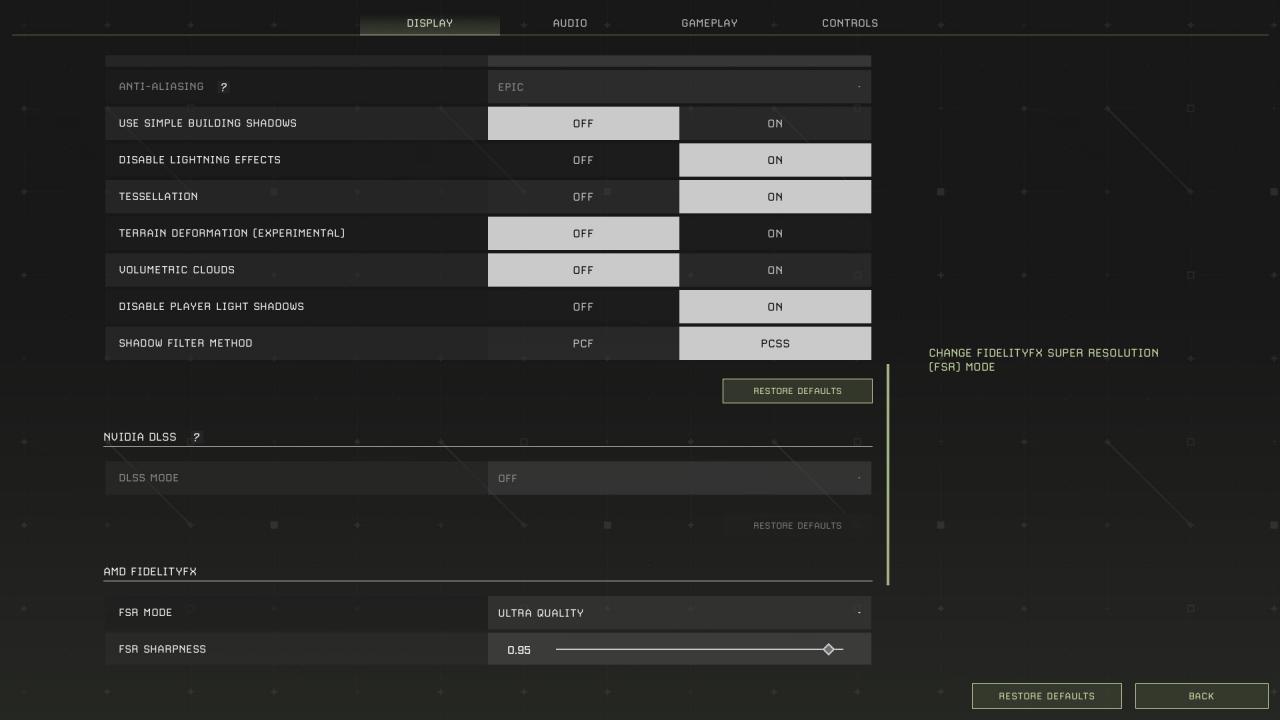 If you have an NVIDIA card use the DLSS for some reason it gives FPS increase and looks better also put your FOV to 120-130 you will get more FPS and better performance also.
By Insane
More Guides: