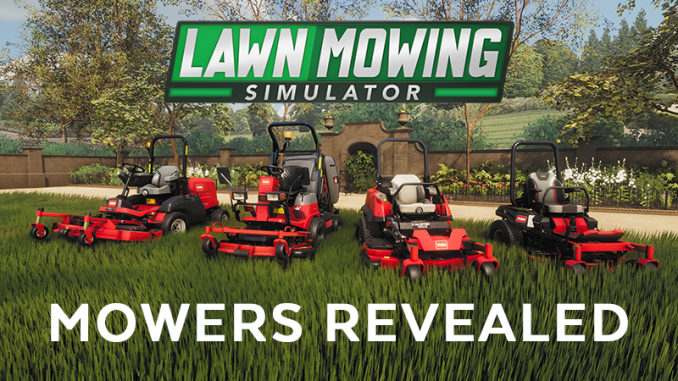 Here are some common FAQs for you to start the game. enjoy it.
Lawn Mowing Simulator FAQs
What is Lawn Mowing Simulator?
Lawn Mowing Simulator is the only simulator that allows you to ride an authentic and expansive roster of real-world licensed lawn mowers from prestigious manufacturers; Toro, SCAG and STIGA as you manage your mowing business. You will complete contracts, hire employees, expand your headquarters, and more
What game modes are in Lawn Mowing Simulator?
Lawn Mowing Simulator features three game modes:
Career Mode:
You will build a business from the ground up, taking contracts as you work through a calendar year, whilst expanding your business and garage. You'll eventually hire employees, take on bigger and better jobs, pay loans, pursue advertising opportunities and build the lawncare business of your dreams.
Challenge Mode:
Take on tasks to prove your mowing prowess and skill with unique tricky conditions that must be met. Mowing efficiently with limited amounts of fuel, racing against the clock under strict time-limits or striping a large lawn are all challenges that you will encounter in this mode.
Free Mow:
Tied to Career progression, Free Mow allows you to repeat any contract with any mower of your choice with your own cut height, weather and more. In this mode you're free to try things your way without any repercussions or just to re-mow your favourite location.
What vehicles are in the game?
There are twelve vehicles in the game split into two categories; 9 Real-World Mowers and 3 Fictional Brand Mowers. Our real-world mowers come from prestigious manufacturers SCAG, STIGA and TORO.
How long is Lawn Mowing Simulator?
Alone, Career Mode completion could likely clock in at around 25-30 hours (although is endless and loops around with contracts) depending on how you play, when you factor in the potential of time for Challenge Mow, Achievements and Free Mow, it could be well over 50+ hours although playtime varies lots per player, we're confident that there's plenty of content here for you to mow!
Who are Skyhook Games?
Skyhook Games are a studio of veteran simulator developers who have worked contractually for years with Dovetail Games on Train Sim World. Lawn Mowing Simulator is their first foray into creating their own title.
Where can I find out more information about Lawn Mowing Simulator?
Please join our Discord to ask any questions to the developers, moderators or fans of Lawn Mowing Simulator.
Will there be any DLC for Lawn Mowing Simulator?
Currently we're scoping out what the near and far future is going to look like for Lawn Mowing Simulator – be that mowers, locations or full brand-new features, but rest assured that launch is just the beginning of this journey, and we hope you join us as we make the definitive Lawn Mowing Simulator game – we'll have more to announce soon!
What kinds of locations can I mow?
Lawn Mowing Simulator is set in a fictional British countryside town inspired by real world locations. You can expect to mow fields, parks, residential streets, castles, manors and more as you build your mowing business from the ground up.
Is there a weather system in the game?
Lawn Mowing Simulator uses a real-world weather model based on scientific data gathered in the United Kingdom to give close to accurate day-to-day weather based on the calendar months. Sun, Clouds, and Rain will all be extra forces you must contend with when mowing.
Can I change my currency to Dollars or other currencies?
Lawn Mowing Simulator is set in the United Kingdom and as such does not support
I keep churning up the grass easily/damaging the ground:
When Mowing you need to be aware of the rain and weather conditions as well as your speed, when turning, make sure you're turning gently, and be gentle with the acceleration of the vehicle on delicate ground.
Is there Multiplayer?
Lawn Mowing Simulator is a Single Player game at its heart, and this is our focus for the time being. We are actively looking into what form Multiplayer could take in the future, but this is a big task for us.
What platforms is the game available on?
The game is available on PC and Xbox Series X|S.
By Drazzan
More Guides: