Hello everyone, after my fair share of 10 hours since the release of the game, I realised a lot of people might get confused by the game's system of getting new heroes for you to play, so I made this guide.
In this guide I'm going to explain how you can unlock every character in the game AND easy ways for new players to unlock some of them.
TICKET CHARACTERS:
Include:
Tenya Lida
Itsuka Kendo
Denki Kaminari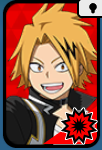 Ticket characters are unlocked by buying hero tickets in the shop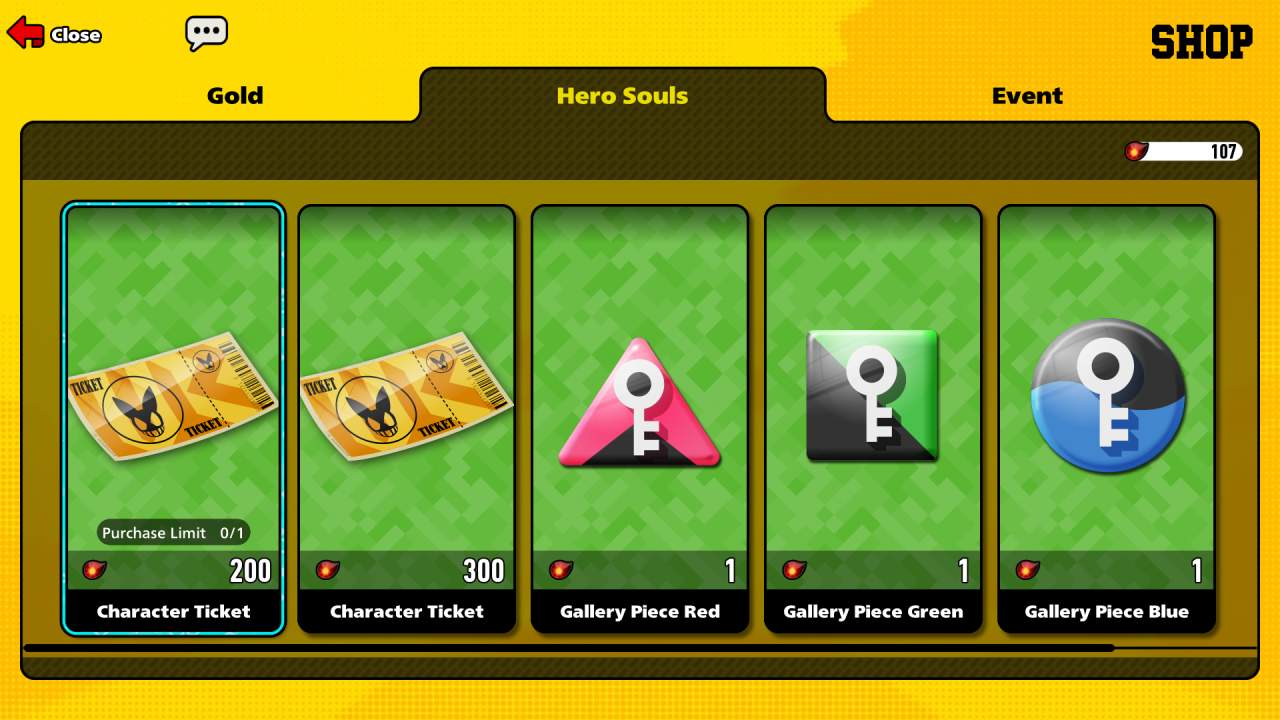 Tickets are bought with Hero Souls 

You can get Hero Souls by getting duplicates from rolls in the gacha section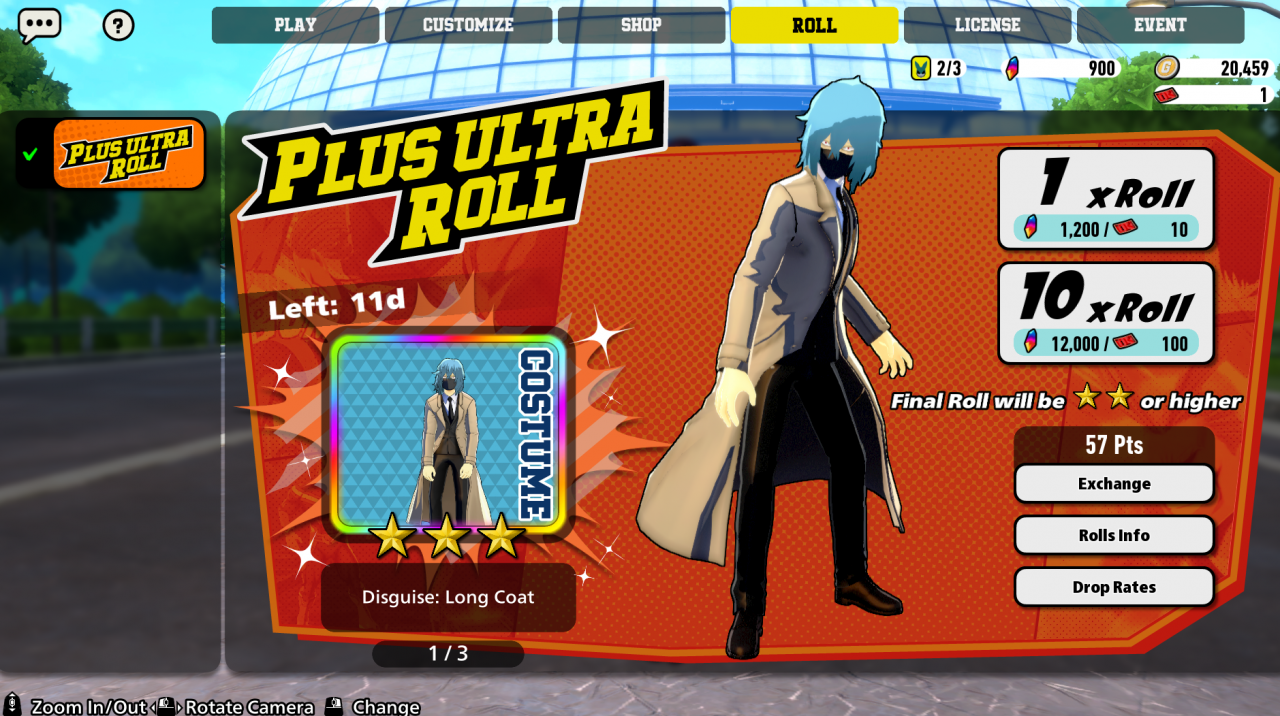 it is easy to get 200 Hero Souls if you are lucky enough to get a three-star duplicate
ROLL CHARACTERS:
Include:
Eijiro Kirishima
Momo Yaoyorozu
Ibara Shiozaki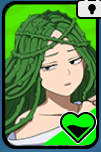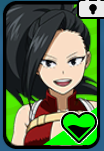 Roll characters are essentially obtained by using the gacha system (respectively three-star rarity)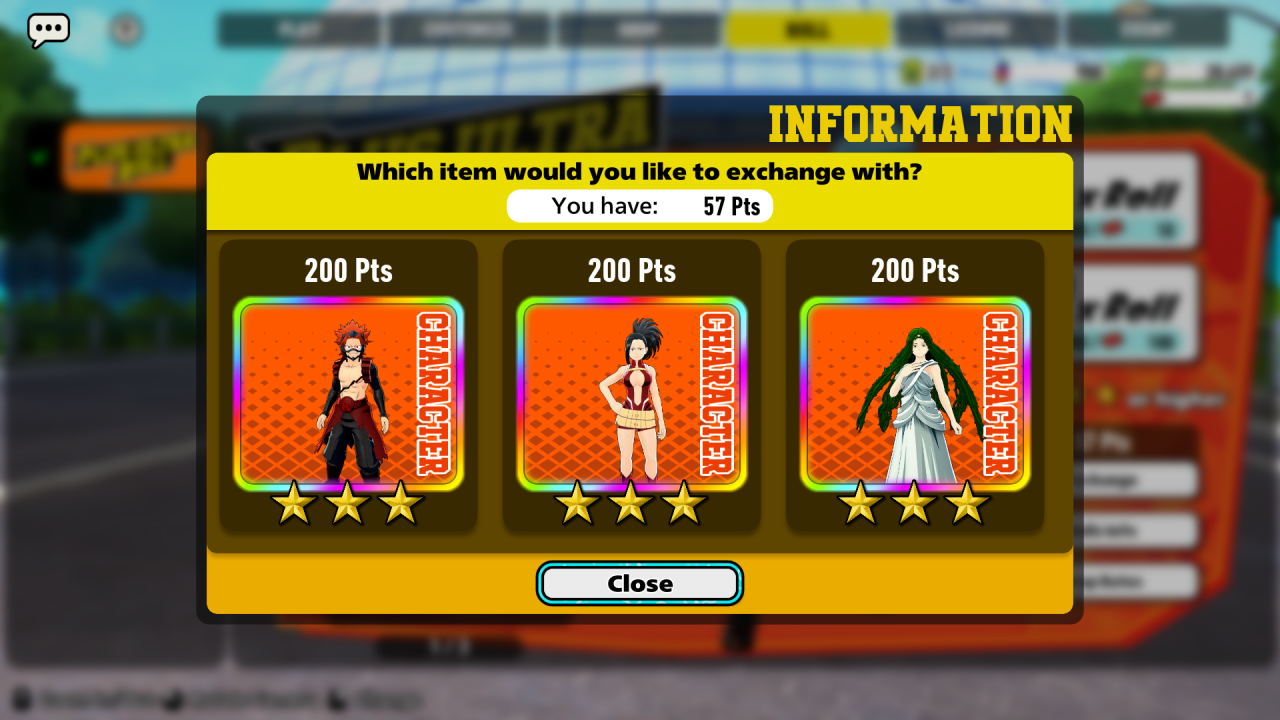 You can also exchange some "Points" by using the gacha around 200 times for one character and is by far the hardest characters to obtain in the game, being purely about luck
LICENSE CHARACTERS:
Include:
Katsuki Bakugo (tier 2)
Shoto Todoroki (tier 3)
Tsuyu Asui (tier 7)
Mr. Compress (tier 13)
Himiko Toga (tier 15)
All Might (tier 30)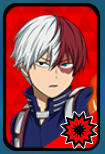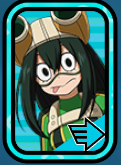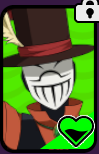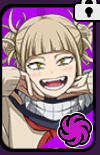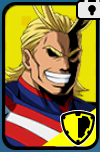 License characters are obtained through the "battle pass" of the game in the special section, however this battle pass doesn't seem seasonal and seems rather permanent for every player so far.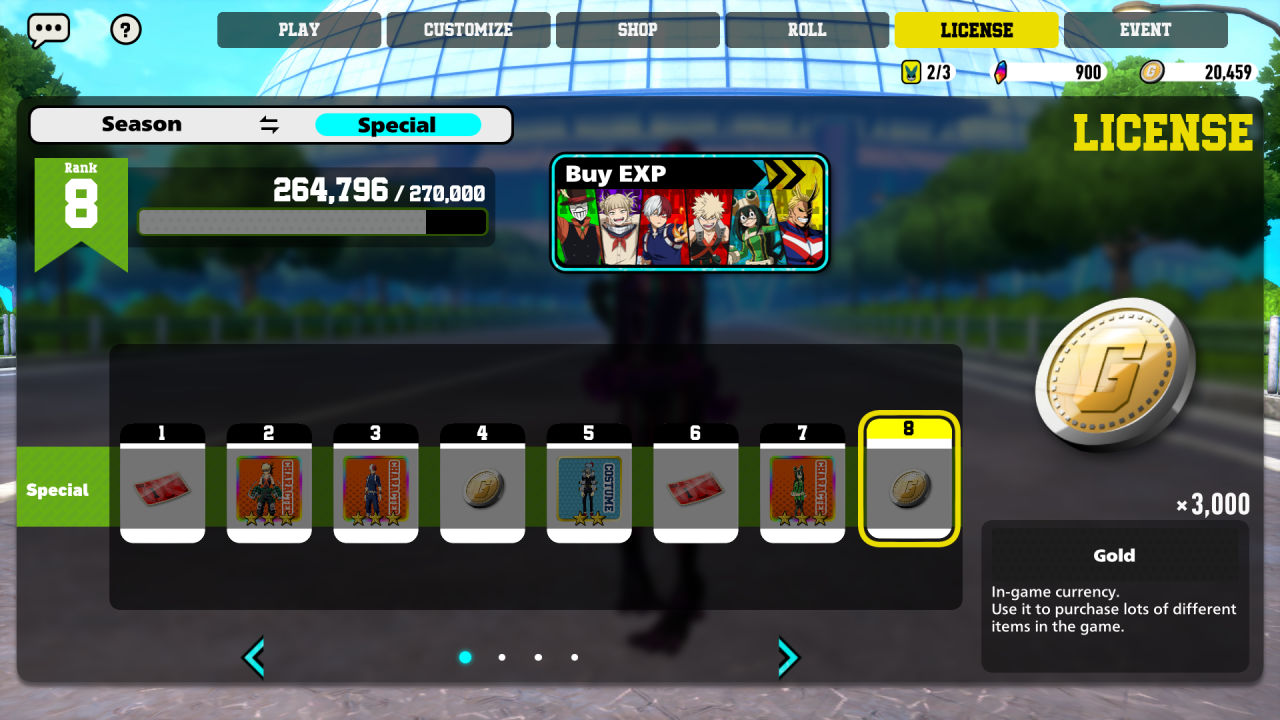 To unlock a single tier in the battle pass you need around 30k of experience, to put that into perspective you get 5k max xp when you win a multiplayer match, so you would need around 6 wins to unlock a single tier, making All Might the character that would take you the longest to unlock (personally sorry for All Might enthusiasts)
Easiest ways to get SOME characters
In my journey as a new player of MHUR I found some easy ways to get certain characters so I will share some just so you guys get some more characters to play with:
EASILY UNLOCK BAKUGO, TODOROKI AND ASUI: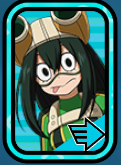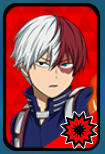 WARNING: IF YOU JUST STARTED THE GAME, YOU HAVE TO SAVE UP YOUR INITIAL HERO CRYSTALS FOR THIS METHOD


the game has a starting event for release which offers hero crystals for event tokens.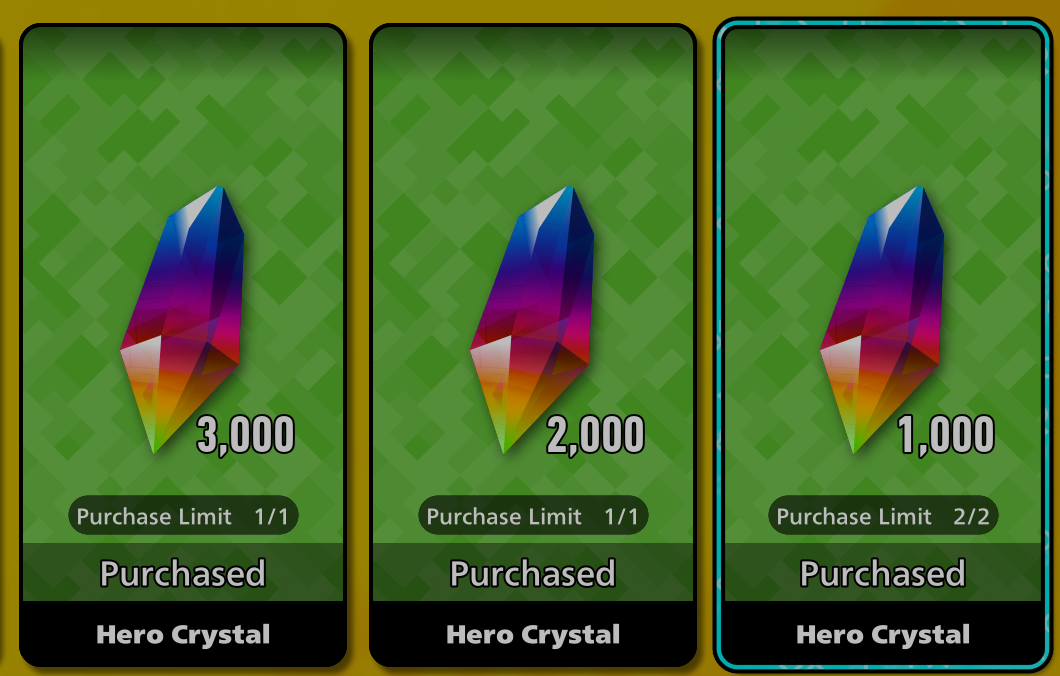 These event tokens can be obtained through fairly simple missions, here's the easiest you could do that I could find (for Asui missions just use trial tickets to be able to complete them, if you want to know about the trial tickets just go to the last section of this guide)




By having all of these Hero Crystals, you can skip about 6-7 tiers in the License Special section which gives you these three heroes for you to play with
(Thanks to Ren-Kun in the comments:)
All these crystals that you obtain, can also be used for the premium pass for the license which gives you 4.5k in return if you complete it.
However, this season license lasts +50 days until it expires meanwhile the current event expires in +15 days, which gives you some time to get enough crystals for the premium pass if you decide to spend it on tier skips
IS YOUR OWN DECISION HOW YOU WANT TO SPEND YOUR HERO CRYSTALS
EASILY UNLOCK ONE OF THE TICKET CHARACTERS: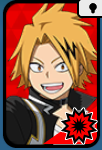 The game offers you a free ticket in the player notifications mail, which is just in the leftmost corner in the main lobby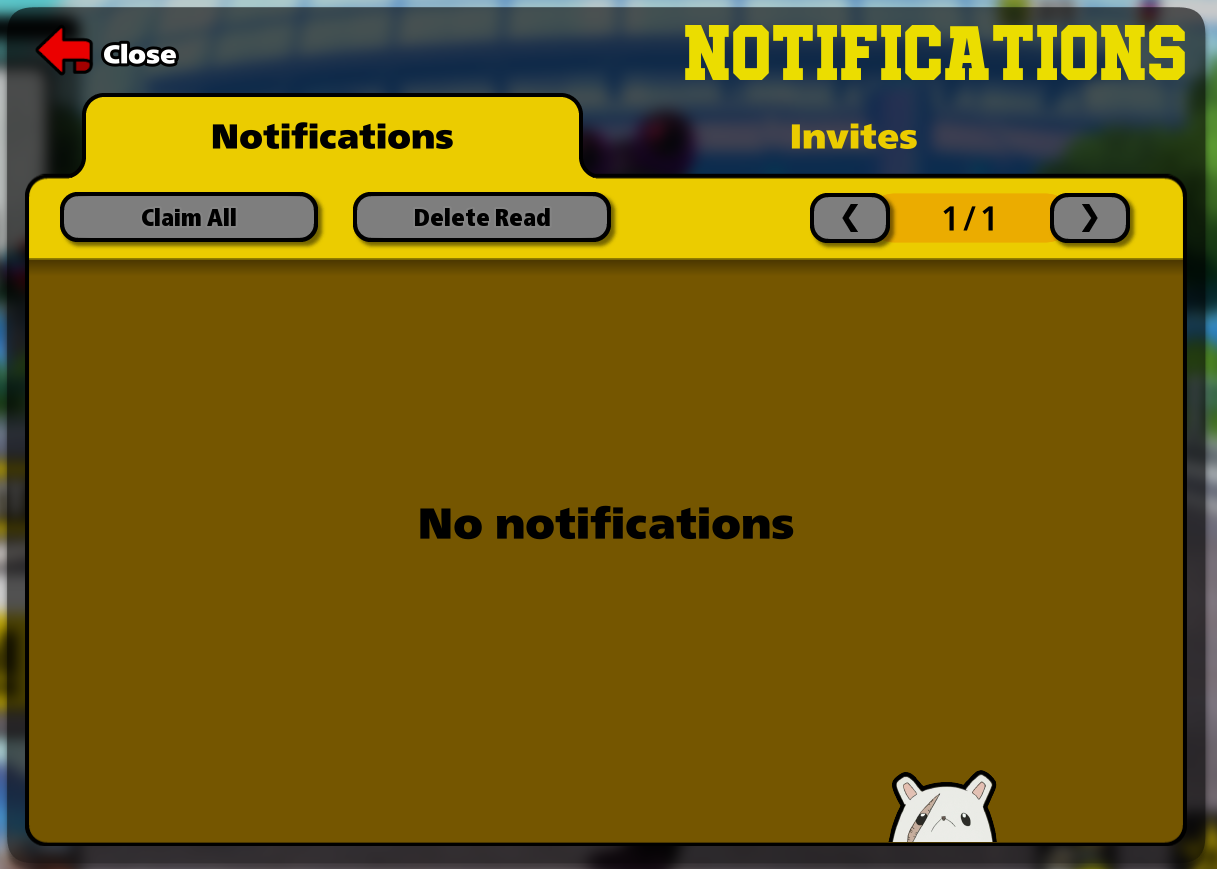 Mine is empty, but if you are a new player you'll find a lot of notifications from the game that give you some rewards, one of them is a free ticket to claim one of the aforementioned.
(You can also get a second ticket by having the mere luck of getting a three-star duplicate in the gacha which gives you 200 Hero Souls immediately making you able to buy a ticket in the Hero Soul store)
EASILY UNLOCK ROLL CHARACTERS: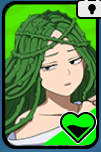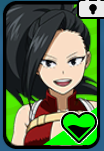 To be honest with you all, with these ones you just ought to be lucky to get atleast one of them, but if you have received all the rewards from the notifications panel, you'll get +200 of red tickets to spend in the gacha.
Those +200 red tickets can afford you two x10 gacha rolls which could probably give you one of these characters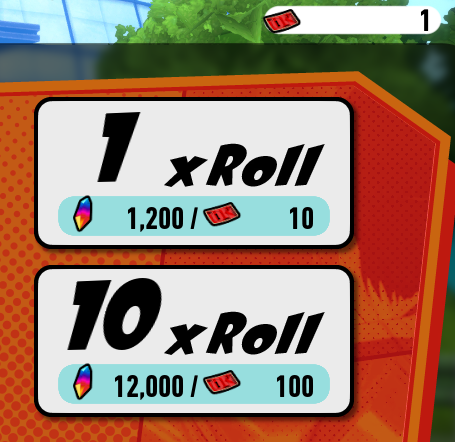 However, the easiest way to get these characters, is sadly with time and patience.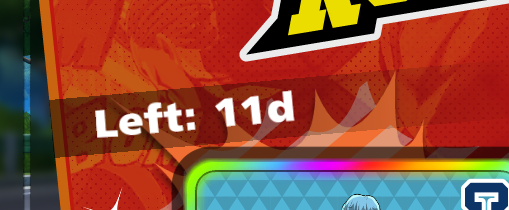 It is said by the official twitter of the game that if the roll lineup characters get removed, they'll be accessible with tickets now



So if you want a guaranteed unlock for a specific character in this section of characters, it is better if you just wait until they get removed from this section, probably after the gacha season ends.
as for Toga, All Might and Mr. Compression, they're just locked until you play this game more than enough and sadly there's isn't really a fast and easy way to get them for now.
How you can choose any character with a cost + Final Goodbyes
Thanks for reaching the end of this guide and hopefully this helps some of the new players to get a character they like, I know that unfortunately not every character is easy to get, but if anything, you can use trial tickets to play ANY character. (They refill every 6 hours or so that's what I think, 1 trial ticket gives you the possibility to play as the character you want for 1 game)

I wish you all have fun with the game as well.
More Guides: