If you're a fan of fast-paced first-person shooters on Roblox, then you've likely already played Arsenal. With a massive arsenal of weapons and a variety of game modes to choose from, it's no wonder that this game has become so popular. But what if you could take your Arsenal gameplay to the next level? That's where the PWNERS V2 script with Free GUI comes in. In this article, we'll introduce you to this powerful script and provide a step-by-step tutorial on how to use it in-game to dominate the competition. So buckle up and get ready to become a true Arsenal champion!
Updated March 24, 2023
Roblox Arsenal Script March 2023
Author: Ash01#0947
Game: Arsenal
Features:
SILENT AIM
AIMBOT
ESP BOX
TRACER
ESP NAME
THIRD PERSON
RAPID FIRE
INFINITE AMMO
RGB GUN
BUNNY HOP
ANTI AIM
INFINITE JUMP
Code:
loadstring(game:HttpGet(("https://raw.githubusercontent.com/Maikderninja/Maikderninja/main/PWNERHUB.lua"), true))()
How to Use the Script in Arsenal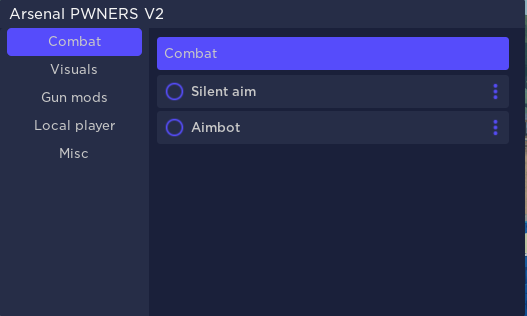 First, open the exploit that you have installed on your computer.
Launch the Roblox game "Arsenal" and wait for it to load.
Once the game has loaded, click the "Attach" button in your exploit and select the process for Roblox.
Now, navigate to the script that you want to use, which is 'PWNERS V2' script with Free GUI in this case. Copy the script.
In the exploit, there should be a text box labeled "Script Executor." Paste the script into this box.
Click the "Execute" button to run the script.
Once the script has been executed, you should see the Free GUI interface appear on your screen.
From there, you can use the GUI to toggle various cheats and hacks in the game, such as aimbot, ESP, and more.
It's important to note that using exploits and scripts in games is against the terms of service of Roblox and may result in consequences such as account bans. Use at your own risk.
More Guides: