Even though I really like this game, I found starting out a bit overwhelming, especially selecting the right units for my army.
Until I started reading up comments in discussions and other guides, I kept hiring units that were a waste since either their highest tier is rather underwhelming or simply because I hired a unit that progressed into the wrong branch on the promotion tree.
I kept thinking for myself that it would be great having a place where I can look up and compare high tier unit stats on level 20 and also see the whole promotion tree, so when I need to decide whether to hire a unit or not, I can make an informed decision and not just simply rely on the name. Unfortunately, the Sands of Salzaar wiki wasn't much of a help either. It (kind of) shows the promotion tree but no stats and skills (which yes you can look up in game, but only after you hired a unit that is somewhere on that specific promotion tree).
For this reason, I thought I compile a very simple guide, which contains the stats of the units, which I find great to use and the promotion tree as well as where to get them. I started with units that I personally really like, however, I, by no means, claim that this is a complete guide nor that any units not listed here aren't good, so I'm happy for you to comment with more great units and ideas. Since I am a newby myself, there are, most likely, a lot of great units that I missed, so I'm happy for you to let me know more great units and ideas. I myself would love to discover more amazing units or different ways of playing the game. 🙂
Will try to keep updating this guide with more units.
Note that I didn't discover these units on my own but rather took what other players recommended in either discussions or their own guides.
Thur Warmonger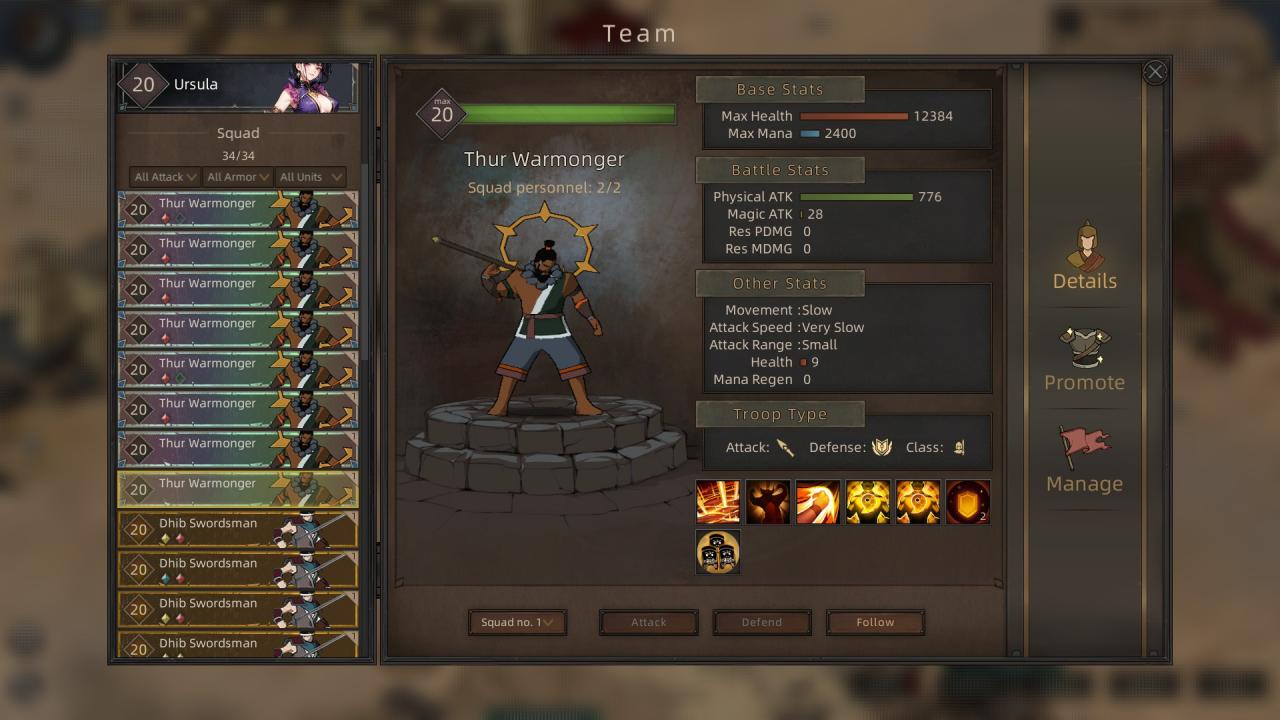 Promotion tree
Thur Commoner > Thur Warrior > Thur Militia > Thur Marauder > Thur Raider > Thur Warmonger
How to get
You can recruit Thur Commoner from any town in Umbra Cliffs. Note: without mods, you need to join the Thur and reach rank 3 in order to promote your Thur Raider to a Warmonger.
Comment
The Warmonger was the unit that was recommended and mentioned in most guides and discussions around strong units and I can understand why. The attack power (a wooping 776) plus their skill Judgement Day makes the Warmonger a deadly unit. If you have a couple of these squads in your army, you will annihilate most armies (note that the base game has a limitation on how many T6 units you can have, however, there are mods for this and also a little workaround).
Dhib Swordsman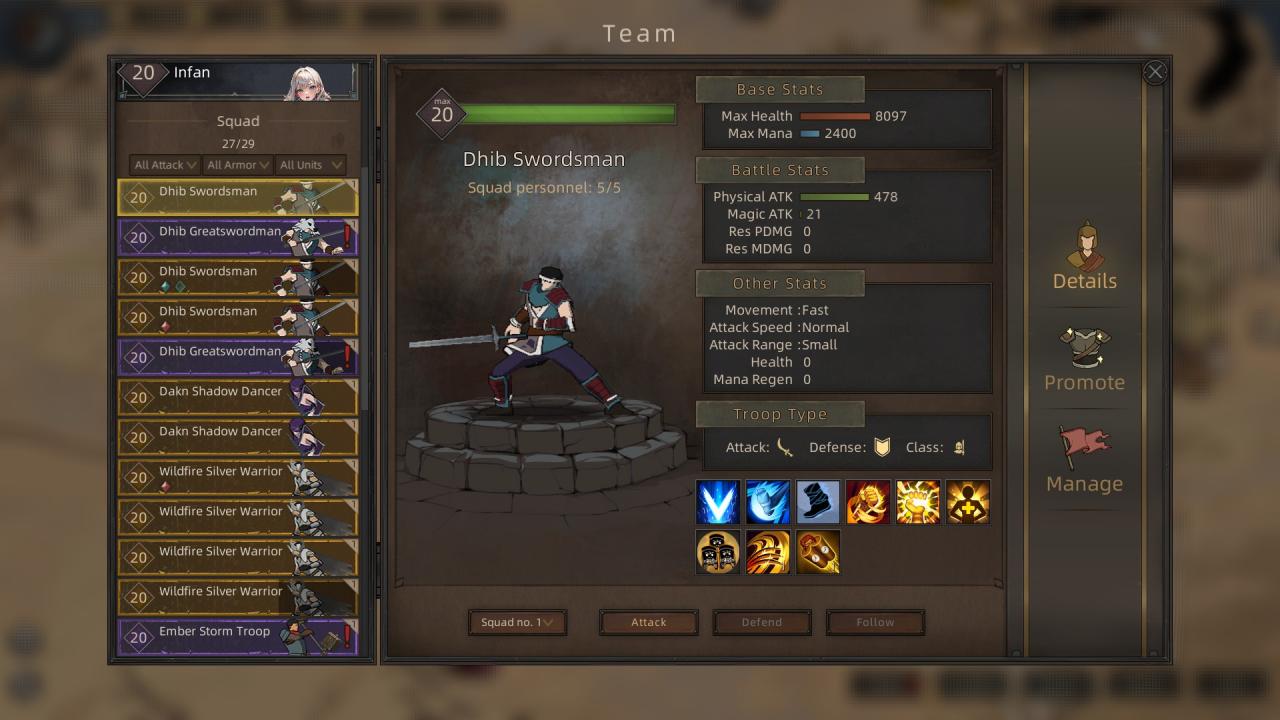 Promotion tree
Dhib Herder > Dhib Guard > Dhib Claymore > Dhib Greatswordsman > Dhib Swordsman
How to get
Dhib Herder can be recruited in any town in Zagros Mountains
Dakn Shadow Dancer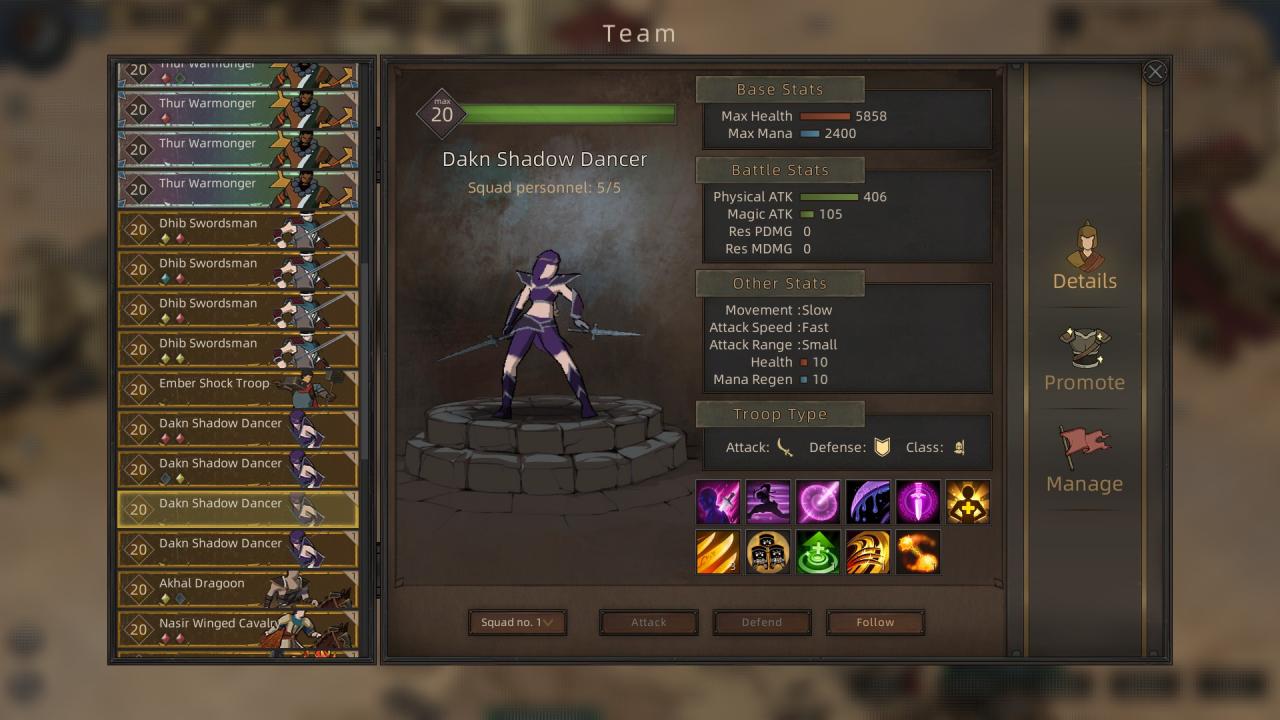 Promotion tree
Dakn Maiden > Dakn Spy > Dakn Slayer > Dakn Stalker > Dakn Shadow Dancer
How to get
Dakn Maiden can be recruited in any town in Crying Rock
Comment
Very fast and decent attack. Dakn Assassination III is a great single target hitter that is nicely combined with any units that can poison enemies (such as the Dakn ranged units).
Dakn Poison Thrower
Promotion tree
Dakn Youngling > Dakn Lancer > Dakn Alchemist > Dakn Poisoner > Dakn Poison Thrower
How to get
Dakn Youngling can be recruited in any town in Crying Rock
Comment
Venom bottle III is a skill that reduced attack power and increases damage of enemies in its area of effect while also damaging the affected units. This only impacts non-Dakn units, so you may want to bring in another ranger if you fight Dakn units. I find these guys in high quantities a great choice for rangers.
Akhal Dragoon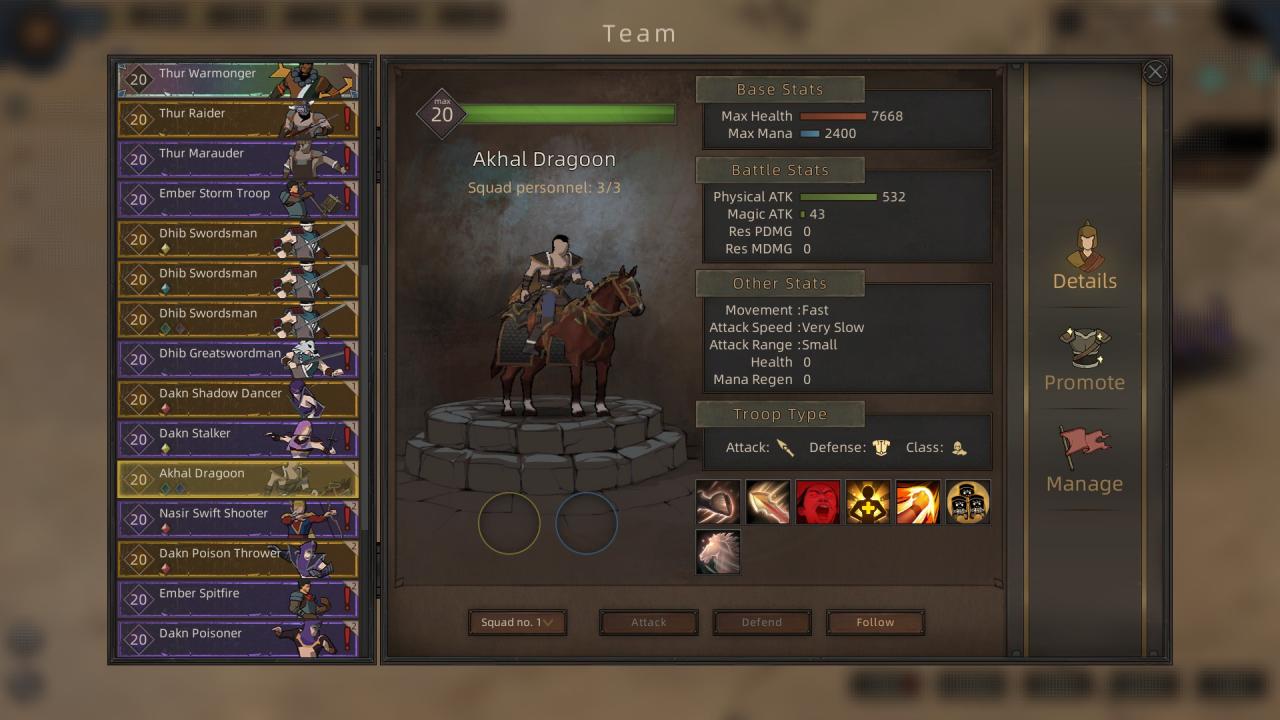 Promotion tree
Akhal Dweller > Akhal Rider > Akhal Light Cavalry > Akhal Lance Cavalry > Akhal Dragoon
How to get
Akhal Dweller can be recruited in any town in West Docana Desert
Comment
Looking at how most Akhal armies give me a real headache, I conclude that having many cavalry squads in your army can be highly beneficial since they can just steam roll the front line of your enemies with the charge skill. By rolling into the fray immediately, however, front line cavalry are vulnerable since they might end up surrounded by enemies.
I found the Akhal Dragoon a nice front line cavalry unit due to its high attack power and decent HP.
Wildfire Silver Warrior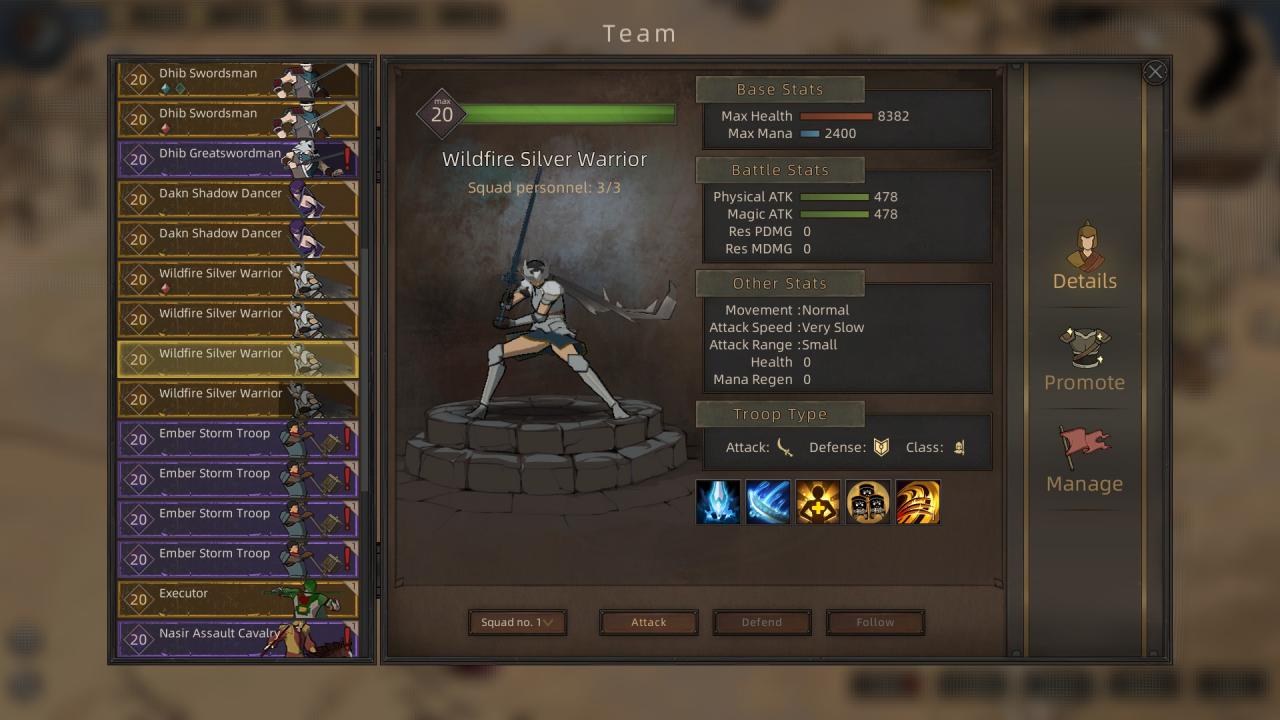 Promotion tree
Peasant > Wildfire Warrior > Wildfire Swordswoman > Wildfire Silver Warrior
How to get
I'm aware of three possible ways.
1. Sometimes you can recruit a squad of the lower units on the promotion tree with a mercenary recruiter in an Umbra Cliffs tavern.
2. Become friends with the Wildfire Clique and some random Wildfire units will join you.
3. If you play as Spirit Witch, you can use spirit magic on attacking Wildfire Clique squads.
Comment
Another favourite in discussions and I can see why. They have both high physical and magical attack (nice combo with the crystal that restores physical + magic attack as HP when felling an enemy unit) and their Curving Cut III skill are amazing. I feel the trouble to get them is worthwhile.
Bombard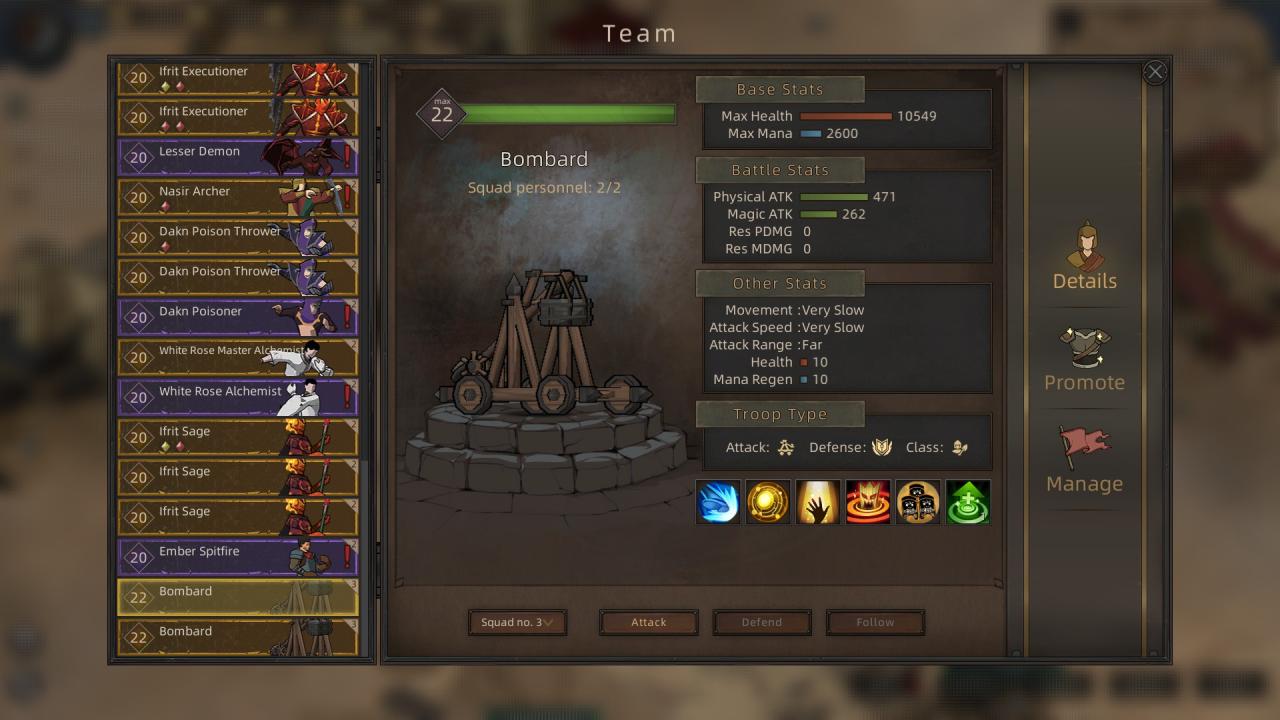 Promotion tree
Not applicable
How to get
You need to build the siege workshop in a city and upgrade it to level 2. Then you can recruit these amazing siege units in said city. They cost quite a lot of Utar, Wood and Iron.
Comment
These units were a game changer for me when it came to sieges. Their range is further than any defence tower and they, quite frankly, just wreck these things. They are a bit wobbly to command and are basically defenceless against melee units if they are up close but definitely worth getting these!
Ember Firestormer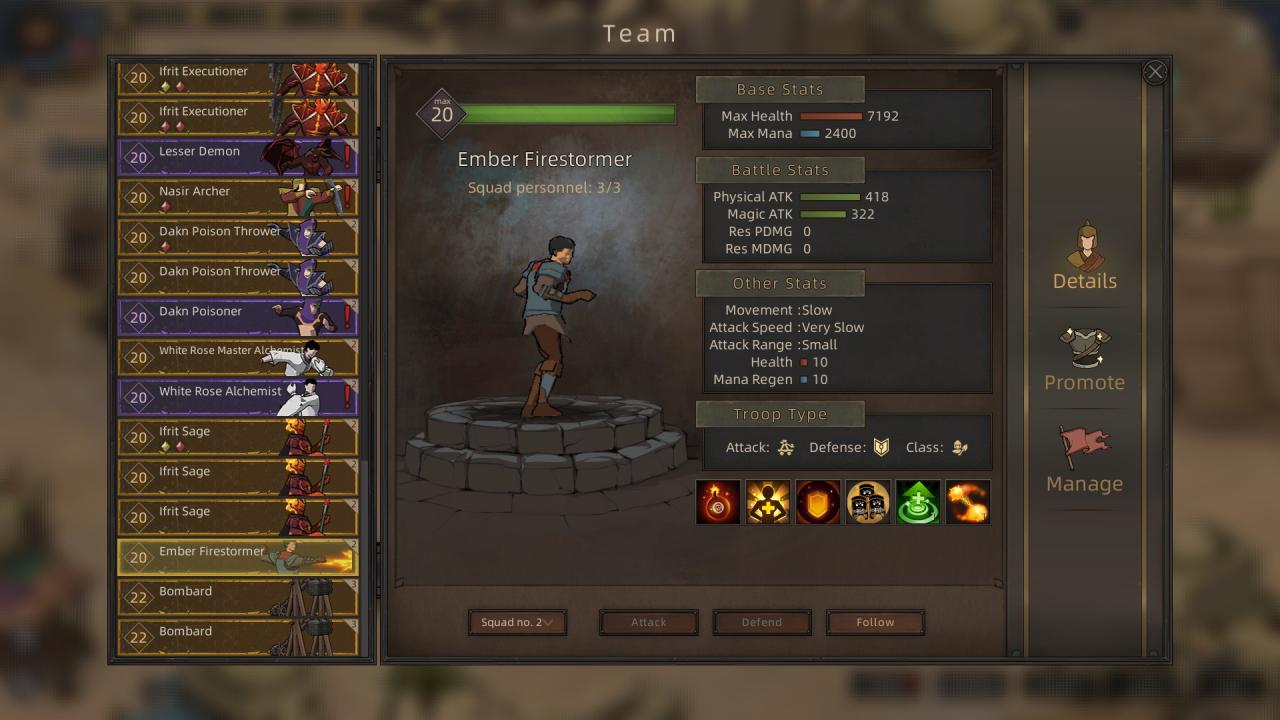 Promotion tree
Ember Engineer > Ember Spitfire > Ember Firestormer
How to get
Recruit from Ember recruiters that travel from tavern to tavern. Usually you have to recruite the Ember engineer and promote them into Firestormer.
Comment
Basically a human siege weapon. Not as strong (and durable) as other siege machines but nice support for sieges in early game.
More Guides: