Here is a 100% achievement guide in Growing Up. enjoy the game.
Achievements — Story
These achievements are so easy that most likely they will be unlocked during the first playthrough.

Hello World!
Complete Baby Stage.

Leaving Home
Complete Preschool Stage.

First Steps
Learn 10 Skills.

Apple of my Eye
Complete an Expectation.

The Big World
Complete Elementary School Stage.

Perfectionist
Master 20 Skills.

You're in Trouble!
Fail an Expectation.

My Own Stuff!
Buy item for the first time.

Choose Your Path
Make a choice in a branching Skill Tree.

Good Kid
Earn A on an Exam.

Great Scott!
Use Brain Map bonuses 100 times.

Going through Changes
Complete Middle School Stage.

A Beautiful Mind
Earn 300 Attribute points in total during one Brain Map mini-game.

From 9 to 5
Complete 10 Expectations.

Sightseeing
Go on a trip!

Set for Life
Learn 50 Skills.
Learn = "buy" with Knowledge points.

Nerd
Master 40 Skills.
Master = completely fill the skill learning meter (by adding the skill to the Schedule or spending Action Points).

You Shall Pass
Acquire Full Exam Readiness.
Preparation is increased by Studying and Mastering school education skills, hobbies do not affect.

Proud Parents
Buy a special request.
Raise Parents' Satisfaction above 70 to unlock Special Requests.

Having Fun
Perform Entertainment Activities 100 times.
In one walkthrough.
Achievements — Endings

All Grown Up!
Complete a Life!
Finish the game by passing the final exam for any grade.

American Dream
Earn the Best Ending of any career.
You need to get an A grade for the final exam. Raise the Preparation to 100, this will give more moves. Try to collect 8+ cells together, each such combination will give an Eureka Power-Up, which you can remove all cells of the same color.

Better Luck Next Time
Get a Bad Ending.
There are two bad endings in the game (one of them is not so bad), which can be obtained by drop to zero Parents' Satisfaction or Mental Health. The first 2 times the Strikes counter will increase, the third will be the final. You can get it right away in Elementary School.
Loose Parents' Satisfaction. Be lazy, have fun all day, never study. As a result, your parents will get sick of it, and they will kick your ass out to the military academy.
Loose Mental Health. Study and never rest, overwork, earn depression and that's it.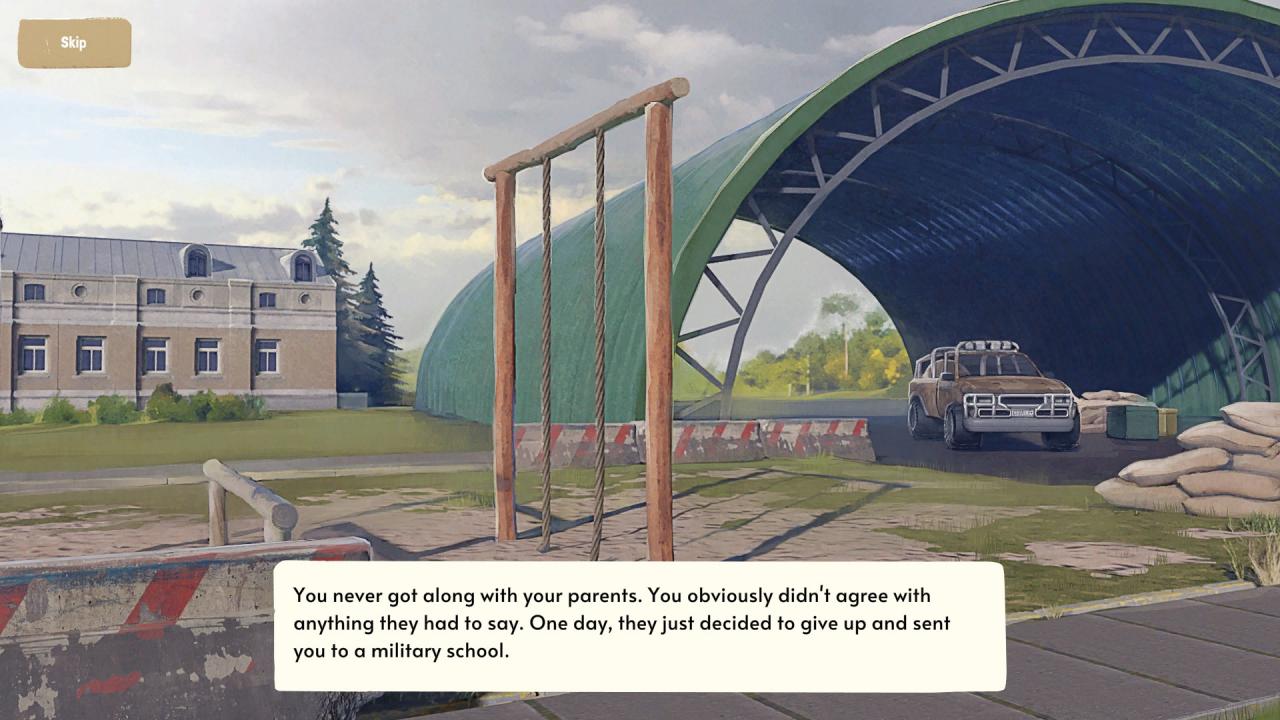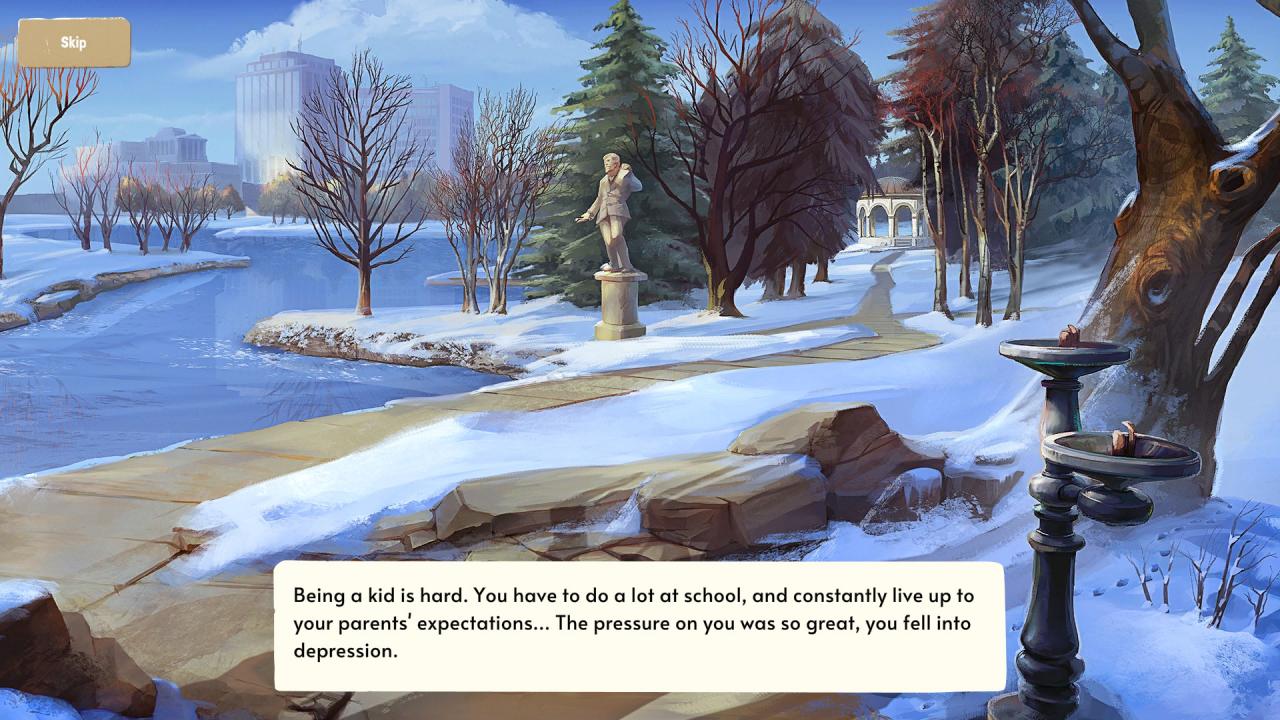 Forever Alone
Finish the game with no friends.
Ignore all three characters that the game will give you as possible friends. By mid-High school, they should all drop off.

Like Parent, Like Child
Name a Child after its Parent.
Continue to play as a "dynasty", naming the child exactly as your character was named.
Achievements — Stories
Friends' Stories
The game randomly chooses three characters from the list, and adds as possible friends: 1 in Preschool, 1 in Middle School, 1 in High School. There is no dependence on stats and decisions, characters are always random. The only way to influence the showing up is to continue playing as your character's child after the story ends (the game never adds the same friends that the parents had). But after a generation, repetitions will inevitably begin.
To complete the story, don't ignore and don't be rude with the characters, then they will remain friends, and towards the end of High School an achievement will unlock.

Number One
Complete Alex's Story!
Appears in Preschool.

Sound of the Future
Complete Richard's Story!
Appears in Preschool.

Gal Pal
Complete Alicia's Story!
Appears in Middle School.

Wendy Krueger
Complete Wendy's Story!
Appears in Middle School.

Fate Averted
Complete Nathan's Story!
Appears in Middle School.

Teen Spirit
Complete Patty's Story!
Appears in Hight School.

Bathroom Troubles
Complete Felicity's Story!
Appears in Hight School.

Two Worlds
Complete Kato's Story!
Appears in Hight School.

Peer Pressure
Complete Sam's Story!
Appears in Hight School.

School Sweetheart
Marry one of your School Friends
Have a romance with any of the characters, after the finale he/she will become your spouse.
Adults' Stories
Adult characters are pinned to locations. When you first get to a location where there is an adult, an introductory scene is shown, and then you have the opportunity to learn a new hobby.
To complete an adult's story, you need to unlock the last skill in the hobby tree (no need to master). When unlocked, the final scene with the participation of an adult will occur, and the achievement will be unlocked.

Stone Head
Complete Coach's Story!
At the School Gym or at the Sport Field, locations will be unlocked as the story progresses.

Delicious
Complete Mei's Story!
At Red Checker Cafe, the location will be unlocked at the start of Middle School.

Eye of the Beholder
Complete Elliot's Story!
At North Pine Galleria, the location will be unlocked at the start of Middle School.

Once Upon a Time
Complete Sergio's Story!
At Ghost Water Walk Park, the location will be unlocked as the story progresses.

Game of the Year
Complete Neal's Story!
At Starcade 80, the location will be unlocked:
With both starting friends (Alex or Richard) or Wendy.
If you request a ticket from your parents.

New Beginnings
Complete Parul's Story!
At Art Space Gallery. The location will be unlocked:
As the story progresses, if you have Alicia as friend.
If you buy a ticket at the North Pine Galleria or request it from parents.

Objection!
Complete Alessandra's Story!
At The Orpheus Theater. The location will be unlocked:
As the story progresses, if you have Richard or Wendy as friends.
If you buy a ticket at the North Pine Galleria.

Camera! Action!
Complete Luca's Story!
At Cineplex 8. The location will be unlocked as the story progresses, if you have Richard, Wendy or Nathan as friends.

Heart Beat
Complete Minh's Story!
At The Zone Club. The location will be unlocked:
As the story progresses, if you have Richard, Vivica or Nathan as friends.
If you buy a ticket at the North Pine Galleria.

To Protect and Serve
Complete Riley's Story!
At the Police Station. The location opens only if the game has added Wendy or Vivica as possible friends.
Wendy — opens in Middle School (after skipping classes and going to the cinema).
Vivica — opens in High School (when she gets caught for drawing graffiti).
There are no other ways to open the location, or I did not find them.
Achievements — Other

Dependent
Spend 3500 Pride on Requests.
In one walkthrought. Complete all your parents' Expectations in a row, accumulating enough Pride points is not a problem. Start buying from Elementary School, otherwise your ancestors may run out of gifts before you reach 3500.

We Were Never Friends
Lose a Friend.
Start to ignore any of your friends. Can be combined with "Forever Alone" achievement.

Young Entrepreneur
Perform Work Activities 50 times.
In one walkthrough.

Gifted Learner
Raise the Passive Growth of an Attribute to 50.
Collect attribute hexes and Rainbox hexes (bonus to all skills), it will raise without problems.

Armed & Ready
Master an SAT activity.
The penultimate stage in any school education trees, after which only SAT II remains.

Connoisseur
Try all food at least once.
Buy all available food in the following locations: School cafeteria, Red Checker Cafe, La Royale restaurant.

Methodical Learning
Acquire Full Exam Readiness in all Exams.
It can be a problem only with the very first exam (in Preschool), there is only 2 turns are given to prepare for it. To surely get 100% Preparation for the first exam, you need to develop your character along the path of Empathy and Imagination from birth, since these skills are mainly used in Preschool. If you go for Physique (Cabinet climbing), it's may not be enough. For all other exams, much more turns for Preparation are given, there should be no further problems.

Sleepless Nights
Earn A on all Exams.
Raise Preparation to 100 for maximum moves. Try to collect 6+ cells together (8+ cells in the final exam) to get Power-Ups. Do not waste all the moves at once, before choosing the answers, leave 5 moves in the pool in order to get the cells of the missing color if necessary. The exam can be restarted until the "Finish exam" button is pressed, to do this return to the menu and load the save. There are more detailed exam tips below.

Technically Not Cheating
Use 10 Eureka Power-Ups during the Final SAT Exam.
Eureka Power-Up appears for collecting 8+ cells with one click. Raise the Preparation for the final exam to 100, this will give the maximum moves. Collect cells in groups of at least 8, remove smaller groups only if it helps to connect 8+ cells.

Black Friday
Buy 50 items total from the various stores.
In one walkthrough. Any items are counted, even carrot sticks in the school cafeteria. If the final exam is close, and you have not collected 50 items, you can buy all clothes in the North Pine Galleria.

Resourceful Student
Use Exam Power-Ups 50 times.
Power-Up — a bonus that removes several cells at a time (bomb, clear a row, Eureka). Each time you remove 6+ cells with one click, a new Power-Up appears on the field.

What Did You Expect?
Collect 15 Brain Farts.
In one playthrough. Brain Farts appear on the Brain Map in Hight School. In a normal situation, there is no point in collecting them. For achievement the opposite, you need to start collecting Brain Farts as soon as they start to appear on the map. By this time, you should have enough Brain Points for such a useless waste. In order to quickly find Brain Farts, use the "eye" and "reveal the whole map" neurons.
More Guides: