A guide to the locations of all 22 ladders, 39 repair spots, and 30 bomb spots. With screenshots!
Introduction
Welcome to my guide! After being plagued by the 38/39 repair spots in my faerie orders and being unable to find a clear and comprehensive guide to find them all, I decided to replay the game in order to record all the locations I came across. Now, I pass along this knowledge so no one else has to suffer.
Map screenshots are a mix of postgame and replay screenshots, so some of them may not be completely filled out. All of the relevant locations will still be marked on them either way.
All ladders, repair spots, and bomb spots are numbered by location, rather than by the order you would be able to clear them naturally in-game.
WARNING: All spoilers are unmarked, including late-game areas!
Bird's Eye Brae
Level 1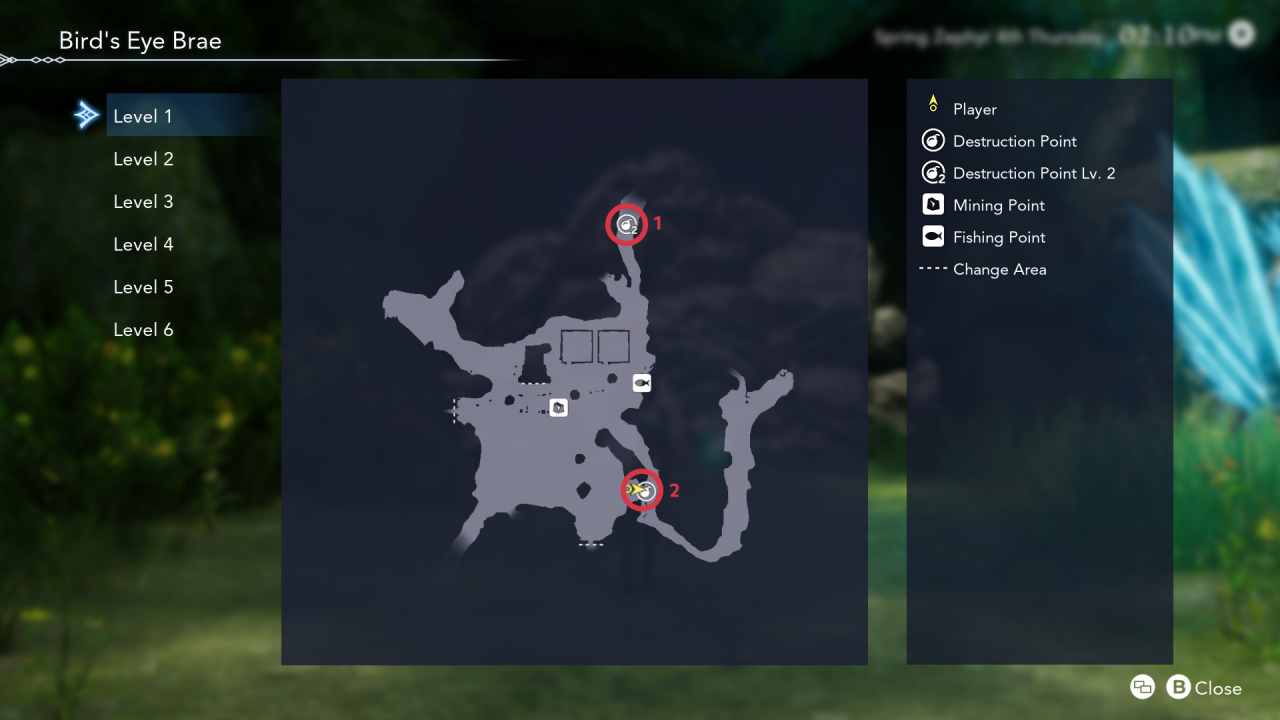 Level 2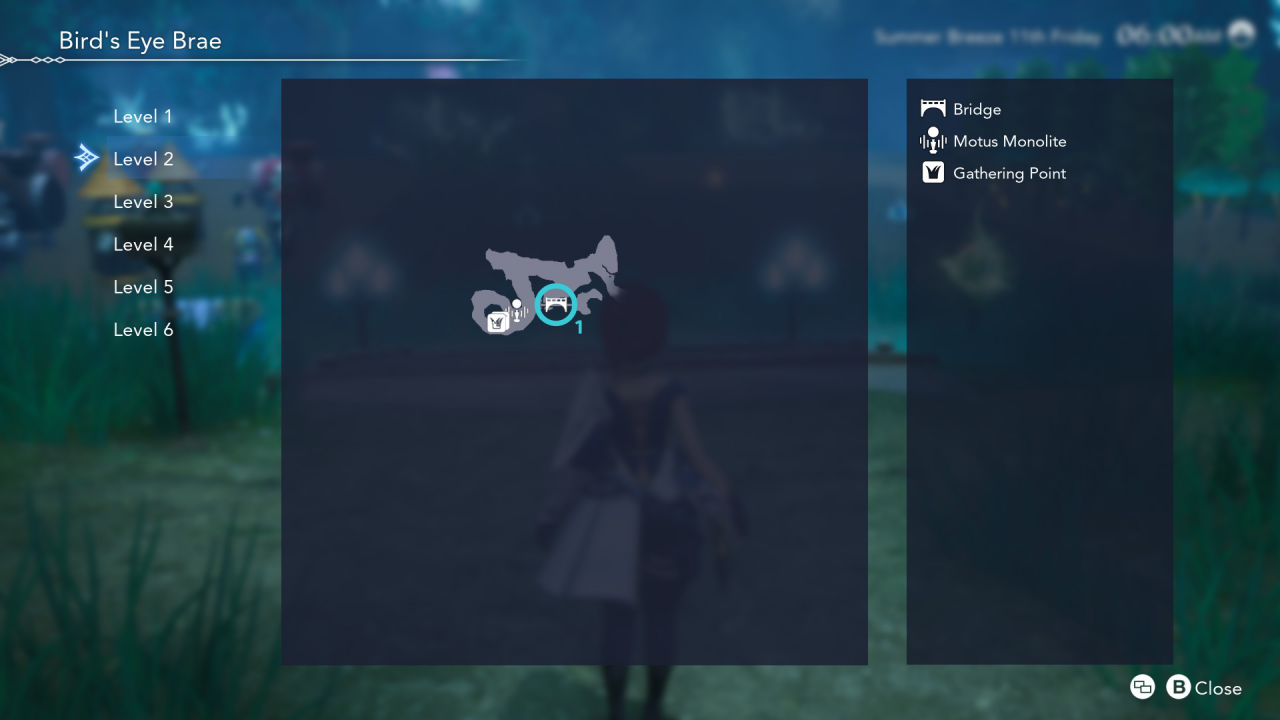 Level 5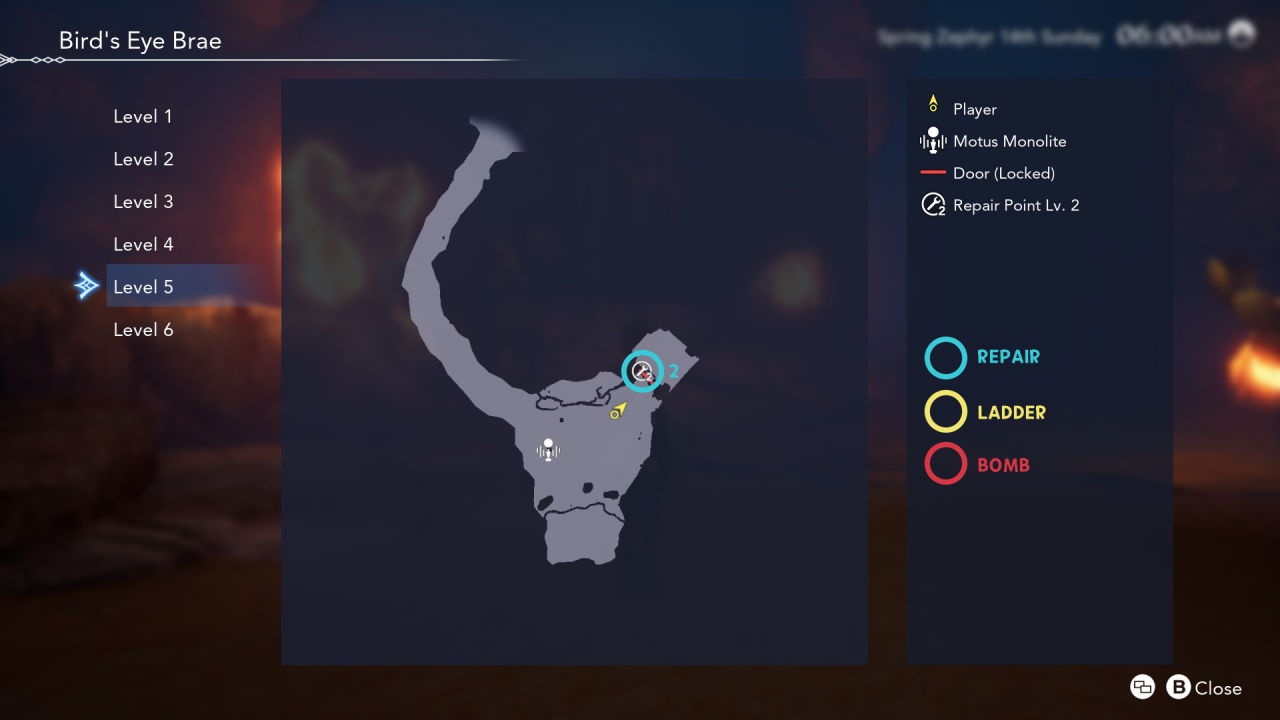 Higan Canyon
I Scarlet Gorge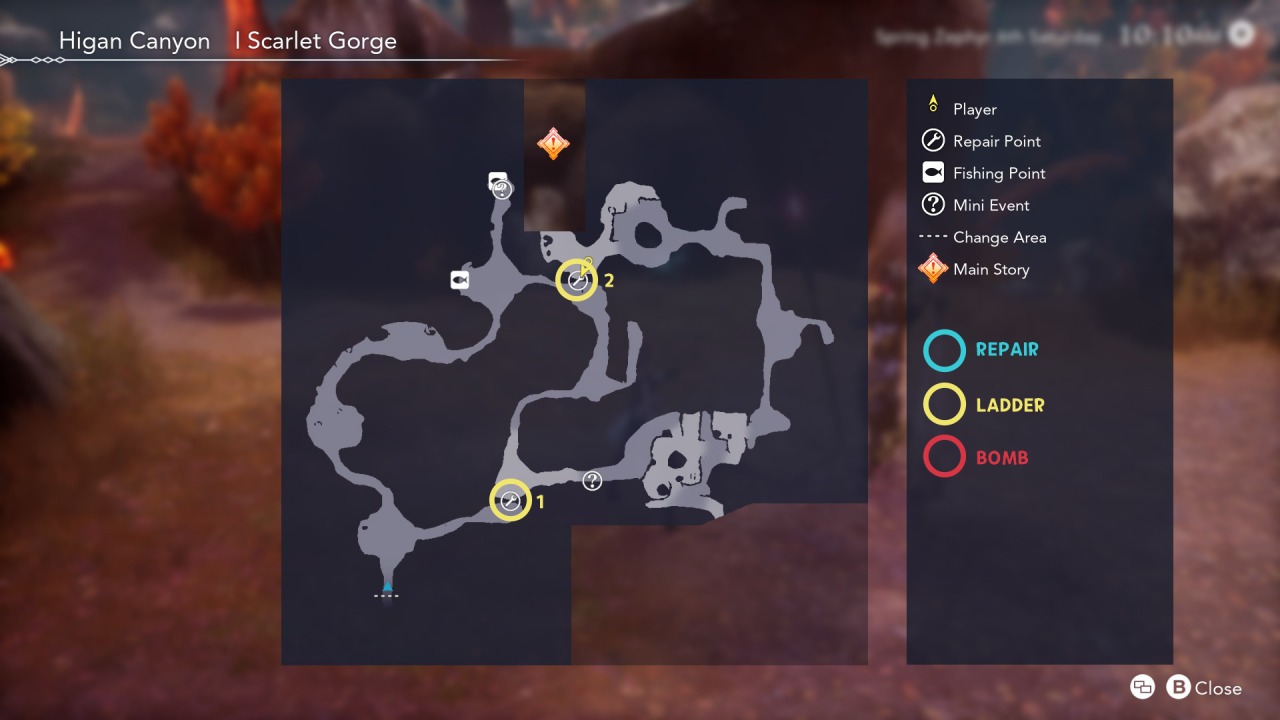 III Cypress Crossing
3 Ladders
4 Repair Spots
2 Bomb Spots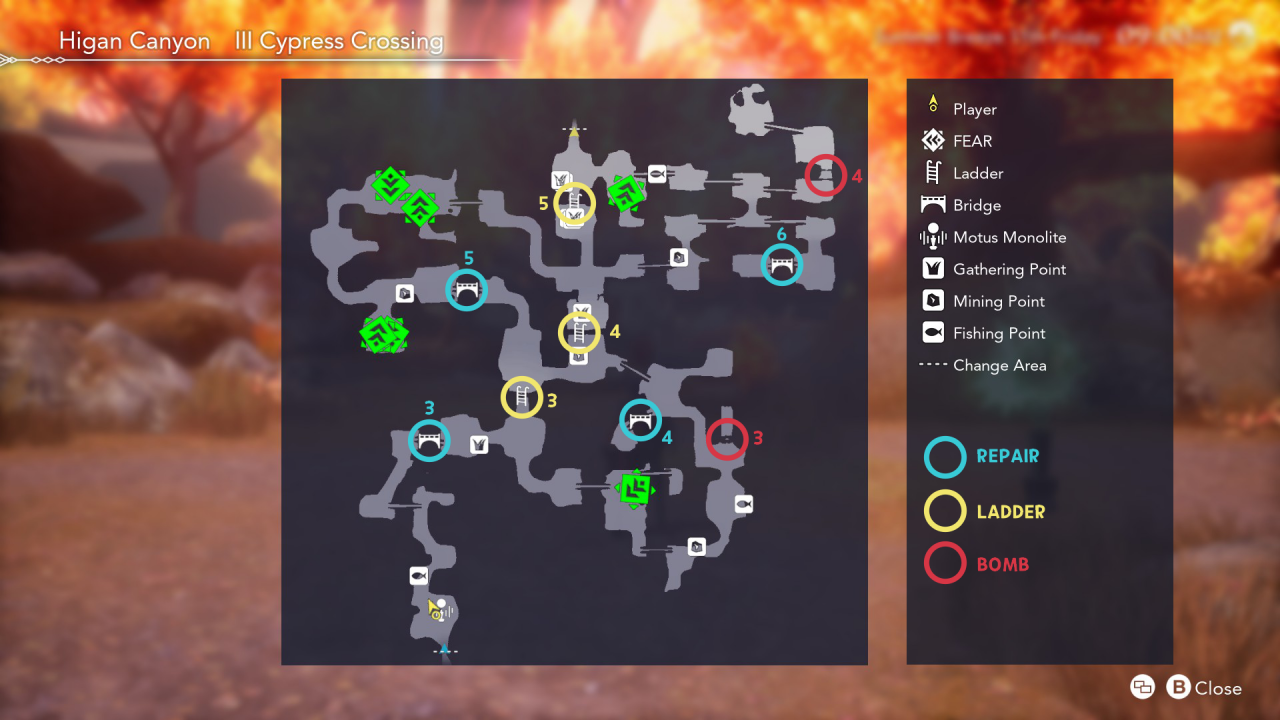 Njord Steppe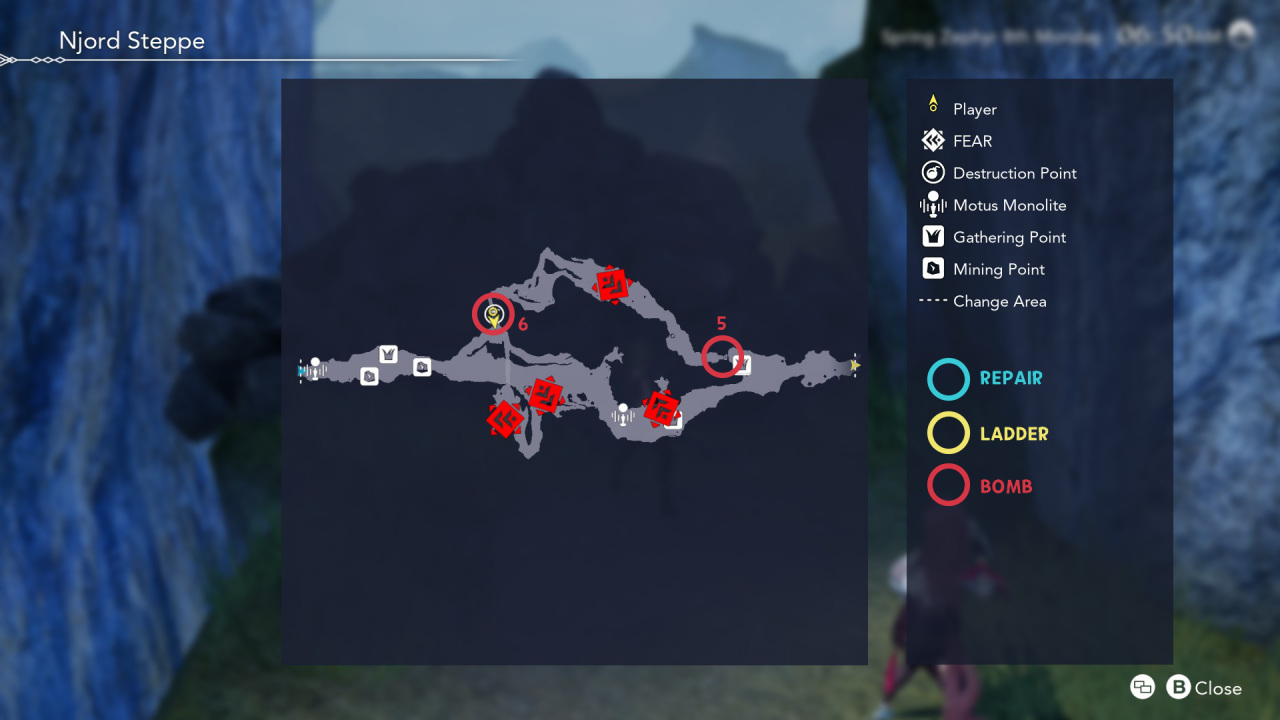 Heaven's Egg
I Improper Ruins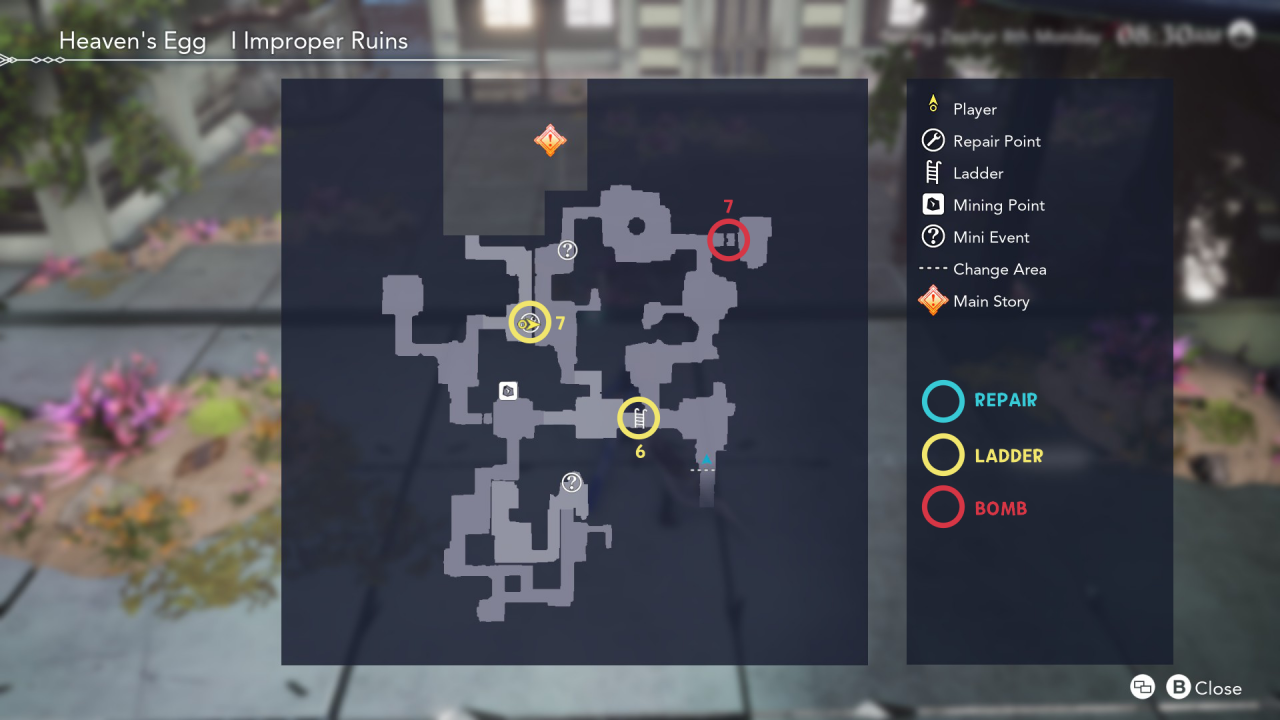 III Mutant Vegetation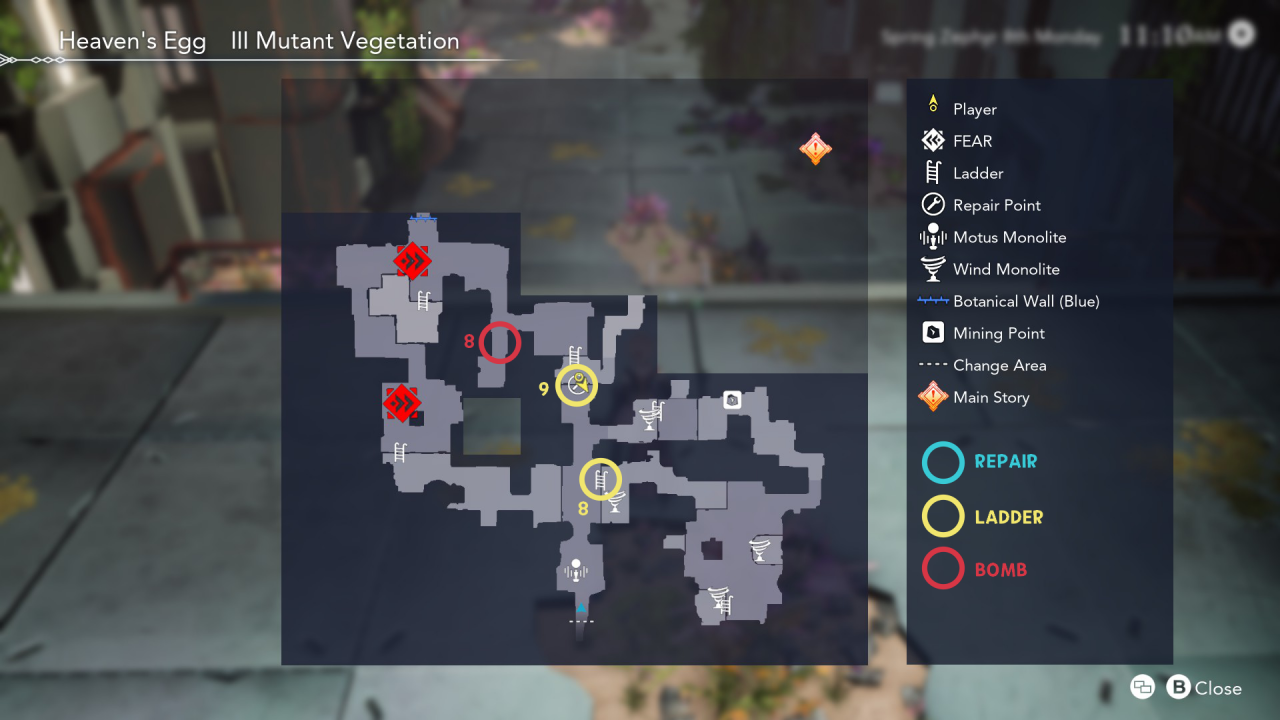 V Wet Footprints
2 Ladders
1 Repair Spot
1 Bomb Spot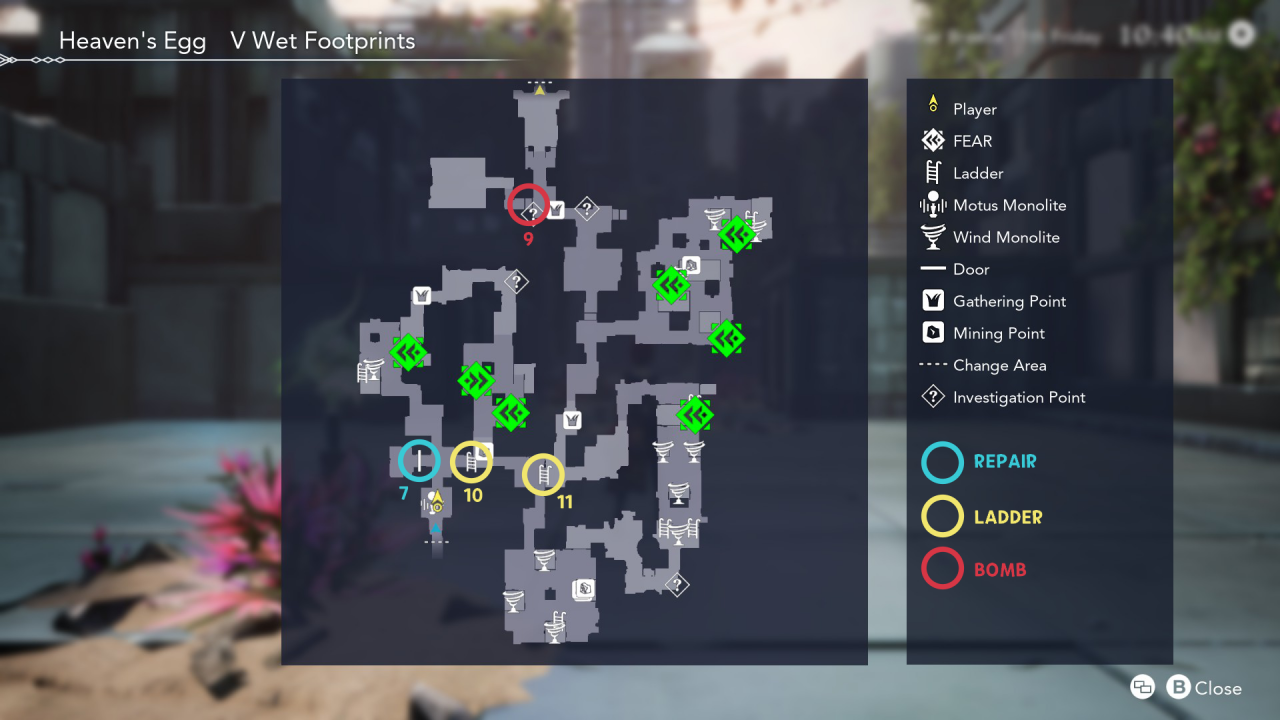 Jade Forest
2 Ladders
2 Repair Spots
2 Bomb Spots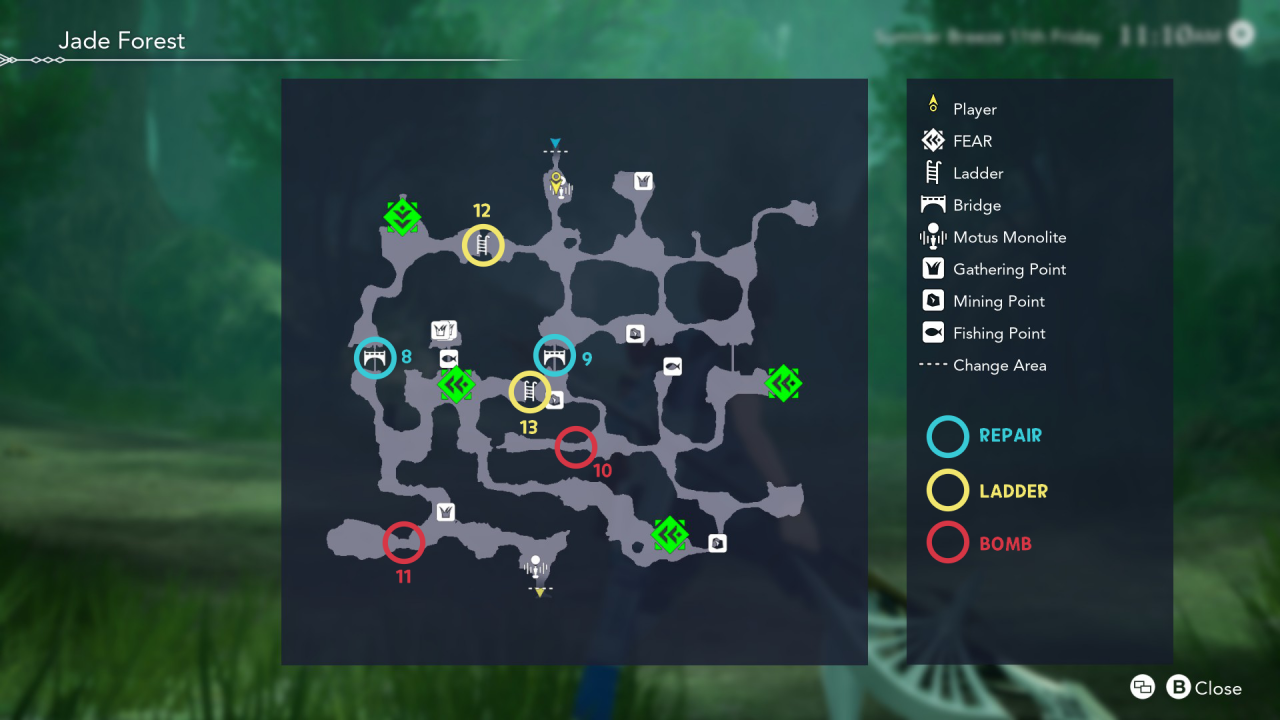 Coral Shrine
I Seabed Corridor
1 Ladder
1 Repair Spot
1 Bomb Spot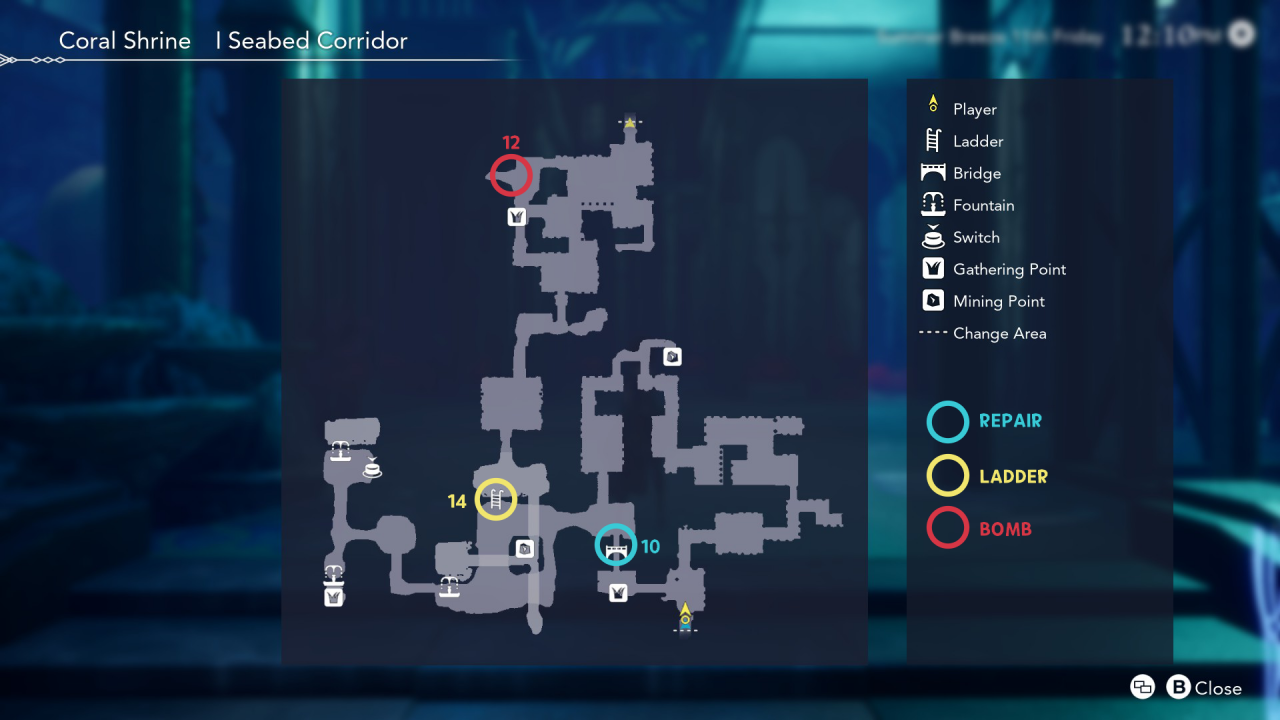 III Three-Pronged Crossroad
1 Repair Spot
1 Bomb Spot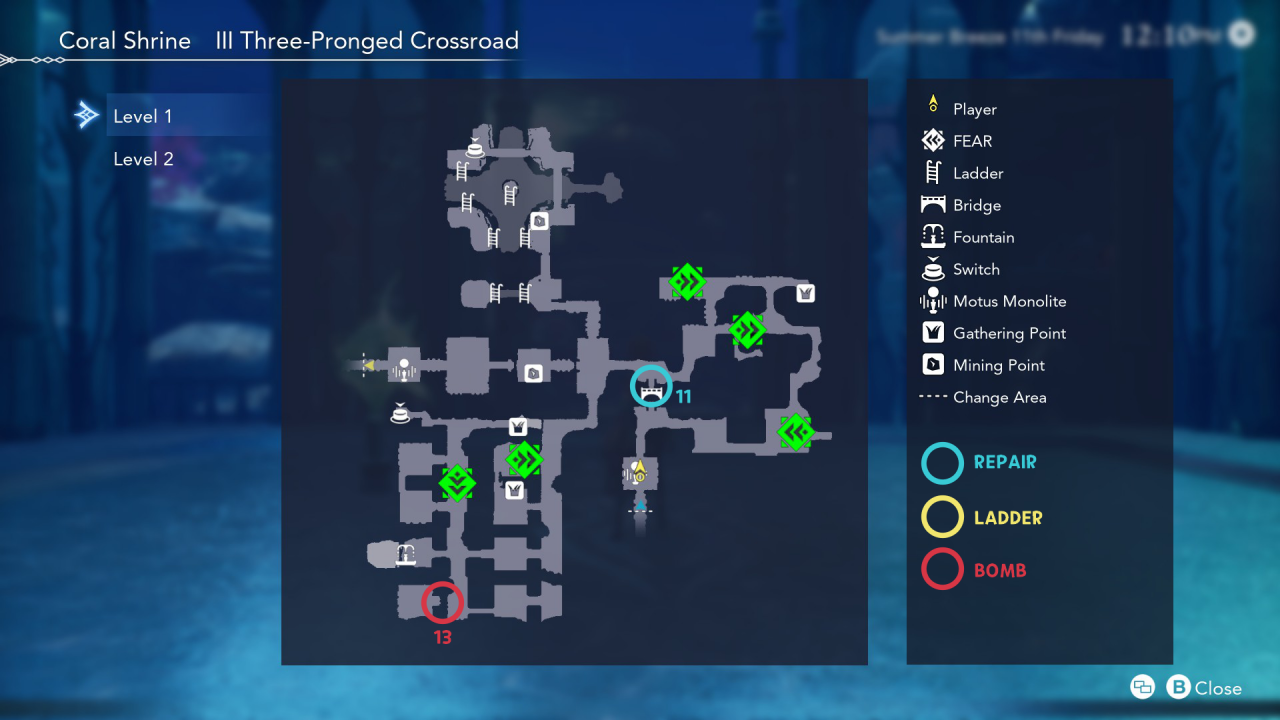 V Echo of the Bulla
1 Ladder
4 Repair Spots
1 Bomb Spot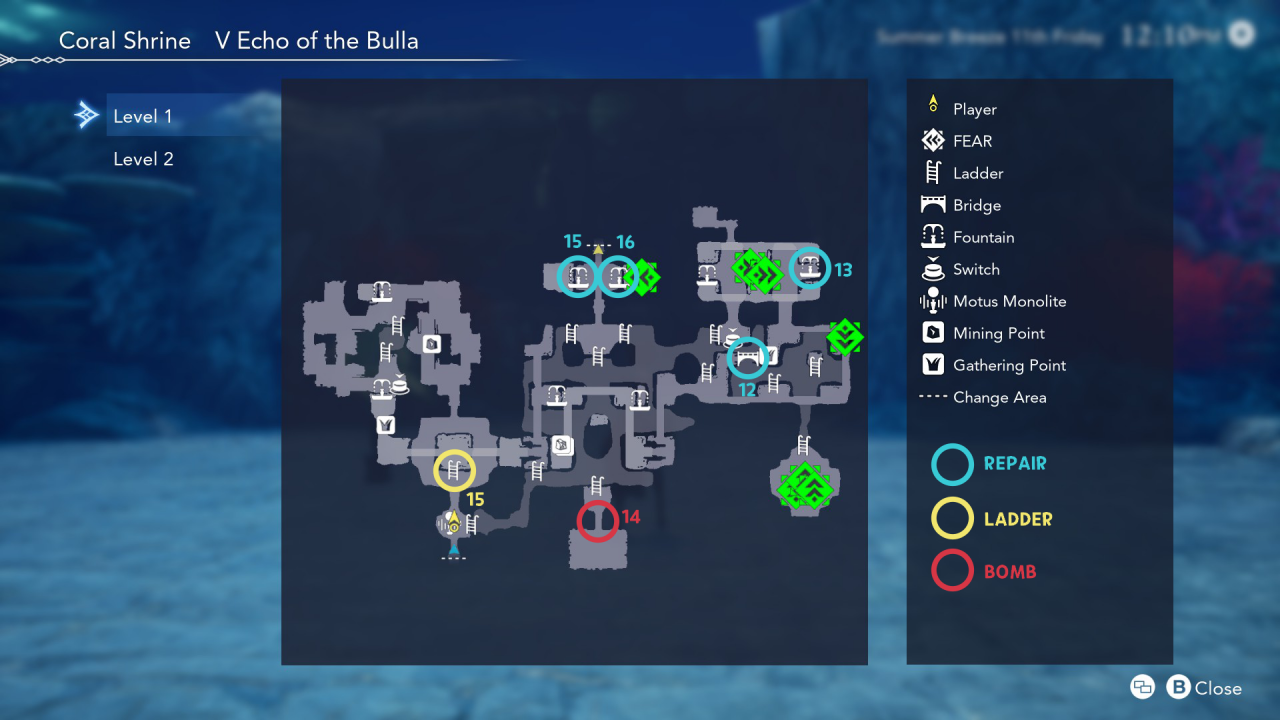 Silent Cave
Level 1
1 Repair Spot
3 Bomb Spots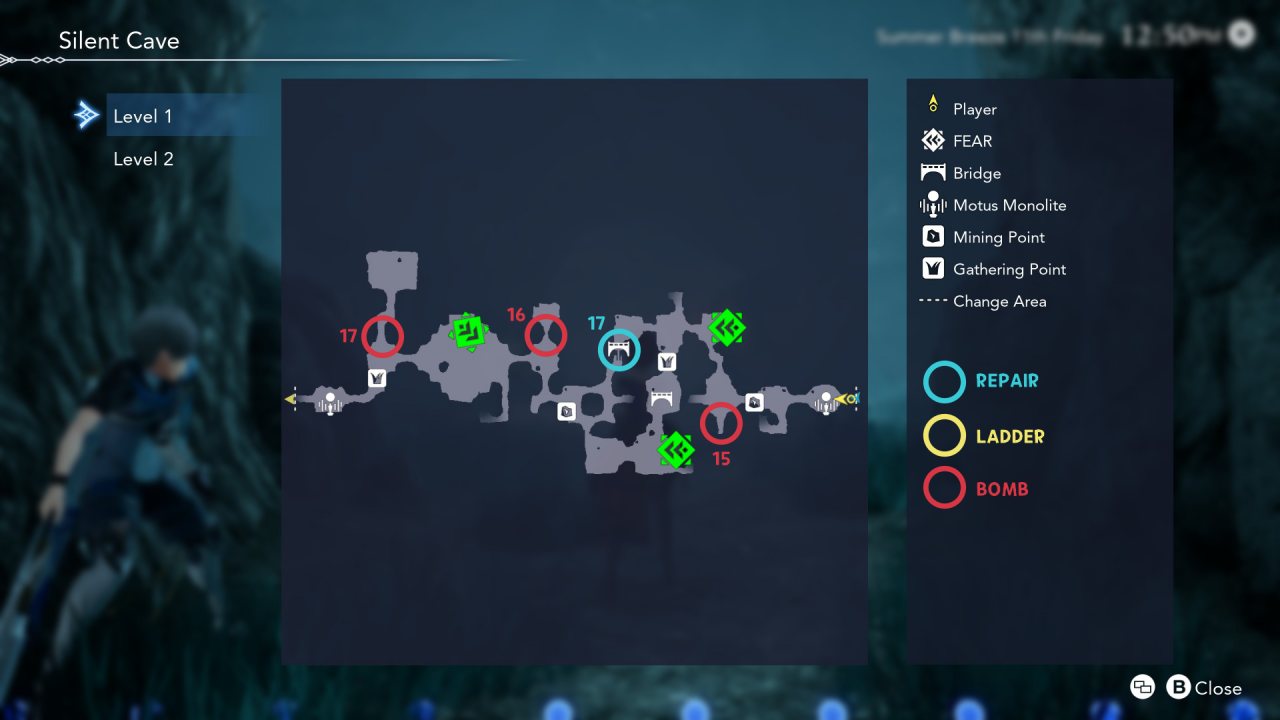 Level 2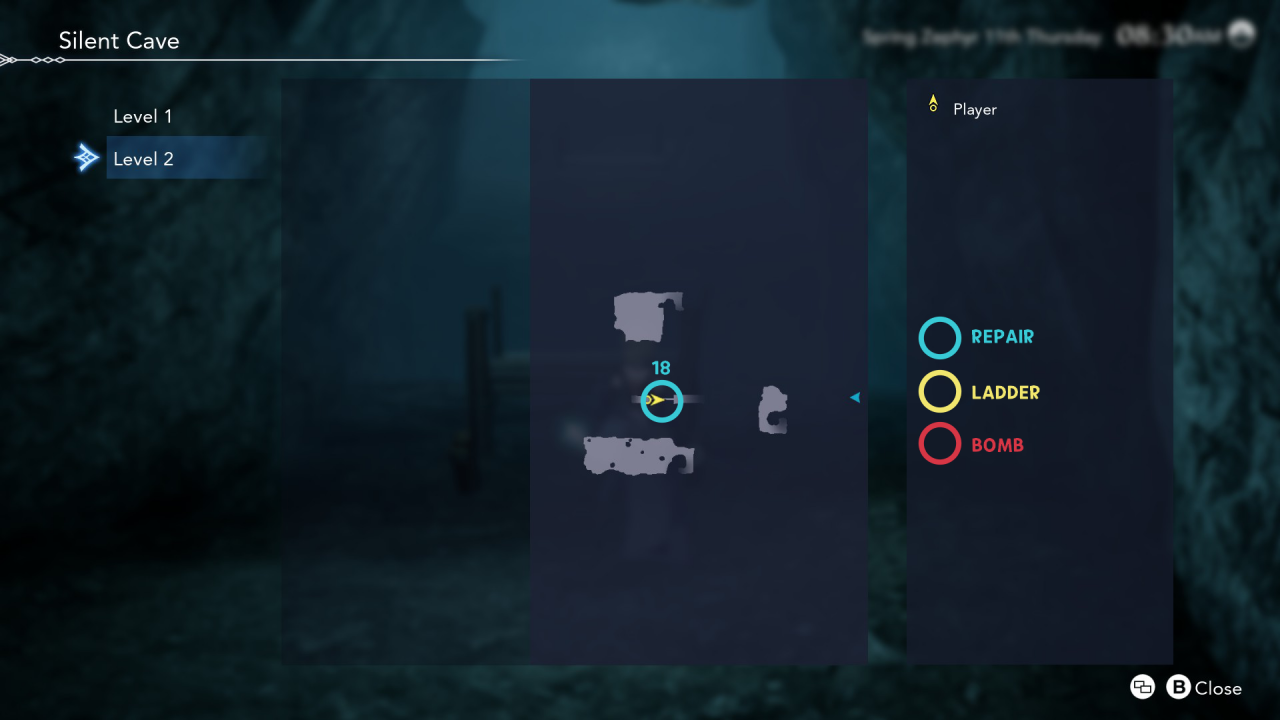 Divine Seaslight Cave
I Hidden Glacier Approach
2 Repair Spots
1 Bomb Spot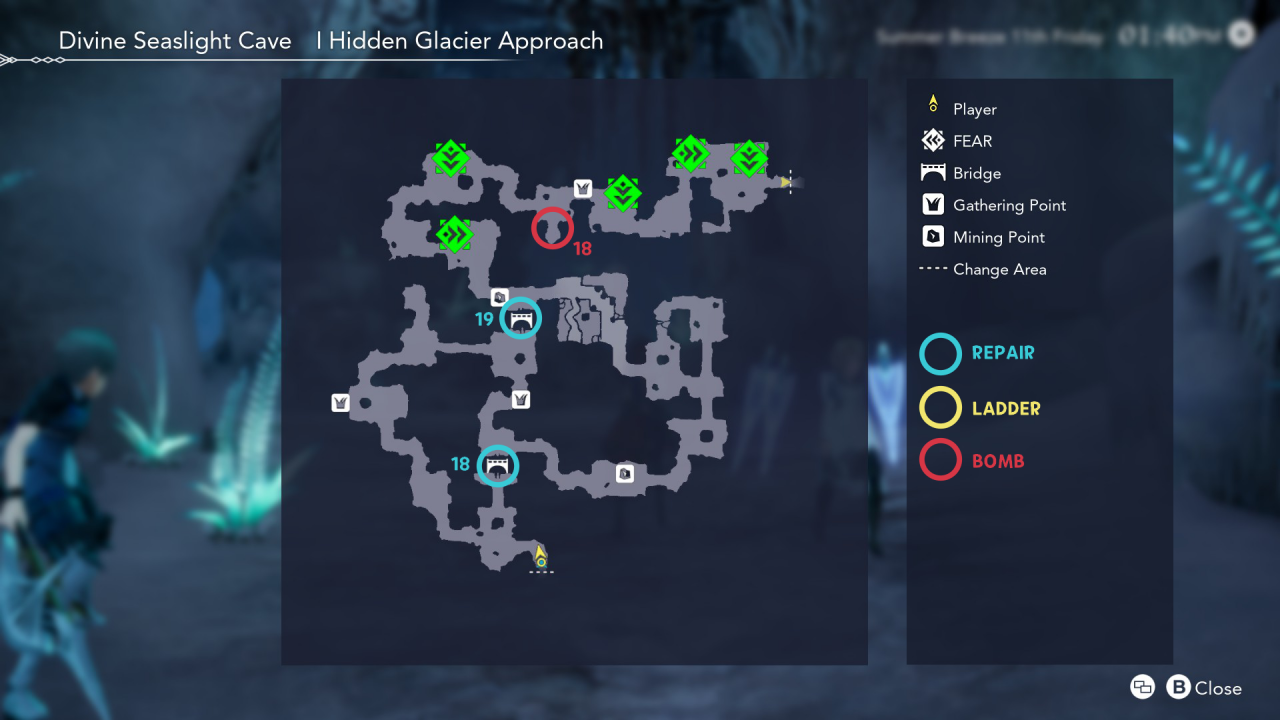 III Frozen Crossroads
2 Ladders
1 Repair Spot
1 Bomb Spot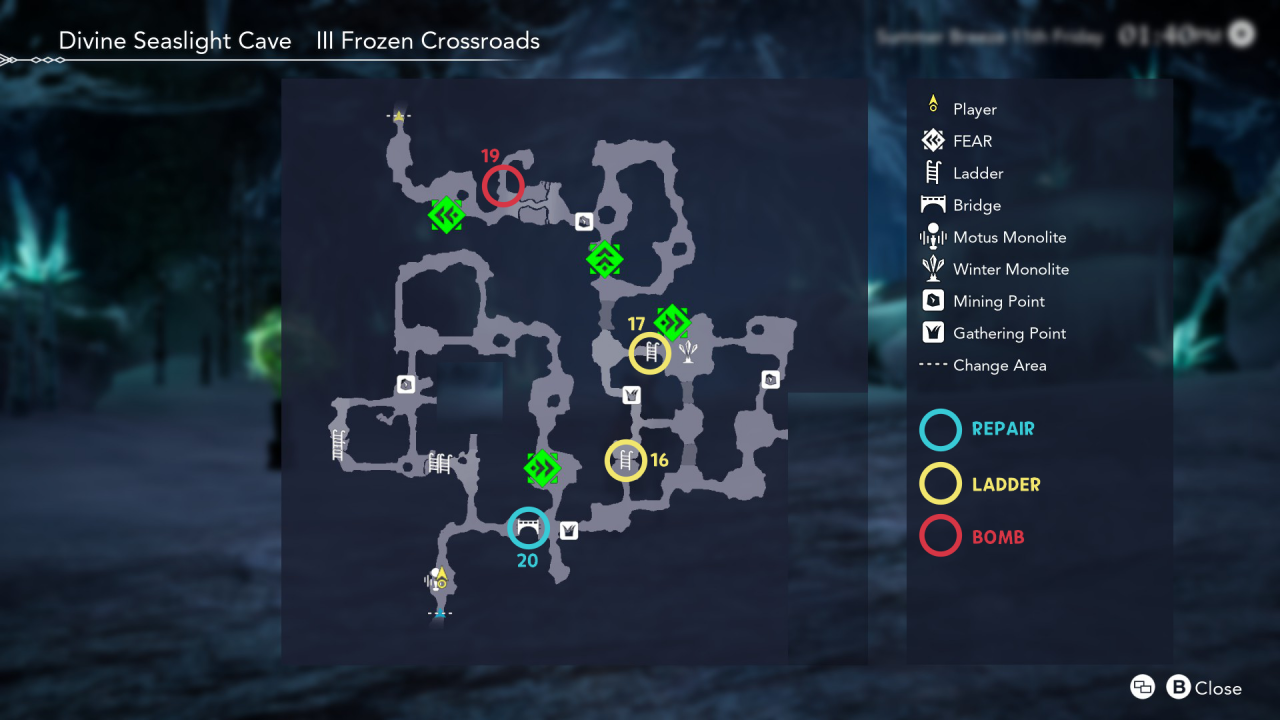 V Chilled Confinement
1 Ladder
2 Repair Spots
1 Bomb Spot
Castle of Illusion
III Steps of the Divine Gift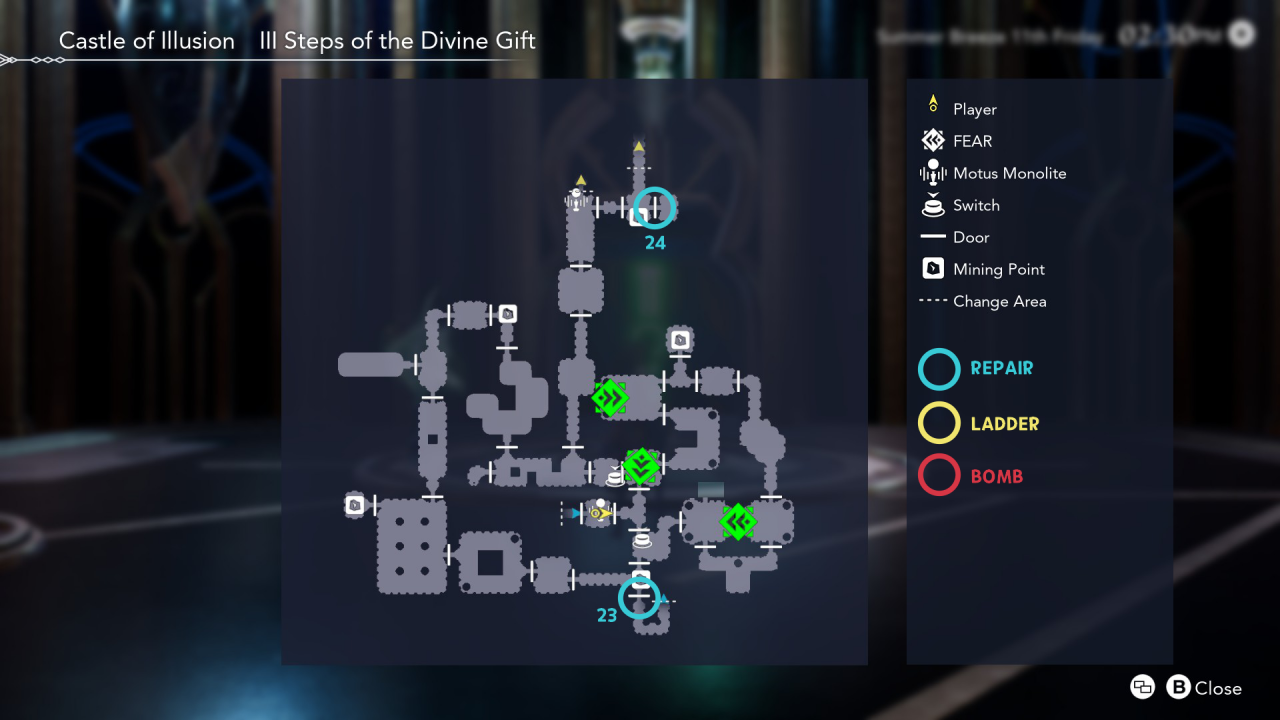 V Solistial Steps
Level 2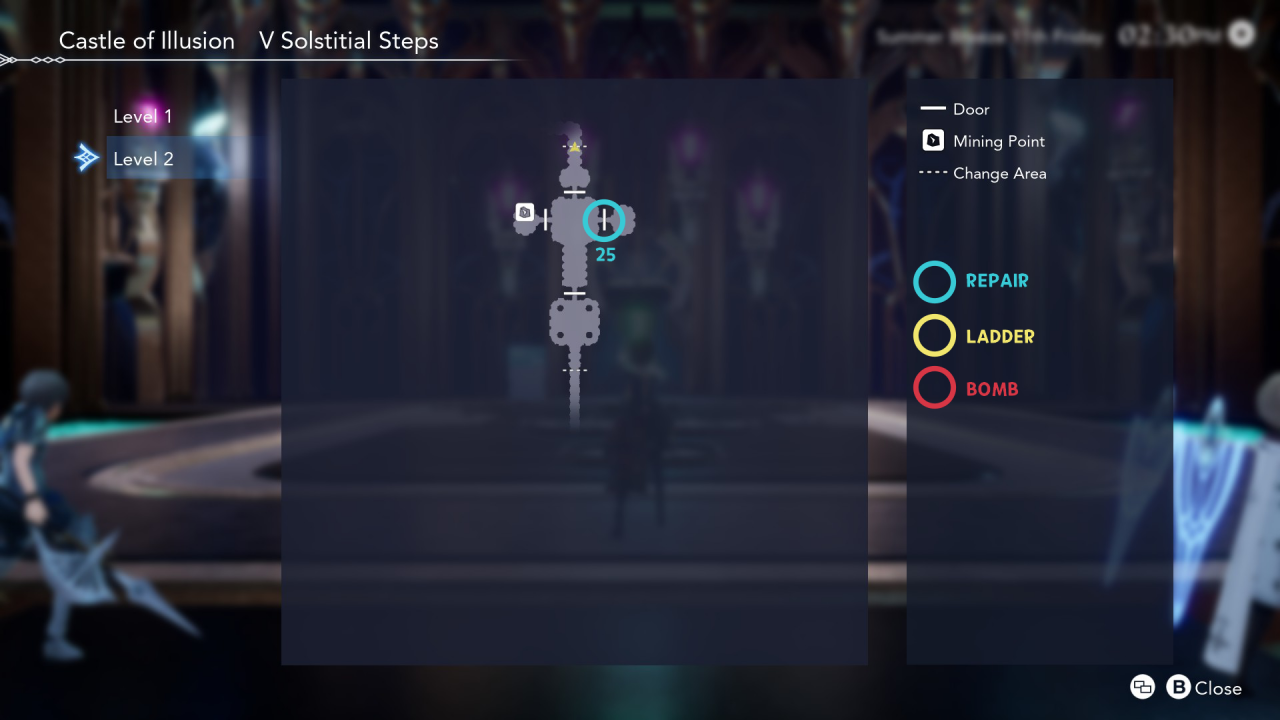 Abandoned Eden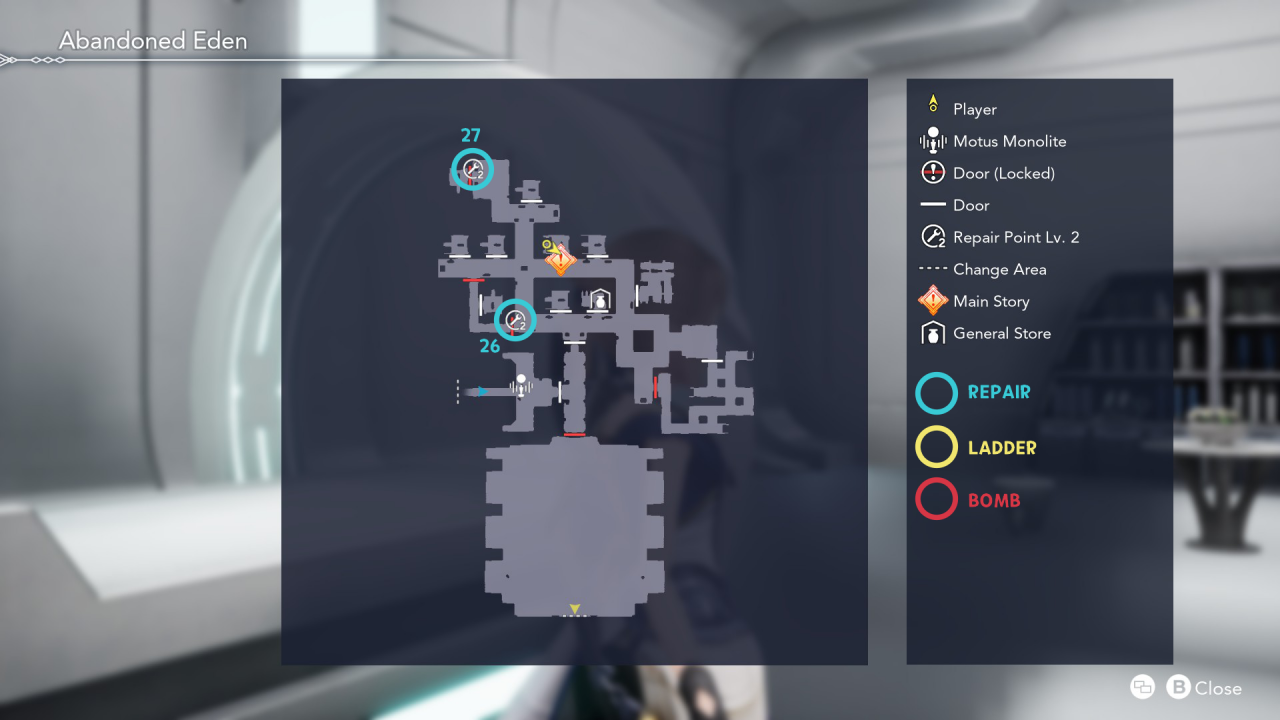 Phantasmagoria
NOTE: There are no ladders, repair spots, or bomb spots in Panthalassa Junction, so there is no section for it.
I Memory Lane
2 Repair Spots
3 Bomb Spots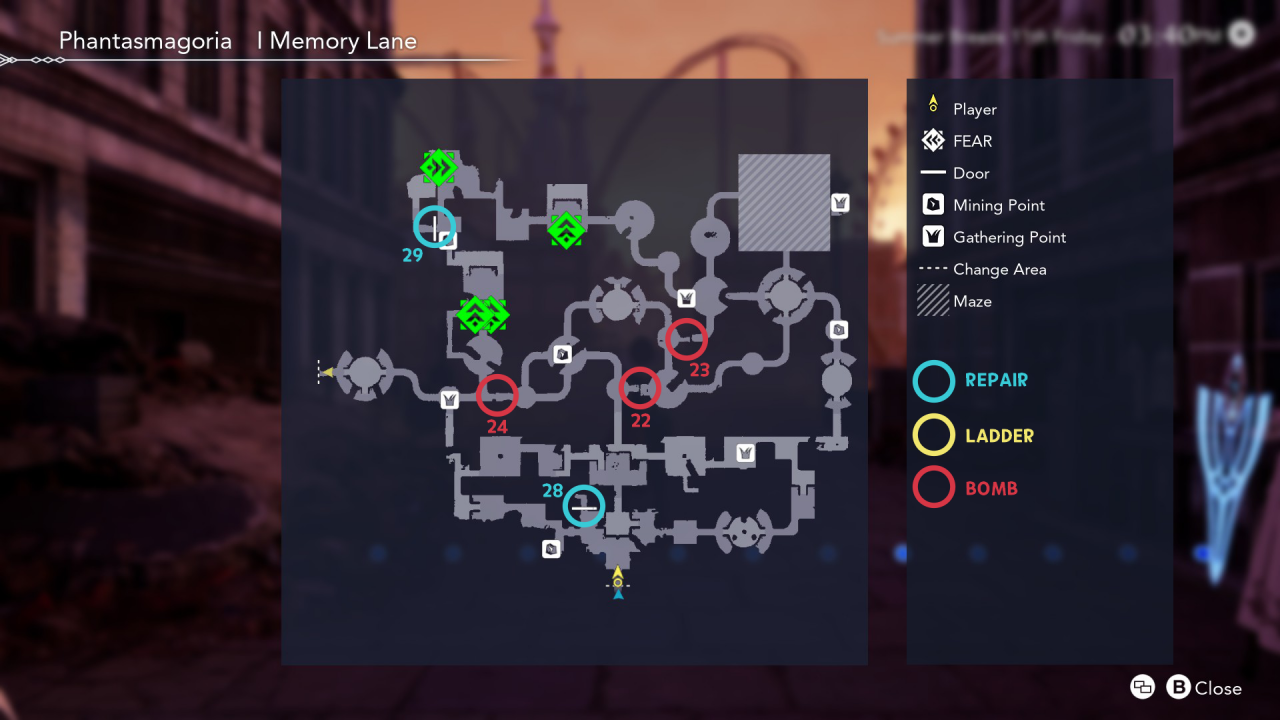 III Dream Terminus
3 Repair Spots
2 Bomb Spots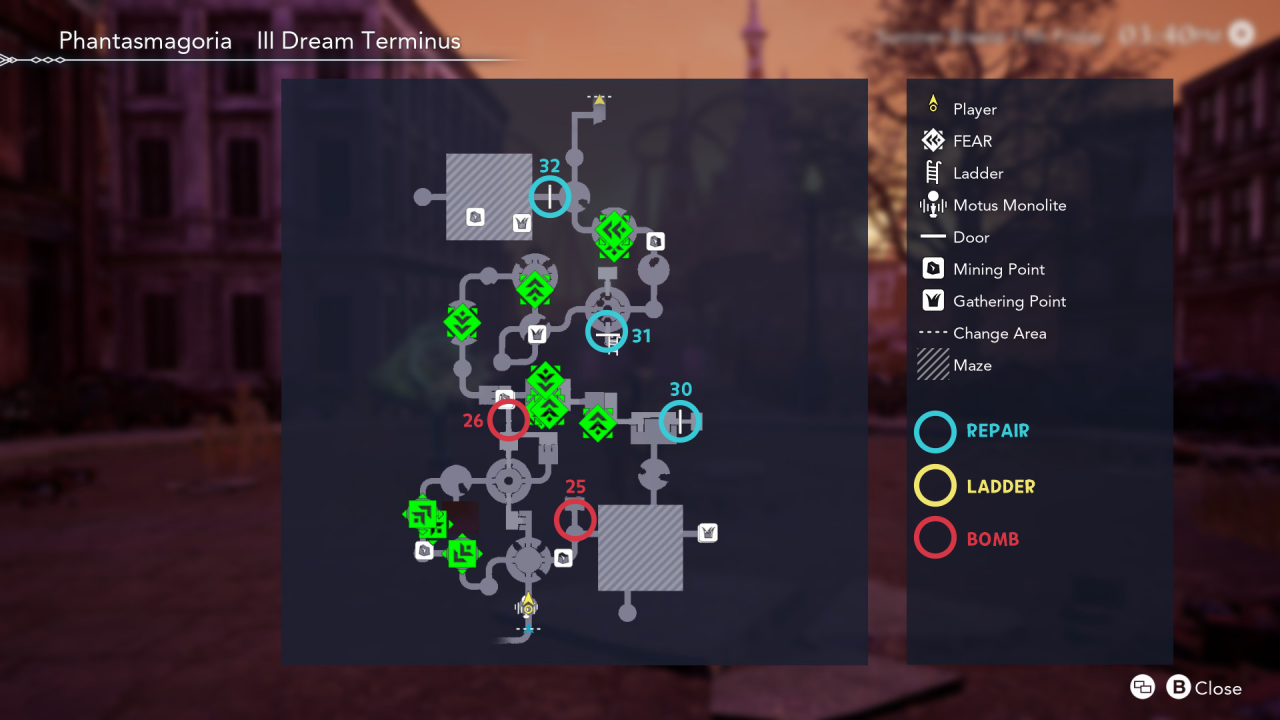 Astrum Helix Research Facility
I Planetary Life Tower
Level 7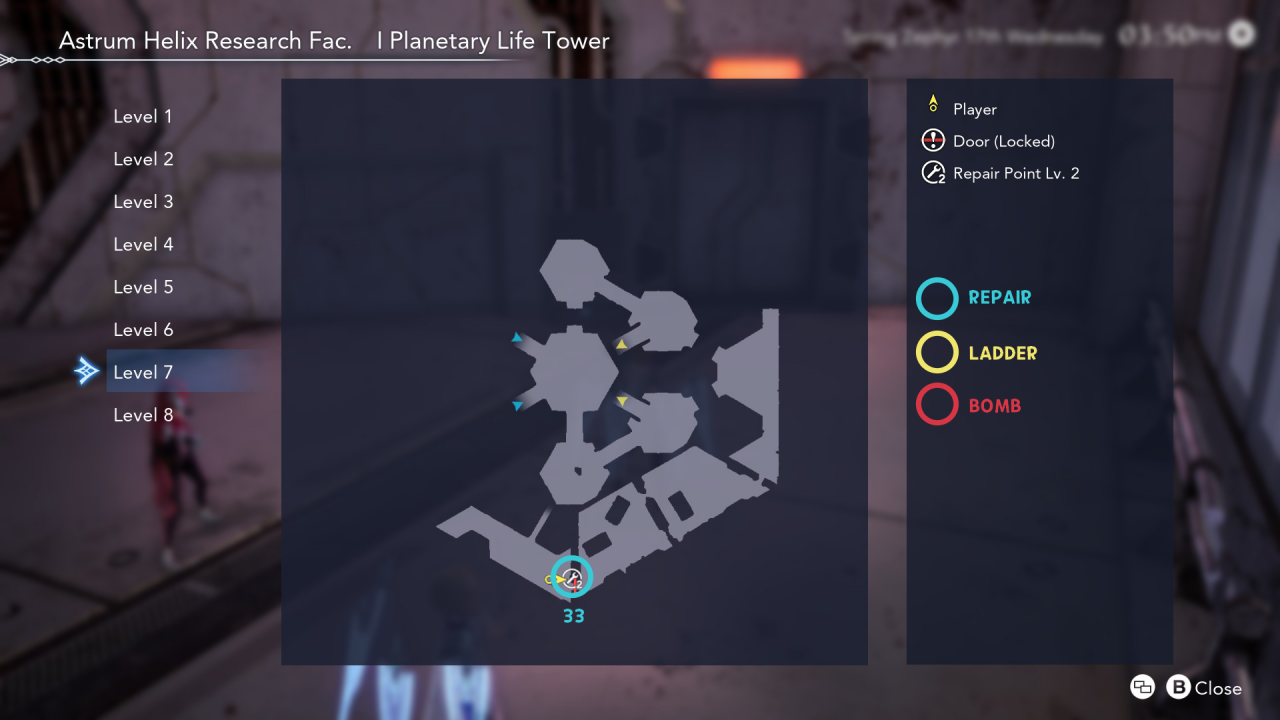 V Where Paradise Hatches
Level 9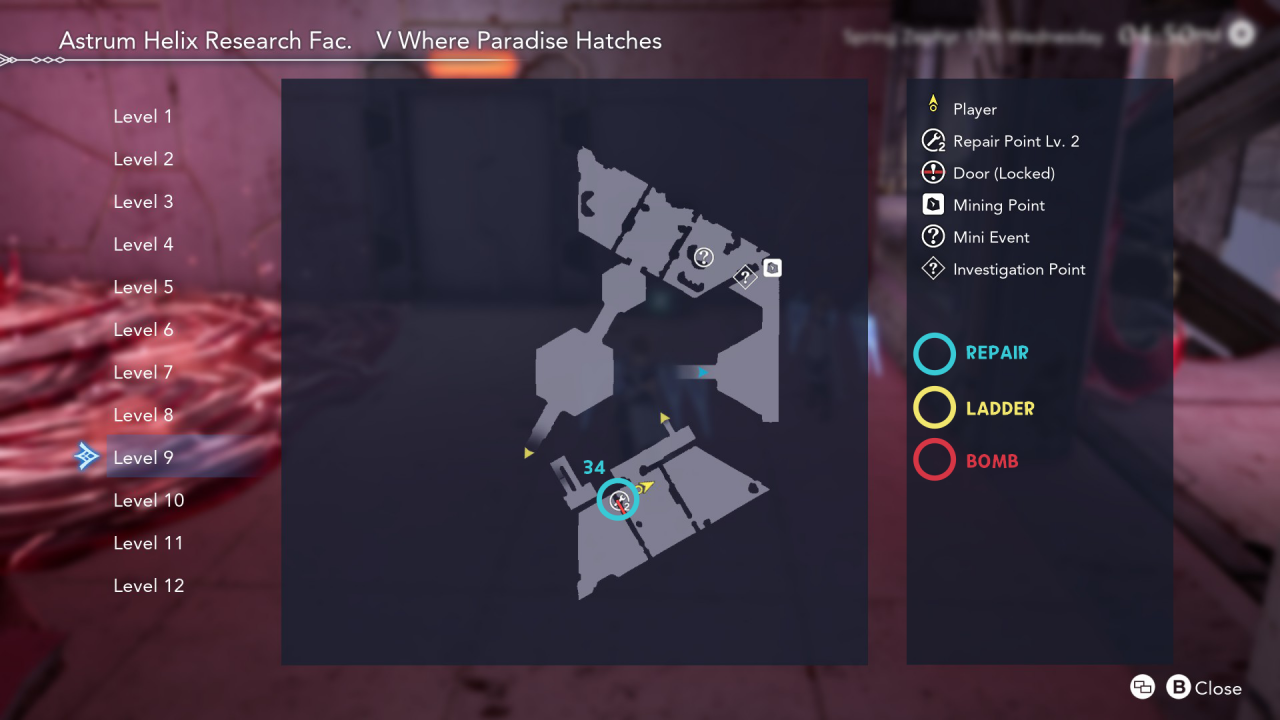 Level 11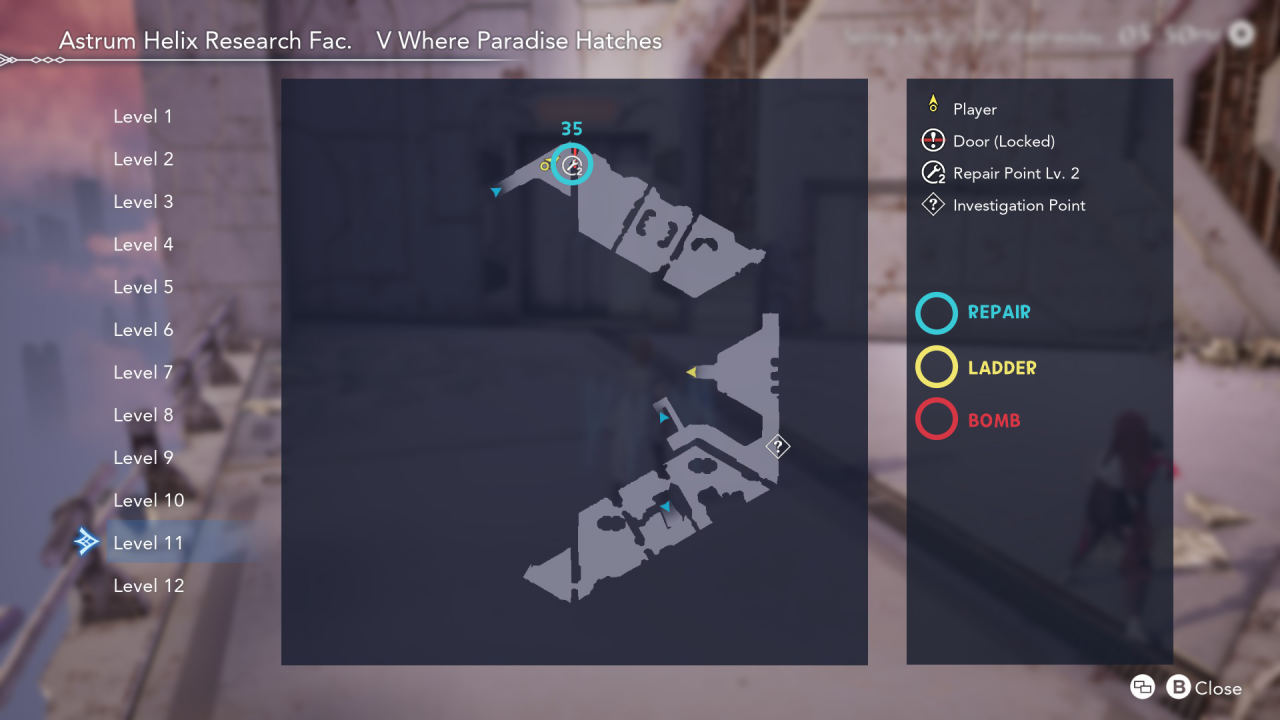 Space Elevator Vergilius
Level 4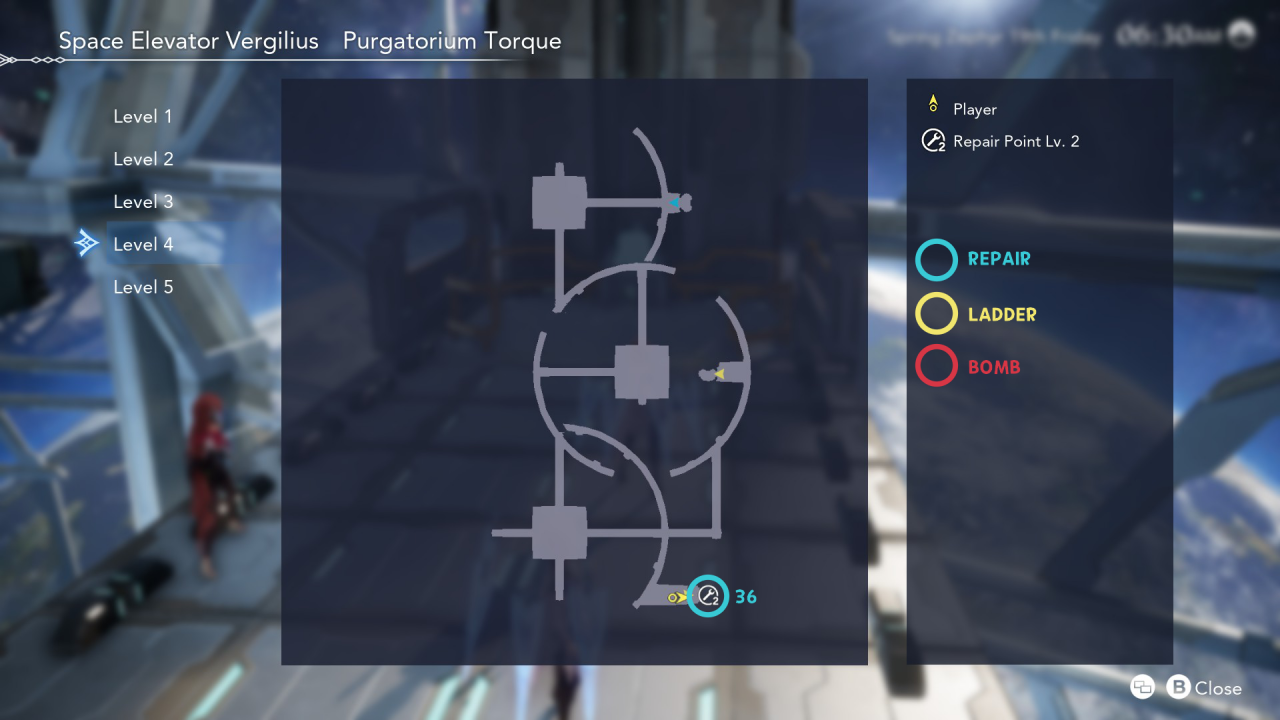 Orbital Cradle
I Heaven's Steps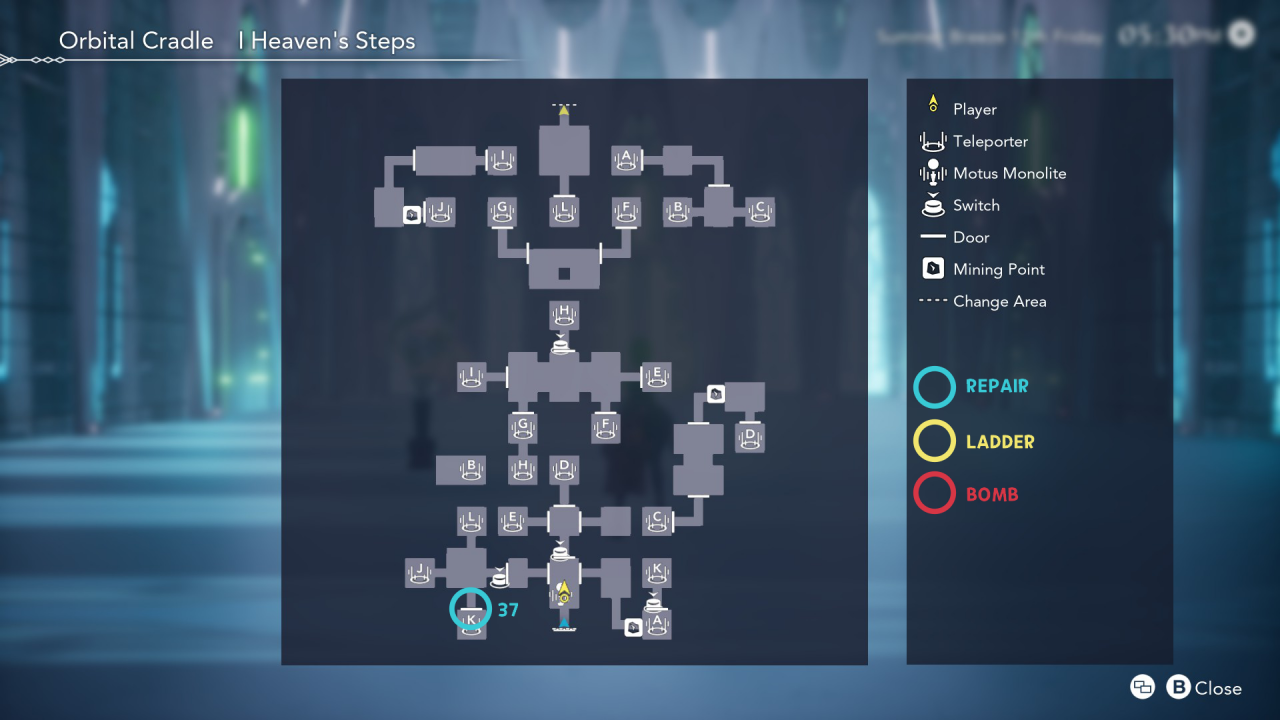 III Beatrice's Lullaby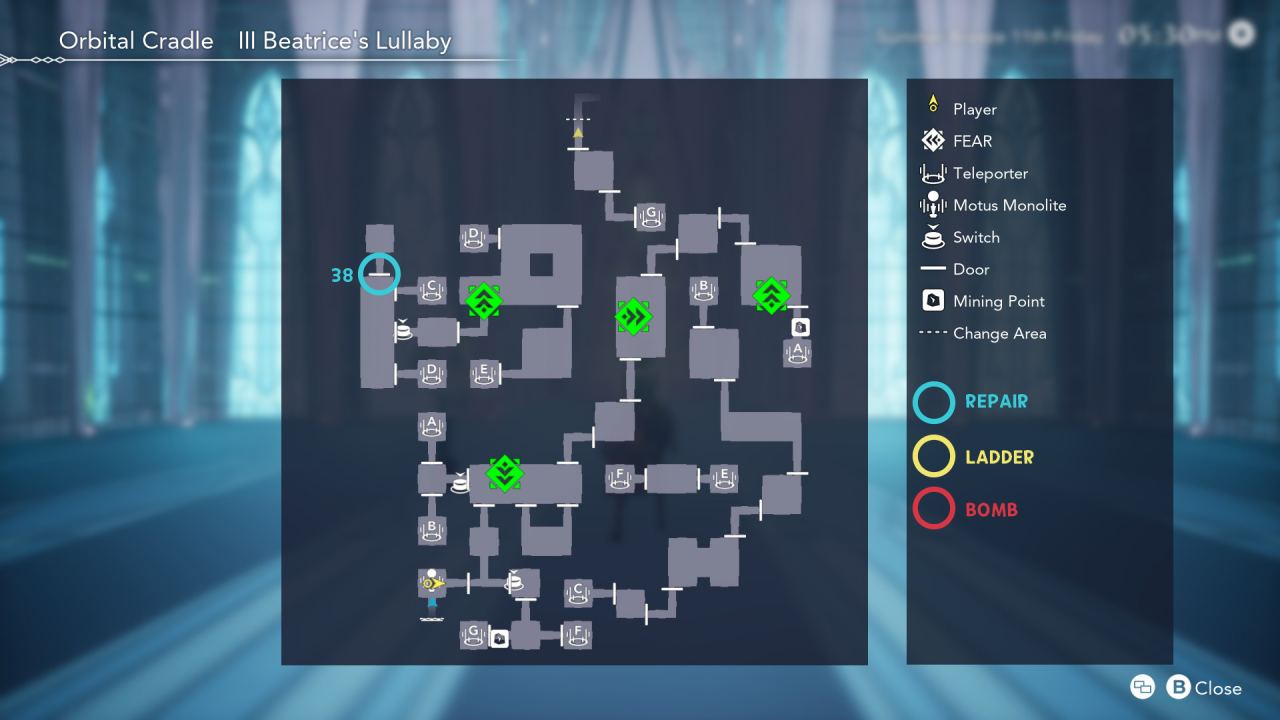 V Empireo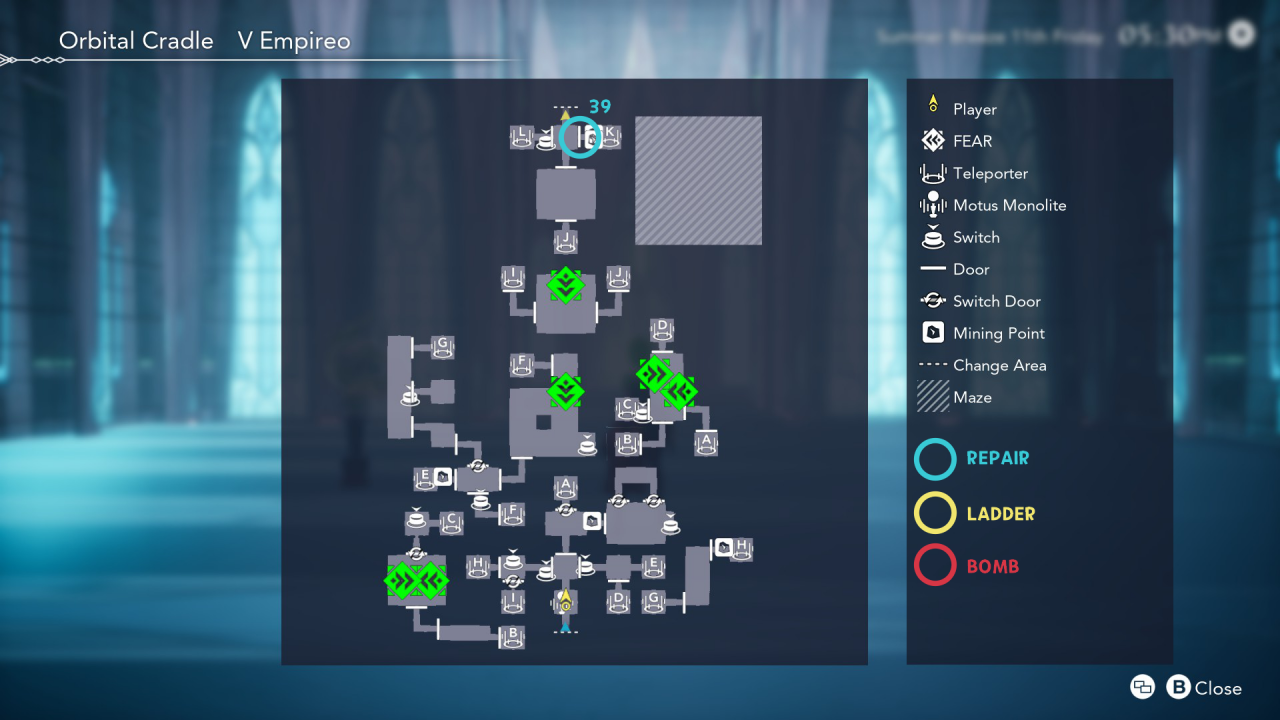 Stella Nursery
I Untrodden Path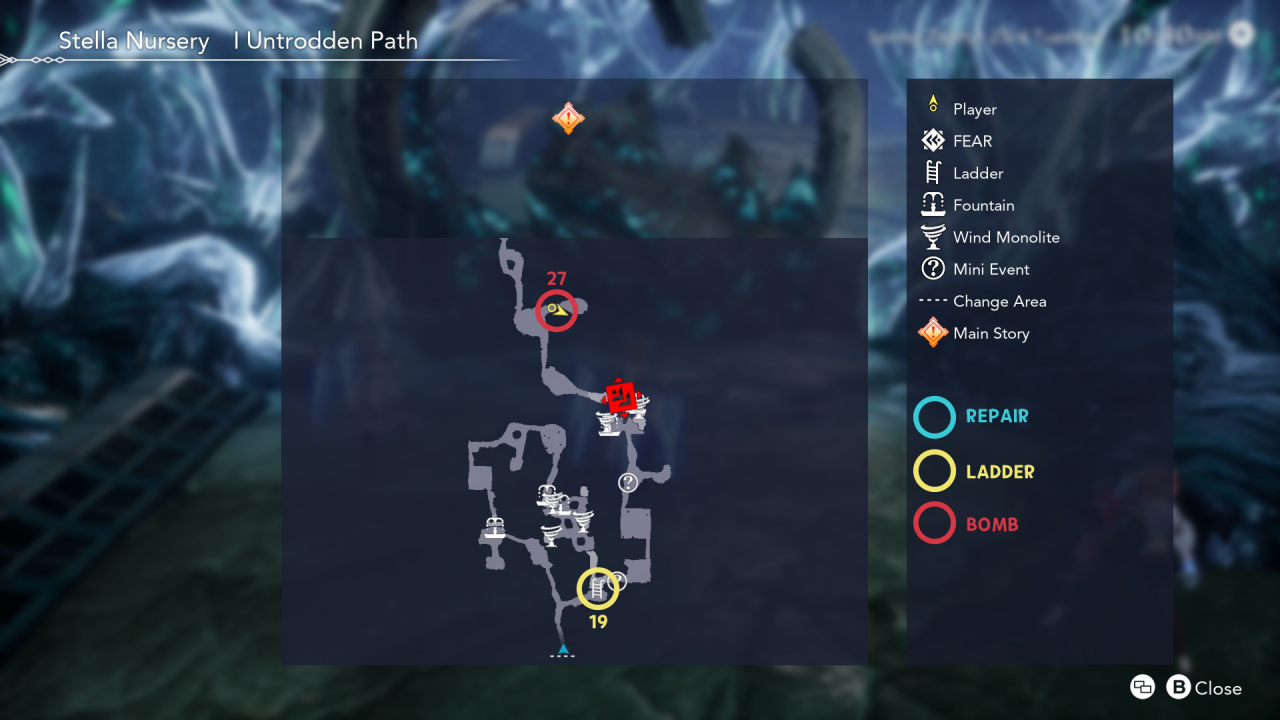 III Spiral to the Beginning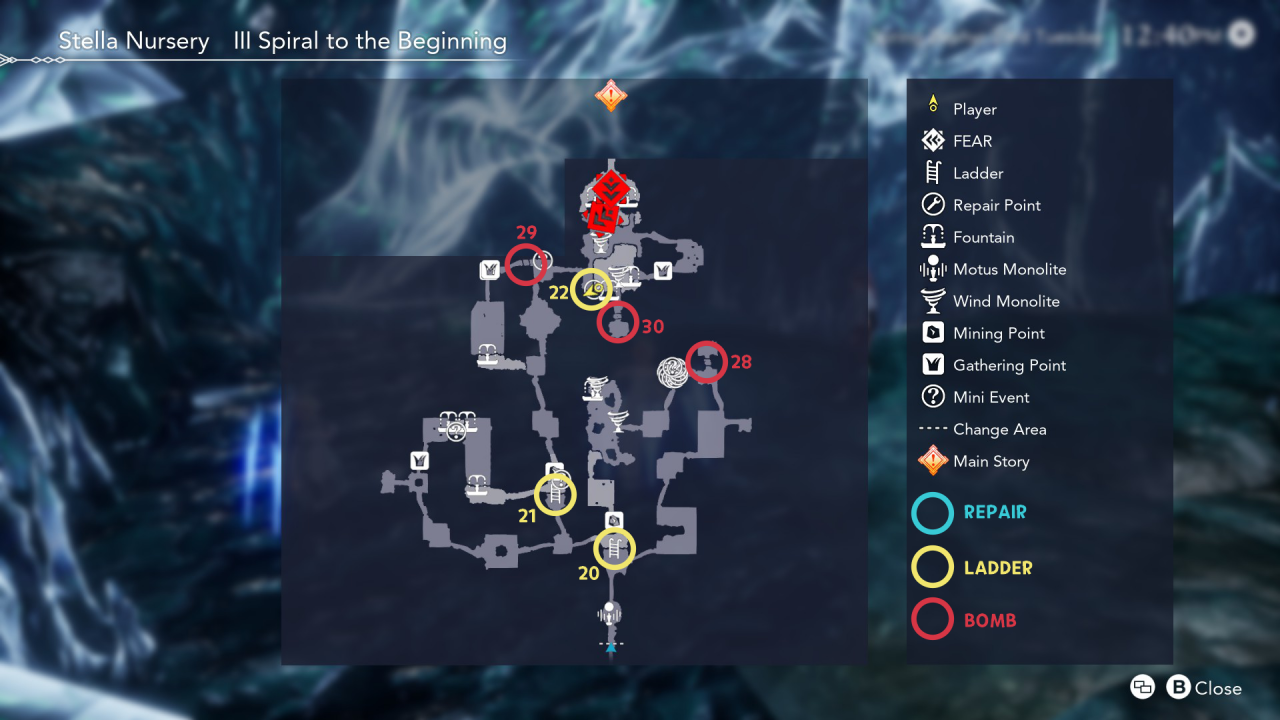 Afterword
And there you have it! 22 Ladders, 39 Repair Spots, and 30 Bomb Spots. I also have screenshots of each individual location if that would be useful to anyone at all, but I didn't want to fill this guide with a bunch of unnecessary images.
Happy hunting, and hopefully this helps you find that ONE last spot you're missing! I sure know I need it for my main file.
More Guides: