This Guide was made Because many People Still Confuse how to play this game because skip Tutorial and have no brain power then randomly Uga bunga Yolo in game their team got wipe out, also complaining later, when the game mechanic actually very easy to understand.
How To Make Good Team & How To Play Limbus Company.
Hi Welcome to Limbus Company Guide, Here i will teach you how to build Team and Teach You How to Play this game.
its okay to uga Bunga random yolo clash early game, but you need to move on we are talking PROJECT MOON GAMES here. NOT AUTO IDLE GAMES. if you play library of runia you know what im talking here. late – end game is HELL Vertical difficulty vs Abnormality & GOD like being entity.
so enjoy your mid game chapter 3, hell coming soon, you it will come because there is many Nest Section / many town / organizations and CULT / LORE to Explore / Abnormality to Fight.

Affinity / Tokens :
A Lets Over Simplified Okay so you don't need Brain Power to Remember what this what that, just imagine POKEMON ELEMENT or REGULAR RPG ELEMENT.
1. Red is fire
2. Orange is D.N.A
3. Yellow is Earth
4. green is Grass
5. blue is Wind
6. Dark Blue is Blade.
7. Purple Is Electric
I said Affinity as Token because this game have Resource Mechanic to Active E.G.O SKILLS, think Affinity as Token make it easier to understand, why you Can or Cannot active Ego skill as you want anytime.
B. How to Build A Good Team :
1. To Understand How to Build Good Team you must Understand To active E.G.O SKILL NEED Resource and every Sinners have different Set Of Affinity / or just call it different token to Generate Resource you need.
2. Look at THE RIGHT SITE AFFINITY Menu List / Token LIST, That Tell you Affinity Resource generated in Battle & E.G.O SKILL COST .
3. Every Line in Affinity Menu must be Filled do not let "0 x E.G.O cost appear". because that mean Affinity / Token not available, The Ego skill cannot be activated because. you not generated the affinity / not generated the token.
4. so please don't just randomly pick sinner, good Synergy is "HUGE MATTER" to win or lose in this game. don't blame the game if you lose Because you randomly pick Team with 0 Synergy.
5. Rarity Does Not Matter, All Stats Equal, Base 1* is Strong + automatically Level up their tier when defeating dungeon. what make Sinner good or bad is their Skill set, and does it GENERATE AFFINITY RESOURCE THAT YOU NEED TO ACTIVE E.G.O SKILL, Not rarity.
Note :
6. if you still don't understand for example, sinner E.G.O skill need Earth, wind and Blade For cost to activate, that mean i must bring Sinner that has " Earth, wind and blade action skill set Affinity". to generate resource / token for using the E.G.O Skill in battle.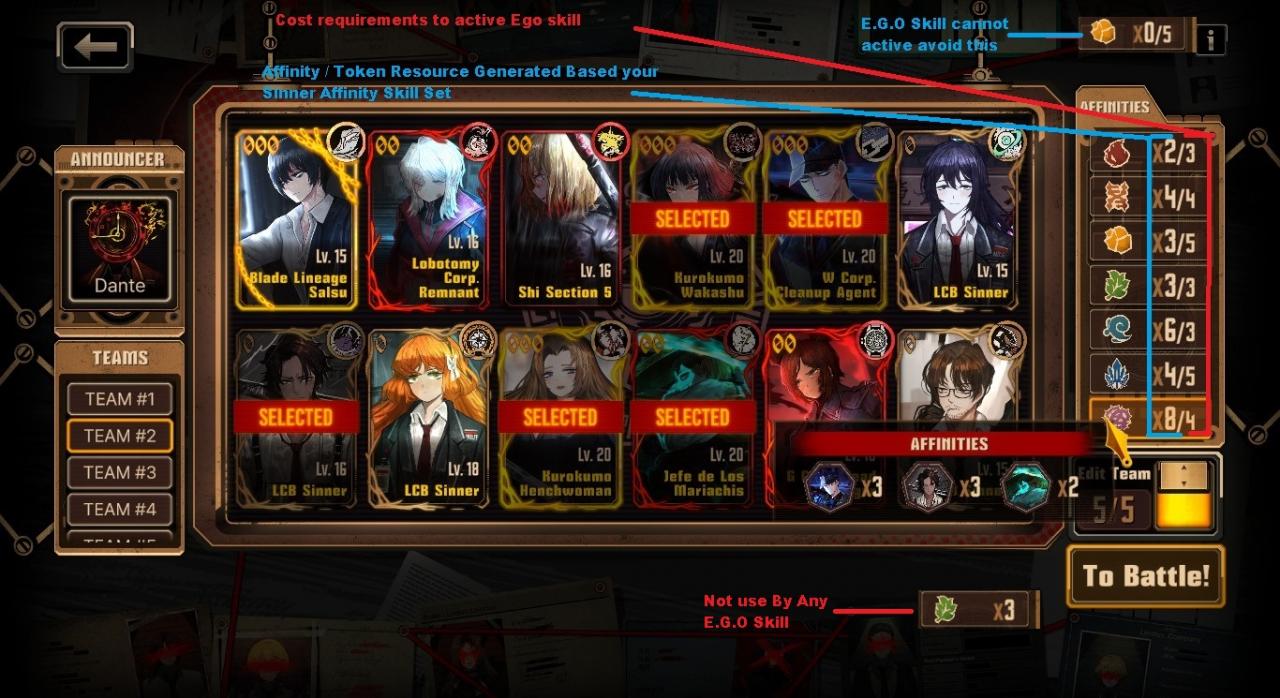 C. Battle Mechanic Explained " How TO GET GOOD :
1. Before Go Unga Bunga Smash each Other, PRESS THE 3 ARROW Assist at THE RIGHT CORNER BELOW SETTING BUTTON. It's TO KEEP TRACK WHO ATTACK WHO AND WHERE.
2. IF YOU ATTACK HAVE BIG NUMBER THAN ENEMIES YOU WIN, IF ENEMIES HAS BIGGER NUMBER THAN YOU, YOU LOSE OR DIE RIGHT AWAY BECAUSE STAGGER + non stop multi hit by enemies or Get Explode By Rupture.
3. IF ENEMIES HAVE BIGGER NUMBER THAN YOU, GUARD or EVADE TO AVOID DAMAGE / AVOID GETTING STAGGER EASILY. or just call it " To not Die button".
4. ACTION THAT YOU CHAIN GENERATE RESOURCE.
5. You Need Resource To Active E.G.O Skills, This is Not MMO RPG Where you can spam skill any time so strategically pick Affinity Action That Generate Resource That you need for E.G.O SKILL.
6. Read Enemy / Boss Skill set, some have very dangerous Trait like Immune Blunt Weapon, Immune Slash, Stagger, 100% crit, other ♥♥♥♥♥♥♥♥ ext ext. Analyze your enemies and find priority which boss part need to destroy first. for example if anomaly boss arm has Stagger Skill, Destroy The arm First.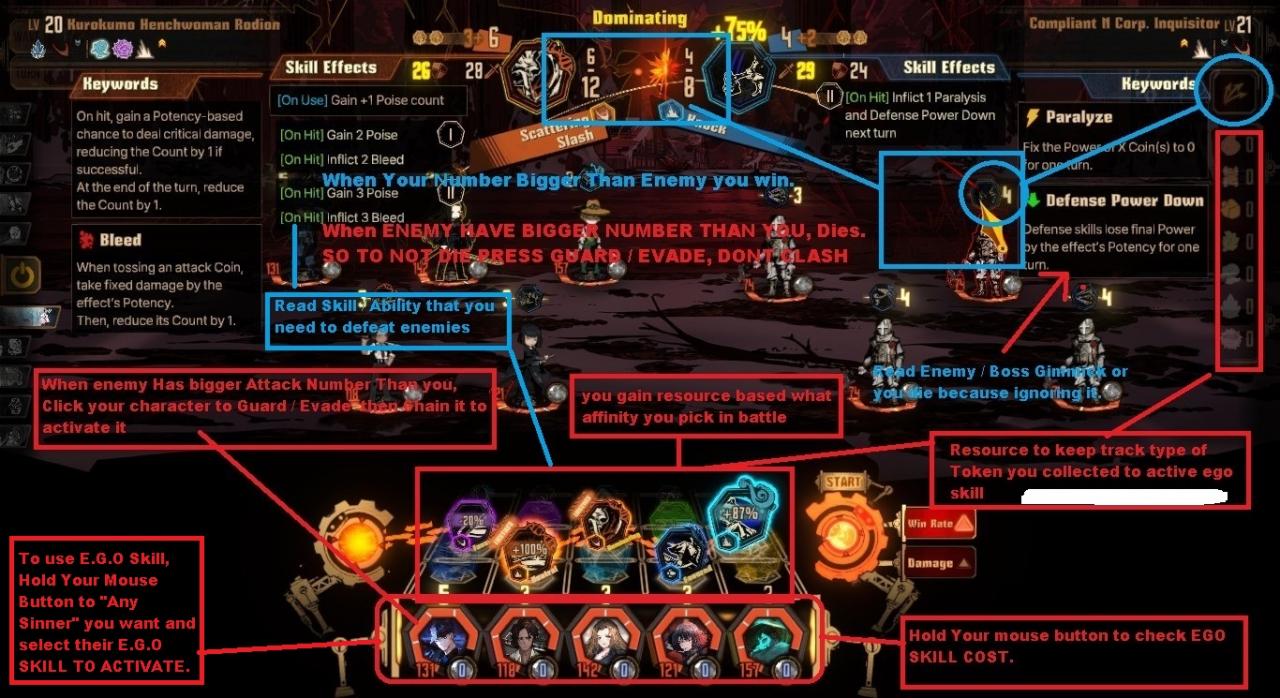 More Guides: