Deck for MAX Potion price. Alway get x2 Price for every haggle.
Core Card
Rhythm x2
Meditate x2
Carftsmanship 1-2
Other card are Draw card.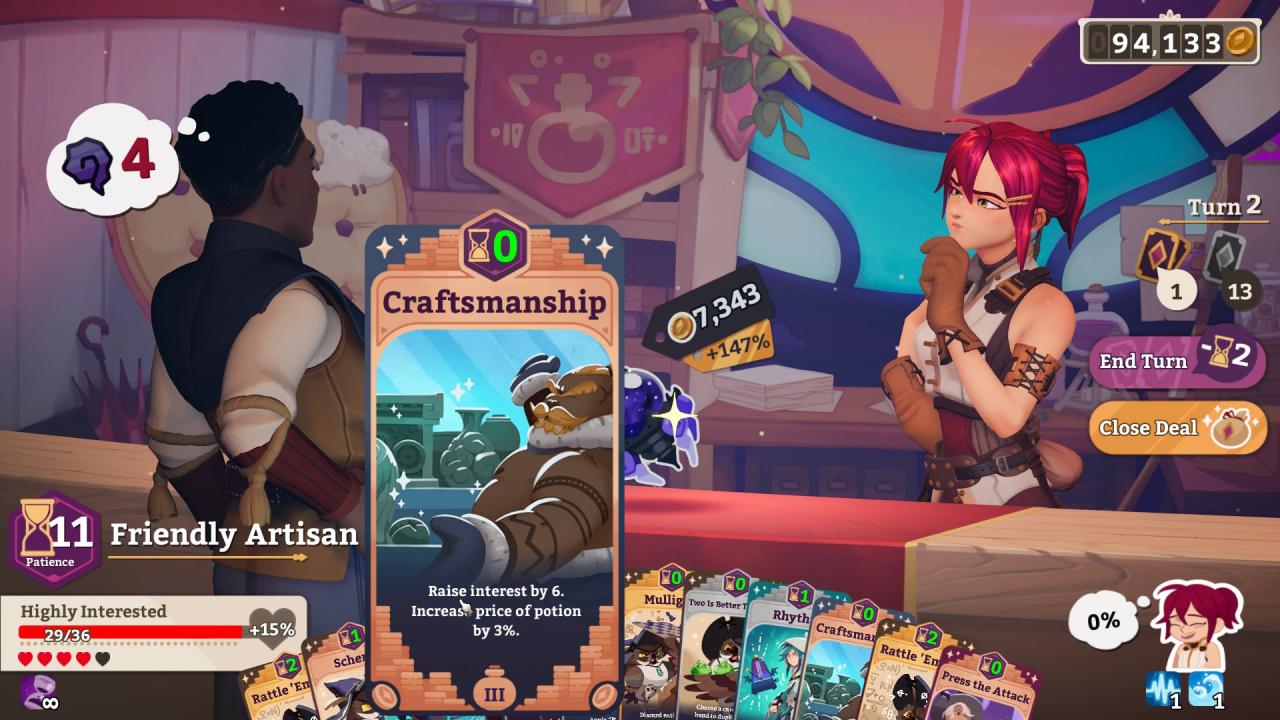 All you need is aim for Rhthm.
Just Draw a card untill you get Rhythm.
(Dont west your patient point in interest card ***MUST***)
Once you get Rhythm just end turn.
Next Turn Focus on Reduce your stress to reduce chance that you will get a useless stress card.
just draw, skip interest card, aim for Meditate
now you can do full hand of 0 cost card
just draw, find Carftsmanship, repeat untill max interest.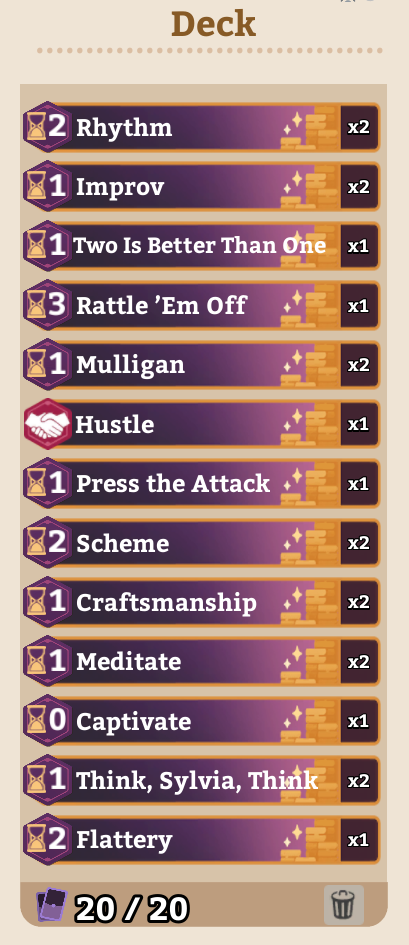 Draw card
Oswald – Mulligan
Good hand Re-roll
Oswald – Rattle' em off
your hand will never empty
Good draw card
– Improve
– Scheme
Not a good draw card
– Pressure —> it make you Discard Rhythm , don't use it.
Serenity of Mind
good but need high Saffron relationship. i dont have this.
Add on
Captivate
to make your deck infinity. x1 is enough.
you will need this to use Scheme card when RGN is too bad.
Two Is Better Than one
for guarantee Rhthm in turn 1-2, Copy rhythm 3-4 is a good idea. but 2 Rhythm is enough.
i use Twho Is Better Than one on Mulligan and Improve to guarantee that this card always on my hand
** Bewere, card you copy will in your deck and last untill the end. don't copy too much, it increse risk that you won't get Rhythm in turn 1 due too you got many unnessery card.
Potion price
– Hustle
– Flattery
is a good card to rise price.
Alternative
This deck is very boring and take time.
if you want to speed up, go Chorus
More Guides: